Two years ago I bought a house that had been "flipped." As the inspector told me, if he could "have them"… the flippers… "arrested for fraud," he would. Whether it was sinks, toilets, shower heads, shower floors and doors, plumbing pipes, the dishwasher, doorknobs or light switches and sockets… NOTHING was hooked up or installed. They'd just pushed things into place, sometimes held with SCOTCH TAPE, but I bought the house anyway. I bought it because I loved the location and knew I would be happy here; I envisioned the changes I'd make, and I loved that it's built in a u-shape around a central courtyard.
I have so much left to do outside, but I wanted to share what's happening in my courtyard.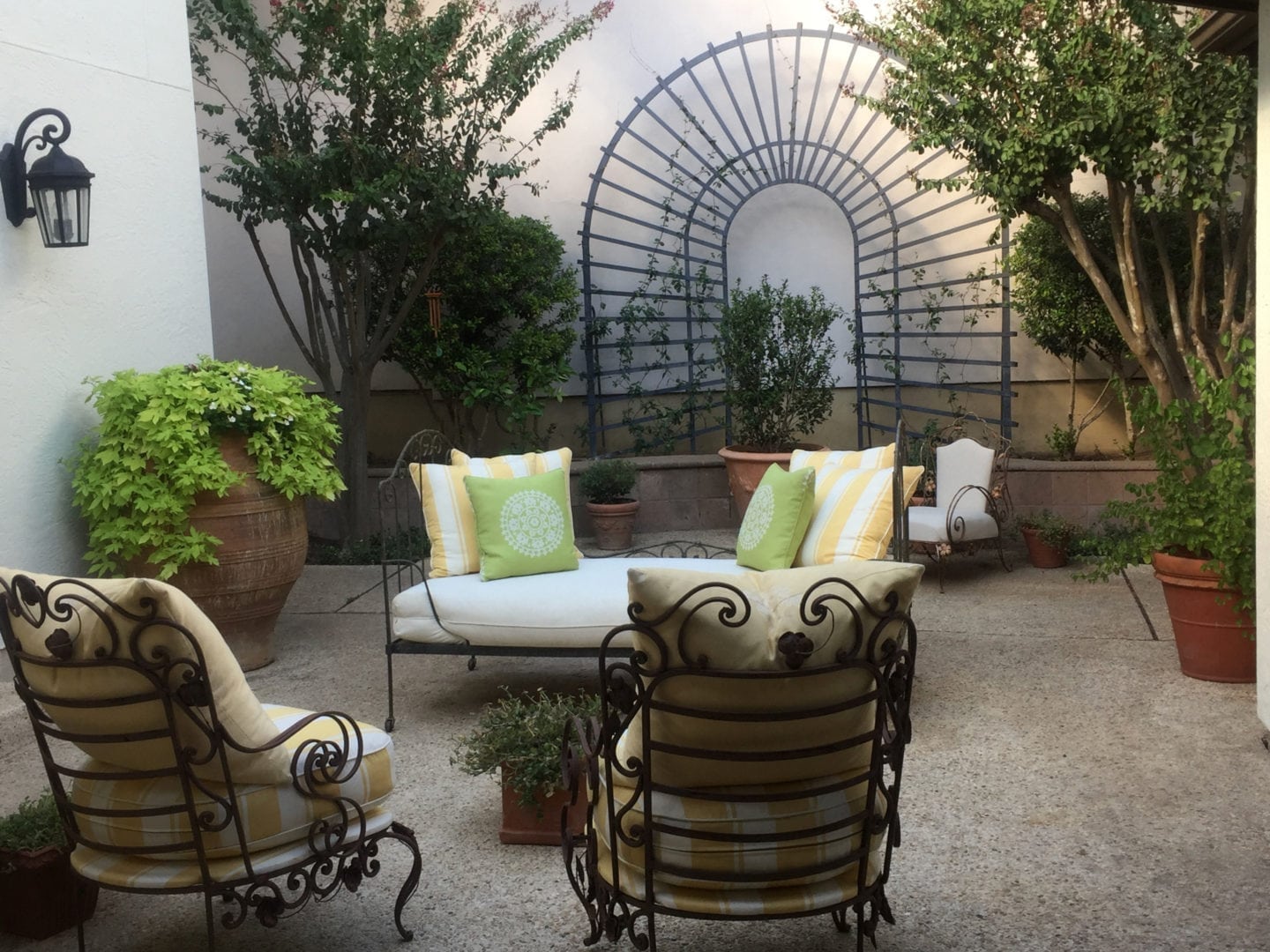 The courtyard's been slow coming together because I've been waiting for Annie and Lulu to get a little older. This time last year they were seven-months-old and were chewing and swallowing everything they found outside. I call them my $10,000 dogs because of all the emergency room visits and surgeries to retrieve nuts and bolts and screws, wires and PVC shards. All those times I sat in the waiting room, wondering if my babies would survive…
And yes… I watched them like a mama hawk, and they still got into trouble!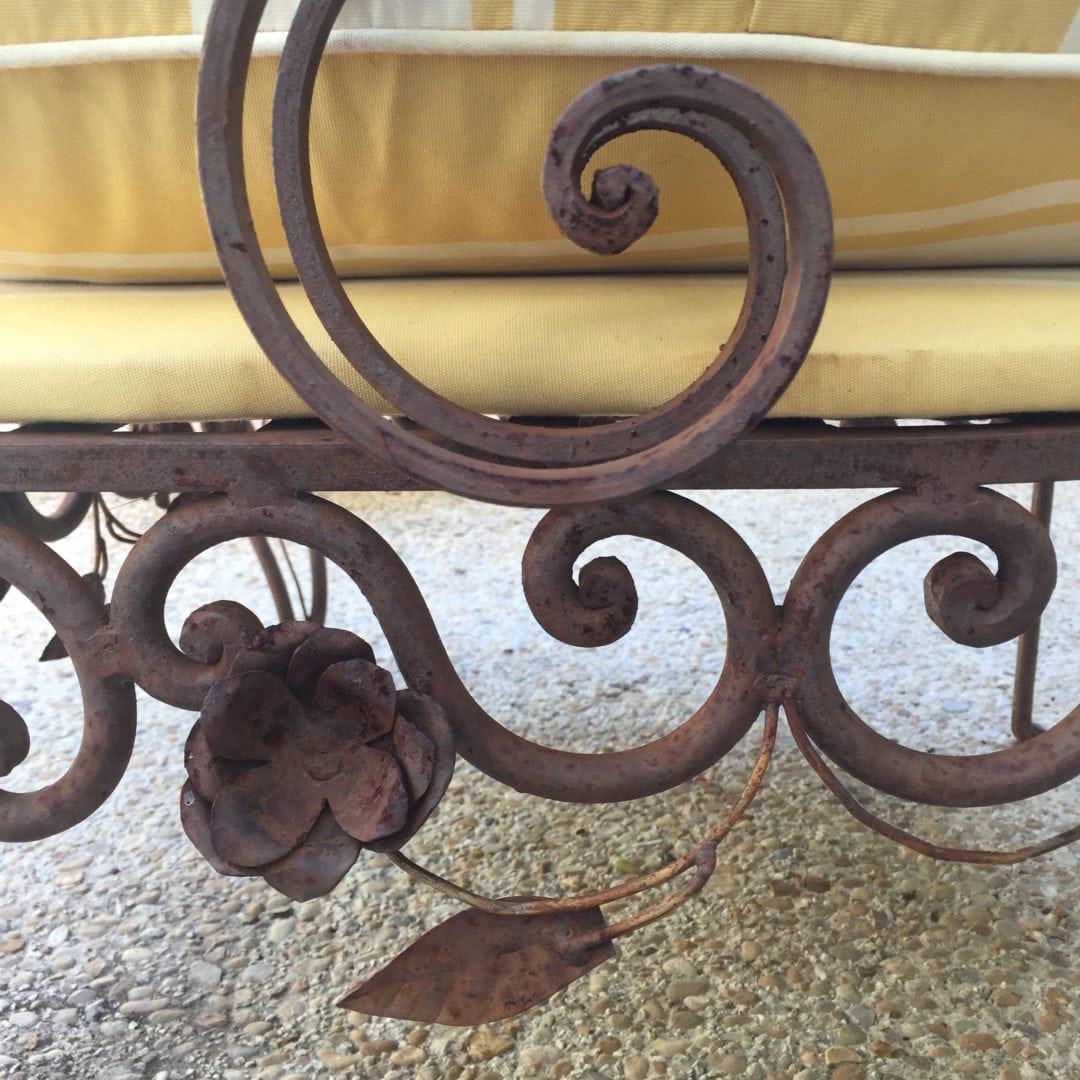 After each crisis I sifted through the entire yard WITH A HAIR COMB and filled nine garbage bags full of "stuff" and rocks… Lulu's favorite. When the girls kept finding and swallowing harmful things…
I had four inches of my entire yard removed.
Now Annie and Lulu are 19-months-old, and they're either ripping up my jasmine or working on digging their way to China, but I couldn't wait any longer! I wanted a pretty, livable outdoor space.
For starters I had an irreparable Spanish fountain removed—jackhammered—from the middle of the courtyard. It was a breeding ground for mosquitos, plus it didn't leave room for outdoor living.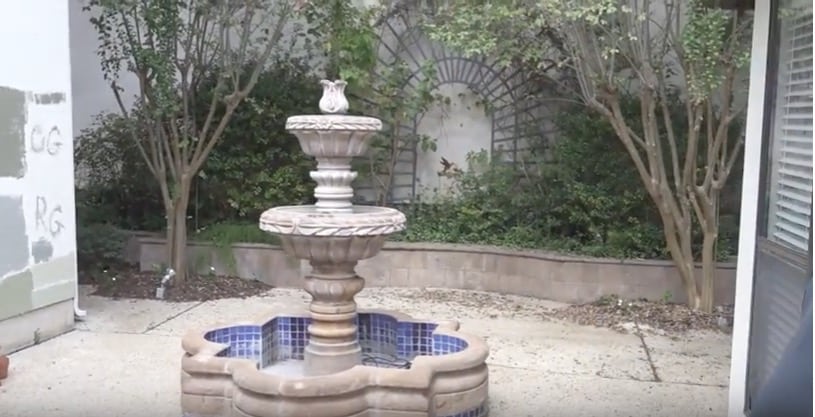 Photo of the old Spanish fountain from the "before" video tour of my "new house."
Next I tore out some of the old landscaping that had gone wild, painted the outside of the house a warm cream and put in two, black, iron wall sconces.
Then I drew my initial ideas and emailed them—plus photos of the courtyard, my small backyard and Pinterest garden elements I love—to Tara Dillard. If you don't follow Tara's blog, she's an award-winning residential landscape designer who's studied historic gardens of Europe; she's an author, speaker, and hysterically funny!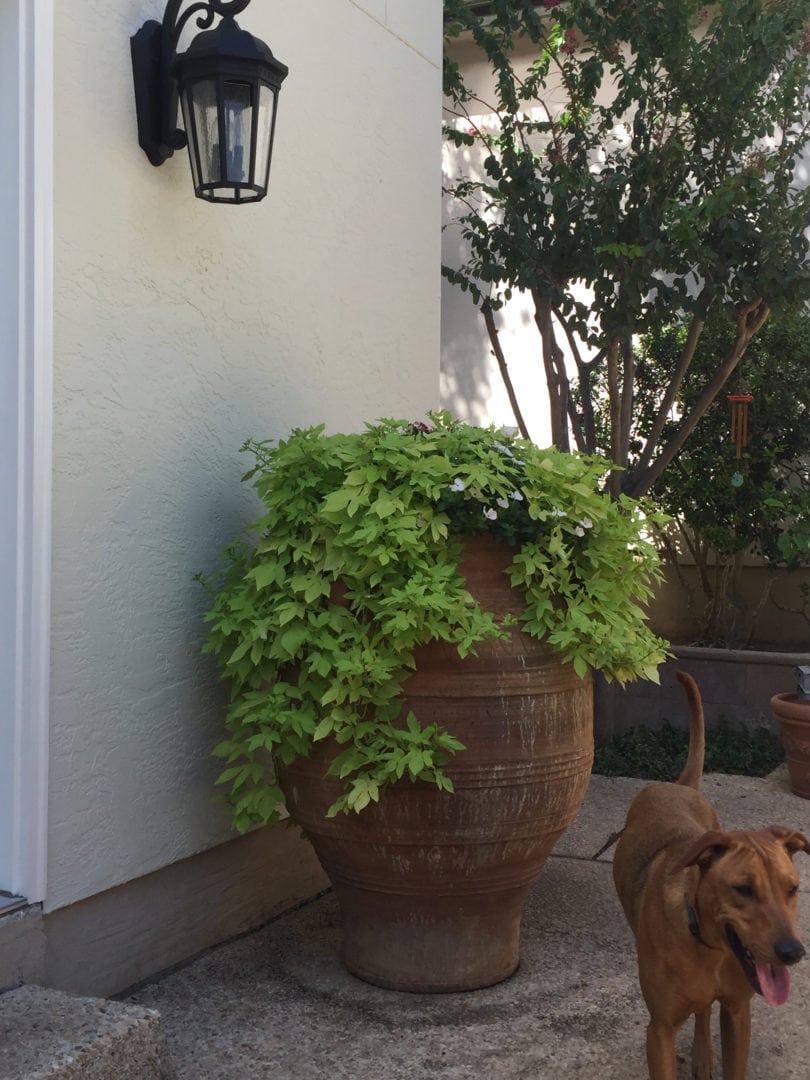 Tara spent hours, studying my photos and then drew her ideas to scale and mailed them to me. As it turns out we think a LOT alike! The best thing she did was teach me about focal points, and that garden design begins inside your home. Stand inside and look through your window to the area outside you want to change. Then stand outside… in the place you want to change… and look back at your home. Both are key focal points that need design elements. They don't live independently of one another but are the yin to the other's yang.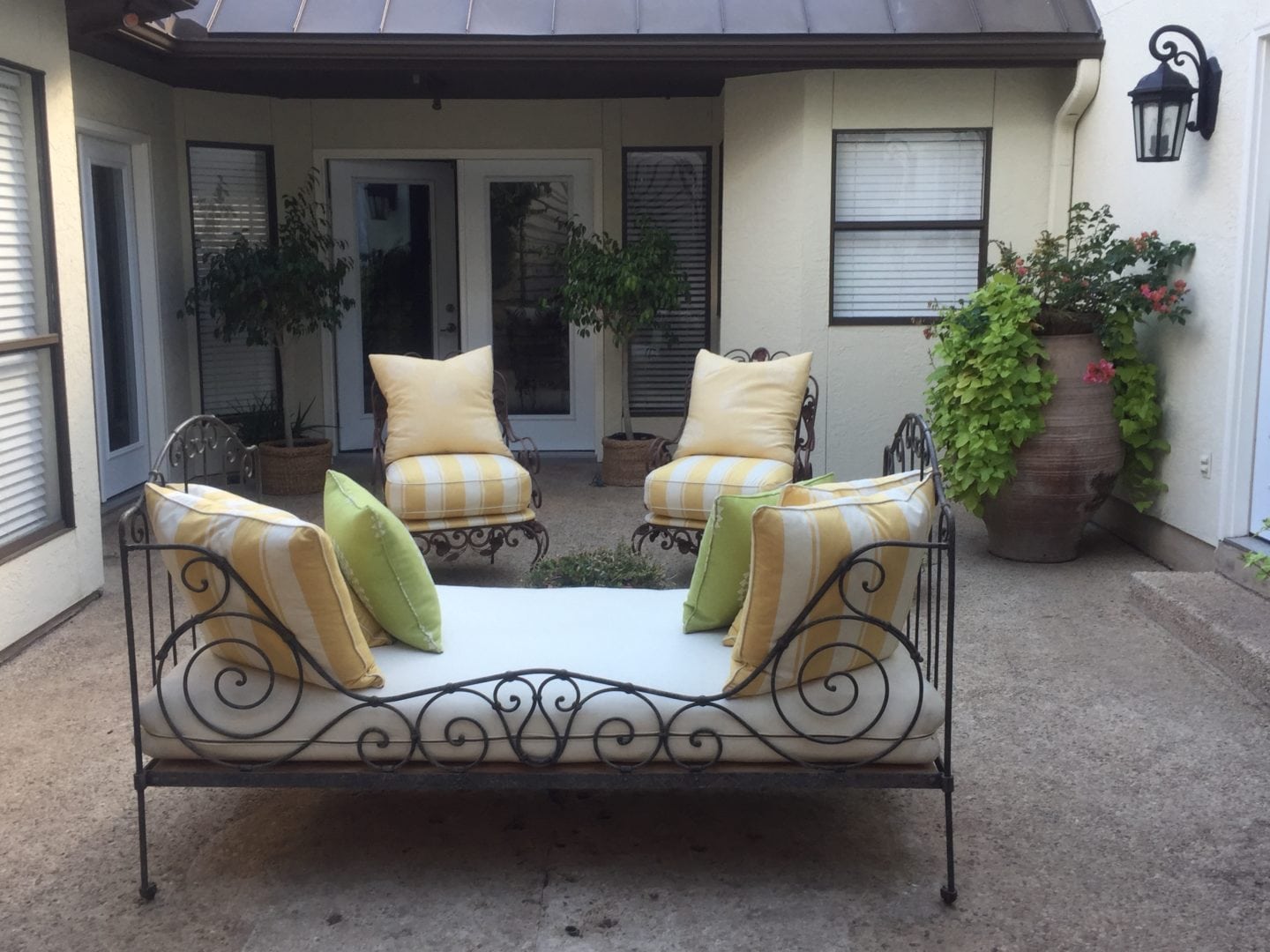 Except for the smaller, antique iron chair Shannon Kirby helped me buy (I saw it on her Instagram page @shannonkirbyint and we met in California at the Contessas's house for lunch) all of the furniture, Sunbrella fabric pillows and pots I've had for over 20 years. They've either been in storage or were at the Little House at the ranch.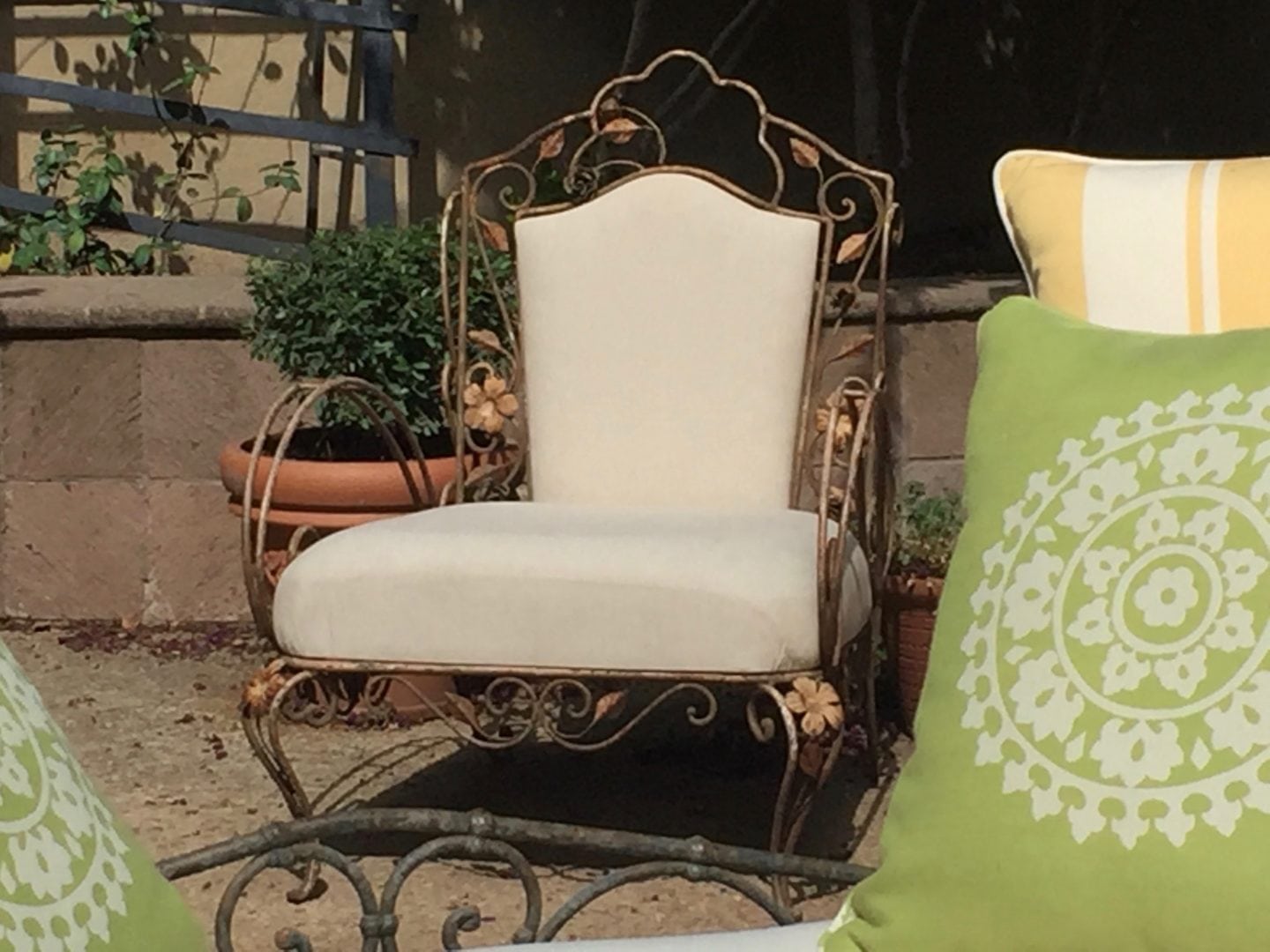 This smaller, antique, iron chair is similar to the two larger ones I've had since 1996.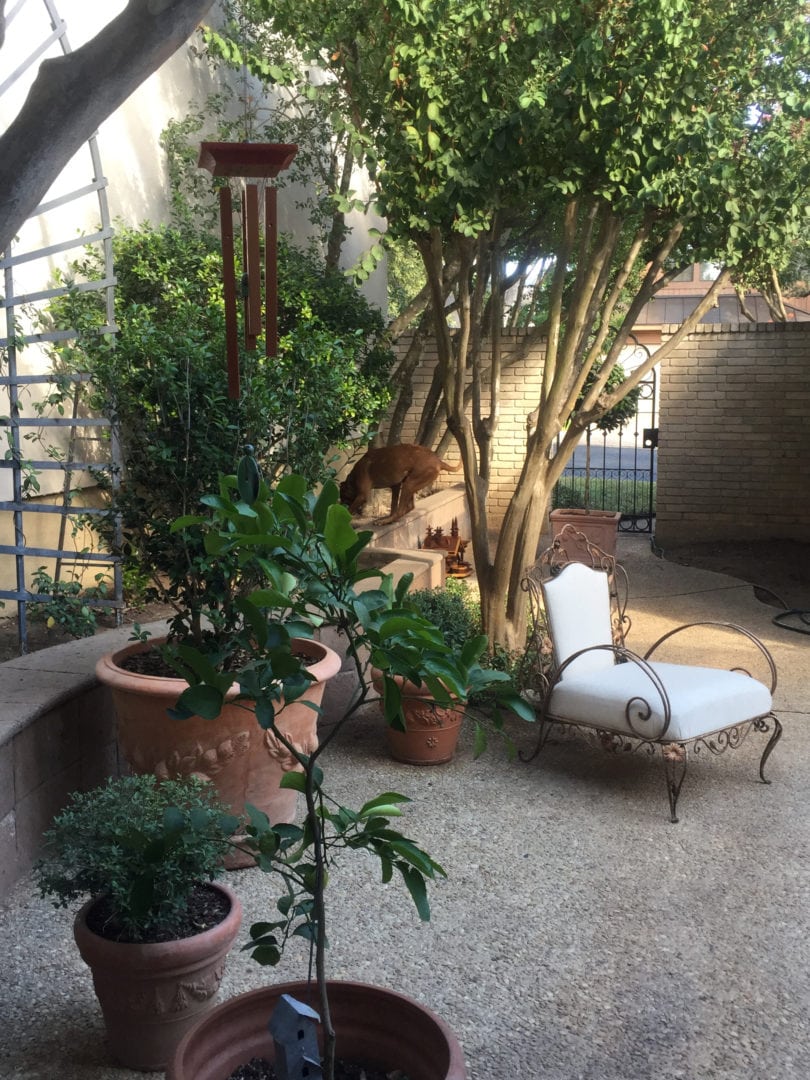 Notice the bare area mid-right and all along the back wall on the left. Right now there's just dirt. You can also see Annie's butt sticking up in the upper center of the picture. She's looking for Mr. Lizard.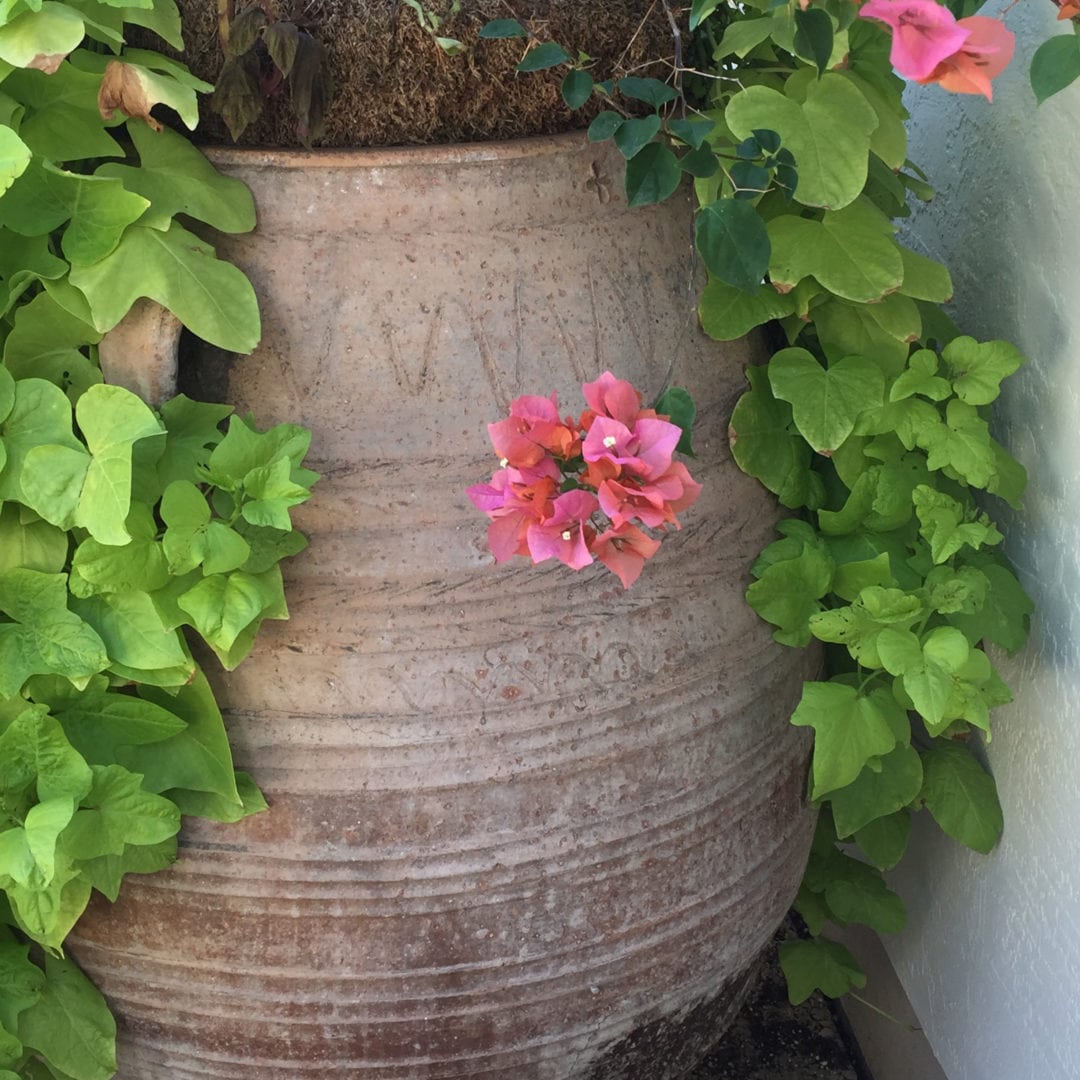 I want an outdoor dining table to put between the day bed and the larger iron chairs. The jasmine, growing up the iron arch needs to fill out, and I want more topiary. I'm having a love affair with topiary… They're the perfect mixture of architecture and horticulture.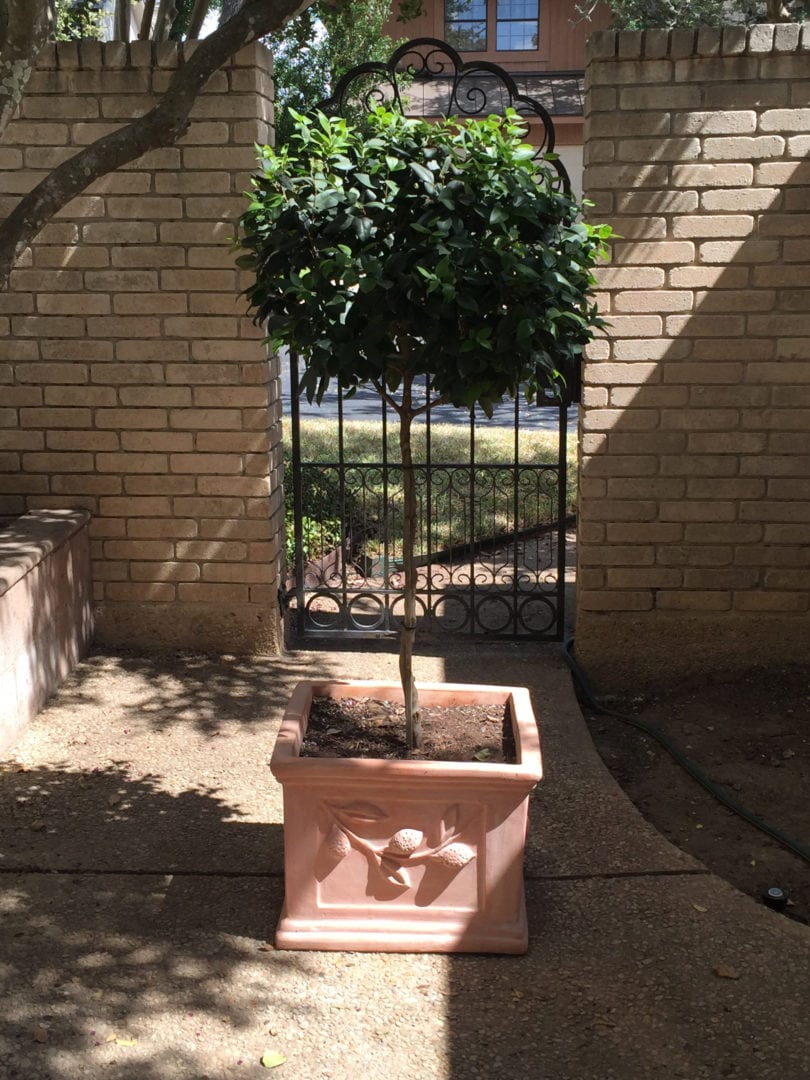 The inside view of a focal point at the end of a walkway and a topiary.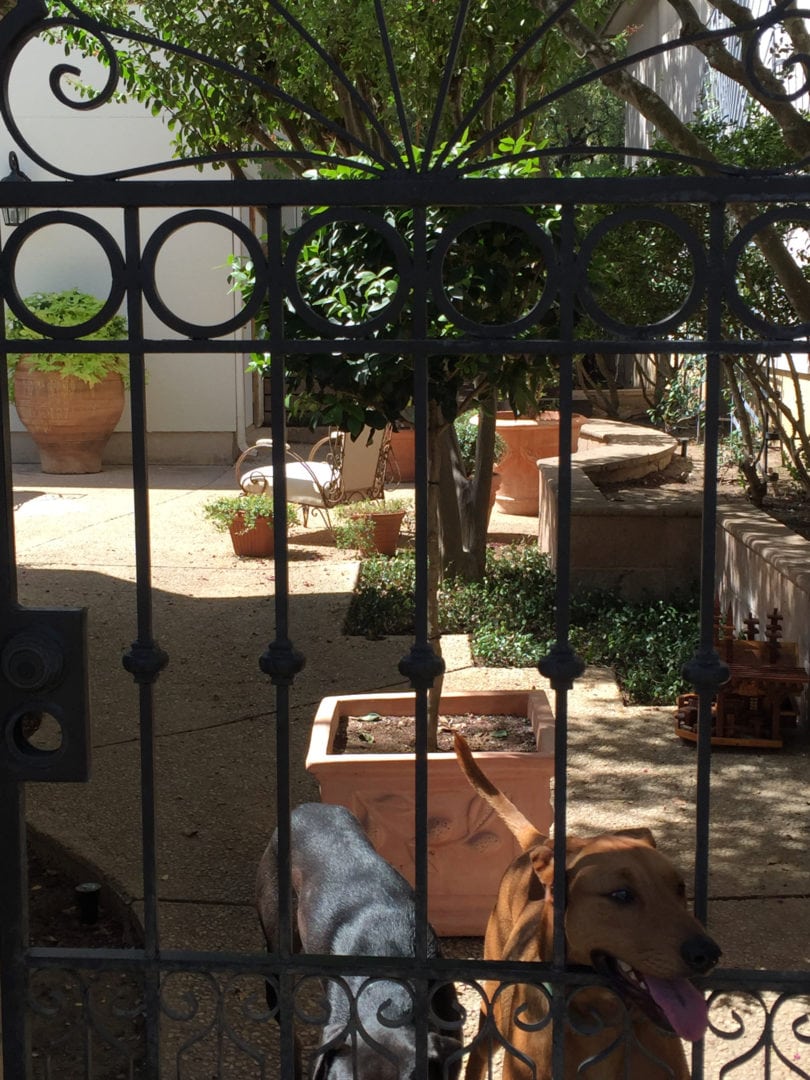 That focal point from the outside, looking back at the same topiary.
This fall after our brutal Texas heat makes it's way into the record books, I'll have the areas around the courtyard and the backyard filled with new soil and landscaped with grass and non-toxic plants to dogs. Then I'll have the courtyard floor power washed. It will lighten the existing built-up mud by orders of magnitude.
The creeping jenny in my big, olive pots needs watering twice a day, and even with bougainvillea food, I have trouble keeping the bougainvillea blooming. It's been a while since I've given this much thought to my yard, but like caring for Annie and Lulu, I'm having fun and doing it with love.