Most of you who responded to my recent fashion survey said you wanted elevated, casual clothes. Outfits that are a cut above your every day wear and will take you from work, or workout, to date night with your honey. This fall I want to help you build an easy, comfortable wardrobe you can continue to add to and wear for years. Over the next few months my easy suggestions and styling tips will make you look "put together" as opposed to thrown together in the dark.
Dressing better is an important step toward feeling better about ourselves.
Many of you also told me you buy things that don't go with anything else you have, and/or you don't know what to buy. Let's fix that. While it's just as easy to put on something that looks nice–as opposed to something you don't want to be seen wearing outside your back yard–the hard part is knowing what to buy. I can help.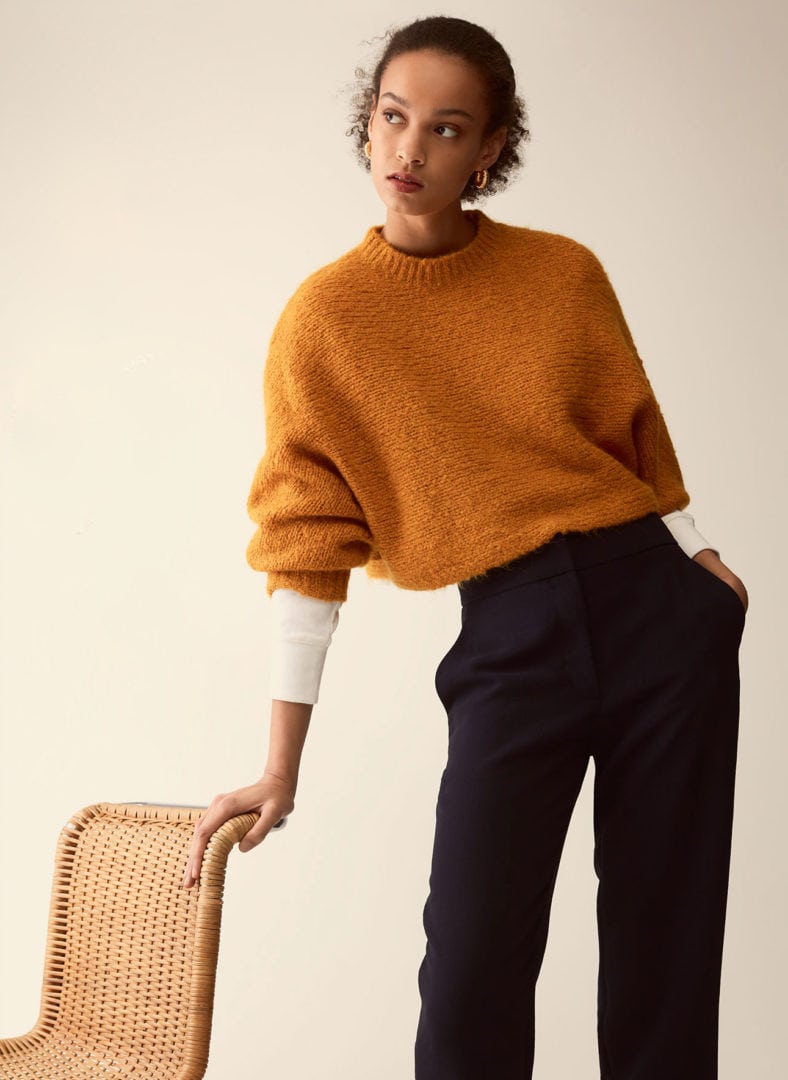 Let's start with this outfit I saw online. It's my inspiration for this post. It's sharp, simple and you can wear each piece with other things. I think it looks like something Audrey would have worn. While few of us are as thin as Audrey and the model in this photo… or have wispy waistlines… we can still rock this look!
Everyone needs a great pair of black pants. Yes you may need to pay more, but they'll look terrific for years, and will be the workhorse in your closet. You want pants that:
Sit on your waist. They're the most comfortable, and you won't have muffin top.
Slim, straight-leg pants. They're the most flattering. No leggings or skinny jeans, because they accentuate areas most of us don't want to highlight.
You want pants that hit your ankles. Few of us look good in cropped pants… I know… I've said that before…
Next you need an undergarment like "Thinstincts Convertible Camisole" by Spanx. I wear mine under so many things. It's so thin, you won't know it's there, yet it flattens tummies, minimizes love handles and doesn't compress our bust.
I loved the gorgeous fall color of the sweater in my inspiration photo, but if it doesn't work for you, change it to something that does, perhaps a plum, rust, red or blue. BTW, the sweater she's wearing is a cropped sweater, so you don't have to worry about tucking into your pants. And don't worry about seeing your skin with a cropped sweater because you'll have either the Spanx, and/or long-sleeve thin blouse… or shirt… on underneath!
When it comes to wearing sweaters, let's borrow a trick from top stylists. Look at my inspiration photo. You'll notice the sweater sleeves have been pushed up to reveal a contrasting sleeve beneath. Depending on the neckline of your sweater, wear a simple, cream, collarless, lightweight long-sleeve blouse or thin, sleeveless, turtleneck shell underneath. Neither will add extra bulk under your outer sweater, but it's another layer of warmth–if needed–and a trick that will give you an added punch of polish like you have your own personal stylist.
Since leopard never goes out of style—it's considered a classic neutral—what if you accentuate this outfit with a pair of these leopard earrings, or arrange this leopard scarf around your neck? No necklace required!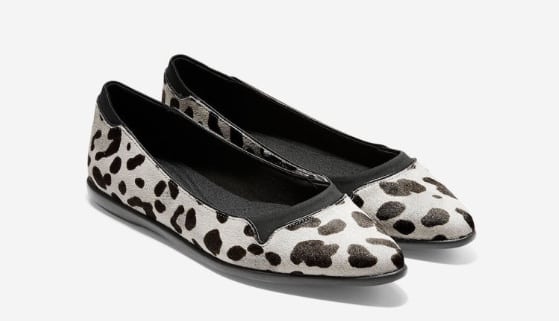 Now for a stylish pair of comfortable shoes. I have two pairs of similar leopard spot shoes made with calf hair, and I love them! I loved the first pair so much, I went back and ordered a second pair for when the first pair craters. That was two years ago. They're my go-to shoes, and the first pair is still in the box!
The pair in the link above is black, but click on them, and you'll see they also come in LEOPARD, just like the ones I have. So fun!!

Happy Shopping! Remember the look is elevated casual.