I was never one of those kids who knew what they wanted to be when they grew up. Even now I'm not sure how to answer the question, "And what do you do?" If resumes were based on how we spend our time, mine would probably read, "Doggie Doorman." Part of me wants to add "versatile, resilient and I plan for worst-case" and be done with it. You fill in the blanks. I do know life shouldn't be about what we do for a living, or the label we give ourselves or the labels we drive and wear or where we went to school. 
Life is about how we raise our children and treat one another and how we cope with change, especially when it's unexpected, and it all starts with how we feel about ourselves.
My younger self would be shocked to hear me say I learned these things from my mother, especially since she wore her narcissist's badge as though it were a blinking neon sign. But now I realize mother's "poor me" mentality did me a favor. It's precisely because she took everything in the worst possible way that made me want to be the opposite of her. In a backward twisted way, she was my role model. 
In addition to loving and being loved, life is shaped by the wounds we receive—physical, mental and emotional—and unlike mother, how we heal, move forward and grow stronger.
Lots of women leave comments on my blog or email and tell me they appreciate my ability to take life as it comes. Many are afraid to embrace life so they stand in the shadows for fear of being noticed. Like mother, they lack self-confidence so they don't make friends easily, and they're apprehensive about making decisions. I want to scoop them up and hug them and tell them the woman they are today doesn't have to be the woman they'll be in a month or a year. 
I want to take their hand and turn up the volume and dance with them in the middle of the room. And just when I see a faint glint in their eyes, a recognition of the woman they can become, I'll step away and let them dance in their own light. And in that unsure moment, when they want to retreat again to the shadows, I'll lead them back into the light and tell them to trust themselves.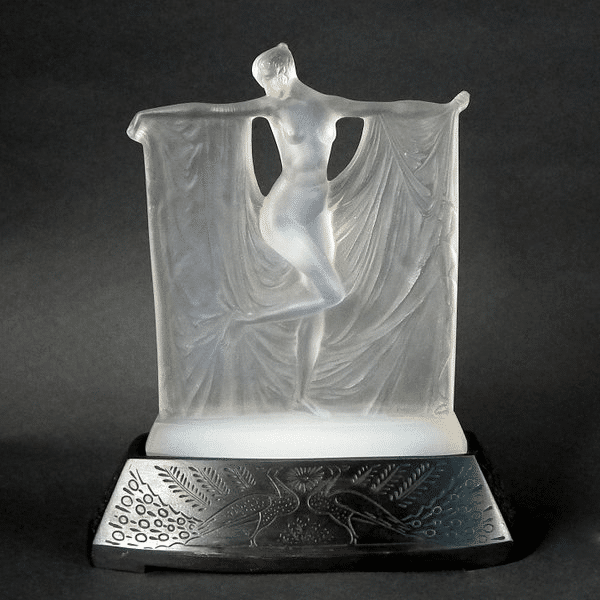 Rene Lalique, "Suzanne" Luminaire, @1925
When you get to the edge between the darkness and the light, trust that you're meant to stand in the light.
Like plants and animals and most of God's creatures, we thrive in the light. Loneliness, depression and unfulfilled dreams grow in the dark. To live in the shadows is to sentence ourselves to a life full of Cliff Notes: a life that's missing the content; the highs and lows, the very experiences that make life rich and rewarding. 
Inhale the light. Let its brilliance empower you. Be committed to the woman you're becoming and do it with intention.