One of my favorite people on Instagram is a woman known as "The Contessa" or the "Antique Goddess." A few months ago she asked her Instagram followers if anyone wanted to come to her home for lunch. Hello. Why yes, I would. When she said her table could only hold eight, so we needed to let her know asap… 
I responded by saying, "I'm coming even if I have to bring my own folding chair and TV tray!"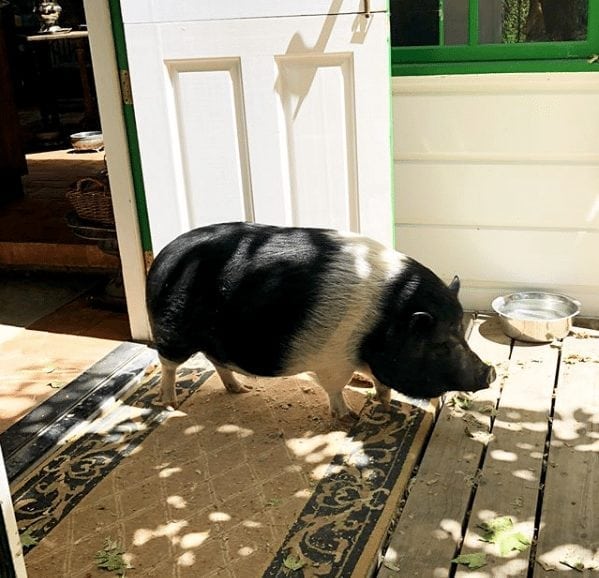 PHOTO OF BANKSY COURTESY OF JULIET @MakeMineASpritzer
Last Saturday was was a picture perfect, California day, when I joined four other women for lunch with the Contessa and Banksy, her Tea Cup pig. Known for her colorful caftans, exotic handmade slippers, big hats, smashing jewelry, a blooming garden she planted and a welcoming heart, the Contessa's Instagram bio says she "loves all things old, worn, rusted and with a hint of a grander past life and elegance in day-to-day living." Her home is that and more!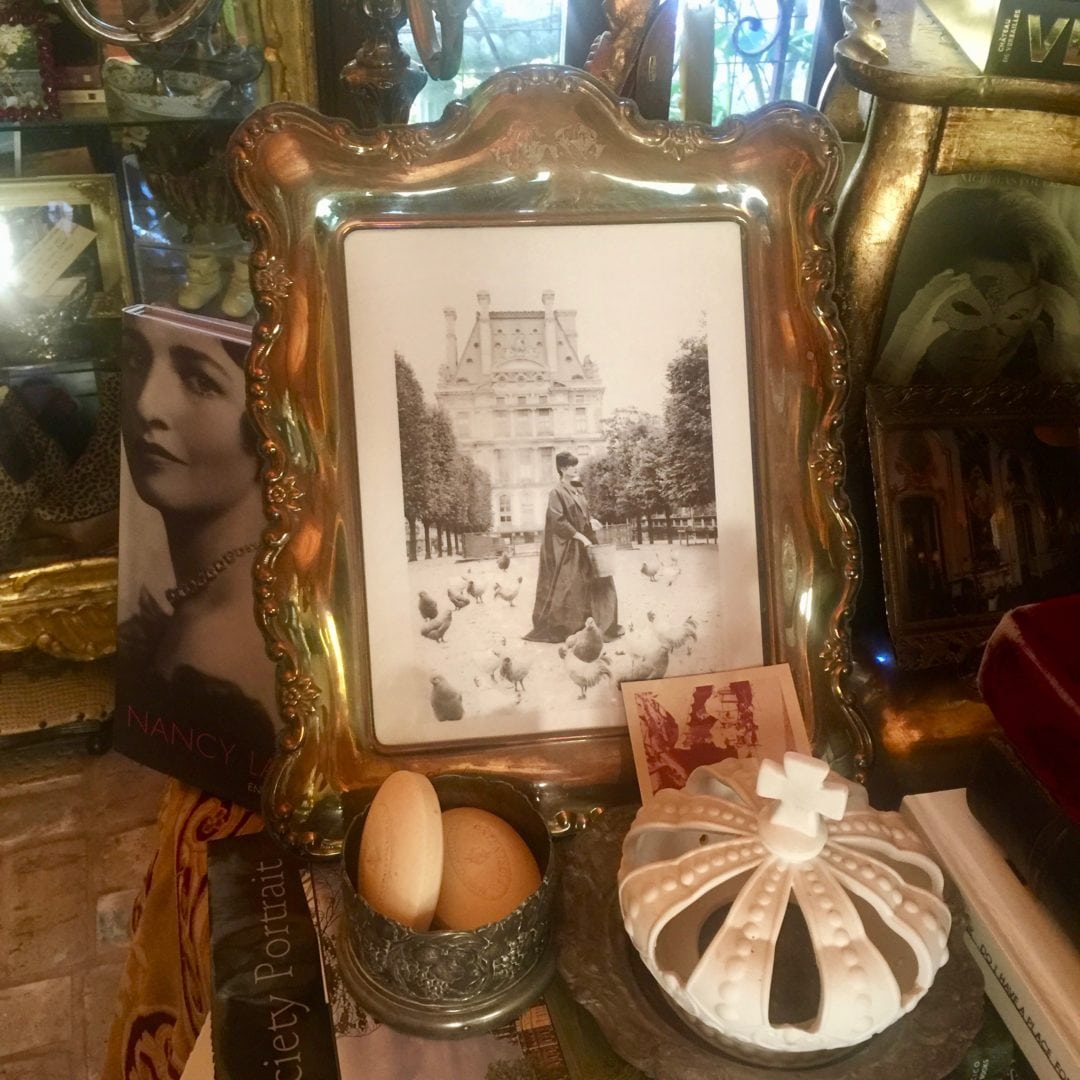 I love the photograph above. Look closely and you'll see the Contessa, wearing a red opera coat (this photo is B&W), at the Louvre in Paris, feeding chickens out of a tin bucket! I know what you're thinking: Kind of an odd place to be feeding chickens, but she and her photographer hid stuffed chickens and the bucket under their coats and carried them past security! LOL! As if a woman in a flowing, red taffeta coat was an everyday thing. If they'd been caught with their taxidermied chickens… Try explaining that to a group of humorless French Gendarmes. BTW, the rest of the brood were photoshopped in by the photographer. What a grand hoot, but that's our Contessa. Actually it sounds a lot like something I've done before, but that's another blog.
YOU CAN SEE PAPER TOWELS IN ONE OF THE SILVER ICE BUCKETS, LOWER RIGHT
Even when she goes to Safeway, Elizabeth, the Contessa, lives and dresses like a real Contessa, and she surrounds herself with things that delight and take her fancy. Like her collection of over 20, silver ice buckets. Most were purchased from an antique store or a flea market, and she uses them for everything from chilling wine to holding a role of paper towels, a bouquet of roses grown in her garden, plus they're lining the shelves of her pantry.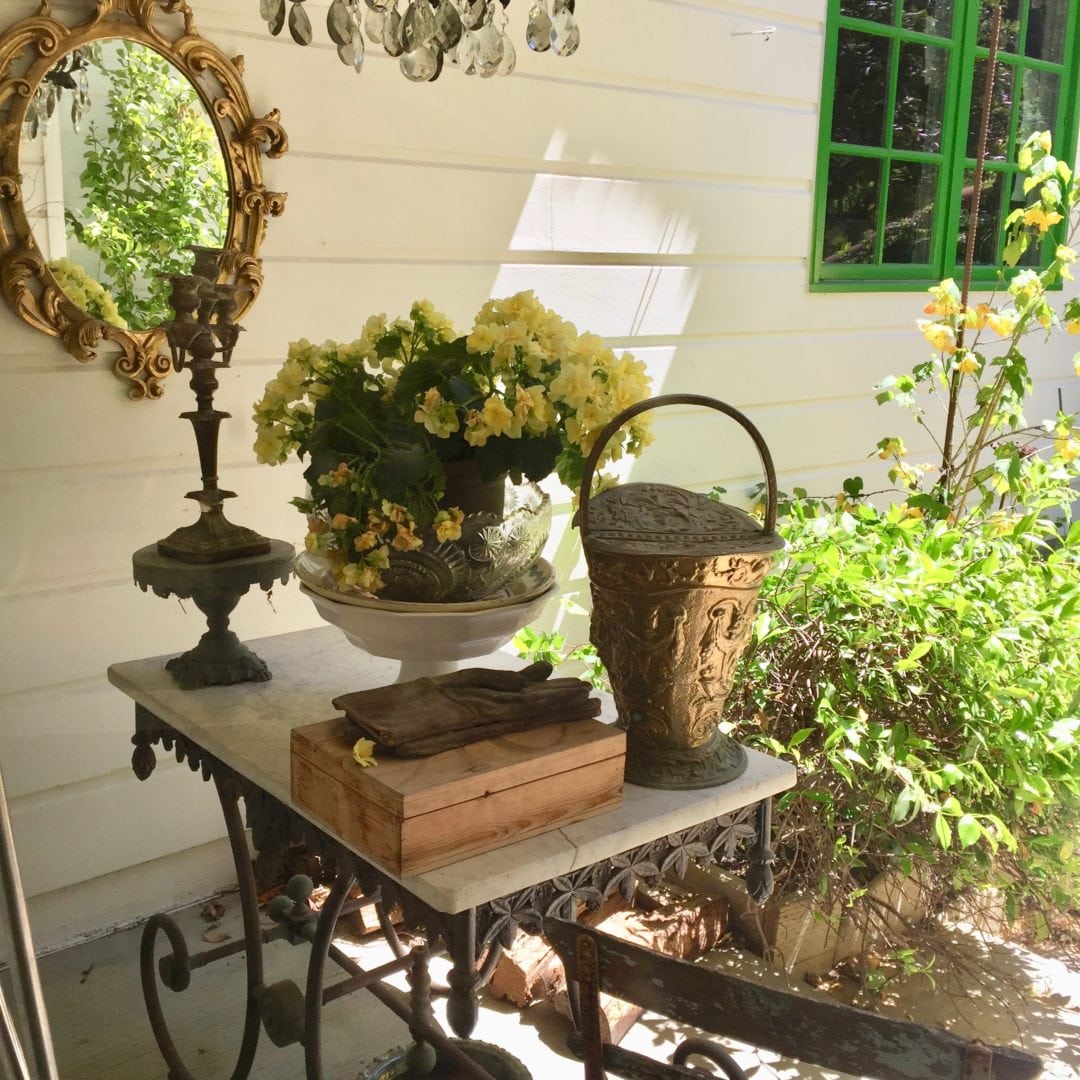 It's great fun to meet women you've known, only online, because you're already digital pen pals and know a lot about one another. There's no "so where are you from," "what do you do," or "are you married?" We all picked up as though we'd known one another forever. I can't see men, getting together with guys they've known only online—unless it's for a poker game—can you?
That's what I love about women over 50. We're done viewing other women as the competition—for jobs as well as men—and we're embracing one another like sisters, dealing with similar issues.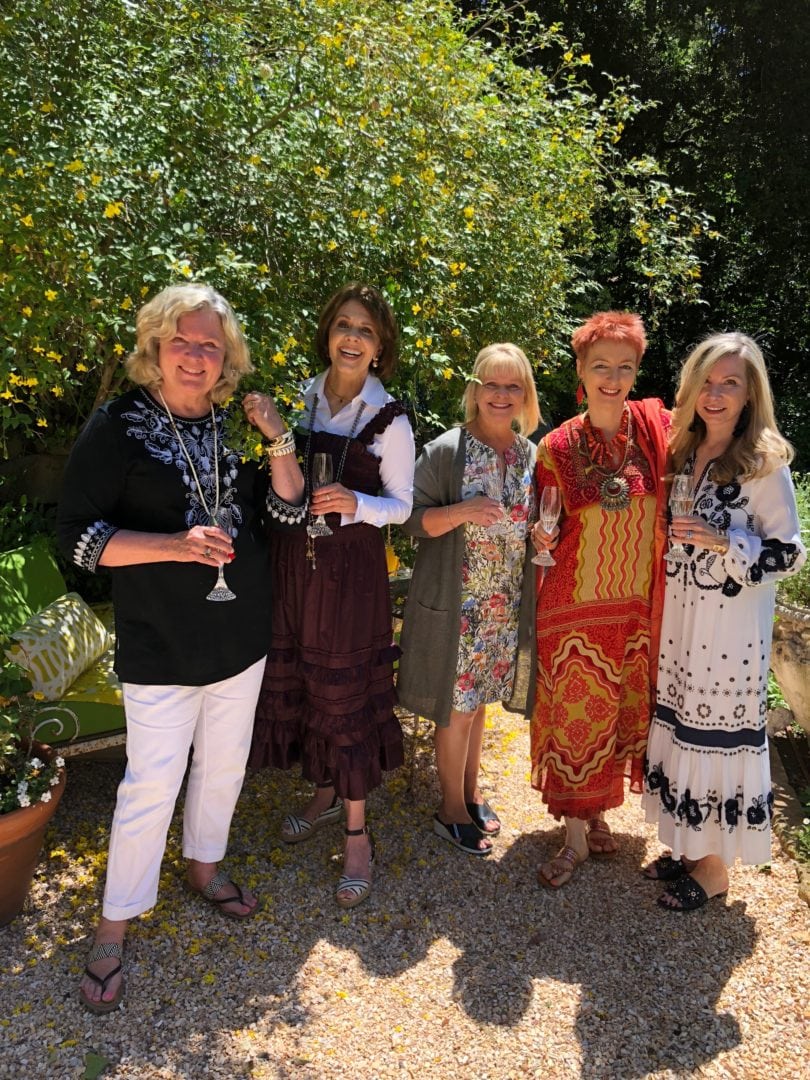 The other women around the Contessa's beautiful table were left to right: Shannon, @shannonkirbyint, a Bay area interior designer and worldwide antique/vintage hunter and gatherer. Oh, yes! I'm loving these women! Then me, Brenda @1010ParkPlace. On the other side of me is Karen, a former Ad Executive and gourmet cook. You should visit her Instagram page @figcottagelife and find her video and recipe for making Tomato Jam. It will literally make that little spot in the back of your mouth water and beg for mercy!
Andrea at @Serrahna is the vibrant redhead in the gorgeous Indian dress and Sari. She has a boutique in Oakland where she sells treasures she has made in India. On the end is Juliet @makemineaspritzer–a native Californian who recently built her dream home, which is what we did all afternoon by adding club soda to our prosecco and wine.
CAN YOU SEE BANKSY AT THE END OF THE TABLE, HOLDING ELIZABETH'S SPOT?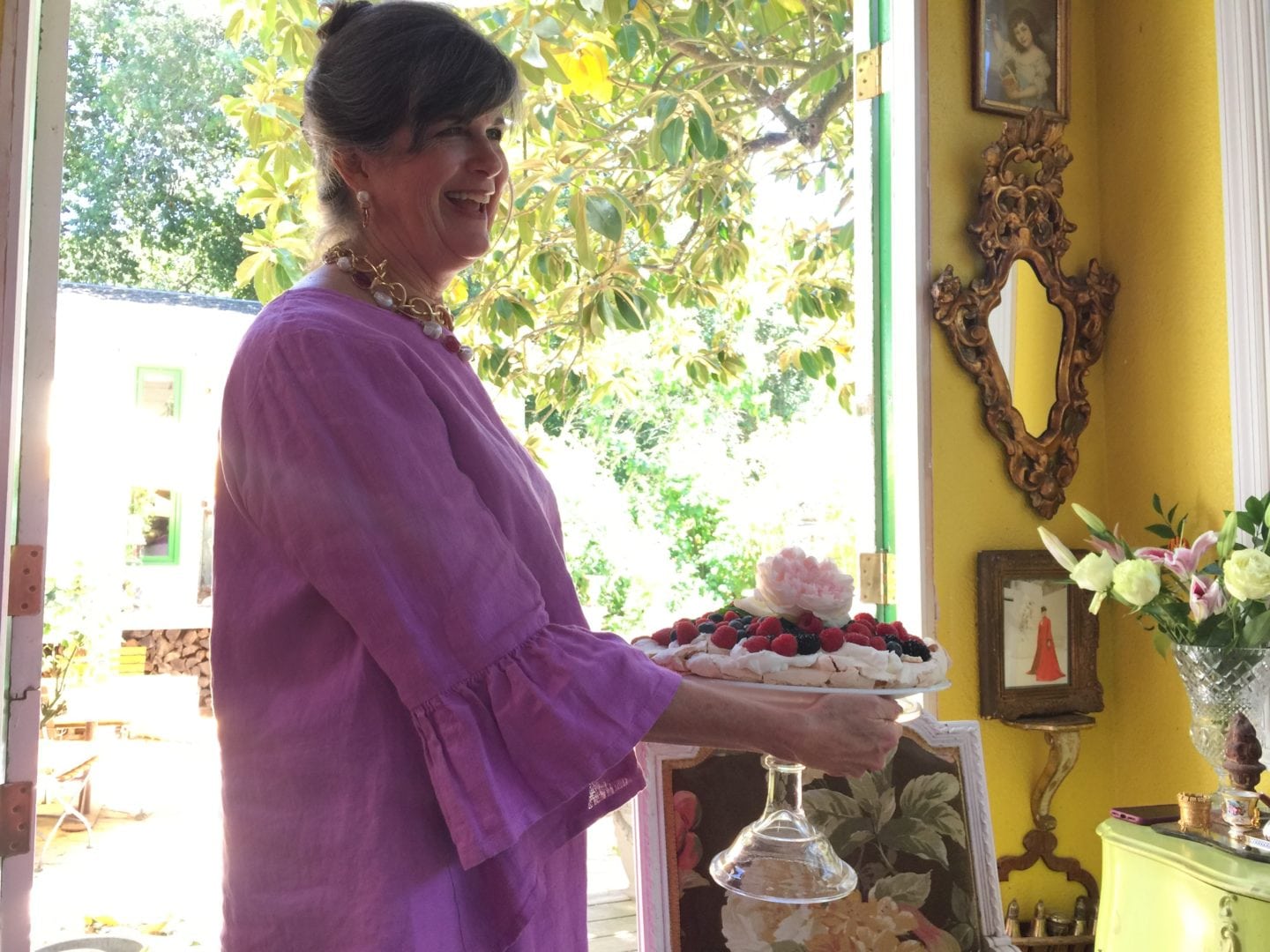 THE CONTESSA WINED AND DINED US IN GRAND STYLE. SHE MADE THIS PAVLOVA FOR DESSERT!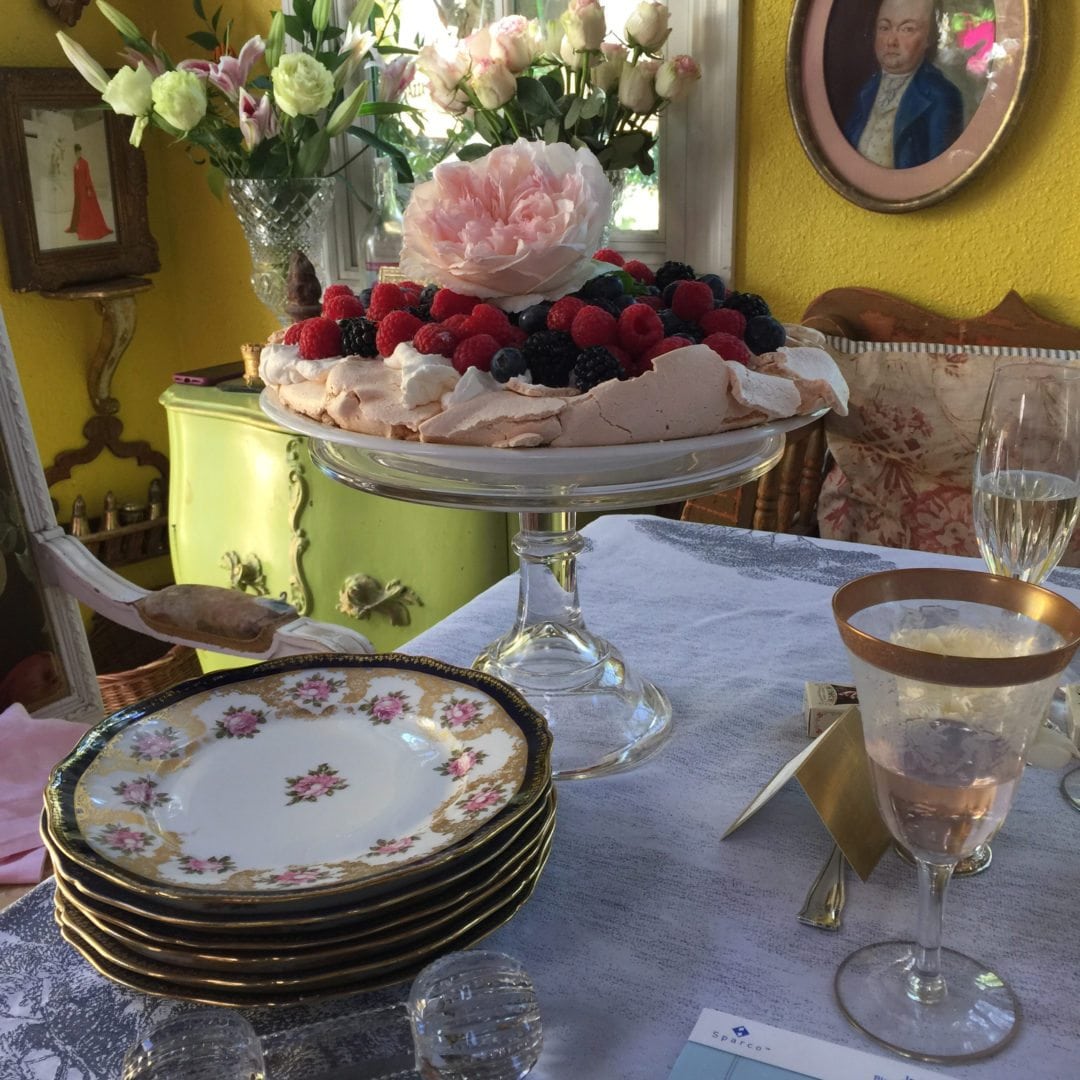 SHE TOPPED THE PAVLOVA WITH ROSES FROM HER GARDEN. If you look on the left wall you'll see a small photo of Elizabeth in her RED opera coat.
When it came time for us to leave, the other women lived in the general vicinity, the Contessa asked me, "What will you do, tonight? Stay in your hotel room? Why don't you stay for dinner?" I think she wanted to make sure it had been worth my while to come all the way from Texas. How thoughtful, because that's exactly what I would have done.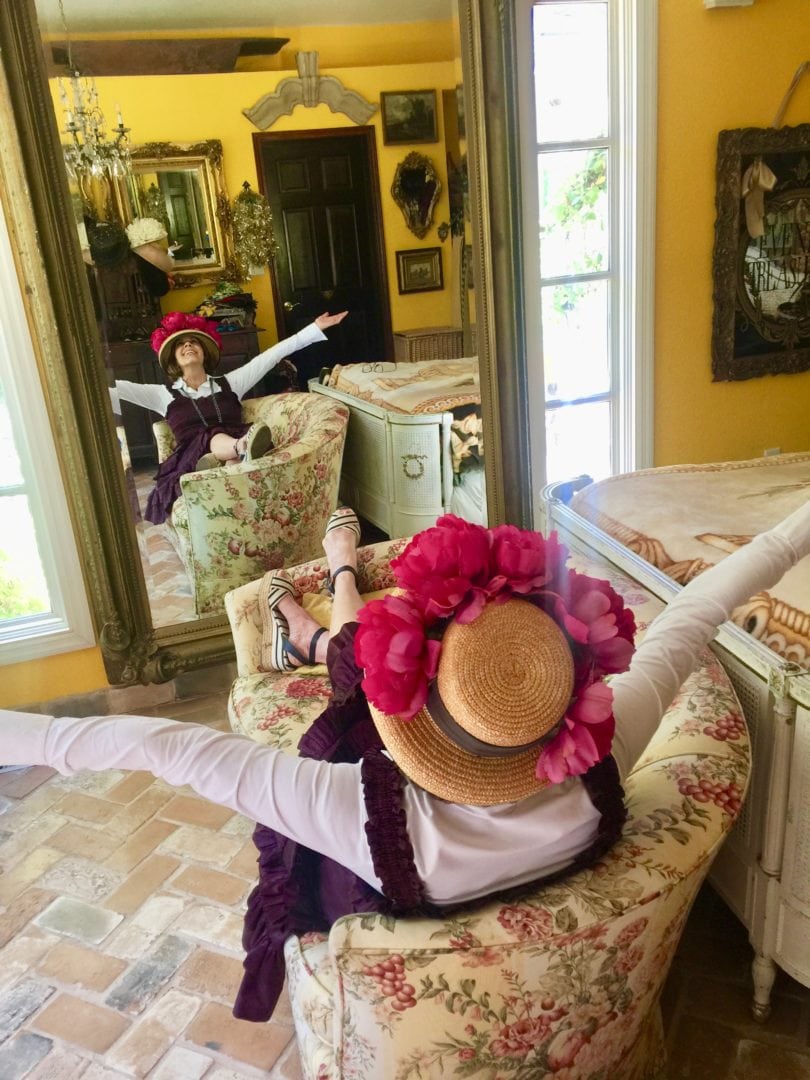 SO I SWAPPED MY HAT FOR ONE OF THE CONTESSA'S, MADE MYSELF AT HOME, AND THEN HAND DRIED HER MOTHER'S CHINA WE'D USED AT LUNCH.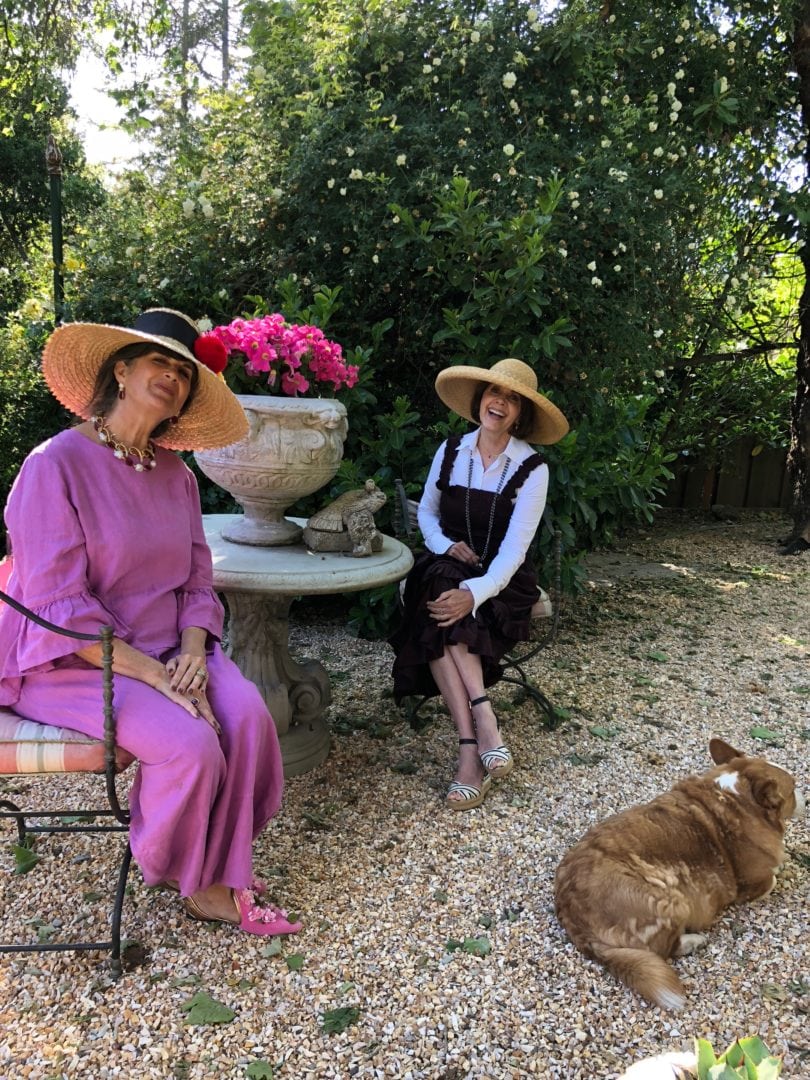 ME AND ELIZABETH… NOTICE HER HANDMADE, VELVET SLIPPERS AND MR. THEODORE.
That evening I met her neighbors, who brought their friends to see the Contessa's home and backyard, which she and her husband have lovingly created. It's like nothing in suburbia you'll ever see. The neighbors adore her, and it's easy to see why. I also got to meet the infamous "Italian," the Contessa's adorable husband, who grilled steaks and Tuscan bruschetta for the three of us. Did you know the proper way to eat bruschetta is to grill the bread, rub it with a clove of garlic, poke the bread with a fork and then drizzle olive oil over it? Yum!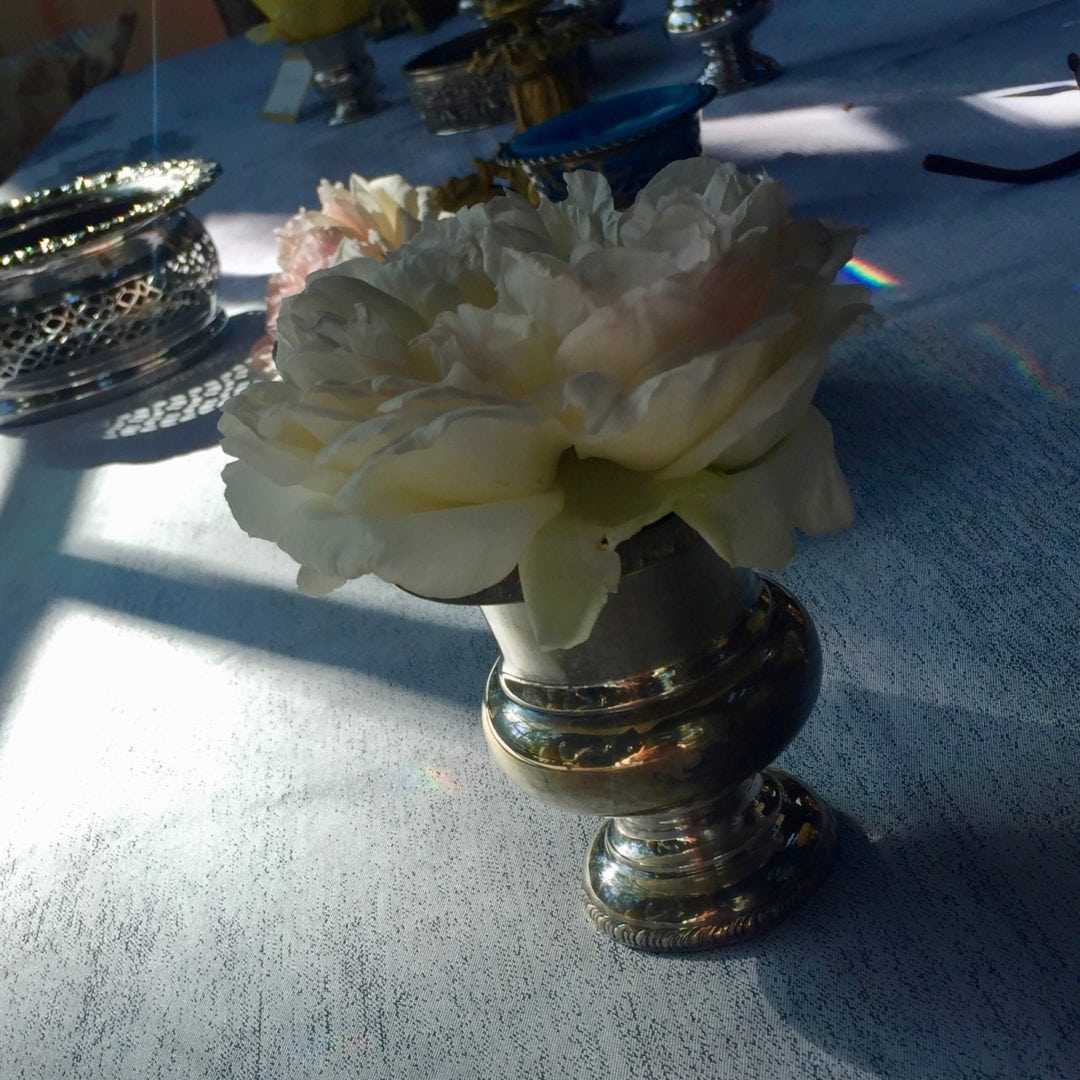 LOOK CLOSELY AND YOU'LL SEE THREE LITTLE RAINBOWS ON THE TABLECLOTH FROM THE CHANDELIER.
The real rainbow occurred when we were visiting with new friends and talking about shared interests, which started with the Contessa. Thank you for teaching us to live, everyday, like we're all Contessas. And if we're not using the "good china," what are we waiting for? Seriously! Who's more special than us and our loved ones? Thank you, Contessa dear, for sharing your home and going to so much trouble. Please know how much we love and appreciate you!