I've discovered Zara, and I love their clothes. This surprises me for two reasons: It's fast fashion plus the fabrics are poly blends. I will still buy an occasional investment piece, but for fashionable seasonable clothes, I'm having fun shopping online with Zara. While these outfits may not hold up a few years from now…
Over the short pull I'm getting chic designer looking clothes for a fraction of the price.
If you've been following Fashion Friday then you know I've been tweaking my style and for the last month, I've been on the Zara bandwagon, so I want you to know I AM NOT being compensated by Zara in any way. In fact, Zara doesn't even know I exist. 
I've always had fun with fashion. Me and my date, Zorro, on Halloween, 1990. 
And if you've been following my fashion tips over the last couple of years then you also know I'm a big advocate of natural fibers like 100% cotton, wool and silk. Zara does mostly polyester and elastane mixed with cotton and linen, but girlfriends… Their clothes are affordable designer chic! Part of me wonders what happened to the real Brenda? Who is this woman who's taken over her fashion buying? It's the Brenda who can no longer afford insane designer prices and no longer has anywhere to wear them. Besides, my new found love affair with Zara doesn't mean this is an "either/or" decision. I'll still buy and bring you 100% cotton and wool from other brands.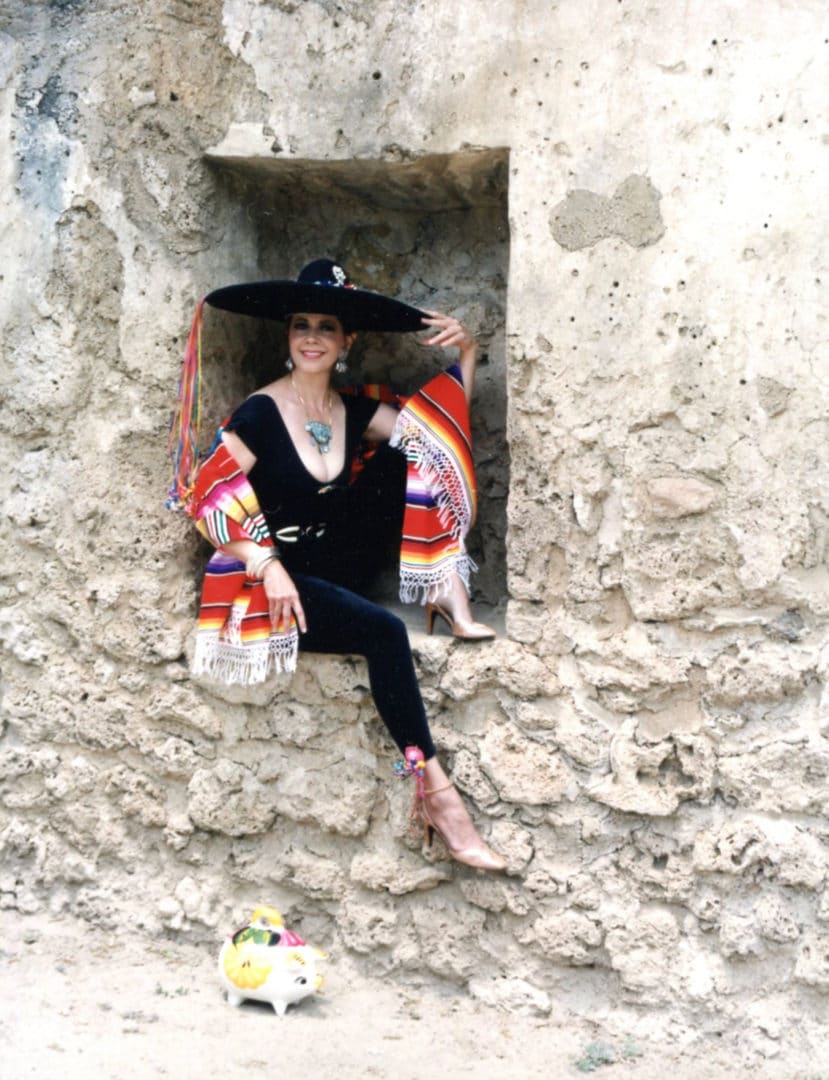 My Mistress of Ceremonies costume, 1995,  for one of San Antonio's most popular Fiesta events. The ceramic pig on the ground was my "purse."
Now that I've reached the magic age of "just" 70, I'm having more fun than ever, playing with fashion, and I feel free to wear what I want.
Okay, let's talk outfit specifics as in "Great Summer Whites Paired With Neutrals" that will take you from date night, to a birthday lunch with the girls, or dinner while you're on vacation in Charleston, South Carolina, or Florence, Italy.
We're already living through the educational and cultural dumbing down of America, so what if we're not a part of the dumbing down of the dress code?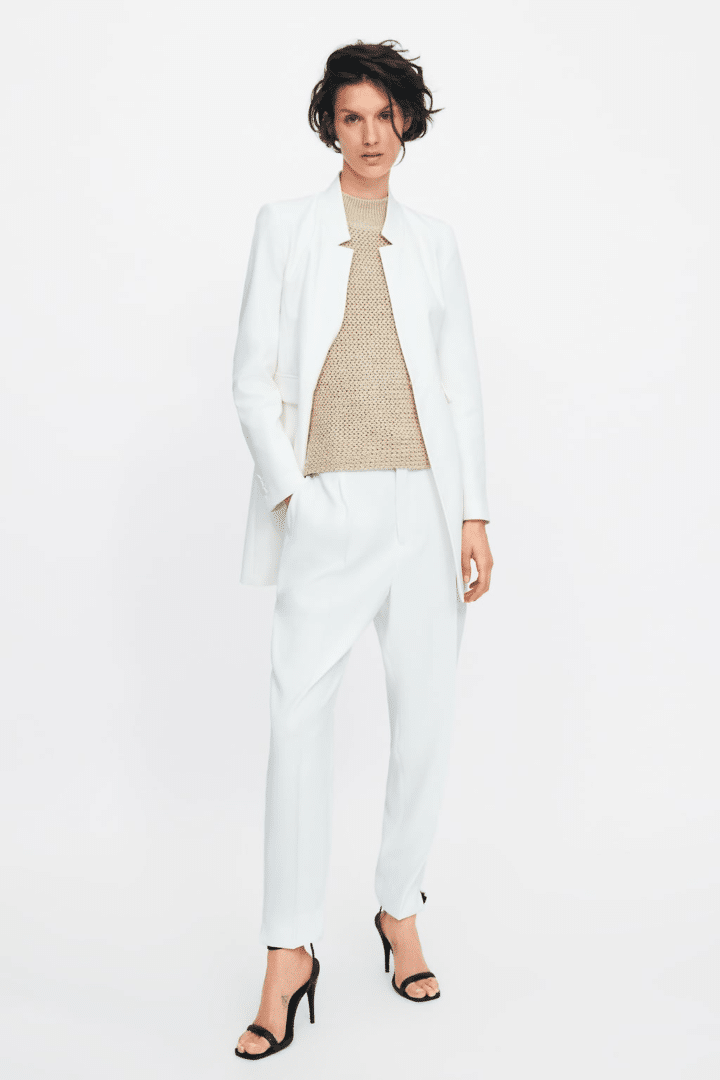 I love Zara's $89.90 "Frock Coat" with a high lapel collar and long sleeves.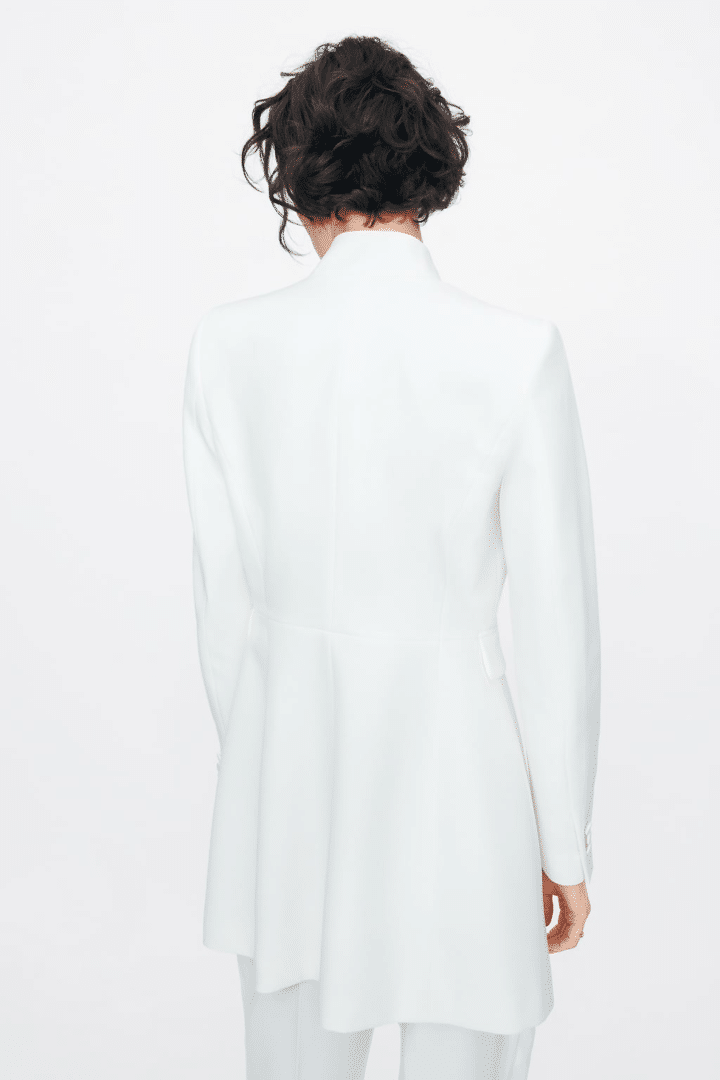 The coat is a "rocker chic" length, and covers a multitude of sins on our bum and upper thighs. A jacket like this from The Row would be $2,000! True, it would be 100% cotton or silk or linen, but still… I'd rather spend that on my vacation.
I love the model's hair… It's a bit sassy and messy and has movement. Check out last week's Fashion Friday about "Modern Youthful Hair and Nails for Women Over 50."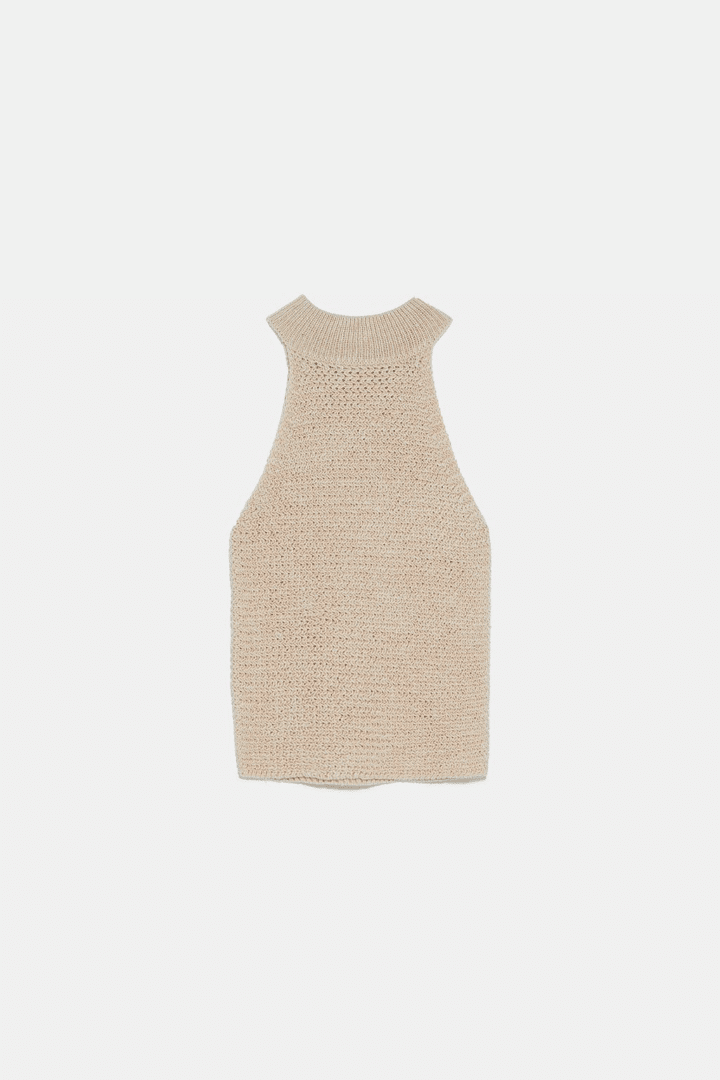 Wear the coat with this $29.90 neutral Halter Knit Top. Don't worry about the inset cut on the arms because the jacket will cover it.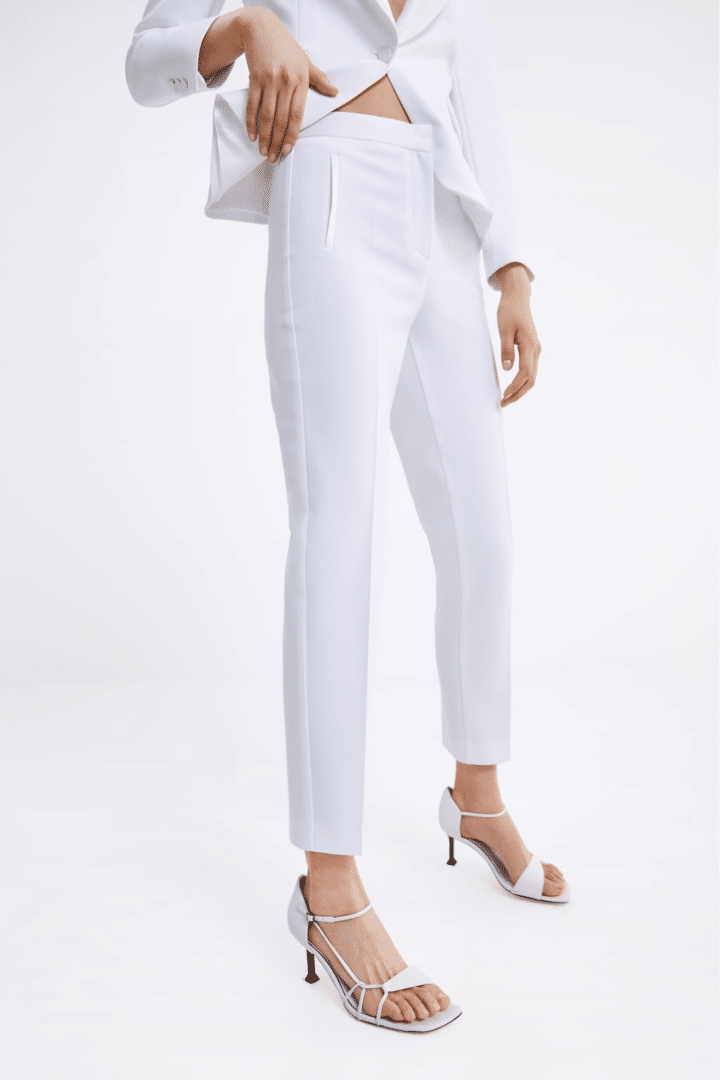 Then put them both together with these Zara $49.90 Tuxedo Pants that have a nice wide waist band and a flat front and zip. Wear with neutral colored sneakers, flats, espadrilles or heels that feel good on your feet.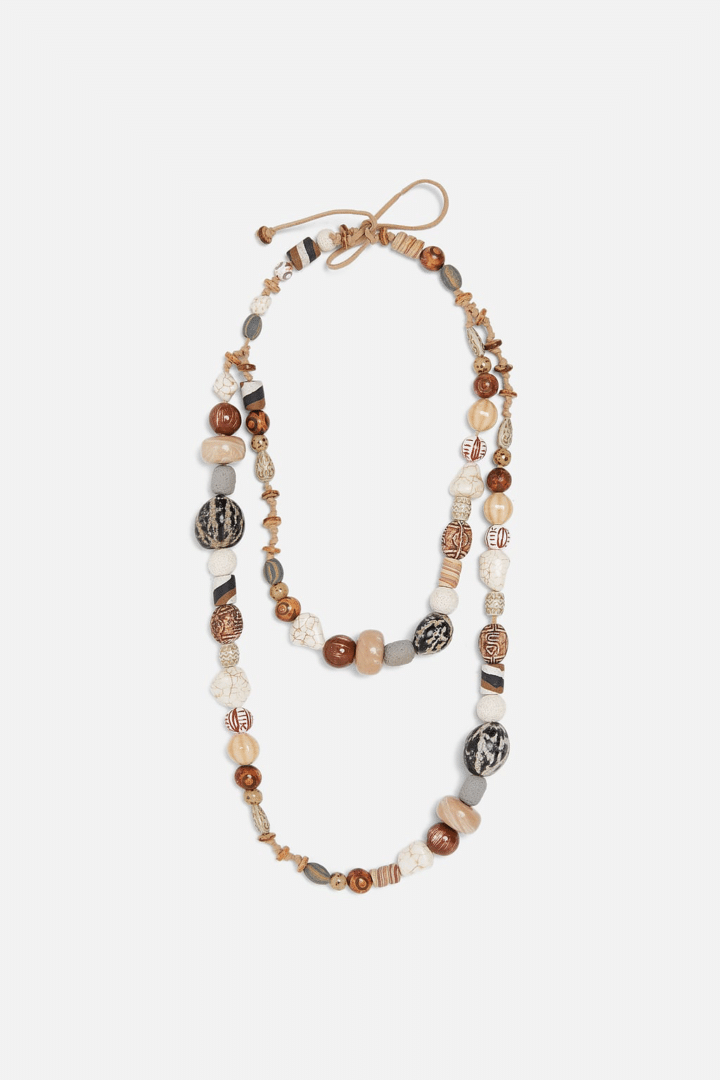 If you accessorize with Zara's $29.90 Long Stone Necklace, I would wear small earrings…
…like these Zara $19.90 Natural colored Pearl Hoop Earrings.
When it comes to dressing, I'm not flying anyone else's flag but my own, and I love coloring outside the lines!