Today is my birthday. I'm 25,550 days old, although many days I don't feel a day over 9,125. This week I received a sweet birthday note from Lee Moczygemba. You may remember I interviewed her last year, "Here's What 94 Looks Like." Lee is my role model for aging. What an amazing woman! In her note Lee said, "I want to congratulate you for achieving the babyhood of the second part of your wonderful life.
When you speak of this upcoming birthday, and thereafter, always insert the word "JUST" before you say 70."
The fact that I'm "just" 70 has been weighing on me in surprising ways. I'm not depressed about it at all. It's just hard to believe I'm really this age; that so many loved ones are no longer here and how many different lives I've been privileged to live. 
When I look in the mirror, in many ways, I see a younger Brenda. The 24-year-old, young woman, dressed in green hot pants, who donned a helmet and strapped herself in a handbuilt, 3.2 liter, 2,000 pound, rear-engine, silver Porsche and raced at Texas World Speedway, Mid-America Raceway in St. Louis and Green Valley north of Ft. Worth. I liked that the men respected me as a driver, but I found it funny—and sexist—when they protested with officials because they didn't want me driving in the same class they were in, because I beat them. 
The fragility of the male ego is an astounding thing! They can handle getting beaten by a better driver as long as it's another male.
A few years ago I told that story to my young friend, Daniel, and he and another friend and I went to a Go Kart track that's a third of a mile long with some fun turns. So much for thinking I was going to show the young kids how it's done. When the light turned green, Daniel floored his car and I was a distant memory in his rearview mirror. So embarrassing! I wanted to say, "Honest! I had a room full of first place racing trophies!" Now that made me feel old.
Over the last few months I've been writing a memoir, and it's been an interesting opportunity to look back at my life.
In the process I fell in love, all over again, with my first husband until I remembered why I slammed my fist into his closed casket and said, "Damn you!"
If you're looking for closure on something, writing a book about your life may not be the way to achieve it. I've decided closure is a term invented by a California therapist designed to make us feel as good as we possibly can about a bad situation, but I don't think real closure happens until we take our last breath. Those situations will always be opened-ended in some way.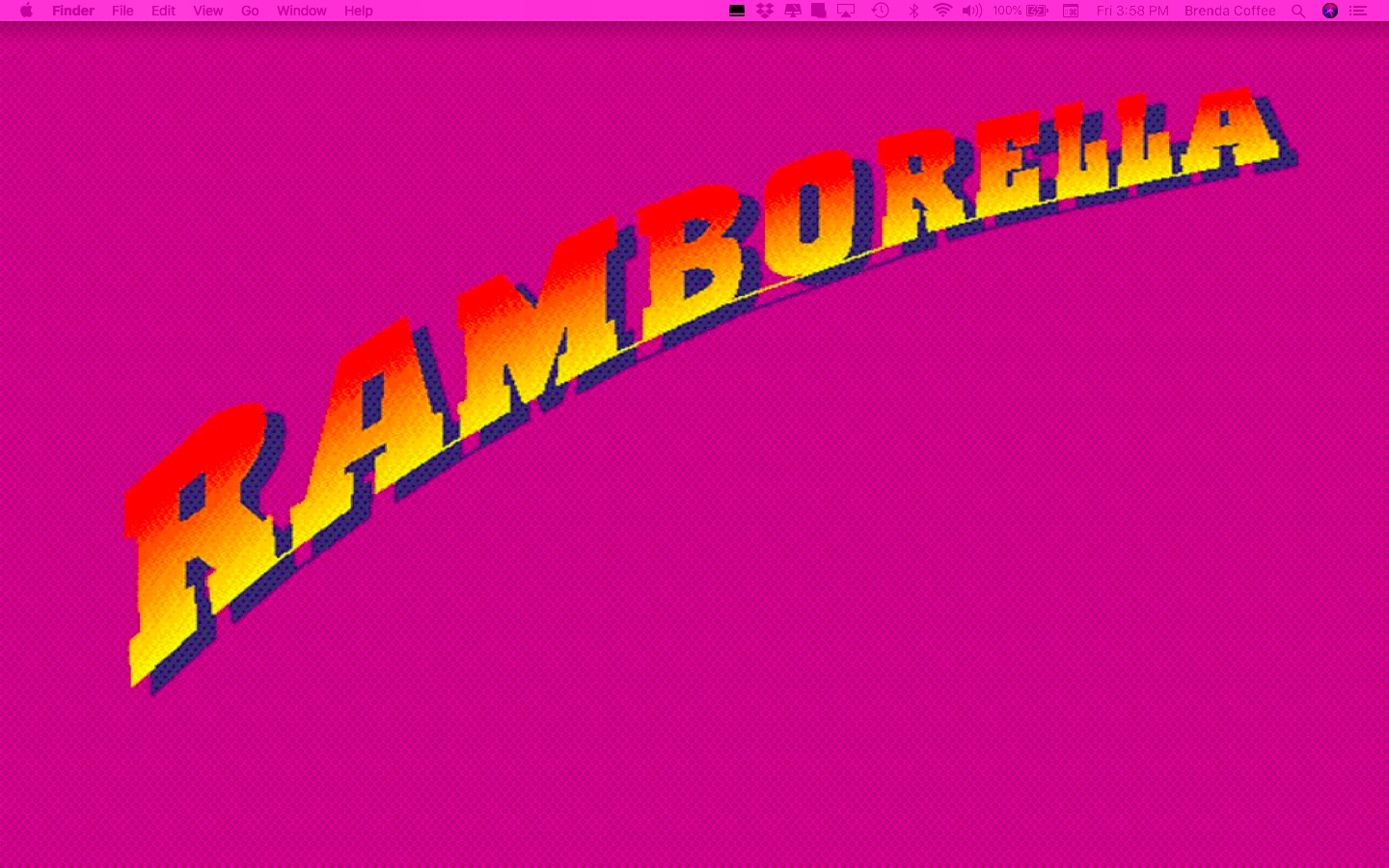 The startup screen on my computer, made by a friend when I was 38.                   RamborellaⓇ Brenda Coffee
A couple of weeks ago I had dinner with a dear friend who asked if I missed being Ramborella, the adventurous woman who lived on adrenaline and sought out guys named Chico and Chewy who superglued people's eyelids shut. My answer was no. At some point I realized "You can't step on Superman's cape. You can't spit in the wind. You can't pull the mask off the Lone Ranger," and if you want to see your next birthday, you need to find another lifestyle. I was 47.
My best, hard-earned advice about aging is to love one another; let the small stuff go and the big stuff? Give it to God and ask Him to help you. Then get up the next morning and do it all over again.
How are you handling aging?