Last week I met Diana Ross at her 75th Diamond Jubilee Birthday concert at the Wynn Hotel in Las Vegas. Twice during the concert she took two fingers to her eyes and then pointed them at me in an "I see you" gesture. I was in the fifth row center, end seat and was standing and singing most of the time, so I'm not surprised she could see me. Toward the end of the concert she answered a couple of questions from the audience, and then motioned for me to come up to the edge of the stage. 
Over the microphone Diana Ross said to me, "Did you see me looking at you? I like your dress."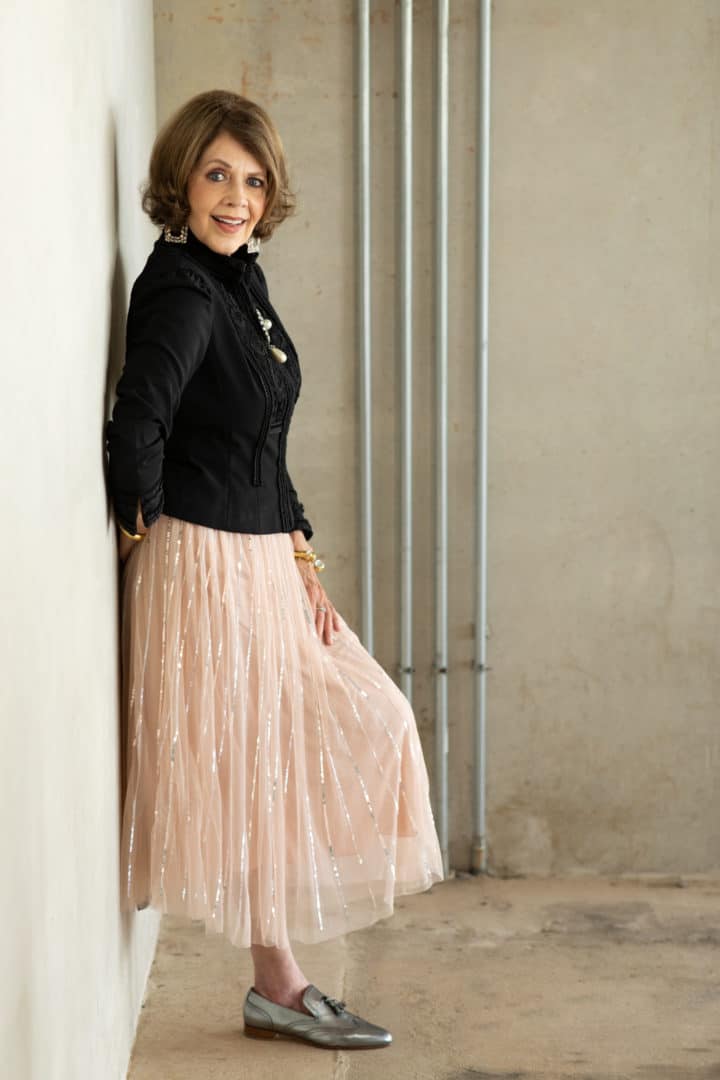 Honest… I have two legs. The other one is against the wall and hidden by my skirt.
She smiled and handed me the microphone. I said, "Yes," and thanked her and told her, "I dressed for you."
Not wanting to babble on, but in keeping with the clothing "thread" she'd already started, I said, "Your stage wardrobe is so fabulous. What do you wear when you're not performing?" to which she said, "Nothing," and the audience went wild! She then took my hand and smiled, as if to say, "I'm just kidding." It was a fun moment. A great present for my 70th birthday!
Takeaway? Always look your best. You never know who you're going to meet!
Because my Instagram audience has waited a week to see what I wore—and they've already seen one of Miss Ross's dresses—I'm featuring my dress today on Fashion Friday, but tomorrow, Saturday, come back and read Brenda's Blog to see Diana Ross's wardrobe changes and her surprise guest.
My outfit is a compilation of old and new pieces… some very meaningful to me.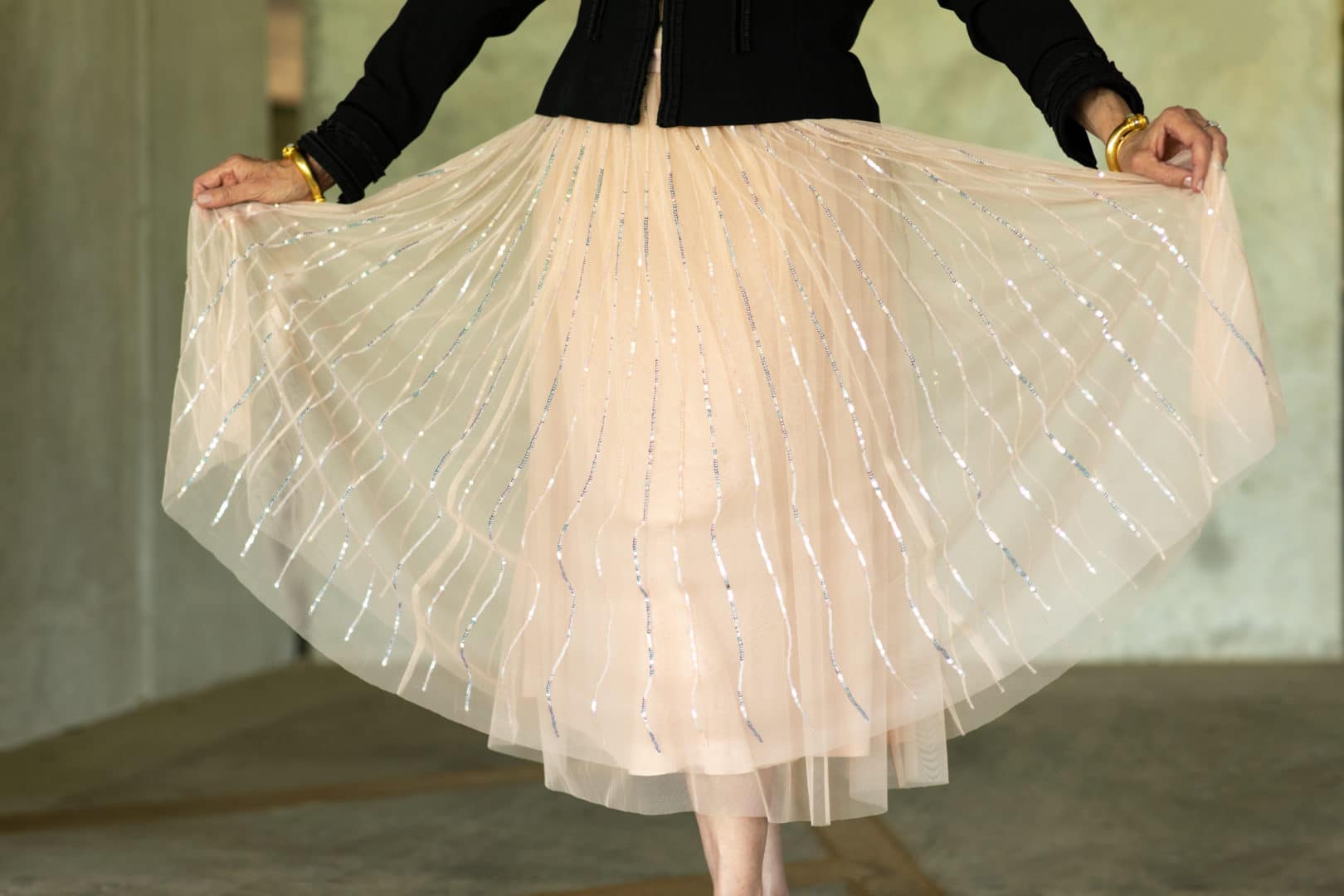 In one of last month's Fashion Friday posts, "Over 60 and Still Tweaking My Style," I featured this pink tulle, silver sequin skirt from Needle & Thread and mentioned I was wearing it to see Diana Ross. I love how the light subtly catches the sequins. It's understated and elegant.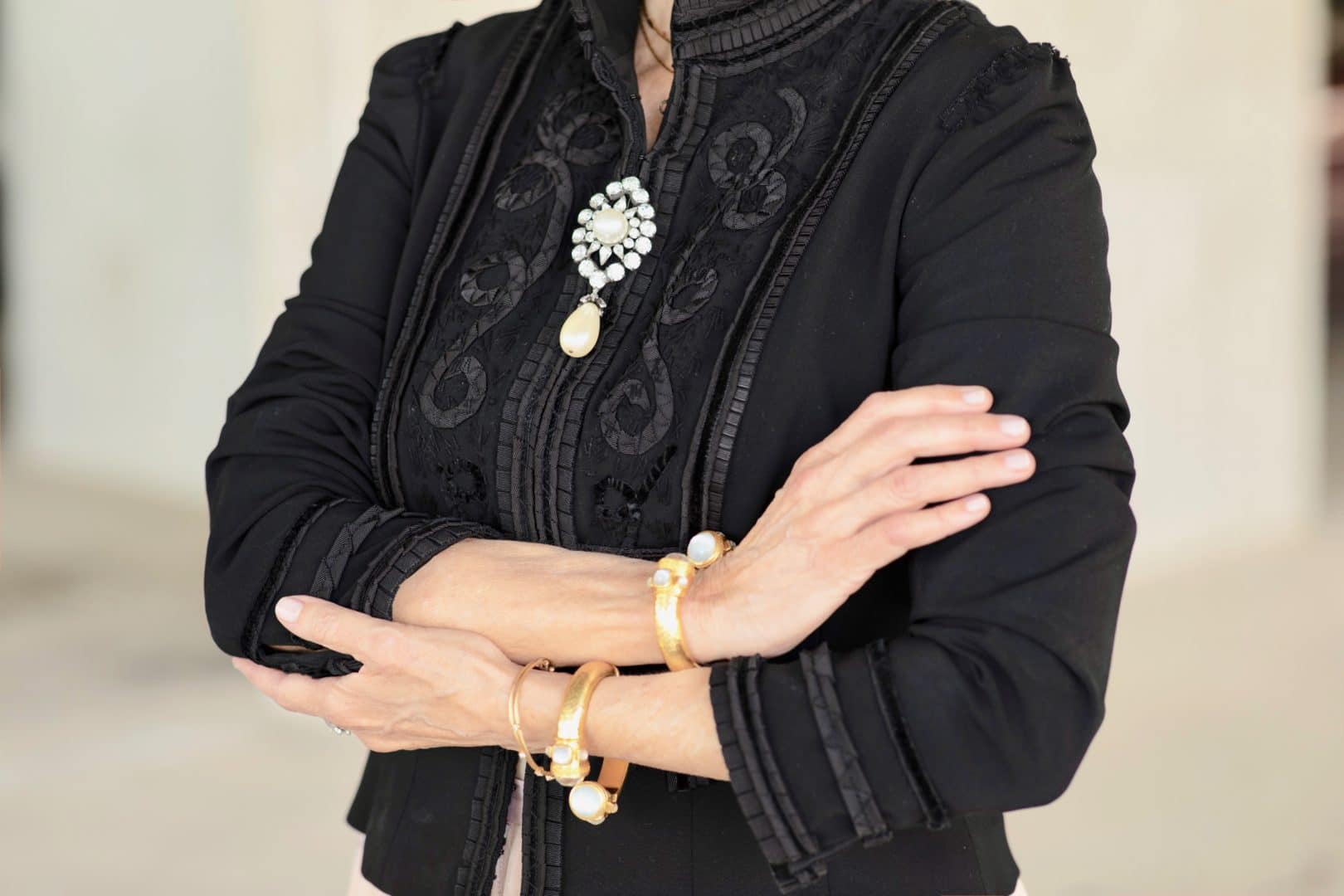 I adjusted the contrast on the photo of the jacket so you could get a better view of the detail, but it still doesn't do it justice. 🙁 It's exquisite!
My 15-year-old Ellie Tahari jacket came with a matching pair of black pants. The intricate details down the front and on the collar and cuffs are what makes it special. I knew it would be an elegant pairing with the tulle skirt. Both have a lot of detail, but they don't fight one another. Here I've fastened the small hooks and eyes and am wearing a nude camisole underneath… should the hooks come undone. Sometimes I wear the jacket open with a long-sleeved blouse with beautiful cuffs that peer out from the end of the sleeves.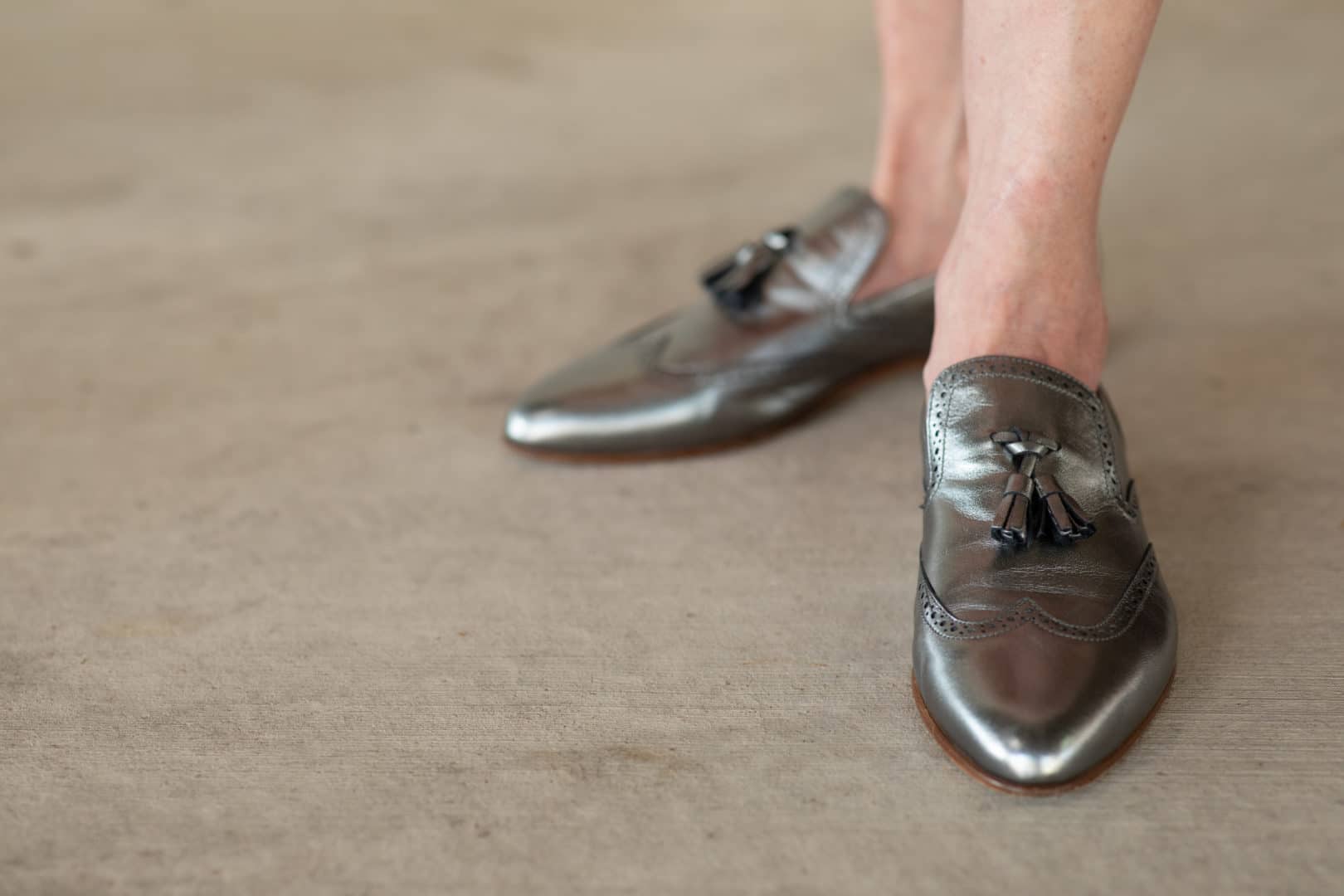 I featured my silver, Fabiana Filippi oxfords in an April, Fashion Friday post, "Six Tips: After 50 Call Us Glamma." Silver shoes of any kind—sneakers, flats, espadrilles or heels—are considered a neutral and go with almost everything. These are flat and comfortable to walk in, yet dressy enough for this outfit. Also I would wear them with a white jacket and white pants, even blue jeans and a white shirt. Anytime you want to add some panache!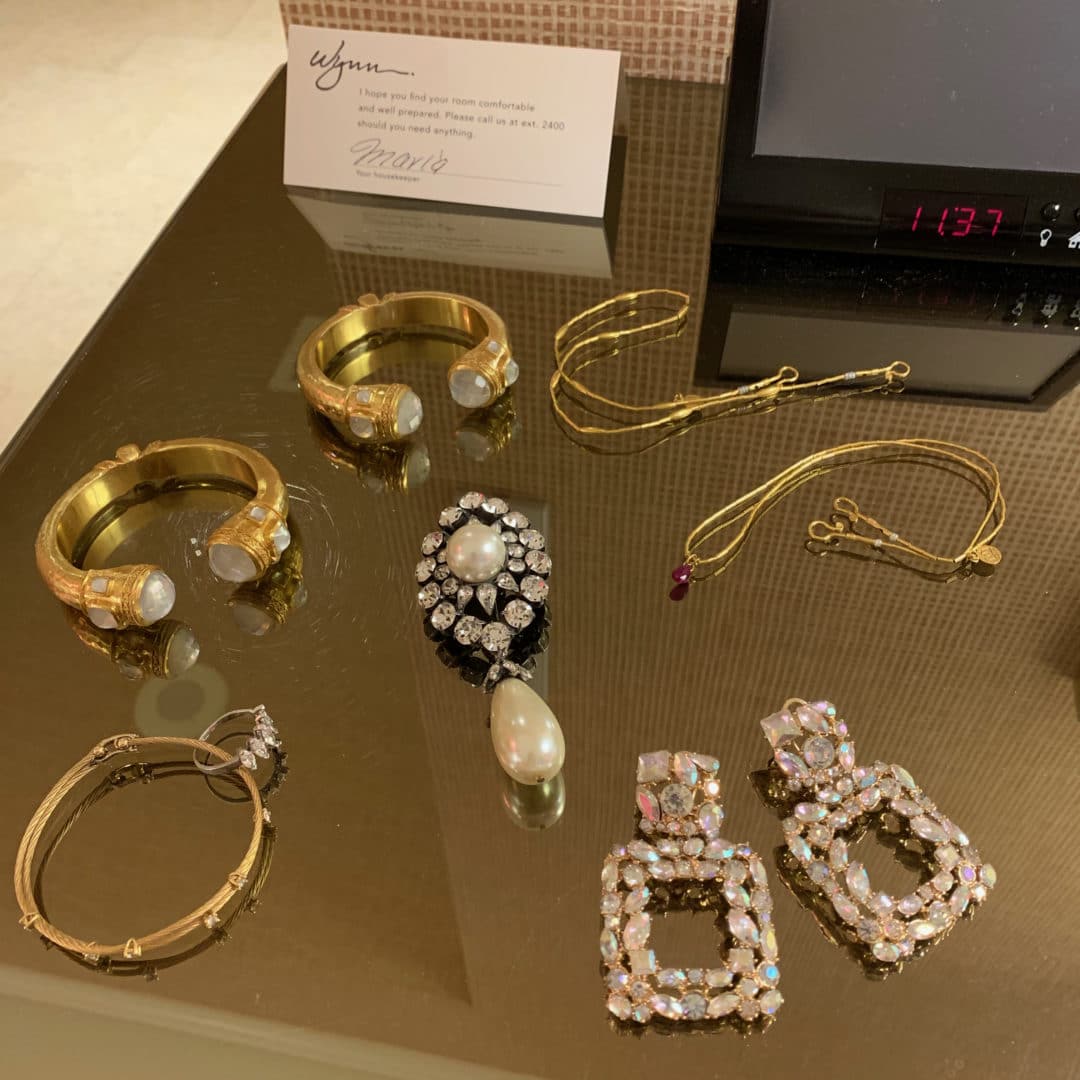 Photograph by Brenda Coffee, ©2019
My jewelry is a mix of high/low. Clockwise are: two, 24k gold, Gurhan necklaces. One has a ruby briolette. I bought them as a reward for getting through 10 breast cancer surgeries, 8 rounds of chemo and a lifetime of fear, and I wear them every day so the "cost per wear ratio" is very low. (If I bought something very expensive and rarely wore it, it would have a high "cost per wear" ratio… but I wouldn't buy anything like that.) 
I love these $12 glass earrings from H&M, also featured in the "Call Us Glamma" post. Next, linked together in this photo is my diamond wedding band—after James died I had it resized and wear it on the middle finger of my left hand—and the gold and diamond Paul Morelli bracelet I bought at Bergdorf's five years ago as a reward for a huge personal achievement. Like my Gurhan necklaces, I wear it every day, even to the gym, so the cost per wear ratio is low. Then there are my two Julie Vos bracelets… I get so many comments about them, and everyone thinks they're more expensive than they are. And in the middle is my grandmother's Art Deco rhinestone and pearl pin. She had the best pins, and I think of her strength and how much she loved me whenever I wear them.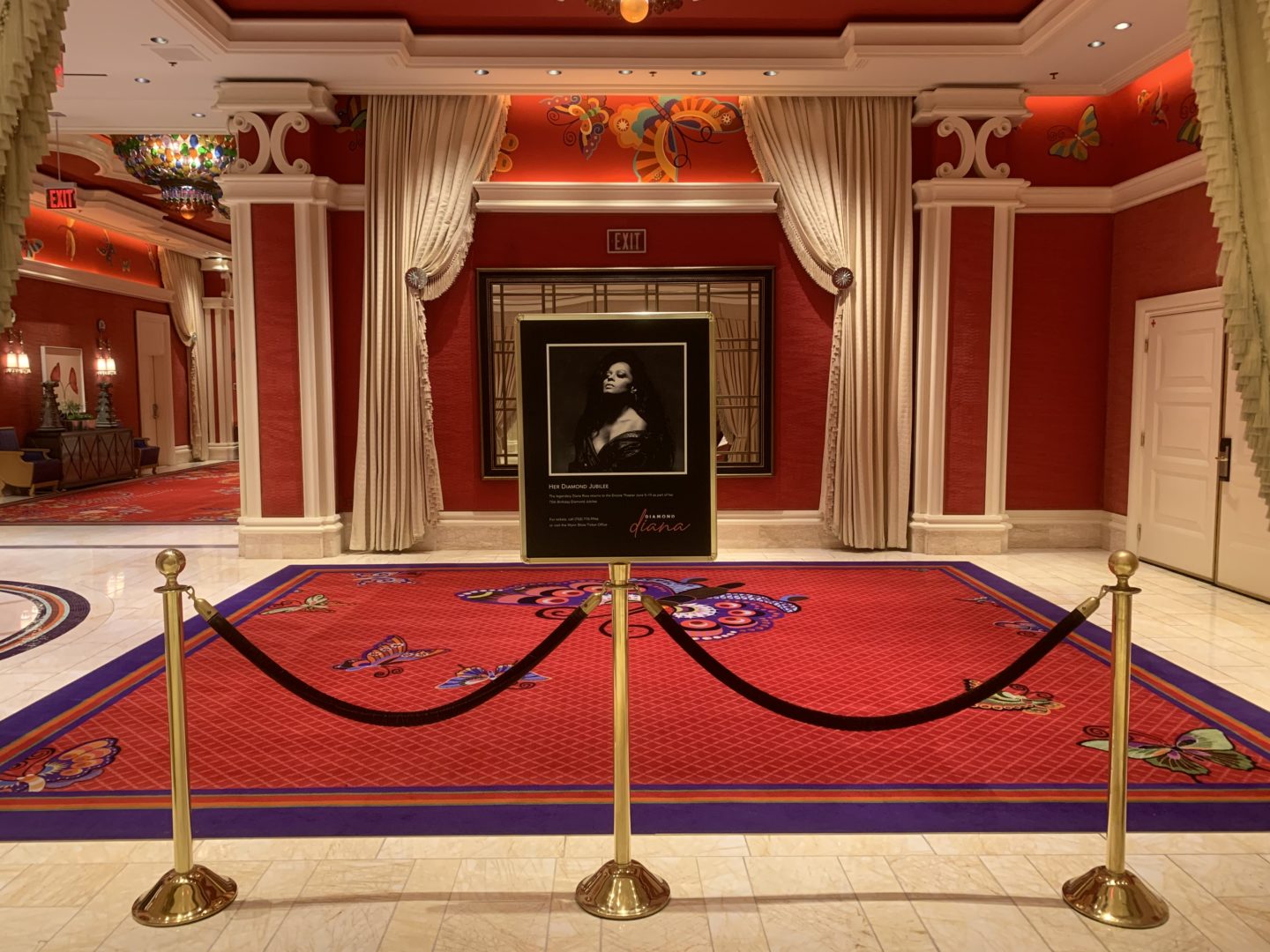 Would you have dressed up to see Diana Ross? Many women were there in their mow the lawn clothes and flip flops. Seriously? It's the Wynn Hotel's beautiful intimate theater! It's Diana Ross! The gorgeous, glamorous Diana Ross! How can you not dress up? I realize this isn't the Rat Pack days when everyone dressed when they came to Vegas, but color me clueless on this one. Have we gotten so casual that women no longer enjoy looking pretty?