Last Friday I spent my 70th birthday at Diana Ross's 75th Diamond Jubilee Birthday Celebration at the Wynn Hotel in Las Vegas. Oh, my stars. She was fabulous. The first time many of us saw Diana Ross was back in the 60's, on black and white TV, when she was lead singer of the Supremes. They were powerful and chic, like nothing we'd ever seen, and they became Motown's most successful artists of that decade. The Supremes are still the best charting girl group in US history and one of the world's best-selling girl groups of all time.
Did I tell you Diana Ross called me up to the stage because she liked my dress?
Because my Instagram followers have waited a week to see my dress—they've already seen one of Miss Ross's dresses—yesterday I featured my dress and my conversation with Diana Ross on Fashion Friday. You can see it here, "Diana Ross Liked My Dress."  So now I'm sharing Diana Ross and her glamorous gowns on Brenda's Blog.
🎼You Can't Hurry Love…  🎵
With her big eyes and lush lashes, the great Miss Ross is girlish and gracious, a glamorous goddess who, without even trying, oozes sultry confidence. She owns the stage, but not in a prima donna way, and she radiates joy and happiness and… I think I've already said this, but she looks fabulous! Many of her gowns were strapless, and at 75-years-old and five children later… She and her arms are in phenomenal shape! I aspire to have her arms.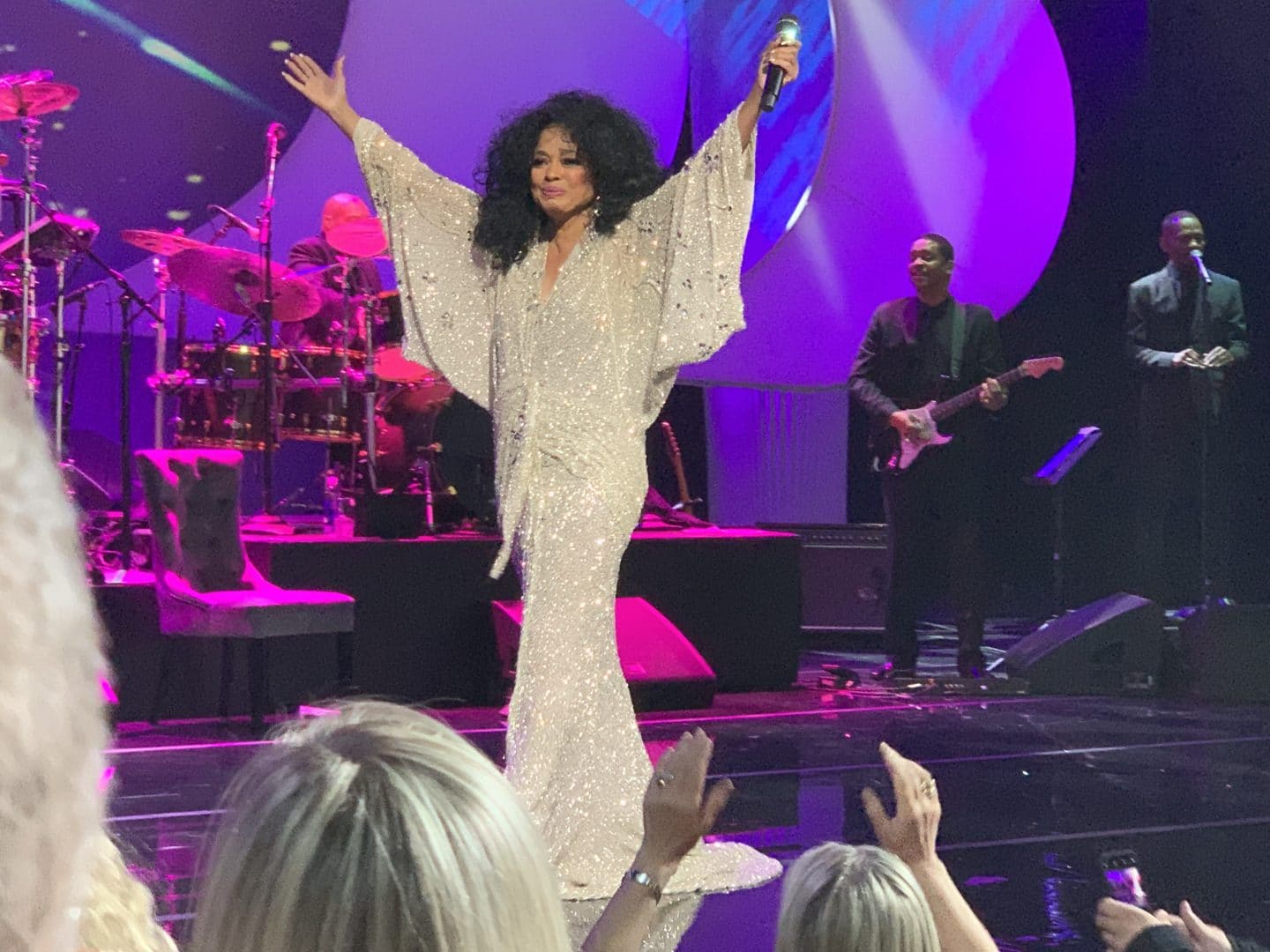 Some of her gowns were covered in beads and rhinestones, so I can't imagine how much they weighed or how hot they were. Each gown had a matching tulle wrap that made her look like a fairy tale princess, and she had a hand fan the color of the dress. With each outfit she wore different, but dazzling, accessories. If they were real, surely there was a platoon of bodyguards backstage.
Every three or four songs she would glide offstage for an outfit and jewelry change that took two minutes, max. Each time she returned to the stage the audience cheered like it was our first glimpse of her. She is, indeed, an iconic legend, and it was thrilling to watch her perform. She still has every bit of that beautiful voice we've always loved. Even before she called me up to the stage, I couldn't stop smiling.
🎼Ain't No Mountain High Enough… 🎵
She wore the same pair of silver espadrilles with each outfit. The soles were level with the ground and about three inches tall. They looked comfortable and worked well with her glam wardrobe.
🎼Upside Down… 🎵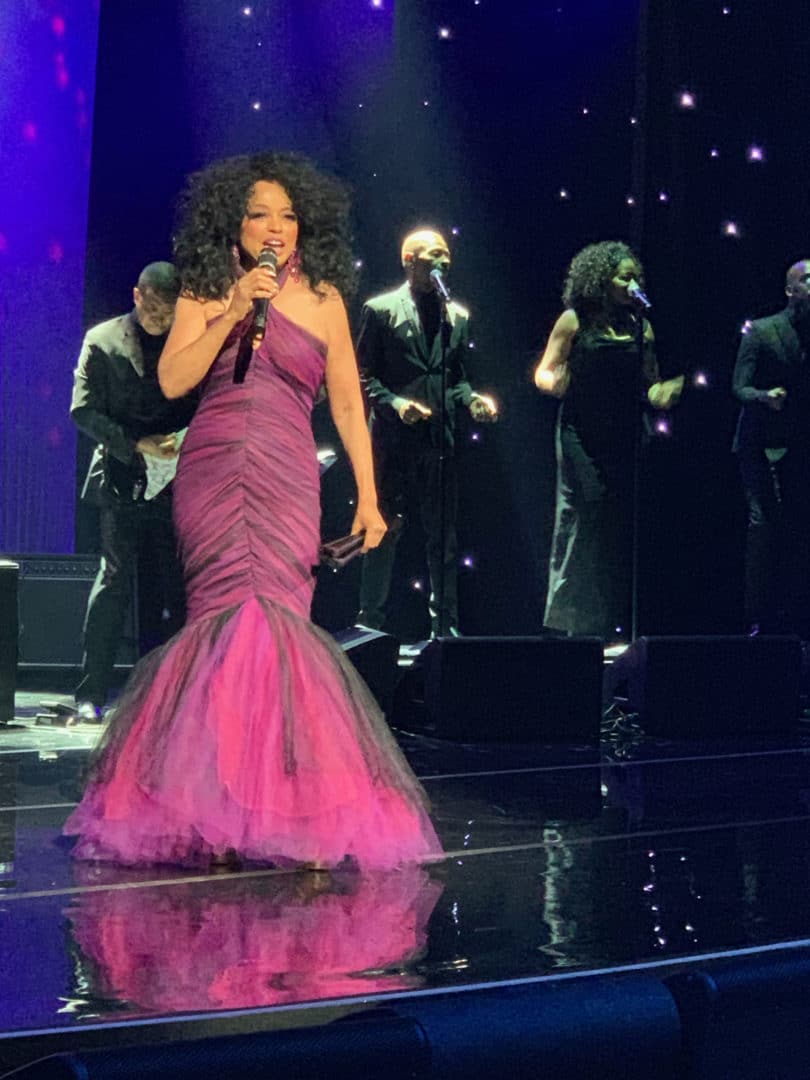 Remember in 2011, when Oprah went crazy over Tina Turner's hair, and Oprah started wearing a Tina Turner wig? Well I'm still having a Diana Ross hair moment, wishing my hair curled up and out like hers. In my 20's, I enhanced my natural curl with perms, so I had Diana Ross BIG hair, and I loved it.
🎼Endless Love with Lionel Richie… 🎵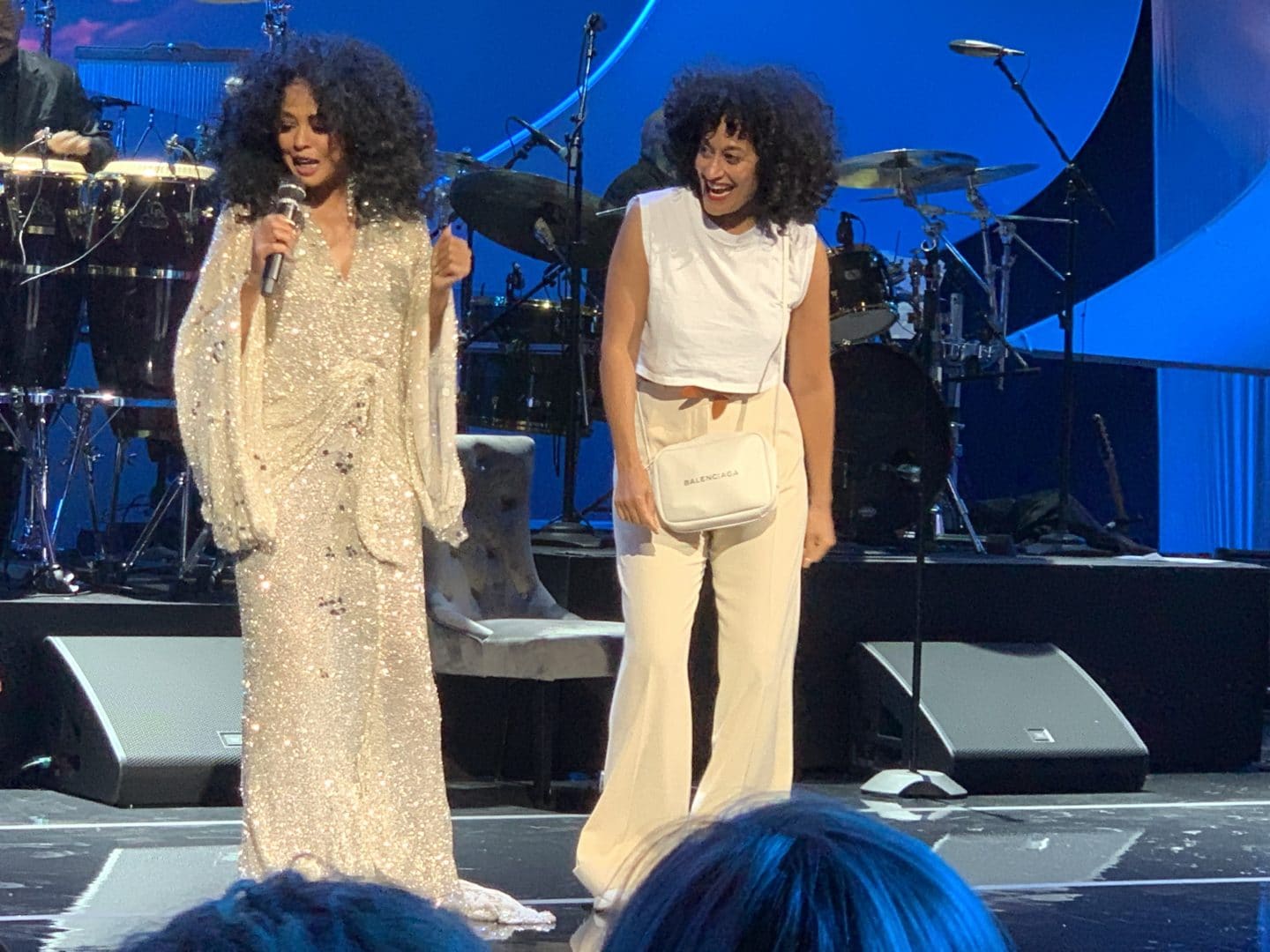 Toward the end of the concert Diana Ross brought her daughter, actress Tracee Ellis Ross from Blackish, onstage. They have such love for one another. Tracee took pictures of her mom, onstage, and said to the audience, "Isn't she cute?" Yes, she is, so I'll add "cute" to the descriptive words about Diana Ross.
If you're interested in seeing Diana Ross perform, check out her 2019 tour schedule which includes a return to the Wynn Hotel in August. I have searched, to no avail, for the names of her phenomenal sax player, guitarists, keyboard players and three backup singers. My apologies to them because they are off the charts great!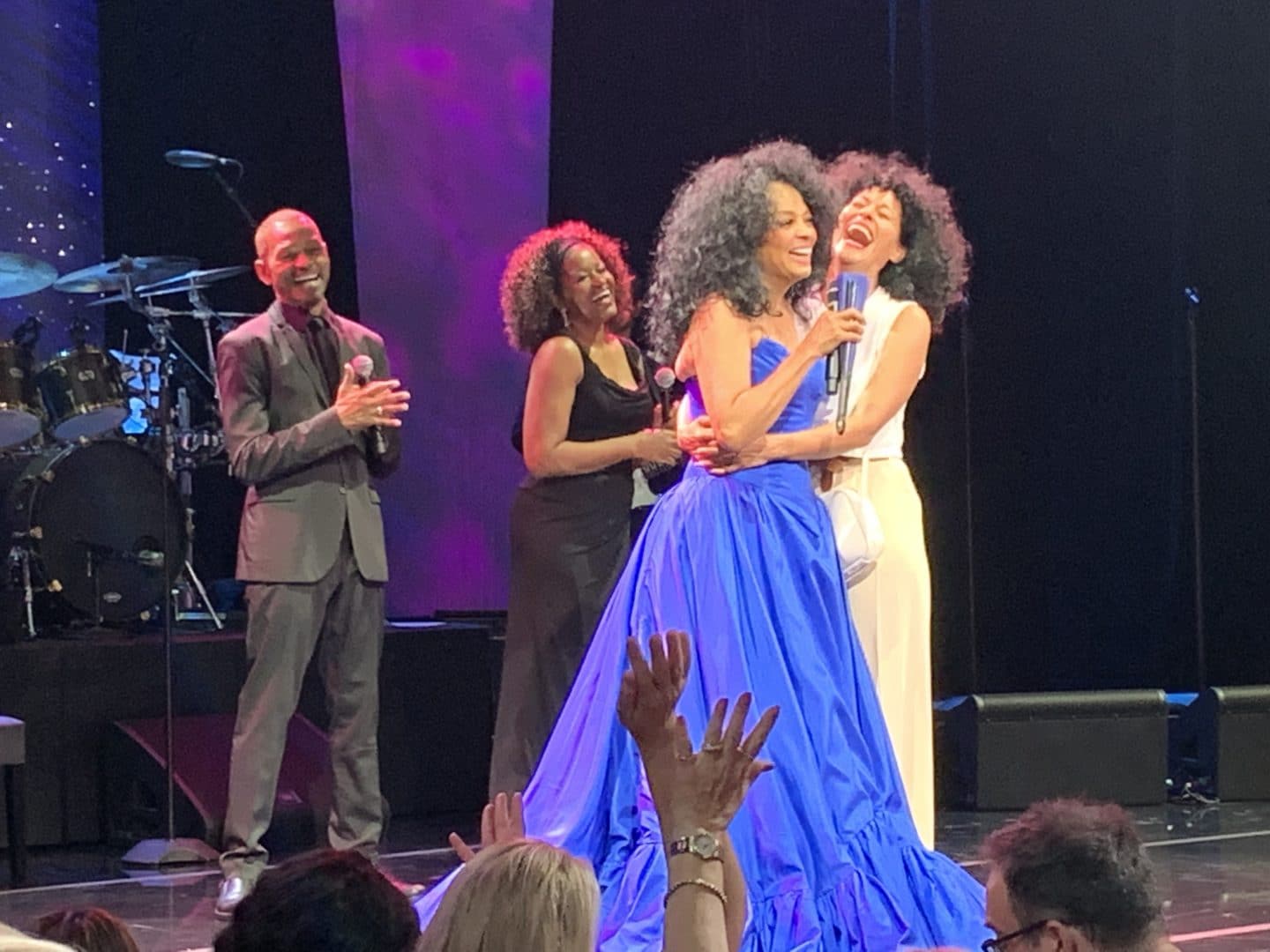 FYI, their hair is not grey. It's a lighting illusion.
Diana Ross reaffirmed for me that my 70's will be what I make of them. I'm taking her jubilant example to heart, traveling and writing my memoir. I hope you seize whatever age you are and MAKE LIFE COUNT. I went on this trip by myself, and I had so much fun! To all of you single women, regardless of age, don't be afraid or self-conscious to travel alone, because you might miss out on some incredible experiences!