There's always something to be grateful for. Sometimes you just have to look a little harder to find it. That being the case, why not look for things to feel grateful about? This is, of course, a lead-in to share something I hadn't given a thought to until I needed it and discovered my friends didn't know about it either.
I'm talking about Leg Make-up! That's right, make-up for your legs. And your arms. Or anything else that needs coverage and staying-power without transferring to your clothing, your furniture, or (Heaven forbid) someone else's furniture. It's also supposed to stay on in the pool.
After the strokes, I began taking two blood thinners, and I'm not kidding when I tell you that if you look at me too hard, it'll leave a bruise!
Based on the bruises I wake with, daily, I look like I've been out brawling in my dreams.
I think the only way to prevent them would be to wear bubble-wrap or an ice-hockey goalie's outfit. What's a gal to do? I do research. A hundred years ago when I was doing make-up professionally, I remember using a product to cover port-wine stains or birthmarks clients didn't want showing in professional photos. I even covered a model's tattoo, back when we hid them.
After reading about every product that might fit the bill, I went to a good department store that carried my two finalists, and after talking to the makeup consultants there, I decided on Dermablend.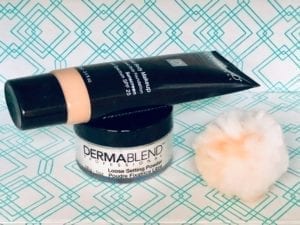 It was easy to apply, using my fingertips, and had excellent spreading-power and coverage. The setting powder was indeed translucent, and my legs were beautiful once it was done. Even my skeptical sweetie was impressed. I forgot to take a photo of the large bruise on my ankle as a "before photo," but like my left leg, the spider veins are always there, so you can compare.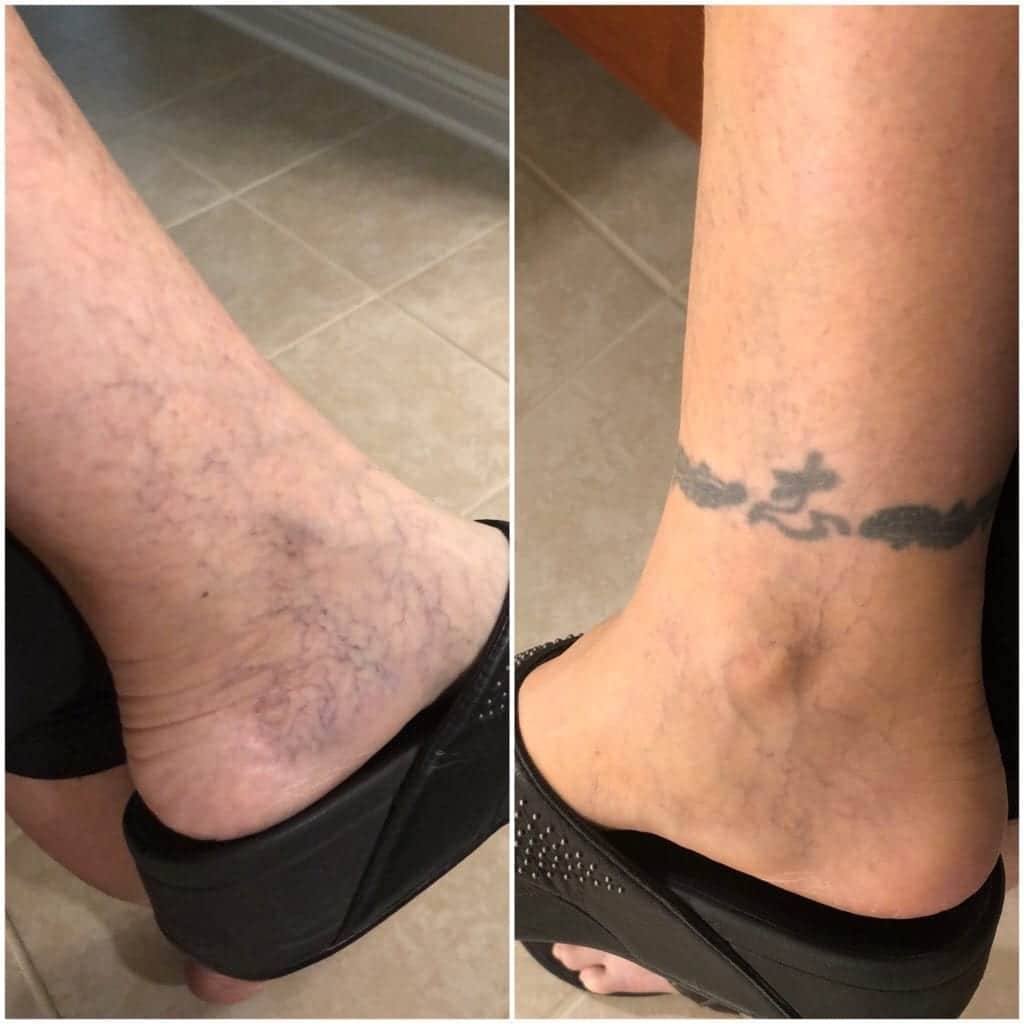 After applying, I wore a skirt all day, and the makeup never smudged, didn't run when I sweated, and didn't rub off (transfer) to my black skirt or our leather car seats or fabric chair cushions.
I was even willing to risk having to strip the bed and wash the sheets in the morning to find out if it would smear as I slept. Nope, not even on white sheets!
I couldn't be more pleased. It provided great coverage, and left my legs looking gorgeous. It comes off with just soap and water in the shower. I'm ready to rock knee-length skirts and dresses for summer again!
XO Donna