Darlings, I don't know about you, but, when I come home from a cold winter day, I want to wrap myself in warmth and relax with the things that make me happy. At home I'm not so worried about being fashionably stylish. I want to feel contentment and comfort. I want to sit by a crackling fire, enjoy a warm beverage and let the day's craziness drift away.
The Danish even have a word for just that feeling: Hygge, pronounced "Hue-gah," the art of creating joy and coziness in life's everyday moments.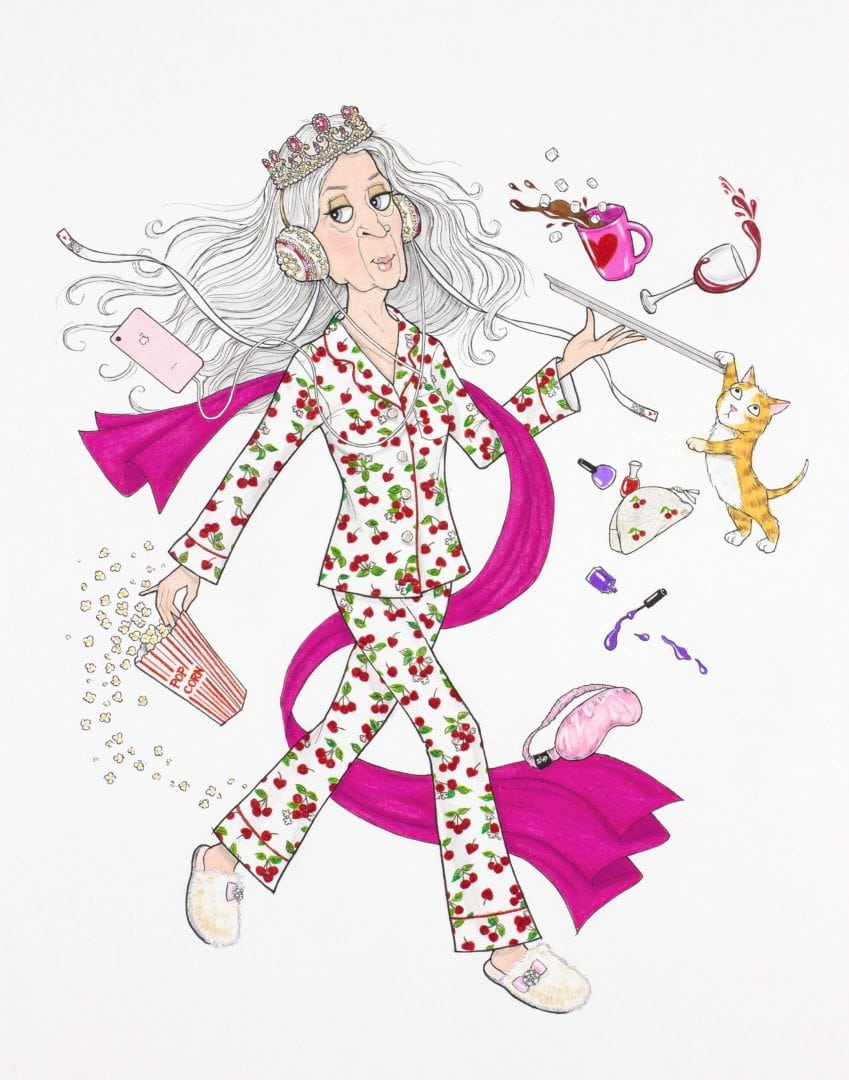 These chilly winter nights give me an excuse to wear cozy pajamas that express my lighter side. My BedHead Pajamas Set features a delightful cherry print in a soft cotton sateen. With a wide variety of cheerful patterns, you're sure to find a print you'll love wearing on a cold dreary night.
After a day of running around in heels, there's nothing better than putting on a pair of comfy slippers. Featuring jewel details and ultra soft faux fur, my Octavia Slippers by Pretty You London, are the perfect addition to my at-home wardrobe.
Is there anything more luxurious than wrapping yourself up in cashmere? A celebrity favorite, my White and Warren Cashmere Wrap is perfect for some added warmth on a wintery night. The length is extra long, perfect to wear as a shawl, shrug, or scarf, and it's an ideal travel companion on a long flight. Once you've owned these wraps, you won't be able to do without one!
To ensure a night of uninterrupted beauty sleep, I depend on a Slip Sleep Mask. Crafted in the highest grade silk, these sumptuous masks have the perfect amount of thickness and softness. The best part is, they don't tug at the delicate parts of your face.
I adore the practical mixed with a bit of fun. My little dome cosmetic case by Hudson and Bleeker, with it's embroidered cherries, is perfect for holding my favorite nail polishes. You'll find a variety of sizes and shapes for all your cosmetic needs in sophisticated colors and patterns.
At the end of a long buzy day, every girl deserves a crown! This, my fashionable cozy friends, is no ordinary crown! Plug into your laptop, smartphone or tablet with these gorgeous Lit Headphones. Each one is custom made by tech artist, Lisa Cambell, and are embellished with gemstones, pearls, silk and velvet. Topped with a crown, you'll look and feel royally fabulous!
Well my dear Comfort Queens, my wish for you all on these chilly winter nights is to surround yourself in what makes you happy, cozy and warm.
Cheers Loves!
XOXO, Hildie