My earliest skincare memories are of my mother's blue facial mask that morphed into a Halloween fright mask when it dried and paralyzed the skin around her mouth and eyes. At ten years of age, I thought this was hysterical. Other than washing my face with soap and water and using OJ's Beauty Lotion, I don't remember having a skincare regime until I was in my early twenties and started using Clinique's toner, day cream and night cream. It wasn't long before I made friends with the women behind the beauty counter, and I moved on to Orlane.
Perhaps the best thing I've done to take care of my skin was when I started wearing wide brim hats in my mid-twenties.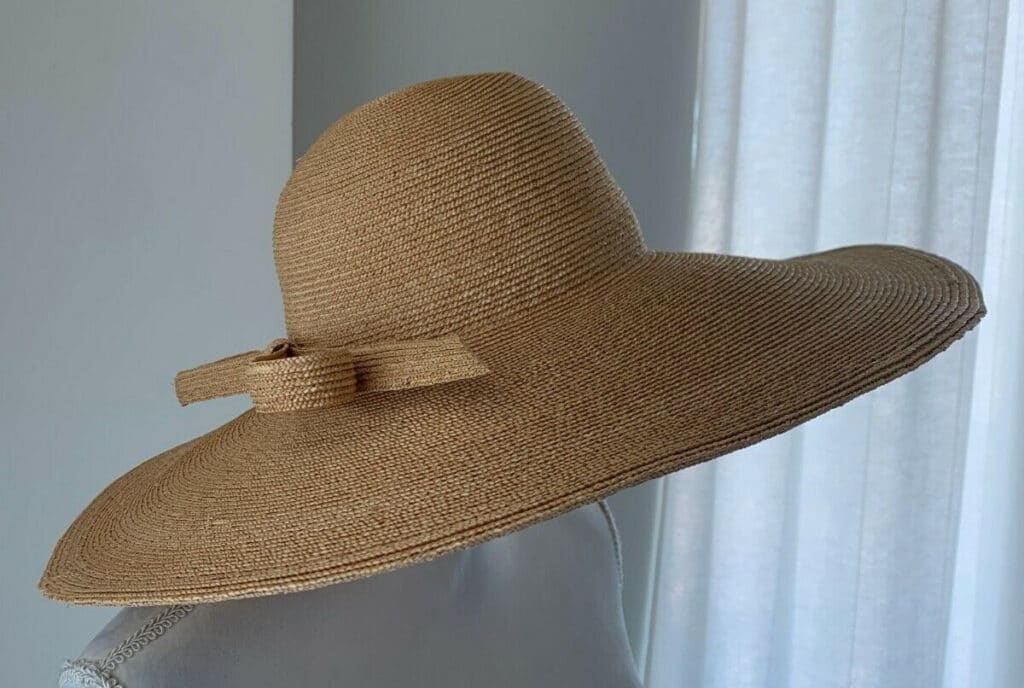 ONE OF MY VINTAGE FRANK OLIVE HATS
Twice a year, New York hat designer, Frank Olive, brought his trunk show to Frost Brothers in San Antonio, where I fell in love with his giant, natural straw hats. My adventurous lifestyle was hard on hats, and I wound up buying a new hat from Frank almost every year. The wider brimmed the better, because they shielded my face from the sun.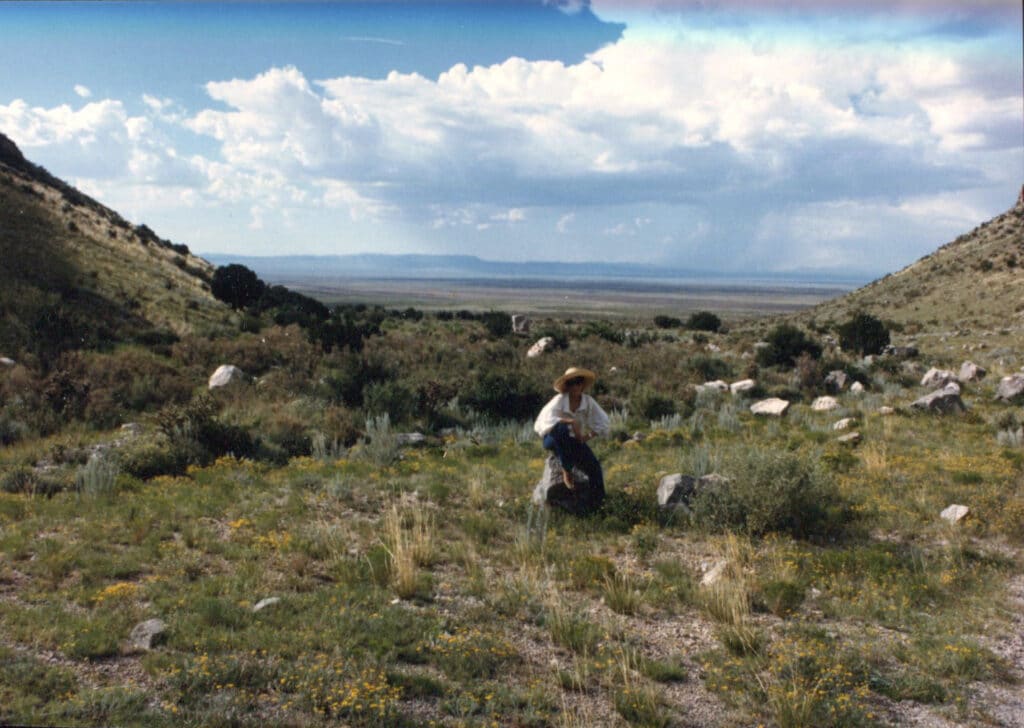 NEW MEXICO, DIGGING FOR CRYSTALS, late 1970's.
I'M WEARING MY GIANT HAT, A WHITE POET'S BLOUSE, BLUE JEANS AND MY BEAT UP LUCCHESE BOOTS. LIKE HATS, I WAS HARD ON BOOTS.
Since I spent a big part of every year on a boat, scuba diving and snorkeling in Mexico, Belize, the Bahamas and the Virgin Islands, plus I dug for Maya artifacts in Mexico, as well as minerals and crystals in Arizona and New Mexico, big hats were my skin's saving grace.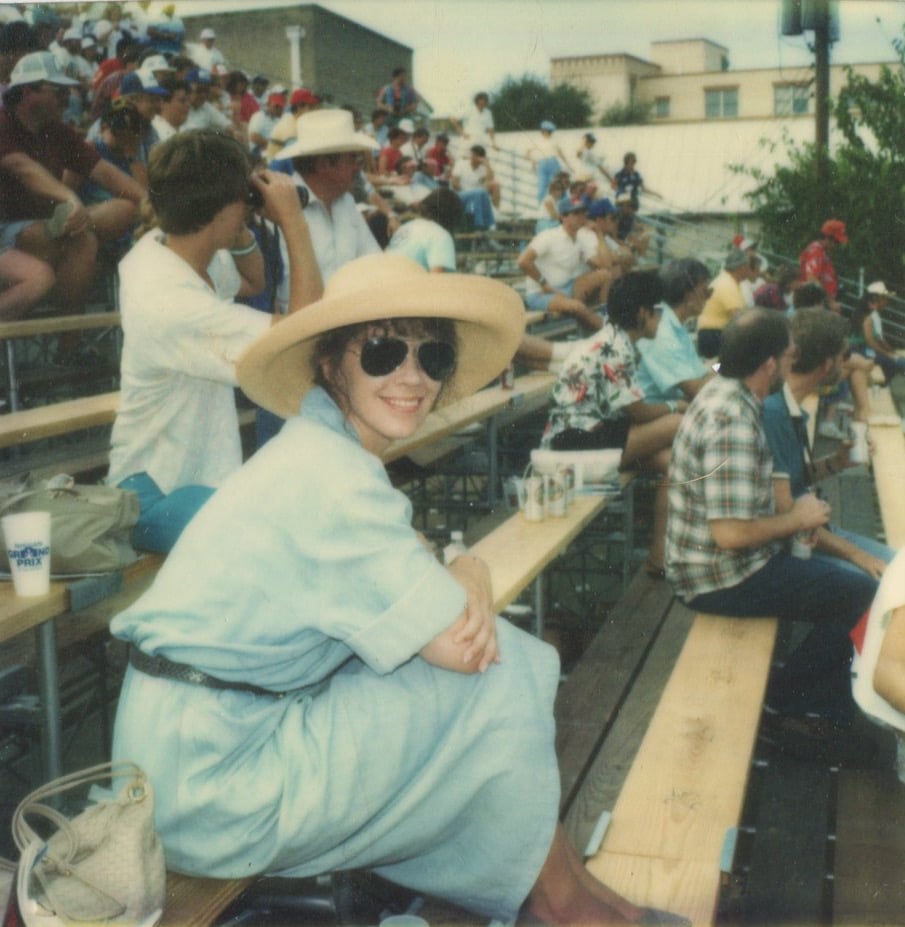 NISSAN GRAN PRIX, SAN ANTONIO, 9/87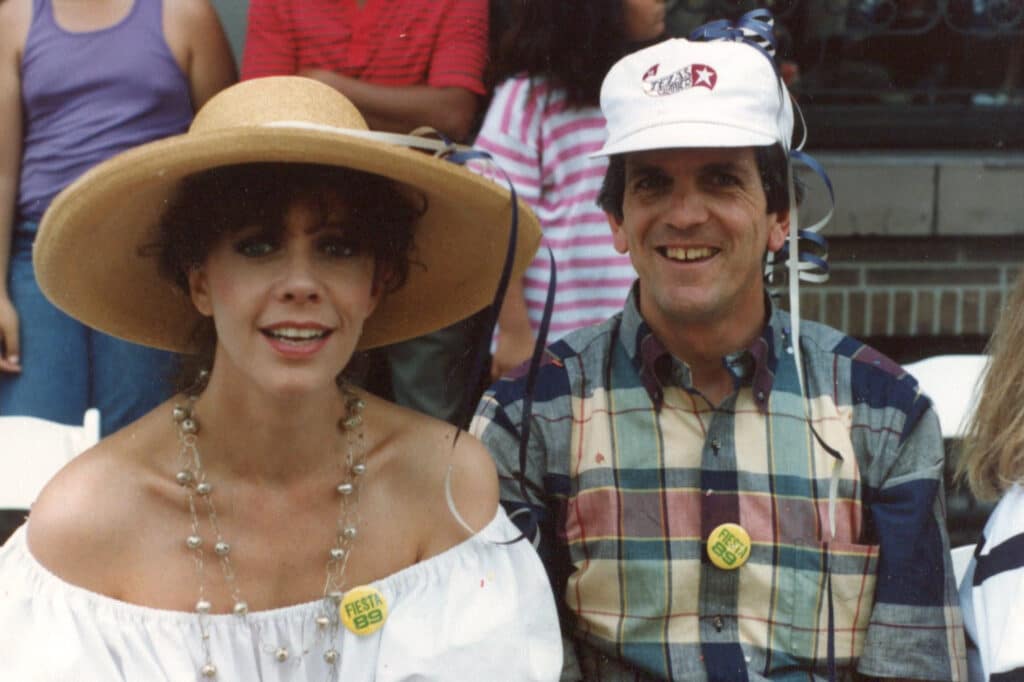 FIESTA WITH MY FRIEND TERRY, GAYLE'S HUSBAND, 4/89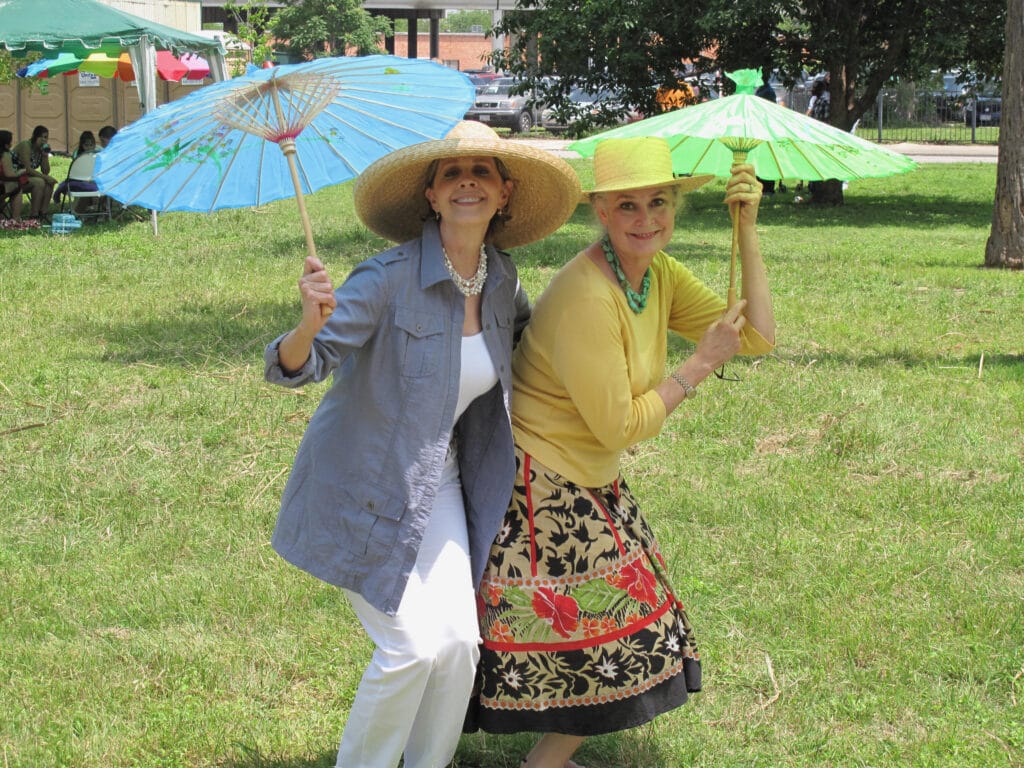 FIESTA WITH MY FRIEND, GAYLE, 4/10
My hats are so big they almost need their own airline seat.
Whether we were in the ocean, the jungle, or the mountains, the other smart thing I did for my skin was to wear sunscreen under long-sleeved shirts and long pants. I can only imagine what the residents of the off-the-beaten-path Mexican villages thought when I wandered into their midst, wearing a giant hat.
In my forties, I started buying my skincare products from Anya, my friend and aesthetician. Because the ingredients we put on our body are absorbed into our bloodstream, Anya has always been a stickler for clean ingredients. She researched skincare products and bought them from small batch manufacturers whose lines were preservative-free. Some things required refrigeration, but my skin loved them all.
In 2004, I was diagnosed with estrogen positive breast cancer, but because of Anya, I was already avoiding preservatives in my skin creams. Preservatives made with parabens can have an estrogen-like effect in the body and can fuel the growth of the cancer I had. As a result I stay away from methyl, ethyl, propyl, butyl and isobutyl paraben.
Because of Covid, Anya is no longer doing business. Oh, how I miss her. xoxoxo! We talked about everything. Now the skincare products I'm using are based on my own research and a desire to avoid estrogen-like substances. I know there are other great products out there, but many are too expensive for me.
FYI, I have not received any form of compensation for this post, but I am an Amazon Associate and earn commissions from qualifying purchases. I'm sharing these with you because that's what girlfriends do. 
• Clinique Take the Day Off Makeup Remover: While this can remove all of your makeup, I use it to remove eye makeup only. Put a small amount on a cotton pad, wipe gently. It comes off instantly, and is easy on your skin.
• DERMA-E Firming DMA Cleanser: I use this to wash my face morning and night, then pat my face somewhat dry. While my skin is damp, I use their toner, followed by DERMA-E's serums or creams. Don't forget to change your hand towels every few days to avoid leaving bacteria on your skin.
• DERMA-E Essentials Radiance Toner: At night this alcohol-free toner removes any residual makeup the cleanser didn't get. In the morning I also use it after the cleanser and before the firming serum and cream. The glycolic acid has an exfoliating effect and helps reduce fine lines and dark spots.
• DERMA-E Advanced Peptides & Collagen Serum: At night, while my skin's still damp, I put this on after the toner. If our skin is damp the creams/serums lock in that moisture.
• DERMA-E Ultra Hydrating Serum: At night I put this on right after the Collagen Serum. It contains Hyaluronic Acid, which is a sugar molecule that occurs naturally in the skin and helps bind water to collagen, trapping it in the skin.
• DERMA -E Hydrating Night Cream: At night I put this on over the other two serums. This product also contains Hyaluronic Acid.
• DERMA-E Firming DMAE Serum: In the morning, after washing with the Firming DMA Cleanser and using the toner, I apply this firming serum while my skin's damp. It contains Alpha Lipoic Acid which reduces fine lines and wrinkles and refines the texture of your skin. The Cleanser I mentioned above also contains Alpha Lipoic Acid.
• Simply Venom Day Cream: Next I immediately apply this day cream over the DERMA-E Firming Serum. Then I wait about 20 minutes, until it's absorbed into my skin, before I apply my foundation. This way you don't get any "pilling" of the cream with your foundation. If you don't use makeup, you're good to go other than maybe a sunscreen. Sometimes if my skin feels dry, and I'm not wearing makeup that day, I apply the same creams I use at night because they feed my skin.