If you read my Fashion Friday post last month about the delightful Carol Dietz then you know how fun and fabulous she is, and she's Diane Keaton's doppelgänger. As former Art Director for the New York Times, Carol worked with the late Bill Cunningham, legendary photographer and eccentric chronicler of street style fashion, on his "On the Street" and "Evening Hours" columns. As Carol told me, "Bill was a mentor, a father, an uncle… He was everything."
Carol Dietz and Bill Cunningham… I can only imagine what these two originals were like, together.
IN CAROL'S WORDS: "Bill was so much older than everyone… He taught us old-time manners," said Carol. "He always wrote us in the art department handwritten notes. He'd leave a note or a card on my desk. Give chocolates on Valentine's Day, Halloween, Christmas. Very thoughtful and always made a point of thanking people, making eye contact and saying hello. Not many people in the office did that, so it created a very congenial atmosphere at a newspaper where we were all on deadlines.
"As Bill and I became friends, he would take pictures of my outfits, but being an employee of The Times, you could never appear in one of his fashion columns, but he would give me the negatives which was very sweet.
"Bill had been in the Army, stationed in France, so he went to fashion shows in Paris and made friends with some designers. Afterwards he came to New York and designed hats. He was a milliner! Several of his hats went on auction a few months ago. His hats were delightful. He'd design them as "William C." I bid $300 for one of his hats. I don't know why I didn't go higher, because it sold for $400. Really upset me. Then I thought, why didn't I just buy all of them? So I regret that. I loved him.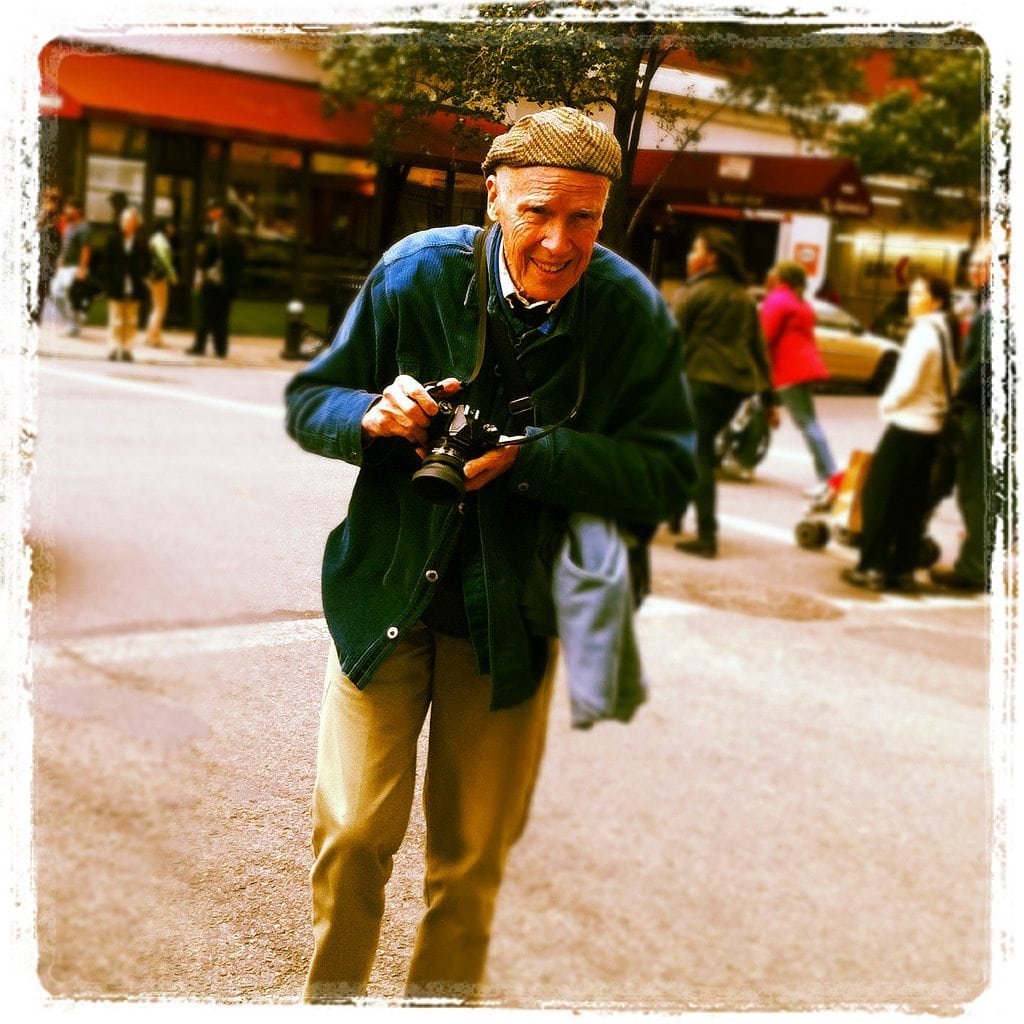 "When a friend gave Bill a camera, he said it changed his life.
"He only shot black and white because he couldn't afford color. One of his first assignments was to go to Central Park to a love-in. He said it was marvelous! There were kids all over the place in their hippie clothes, and he was hooked.
"He would work for The Times and then shoot the nightlife for Details. He worked hard. He didn't get famous until he was in his 60's. I met him when he was 63, and he was just taking off, so it's encouraging to know our careers can go on.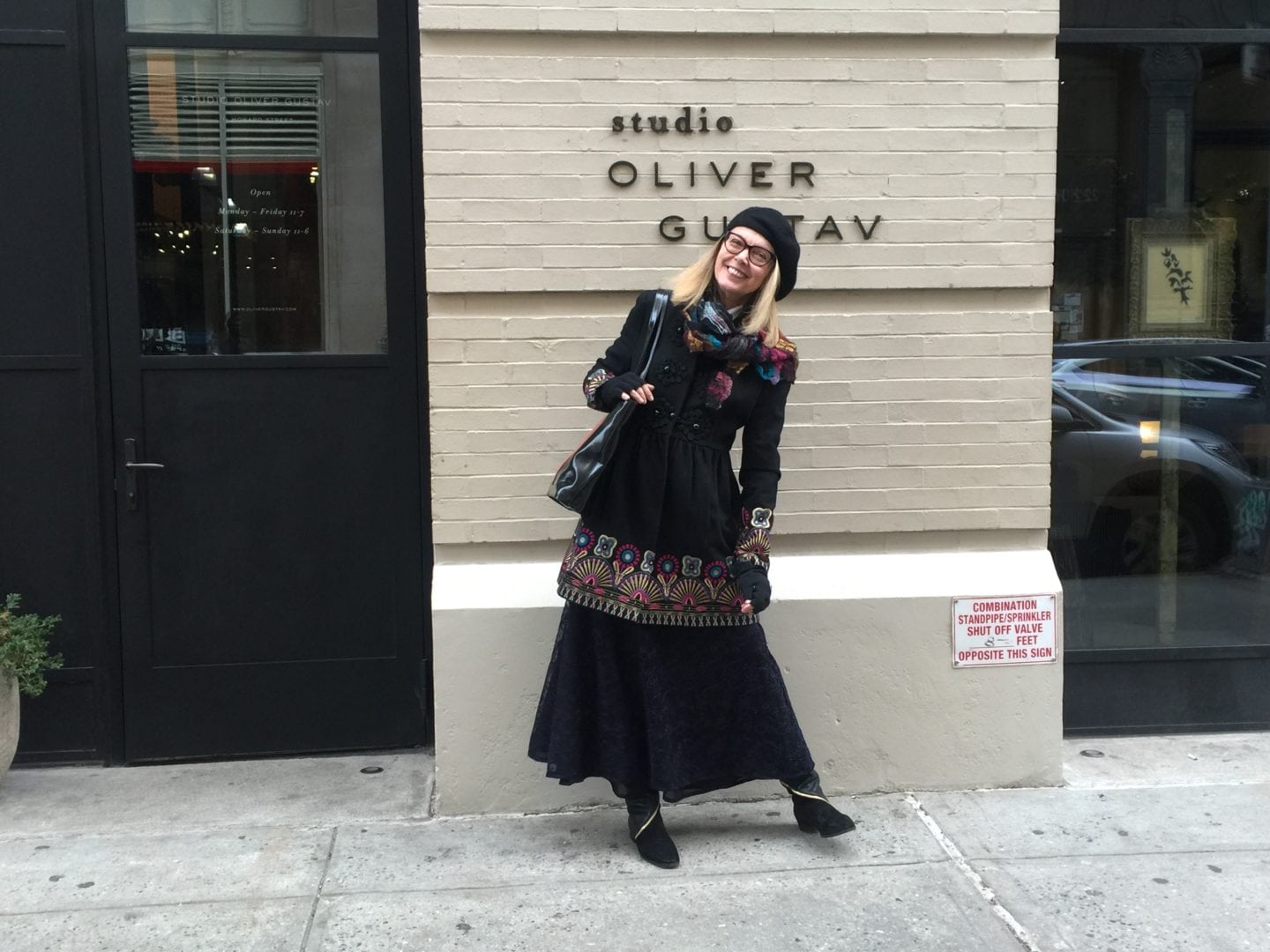 PHOTOGRAPH OF CAROL DIETZ, ©BRENDA COFFEE, 2018.
"I used to keep myself really toned down. Low key. After my mother passed away I lightened my hair, started wearing makeup, bought matching pajamas and became way more, so called "glamorous."
"I went to Bill and said, "Look at my new coat from Paris!" He pulled out his camera and said, "Okay, Carol. Show me your stuff."
"So I started moving and every photo was perfect because I was so happy and comfortable, and all of a sudden I knew I could take a good photo and look good, and I never believed that before. Never. Bill never had you pose, but I was having fun, and I trusted him.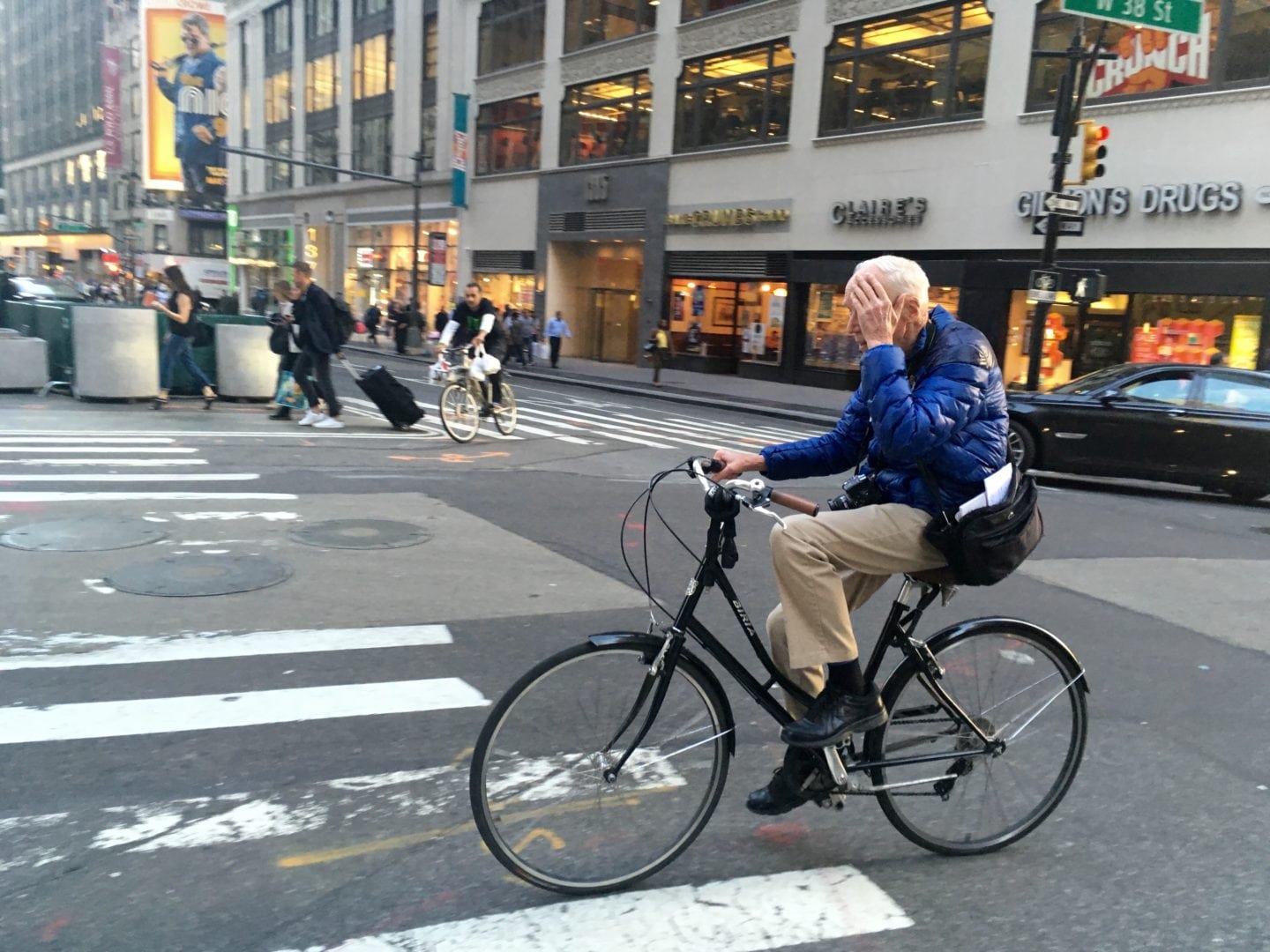 BILL WAS A FAMILIAR SITE, RIDING HIS BICYCLE THROUGH THE STREETS OF NYC. HERE IT LOOKS LIKE HE'S TRYING TO AVOID THE PAPARAZZI!
"Up until then my Instagram account was all 50's photos of me and my sisters, because I didn't like photos of my self. From then on I've only posted modern day photos and started showing my outfits, and I love it. It's a new side of me I never showed, and now I'm proud of it. If you get me, you get me. I only wear my own clothes. I connect with my clothes. I see too many photos of women who just put on clothes for a show, and they're not comfortable in those clothes.
"Now I feel in control, comfortable. I'm not so critical of myself anymore. I smile naturally.
"Bill lived in Carnegie Hall, in artist's residences. When he had to move he invited us to take what ever we wanted. I took an ostrich egg, plus he gave me feathers from when he was a milliner, so I want to create a hat with his feathers.
"As Bill got a little older, he would go home for his little catnap. He was heading out for the CFDA (Council of Fashion Designers of America) awards and had a stroke at home. No one knew until the next morning. He was hospitalized. We kept it a secret until somehow it leaked to the New York Post. I tried to visit him. I went to the hospital. They asked, "Are you Anna Wintour?" They wouldn't let me in, so I sat in the waiting room and said a little prayer. He died a few days later. I took it very bad. (Bill Cunningham died on June 25, 2016.)
"It became easier for me to leave The Times because Bill wasn't there. He had so much optimism, creativity. People met him for a second, and you thought you were his best friend. He had that effect on everybody. I was blessed to have met him."
THIS AWARD-WINNING FILM ABOUT BILL CUNNINGHAM IS TENDER AND SWEET, UPLIFTING AND FUN. IT'S EASY TO SEE WHY HE MADE SUCH AN IMPACT ON FASHION AND WHY HE WAS SO BELOVED. YOU CAN RENT IT ON iTUNES OR BUY THE DVD ON AMAZON. Watch it. You'll be glad you did!
FYI, at the end of the film, Carol Dietz wrote Bill a song she sings for him at his birthday party in the offices of the New York Times. It's quite a moment…
Although I never met Bill Cunningham, I fell in love with him through Carol's memories and the film about him. He was a lovely, dear eccentric man. From what I know about Bill, he and Carol have many similarities: They're wildly creative, a bit shy, a tad quirky, and they see fashion with fresh, clean eyes. No "should or should nots."
Thank you, Carol, for your personal insight into a man who changed not only the way the media covers fashion, but how we, the people on the street interpret them. His influence will continue to be felt by fashion designers and stylists who understand that clothes live their own life, off the runway.