Carol Dietz is creative–until recently she was the former Art Director at The New York Times–and has a strong sense of individuality. As I sat across from Carol at the Roman and Williams Guild Cafe last Saturday, there were moments when I was certain someone would ask for her autograph but then, New Yorkers are great about giving celebrities their privacy. While my photographs don't reflect all of her doppelgänger expressions, much of the time she could pass for Diane Keaton.
So much so the store owner at one of our stops kept looking at Carol and asking, "Are you sure you're not her?"
Carol and I spent most of the day together, and we had a blast! Carol is an original. Her style is polished, yet admittedly quirky—she sometimes hooks three gold charm bracelets together and wears them around her neck—and she's smart, introspective and fun. Here's some of our conversation about style:
CAROL: I've always had my own look, and it was vintage because when I was in art school, it was inexpensive. My mother once said to me, "Carol… Do you have any normal clothes?" I had gone from a simple shift to vintage. Back in the day, vintage clothes were 40's and 50's dresses. It wasn't last year's H&M. So that's how my style started. I didn't go to Macy's, because I had all this great stuff from the secondhand store.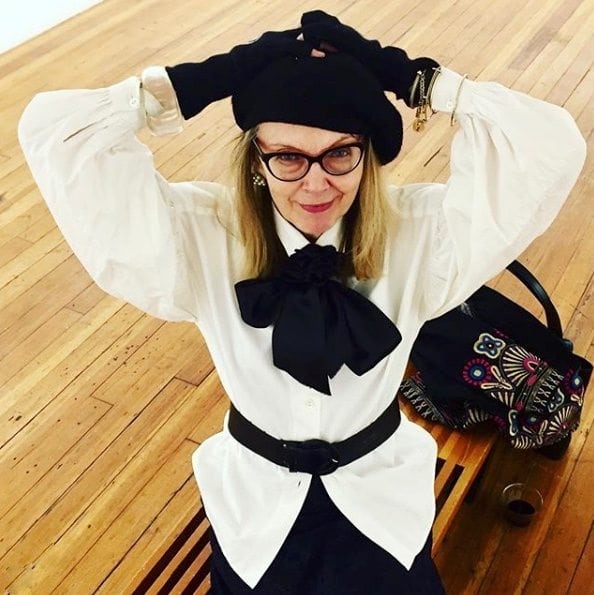 BRENDA: Where did you get the wonderful white poet's blouse you're wearing?
CAROL: It was given to me by a friend, and I flipped because it's so fabulous. His wife had passed away, and he knew I liked white shirts. It's old Banana Republic, probably from the 80's. The bow around my neck was wrapped around a gift, then I topped it off with another little bow.
Underneath I'm wearing a vintage Laura Ashley dress. I love the skirt. I think it's just fabulous. If it's quirky, my dear friends think of me. They give me a beaded sweater that was their mom's or earrings that were their mom's.
BRENDA: And that wonderful coat? Where did you get that?
CAROL: A number of years ago from Anthropologie. And my boots are a splurge of a lifetime! I bought them last year in Paris.
BRENDA: Oh, my gosh! Those may be the most delicious boots I've ever seen.
CAROL: The flow of them is just so absolutely…
BRENDA: You're a graphic designer, so I can see why you bought them. (Forgive me, but I was so busy drooling over her boots, I forgot to photograph them!! They're black suede and leather, and the zipper wraps around the leg all the way to the top of the boots.)
CAROL: I wasn't going to buy them. It was spur of the moment… in 30 seconds, but they're so great! Perfectly handmade in Italy. I just tried them on and wound up wearing them out of the store.
BRENDA: And they have flat heels! What a brilliant purchase!
CAROL: I was in Paris my first day, and I thought this is it… Zoe Lee Shoes! I'd seen them online. They were $350, and they make me happy!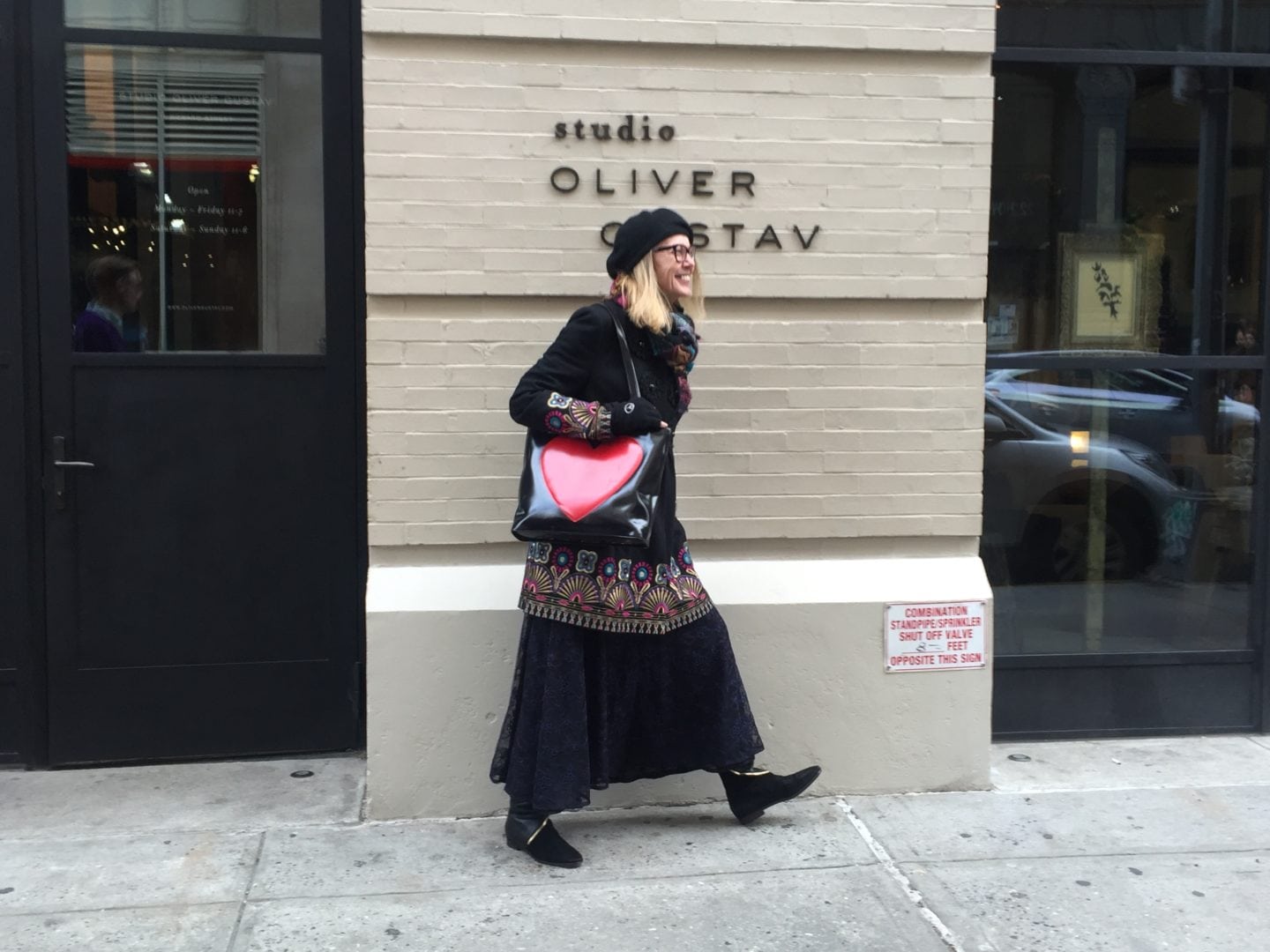 BRENDA: For that price, they're a steal! And your purse?
CAROL: A gift from my ex-husband. I like hearts, I'm a real fan of the heart shape. This is a Moschino. He bought me this ten years ago, but it was so big, I didn't carry it. Then last year when I went to Paris, I took it with me. People comment about it, and you have to be prepared to talk to people when you wear something… Even on the bus, yesterday, a 12-year-old girl said, "I like your bag!"
BRENDA: How would you describe your style?
CAROL: Free. Unplanned. Spontaneous.
BRENDA: I'm still playing with my style.
CAROL: Isn't that fun?
BRENDA: I did a blog recently about style icons. What good is it to have a style icon if we don't use them as a guide?
CAROL: Can you guess my style icon?
BRENDA: I'd say Diane Keaton. What you're wearing is what I'd like to do. I said that in my blog, but I'm not sure I can pull off that look.
CAROL: Diane Keaton is aging perfectly.
BRENDA: She is. You could be her doeppelgänger.
CAROL: But is it being a copycat? Am I not being original, because it's my look?
BRENDA: No! It's you!
CAROL: It is me, and maybe she and I were going along the same path, because it's not like there's a Diane Keaton rack… It's easy to pull off something once or twice, but to do it consistently… That's the challenge. Fortunately for me, it happens. I don't look for it. I couldn't dress like Audrey Hepburn. She would be an unrealistic style icon for me, but I think we all need a style icon.
BRENDA: At a certain age we need to be true to ourselves.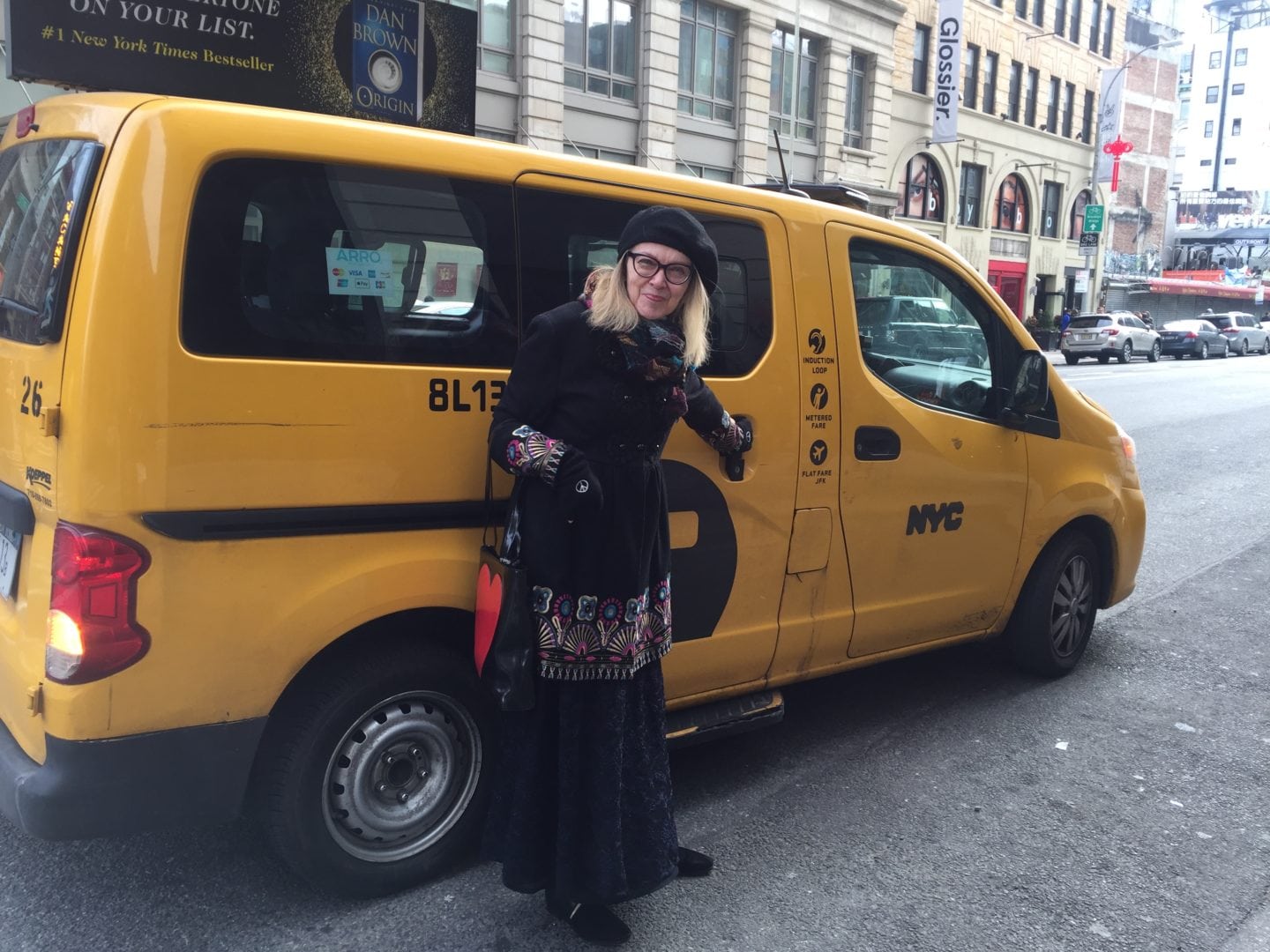 CAROL: In this Instagram age so many of us are wearing cookie cutter clothes. Perhaps it's because there's safety in not poking your head up and being noticed.
BRENDA: But we did that in high school. It's time to finally find ourselves, don't you think?
CAROL: Absolutely!
Carol Dietz is an absolute delight, and I can't wait to see her, again! FYI at the New York Times she worked with the late Bill Cunningham, photographer and eccentric chronicler of fashion, often seen walking or riding his bicycle through New York City, taking photographs of people whose fashion he found interesting. In another post I'll share Carol's memories of working with Bill on his "On the Street" and "Evening Hours" columns. I can only imagine what these two originals were like, together!