How many of you've had high tea at the Whitby Hotel in New York City? If you've never been, put it on your list of things to do the next time you're in the city. Many of the patrons are familiar faces who're uber chic and discreetly seated at corner tables. Since my lunch date had to cancel, I went alone and incognito as my fashion icon, Rene Russo's character in The Thomas Crown Affair.
Many women wouldn't dream of going somewhere, alone, especially someplace chichi like high tea at the Whitby, but go girlfriends!
My husband died seven years ago, so I'm used to doing everything alone, even traveling to other countries. Yes it would be nice to have someone with us, but to deny ourselves a fun experience is in essence, sentencing ourselves prisoner in solitary confinement. Even if you're uncomfortable with the idea, make a deal with yourself to eat at a five-star restaurant. Alone. Without a book. Enjoy the atmosphere, the food, the people watching or make friends with the waitstaff, and if you get uncomfortable–I promise no one else is giving you a second thought–focus on your food or something on your phone. I wouldn't have missed the Whitby's warm scones with cashew butter—as smooth as a baby's behind–for anything!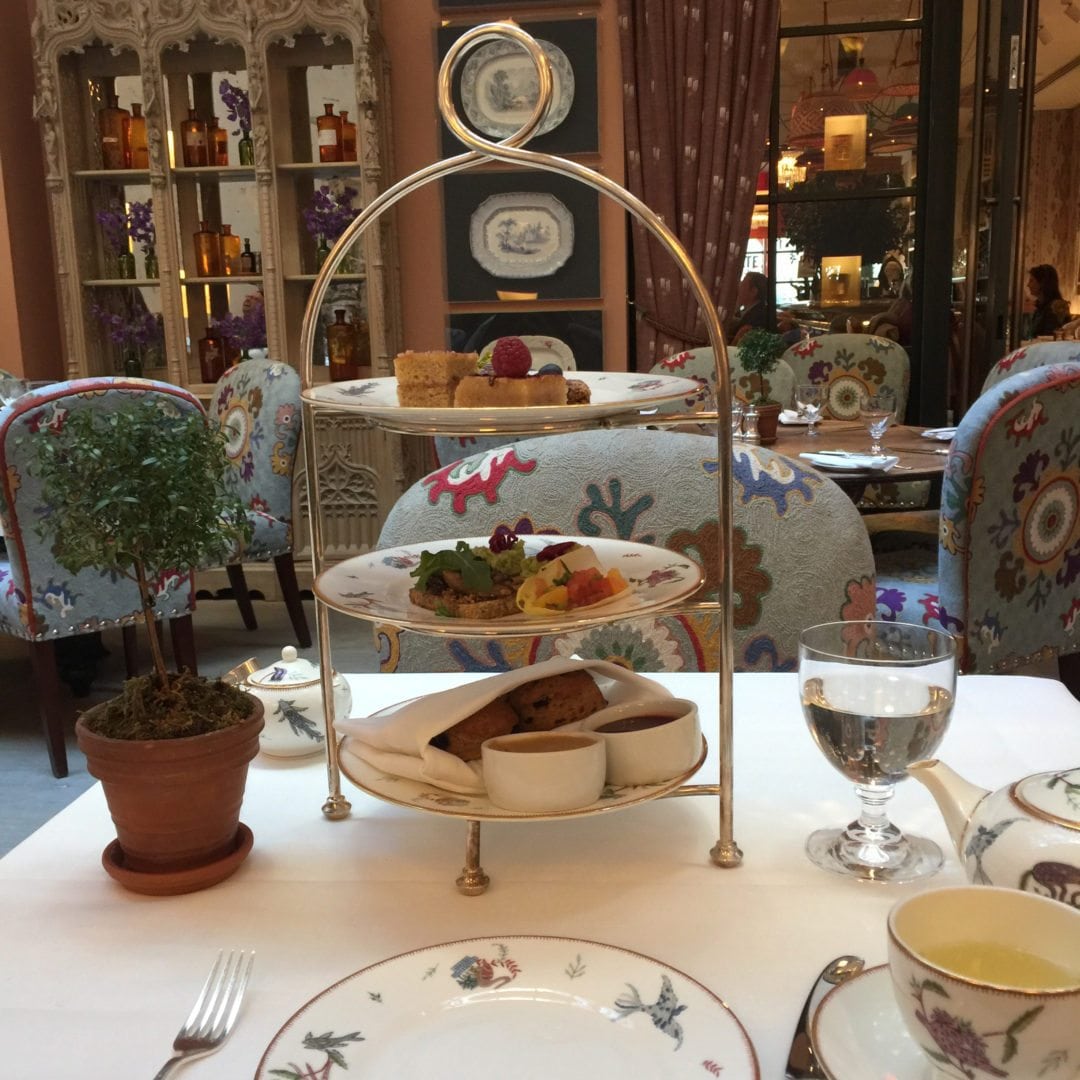 Photograph by Brenda Coffee
The Whitby is a colorful, sophisticated celebration of contemporary art and design combined with classic European elegance. I love textiles, old and new, so I wanted to see the embroidered, dining room chairs.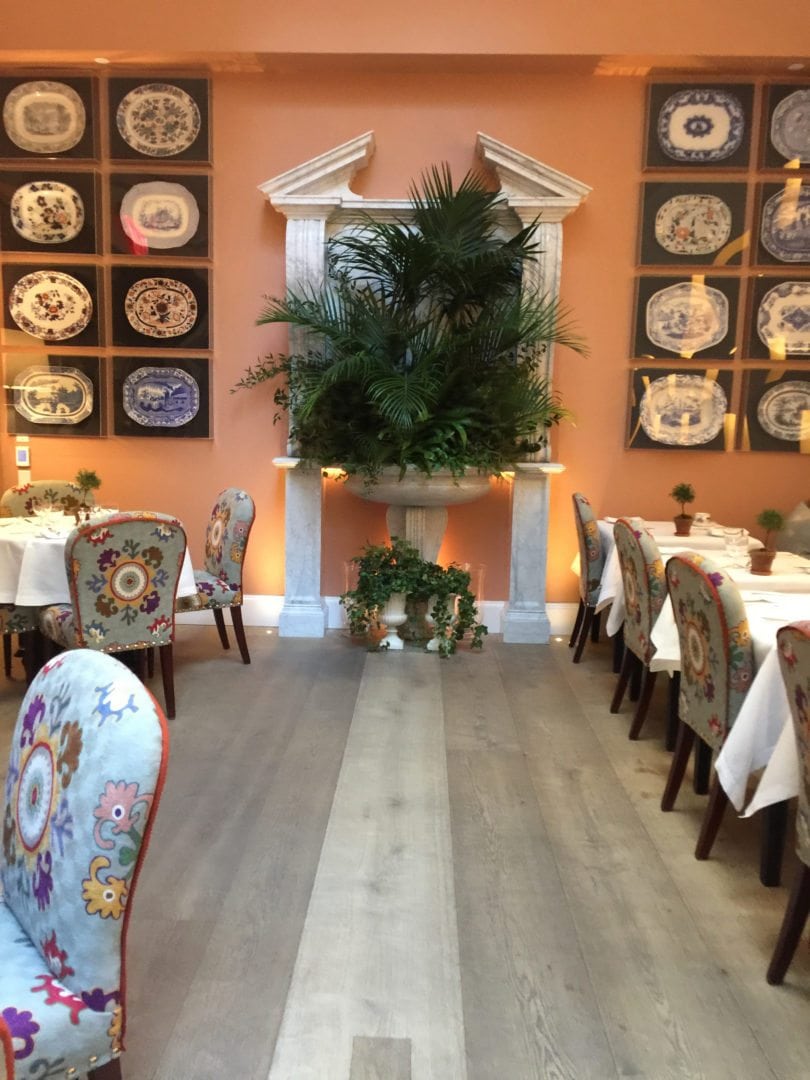 Photograph by Brenda Coffee
The bold, sophisticated patterns and the intricate workmanship took my breath away! Whether it was the embroidered, padded fabric columns in the restaurant, the stunning embroidery on banquets, pillows and dining chairs or the mixed media painting in the lobby, the Whitby made my heart sing.
On my way to the Whitby, who should I spy while waiting for the light to change at Madison and 56th, but iconic makeup artist, Sandy Linter. Talk about chic! Sandy was wearing a "chubby" silver fur—real or faux I don't know—but we met in the middle of the street, going opposite directions and had time for an air kiss and a hello! That's the second time I've run into Sandy on the streets of New York. The first time she joined me for lunch at a quaint neighborhood restaurant not far from her apartment.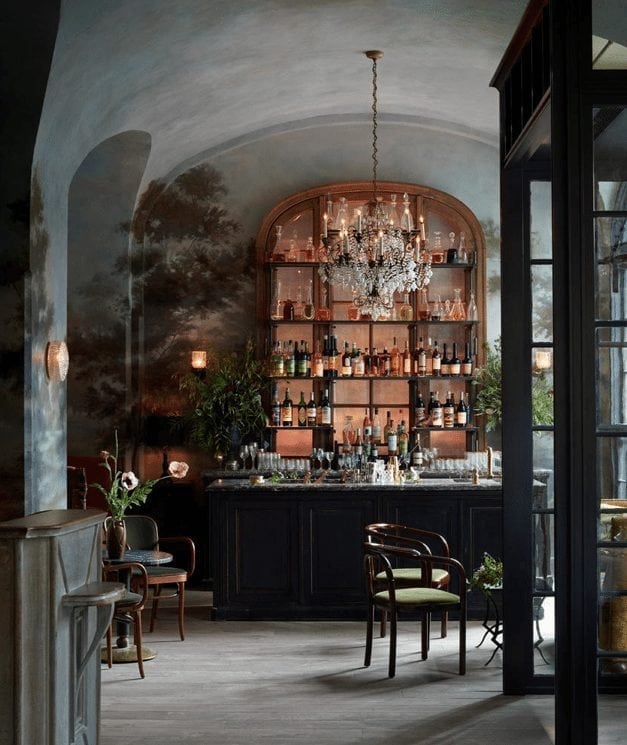 Photo from Roman and Williams Guild
Another place to try in New York City—alone or with a friend—is Roman and Williams Guild at 53 Howard St. in Soho. Recently opened by husband and wife designer team, Robin Standefer and Stephen Alesch, the Guild's La Mercerie serves classic French pastries and breakfasts, an all-day menu and cocktails.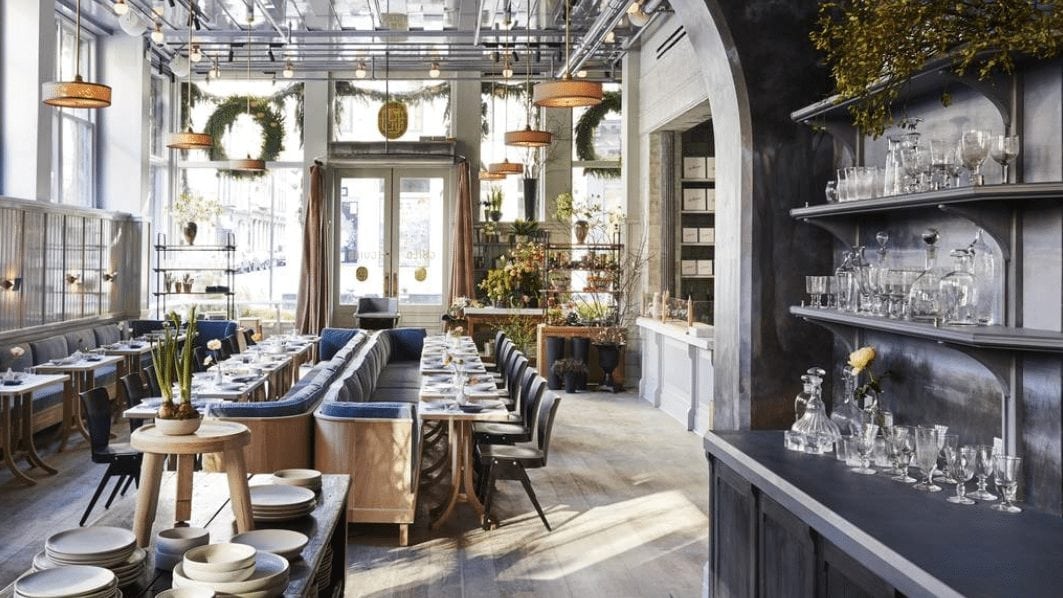 Photo from Roman and Williams Guild
The rest of the 7,000 square-foot site has a flower shop by Emily Thompson, a furniture store that celebrates quality and craftspeople, a library stocked by the publisher Phaidon, plus it's the best place to while away three or four hours like Carol Dietz and I did. What a fun place to get to know the fashionable, former Art Director at the New York Times.
Whether it's high tea or going to the movies, don't be afraid to go somewhere alone. You never know who your next-door table mates will be. Remind me to tell you about sitting in a little restaurant alcove next to Billy Joel and his wife!