Everyday I tell Annie she's the most loved little dog in the world, and I would do anything to keep her well and safe, and as it turns out… That includes canceling two-weeks in England. Today I should be in the English countryside, strolling Prince Charles's garden, visiting a large antique fair and the private estate of the producer of Cats, Les Miserables and Phantom of the Opera, not to mention spending five days in London, catching up with friends. 
But three hours before my plane left, I decided Annie needed me more than I needed to visit England.
Late the night before I was to leave, Annie swallowed a wooden toothpick. The kind you pickup at a restaurant that's packaged in cellophane. Earlier in the day I'd cleaned out my purse and left a couple of toothpicks on my desk, and while I was packing, I heard the unmistakable crinkling sound of cellophane. I raced into my office, reached my hand into Annie's mouth and pulled out a tiny piece of cellophane and the small ragged end of a toothpick. Sixty seconds later we were on our way to the emergency room.
It took them five hours before they did an endoscopy… Grrrr…. and by then, the toothpick had moved further down into her abdomen, and they couldn't see it. The doctor said the next 24 to 48 hours would be critical to make sure the toothpick passed and didn't puncture her intestines.
Since my flight wasn't until 6:30pm, I continued to pack and get dressed while I watched her. Poor Annie… She was slow and quiet, probably from the anesthesia and the ordeal of the endoscopy, but she stayed on my bed—all day—with her head down. Not at all like her. At 3 o'clock, I decided to cancel my trip to London. Annie is the only family I have, and I couldn't leave her well-being in anyone's hands but mine. No one knows the subtleties of her expressions like I do, or how to interpret them and if she's having a problem. I couldn't live with myself if something happened to her while I was gone.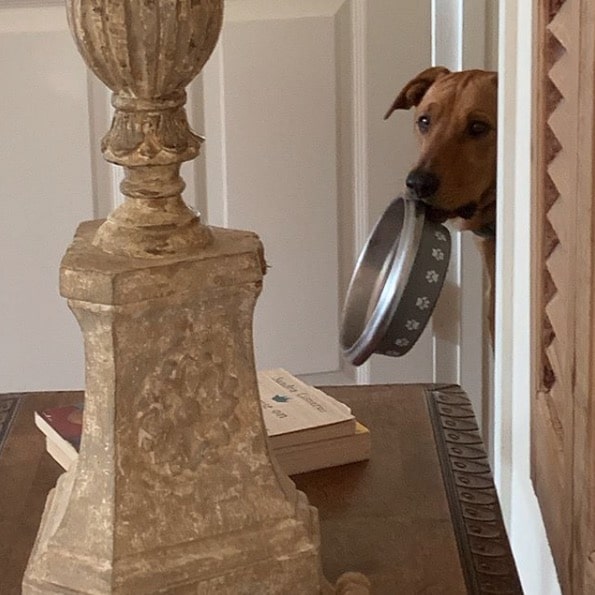 Today Annie's feeling better, and she's passed a big piece of the toothpick, but now I'm the one who's been in bed for three days.
I have a terrible cold and a cough that's gone down into my lungs, and I've had a fever for two days. 
I've started the process of filing a claim on my travel insurance policy, only to discover "pets" aren't a good reason to cancel your trip. I'm not talking about a turtle or a goldfish. It's my Annie girl, the puppy with the big brown eyes I've raised since she was eight-weeks-old. My girlfriend. My family. 
Now I'm the one in bed while Annie lays next to me. She knows I don't feel good because she's so soft and gentle with me, curling up in the crook of my arm, occasionally leaning her head back to check on me. It's what friends do.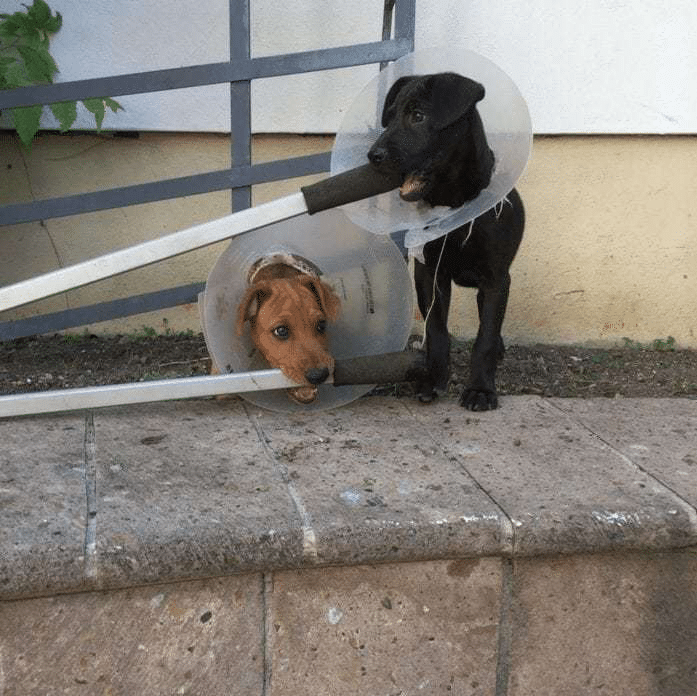 PS: I've entered a photo of Annie and Lulu in the Garden & Gun photo contest. They were eight weeks old and so adorable. I think it's an appropriate photo because they each have a handle on my garden shears. Brenda's little helpers. If you're so inclined, I'd appreciate it if you'd click on this link and vote for their photo! Thank you, sweet friends.