Last month I did a post called Five Fall Fashion Trends for 2019. One of the trends was "Statement Coats and Capes," where I featured a double-breasted trench coat from Zara… one of my new favorite brands.
I ordered this coat and wanted to tell you how fabulous it is.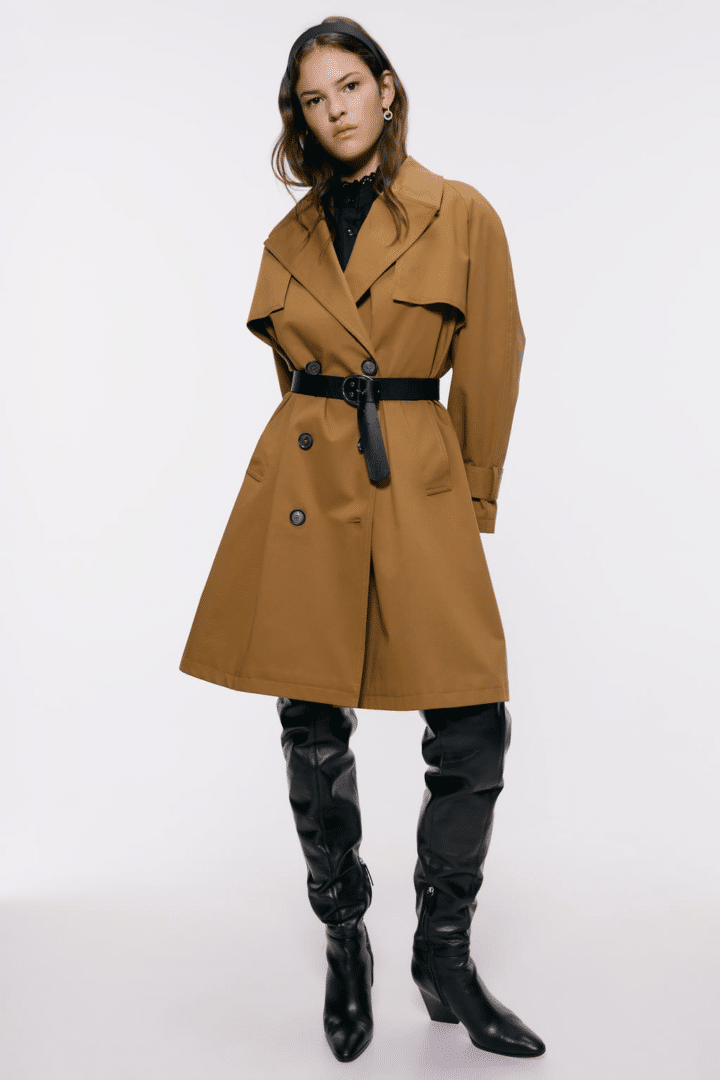 ZARA DID NOT COMPENSATE ME IN ANY WAY FOR THIS COAT… although it would be great if they did. LOL!
I am so impressed with this coat! While I paid $149 for it, if I'd seen it with a Burberry label and a price tag of $1,490, I would have believed it. There is NOTHING cheap about this coat. The weight of the fabric, the gorgeous lining, the stitching, the buttons… all top top quality. I also think it's a better color… and much better fabric… than the usual boring, beige, London Fog coats. This may be one of my all-time favorite finds, and it's in a color I normally wouldn't buy. Why, I don't know, because it looks great with my auburn hair!
If you've been noticing, I'm stepping outside my usual color palette! Something, earlier this year, I promised to do!
From the online photo I thought this coat had a belt in a matching fabric, but when it arrived, the belt didn't wrap all the way around the coat. It was attached on either side of the back of the coat, so when I added my black pony skin belt on top, both of them, together, made for more fabric than I wanted around my waist. So I had my tailor carefully cut it off on either side. You may want to keep it however. It literally took her two minutes, and she didn't charge me.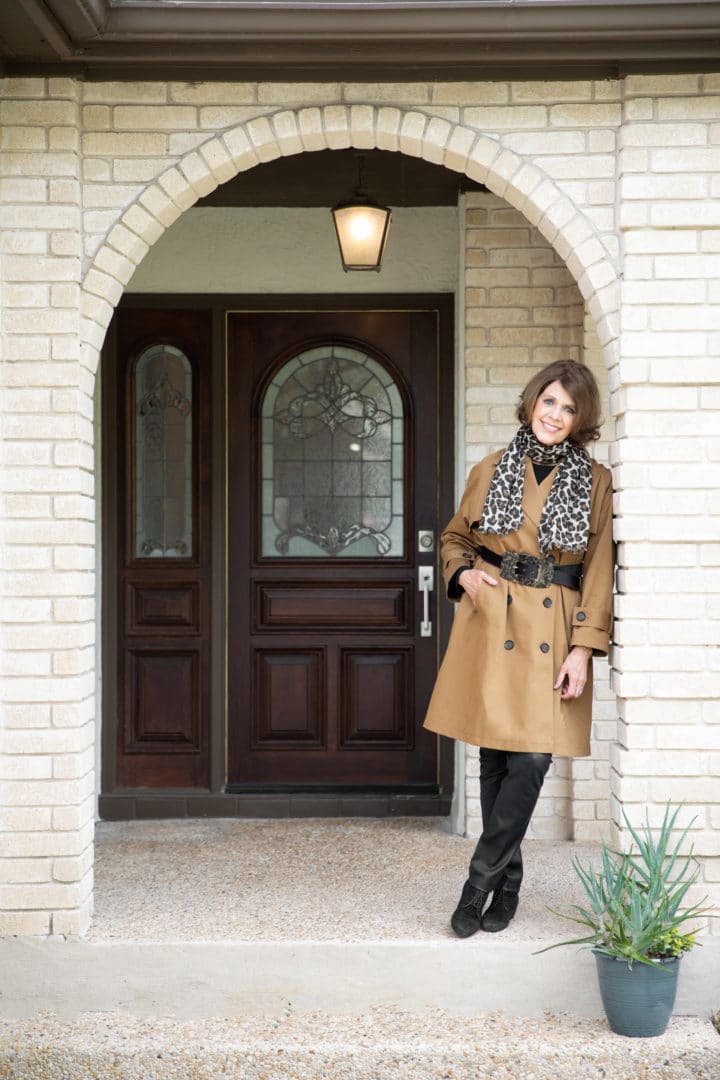 If you're interested in this coat, I'm wearing a medium. I also ordered a large at the same time, but it was too big for me, so I sent it back. ANYTHING I THINK I REALLY WANT, I ALWAYS ORDER IN TWO SIZES AND SEND THE OTHER… OR BOTH… BACK. Brands always pay the shipping, so why not? That way you don't risk the item being sold out if you reorder later.
I'm going to England this year, so I'll be taking my Zara coat, pony skin belt, leopard scarf, long black tee, black leather pants and my black slip-on sneakers. They're more comfortable than the black suede ankle boots I'm wearing in this photo. Everything except the coat I've had for a long time.
FYI, if you're buying real leather pants, you want them to fit SNUG…
…because they will stretch out over time in the seat and the knees. And if you're paying for real leather pants, don't buy cropped leather pants, because they may go out of style, and you want to be able to get your money's worth and wear them for years to come. Faux leather leggings I know nothing about. They may be great, but personally… I don't want my butt and legs to look like I've been dipped in black wax. Unless you're very thin, they're just too tight and not flattering on most of us.
Here's hoping the weather where you are is showing signs of fall!