That is the question… Wearing real fur has been a hot-button issue for decades, but in the last few years real fur has made a big comeback. Before you don your PETA, protest, faux fur coat… The plot thickens.
Least you think faux fur and knitted rabbit are the answer, both come with their own set of hypocritical, ethical and environmental problems.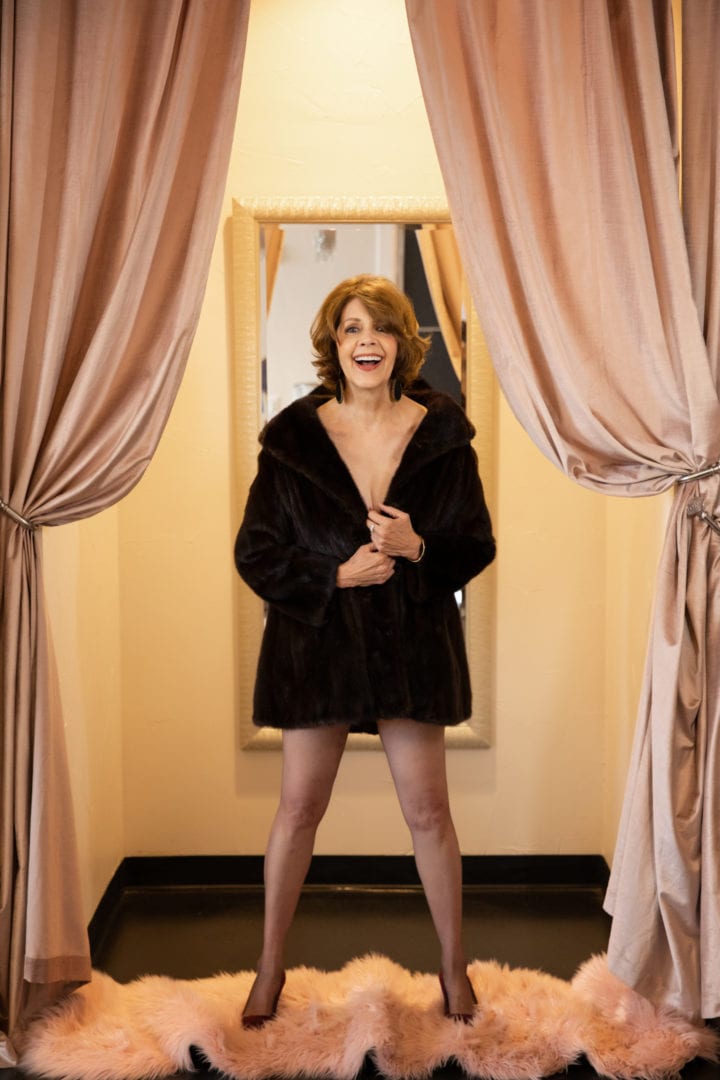 This was my mother's mink coat. For the first 18 years of her life she was a poor girl from Union City, Tennessee, with only two dresses to her name so this coat was very special to her. For awhile I thought I'd make mink pillows out of it. Then I realized I couldn't do that, nor could I let it languish in my closet, or give it away… just to be politically correct. Her name is embroidered on the lining, and it smells like her! I will wear it always.
According to the Fur Commission of the USA and National Geographic, two-thirds of the 2016, major women's fall fashion collections included fur: 91 out of 156 collections in New York; 55 out of 65 in Milan, and 51 out of 92 of the Paris collections included real fur. Even so, as a protest to the way animals are raised and/or killed for their fur, faux fur is still everywhere and not just in the fashion industry.
Faux fur pillows, rugs and throws are a popular trend in home design. While we may be patting ourselves on the back for buying fake fur, these disposable trends come at a huge price.
It can take up to ten barrels of oil to make one faux fur coat.
These "100 percent modacrylic" fibers are treated with toxic chemicals that may cause cancer and are largely produced in developing countries where environmental controls are lax, sweatshop conditions and child labor abounds.
It will take 1,000 years for one piece of faux fur to biodegrade in a landfill as opposed to six months to a year for real fur.
Knitted rabbit vests, scarves, hats—even key chains—have become big trends, and like minks, rabbits can be unethically raised. Unlike minks—which are killed outright—rabbits are often left bloody and battered after their fur is hand plucked from their bodies. This savage treatment will happen to them, again, the next year.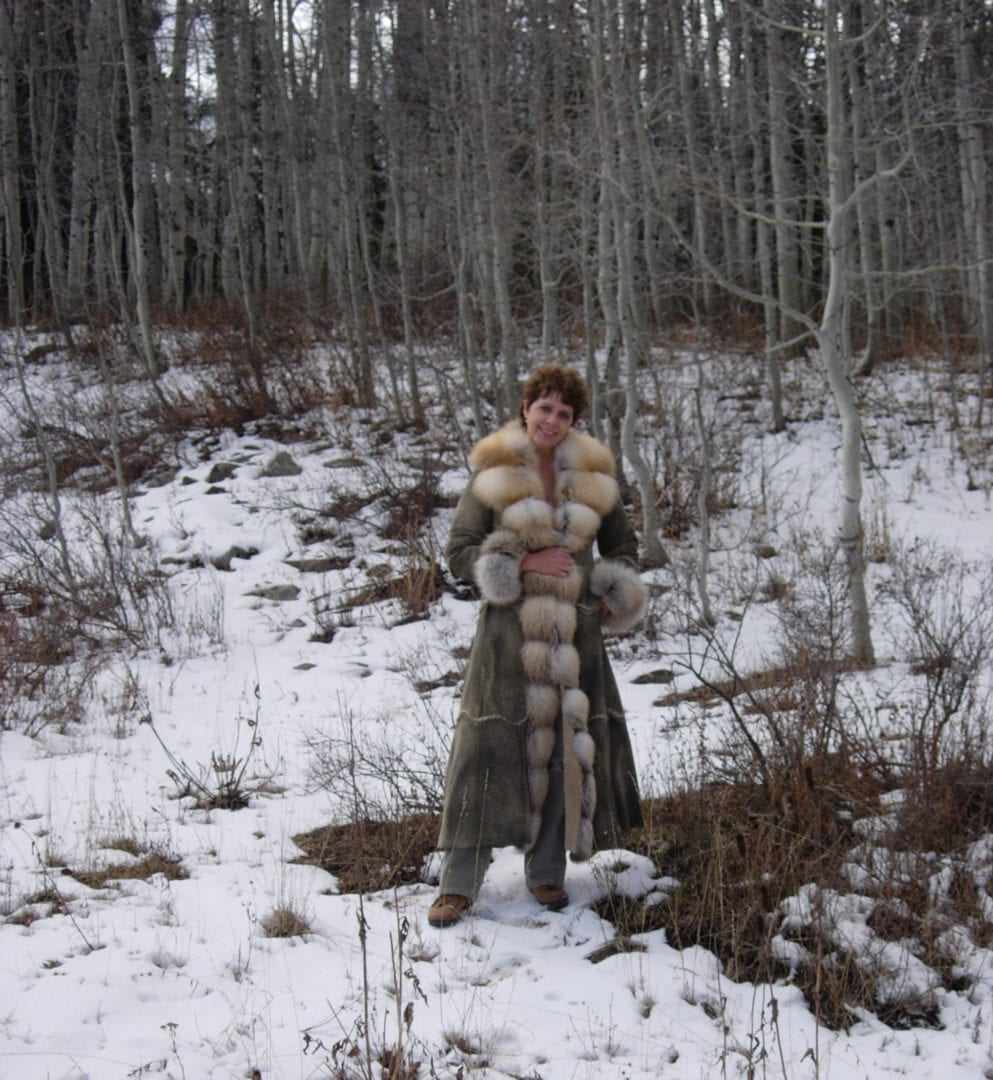 After I finished many of my breast cancer surgeries and all of my chemos, my late husband bought me this suede and fox coat on a trip to Colorado. You can see my hair had grown out several inches. It was a special trip for us. I love this coat and will wear it always.
We're kidding ourselves if we think faux fur and rabbit fur are good, moral alternatives to real fur. The answer isn't in turning a blind eye with disposable faux furs, or banning the sale of real fur like San Francisco, West Hollywood and Berkeley has done. Banning fur farming isn't the answer either.
Instead, what if we demand strict, ethical and verifiable parameters before accredited fur farmers can sell their furs?
While many cows and chickens are still raised in inhumane conditions, we continue to eat their meat, drink milk, eat eggs and wear leather and suede at a level that makes the fur industry seem inconsequential. Even so, consumers have made their voices heard: WE NOW HAVE CHOICES about whether we buy free range chickens and cows and grass-fed beef free of growth hormones and antibiotics.
I bought this fox sweater a number of years ago and wore it at a photo shoot for Lois Joy Johnson's (MORE Magazine's Founding Beauty & Fashion Editor) 2015 book, "The Woman's Wakeup: How to Shake Up Your Looks, Life and Love After 50." Lois used this photo on page one of Chapter One… plus another 10, full page photos of me! I was so honored and had such a blast! It's still one of the best books for women over 50. I will wear this always because I love it, and it was a defining time in my life and what it meant to be over 60 and widowed. Photograph by Michael Waring.
Our collective voices have made humane advances in the raising and killing of cows and chickens for profit, but with fur…
We've thrown the baby out with the bath water and in-turn, created an even bigger monster… Faux fur! 
What if we enforce and regulate fur farming in the U.S.–by law–as they've done in some European countries, like Finland, where "WelFur" visits, inspections and upgrades of the European fur industry are demanded?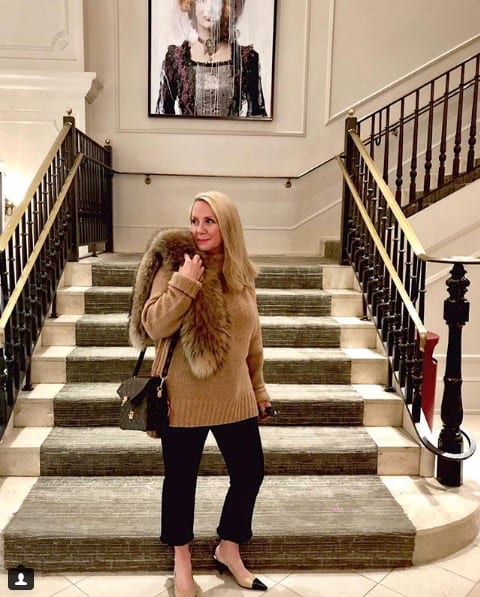 This is my beautiful friend, Kimberly Frick, @frickspicks on Instagram. Today I spoke with Kim who said, "I'm from Chicago, and I've had this piece (fur) for a long time, and I'm going to wear it. If you don't agree or have nothing nice to say… Just keep scrolling."
And what if we go one step further? What if we continue to apply pressure to push out the worst fur farmers by demanding ALL FASHION AND FUR DESIGNERS AND WHOLESALE and RETAIL SELLERS prove their furs are certified as humanely "Welfur" raised? Yes… That will be difficult, and take time. I realize it's not foolproof, but it's a start. We have to make a smart start somewhere! And it's far better than the faux course we're on now.
How do you feel about real fur versus faux fur?