If you read Brenda's Blog then you know I sometimes write about my sweet girl, Annie. When Annie was only six weeks old I drove an hour south of here to meet her. She and her mom and seven siblings had been living on the street until they were rescued and placed with a foster family. I fell for Annie right away, but she looked at me for two seconds and then ran off to play with the chickens. Two weeks later I brought Annie home, and we've become best friends. That was two and a half years ago.
Annie has permanent eyeliner—a smoky eye—and a gorgeous reddish-brown coat. I'm so jealous.
This week Jennifer Denton and I were doing a photoshoot at my house when Jen noticed Annie and I had the same fall color palette. It's amazing we got Annie to sit still, because Mr. Lizard was outside, lurking in the courtyard.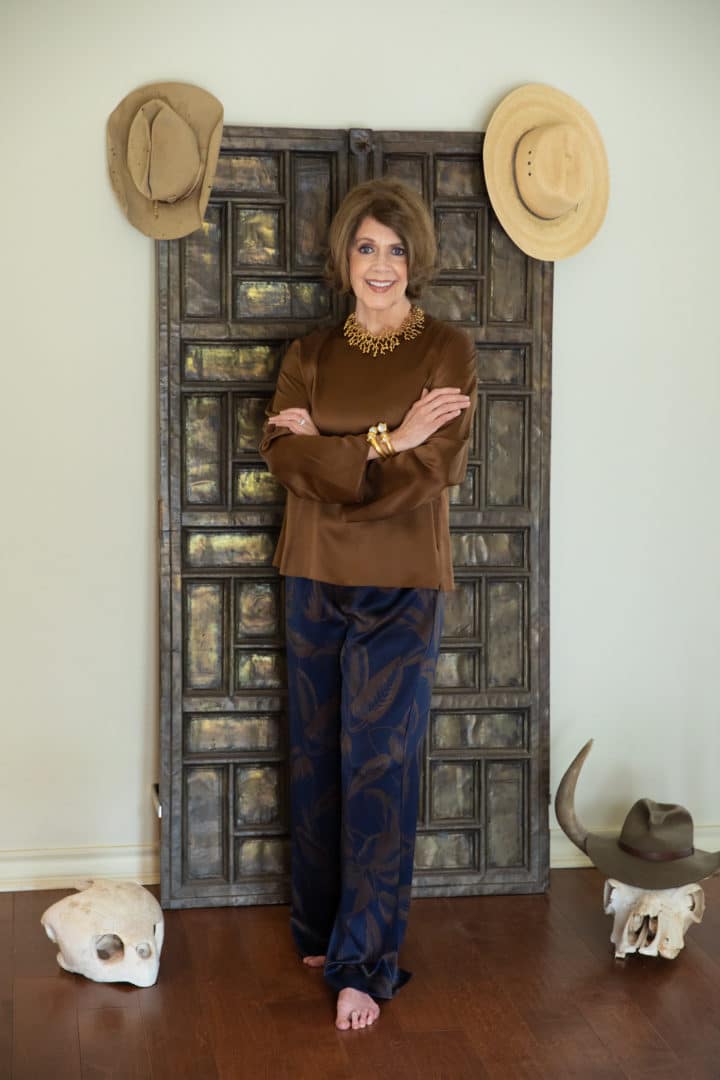 While Annie is wearing her mixed breed, Rhodesian Ridgeback outfit Mother Nature gave her, I have on a drop shoulder, silk top and a pair of palm leaf, silk pants from Vince. I wear this elevated casual outfit everywhere from Whole Foods to out to lunch and dinner.
Vince is one of my favorite go-to designers. I love Vince's classy, grownup take on clothes, perfect for women over 50.
If you need a slip-on sneaker Vince is a great place to look. I have a pair in black and one in silver. I want another silver pair, because I've trashed mine in the mud and the garden. They're so comfortable I don't want to take them off.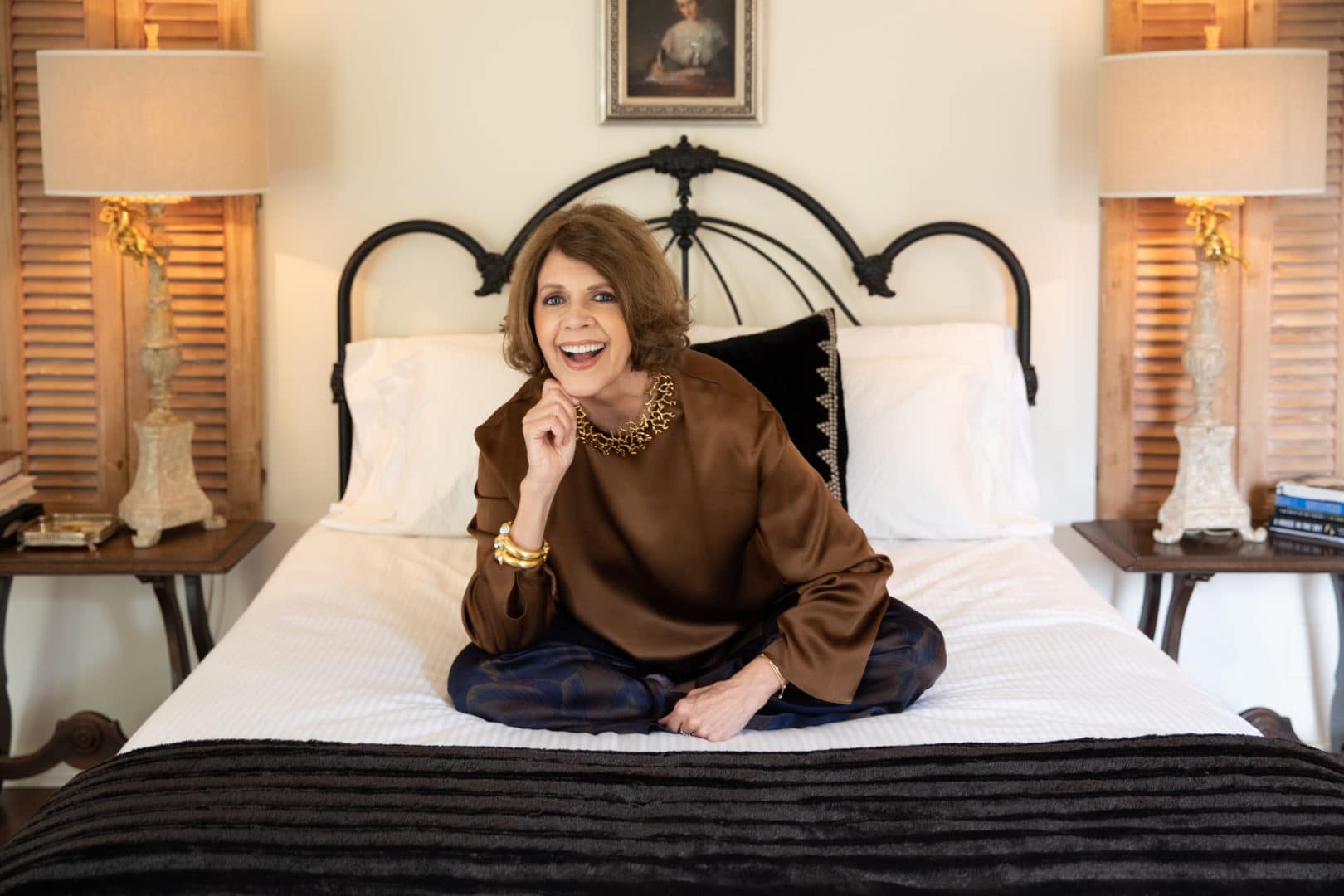 FYI, this is not a paid post. I'm not being compensated for anything. I just like to share well-made, quality pieces you'll have forever. I can't afford to buy lots of new jewelry and outfits, so I make sure the things I buy are good quality and work with the other pieces in my closet, so you will see many of them again, like…
…my go-to Oscar de la Renta necklace I'm wearing in these photos. I bought it when my friend, Lois Joy Johnson, Founding Beauty and Fashion Editor for MORE Magazine asked me to be in her book, The Woman's Wakeup, How to Shake Up Your Looks, Life and Love After 50. It's the best-selling style bible for women our age!
…and my Julie Vos, hinge-cuff bracelets in Iridescent Clear Crystal.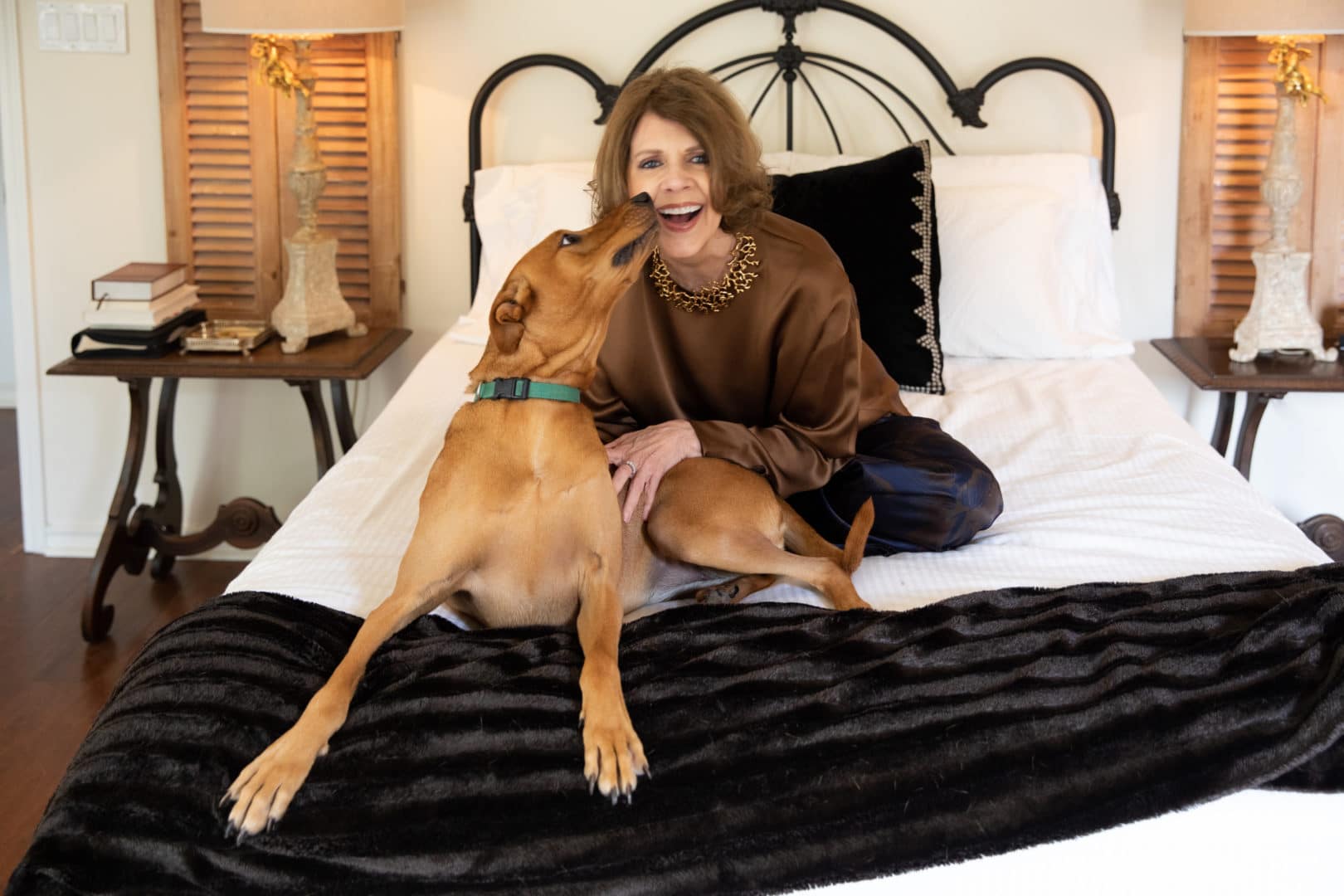 And if you're looking for a best friend… Please think about adopting from an animal shelter as opposed to going to a breeder.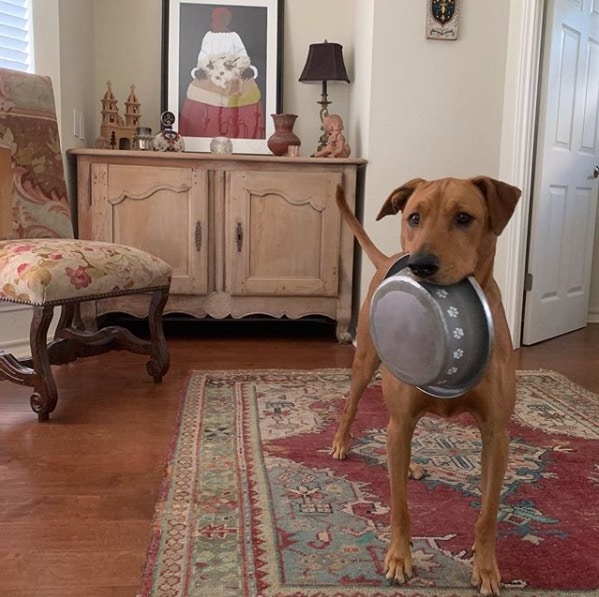 Annie helps out around the house by bringing me her bowl when it's time to eat.
Who taught her how to tell time? She always gets it right.
Many breeders are running puppy mills, keeping the female dogs pregnant all the time, and the living conditions for mom and her pups–which you may not get to see–are often not the best. Having a purebred isn't important to me, but needing a great dog who will love me back is everything!