A few years ago my friend, Lois Joy Johnson, founding editor and beauty and fashion director of MORE magazine and now editor of AARP's Beauty & Style DigiMag app, asked me to be in her book, The Woman's Wakeup: How to Shake Up Your Looks, Life, and Love After 50. I was flattered and excited. Over the years Lois has worked with every top magazine, fashion brand, photographer, model, makeup artist and hairstylist. She knows more about putting together an outfit than anyone I know.
Imagine my surprise when Lois sent me the finished book, and there were 11 photos of me, plus I'm featured on page one of Chapter One!
Before I went to New York City for the photoshoot, Lois told me to bring three or four changes of clothes I felt comfortable in and the jewelry I wore all the time. She didn't want me to go out and buy anything new for the shoot. She wanted it to be a reflection of how I dressed and who I was.
Since my mother had been a model and a buyer in couture, clothes have always been part of my life—or should I say mother's life. I think she was disappointed I wasn't a clotheshorse. Most of the clothes in my closet are black workout pants and t-shirts, but I have a few investment pieces. Like Lois, mother was a wizard at mixing scarves and jackets with different skirts and pants.
When I look back over the years at women like Coco Chanel, Audrey Hepburn, Jacqueline Onassis, Diane Von Furstenberg, Anita Pallenberg and Ali McGraw, the clothes they wore then are the clothes we're wearing now. That's because they're classic!
Classics are the antithesis of "fast fashion." They'll still be "in fashion" and look great 30 years from now.
My thanks to Michael Waring for letting me use some of the photos from Lois's book. I knew I was in great hands with Michael because he's photographed all of Lois's other books, including  Makeup Wakeup, Revitalizing Your Look at Any Age she did with Sandy Linter.
The clothes I'm wearing are all classics, plus they're investment pieces. Investing in a handful of great, timeless pieces isn't as bad as you might think. Since my 20's, I've followed mother's advice and bought one really nice piece in the fall and one in the spring. Over time, you put together a great wardrobe, plus you know you're paying for good fabrics and workmanship.
In this first photo I'm wearing all Carolina Herrera. It was the first time I splurged on a really good cashmere sweater. It was worth it because it never pills, it holds its shape, and years later, it still looks brand new. The navy trousers are so well made, and I'd never owned anything like Herrera's fox sweater. I wear it with everything from jeans to something dressier.
Until a few years ago I didn't own much jewelry except for my wedding ring, a watch and two pairs of earrings. Since then I've bought a few bold necklaces like this one by Marquita Masterson, a double strand of grey glass pearls with a dark grey, glass centerpiece set in sterling silver. Lois pulled it to one side so the dark grey glass wasn't centered under my chin or at the back of my neck. That's the genius of a great stylist.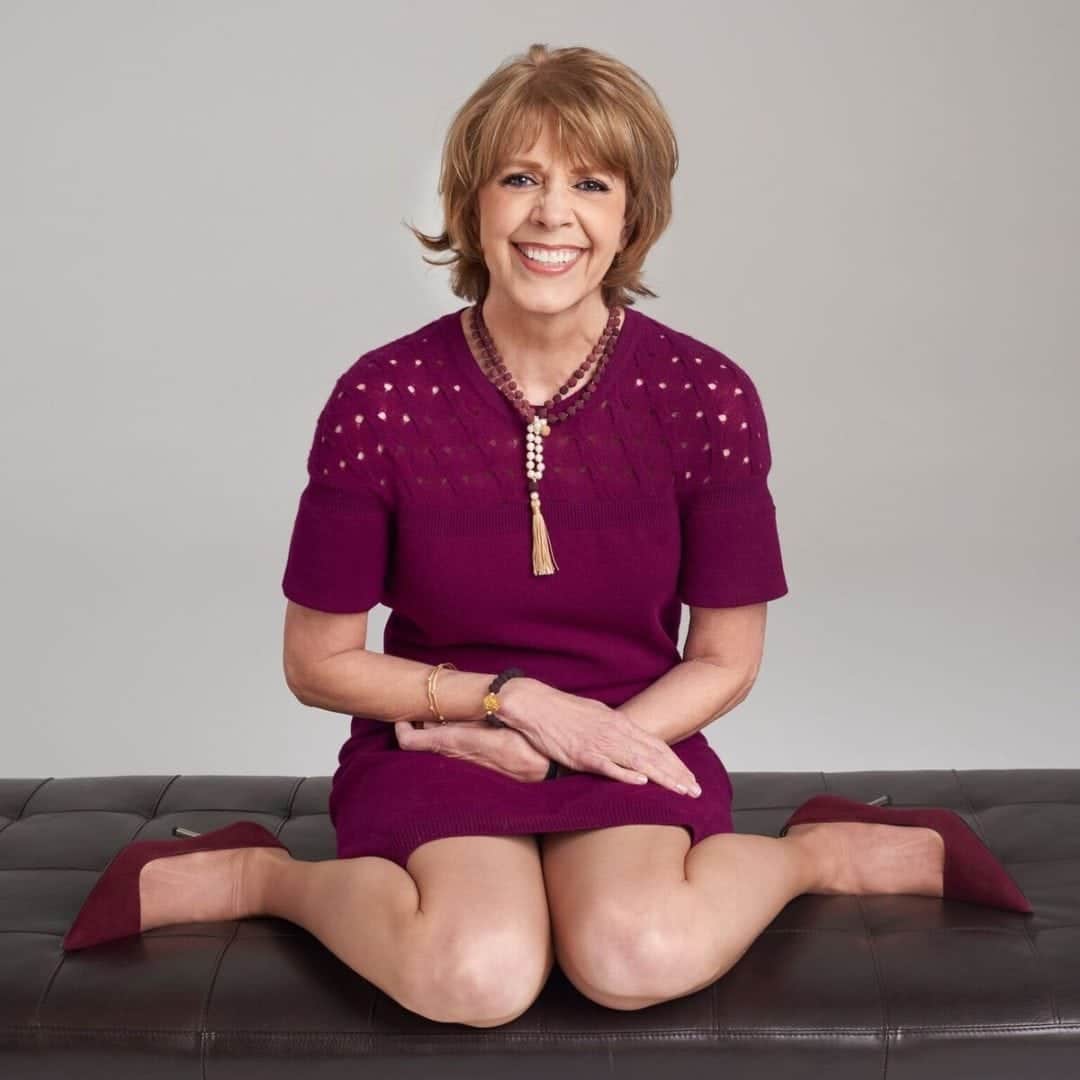 My berry wool dress is Chanel, one of the few things I owned, at the time, that had color. Typically I've been drawn to neutrals like taupe, grey and cream and of course… blue jeans! My berry shoes are Prada and have gold kitten heels, which still doesn't make them any more comfortable for my feet. My necklace is made from hand-rolled rose petals by women in India from Urban Zen in New York City. Yes, my legs really bend like that, and no, my hand is not deformed.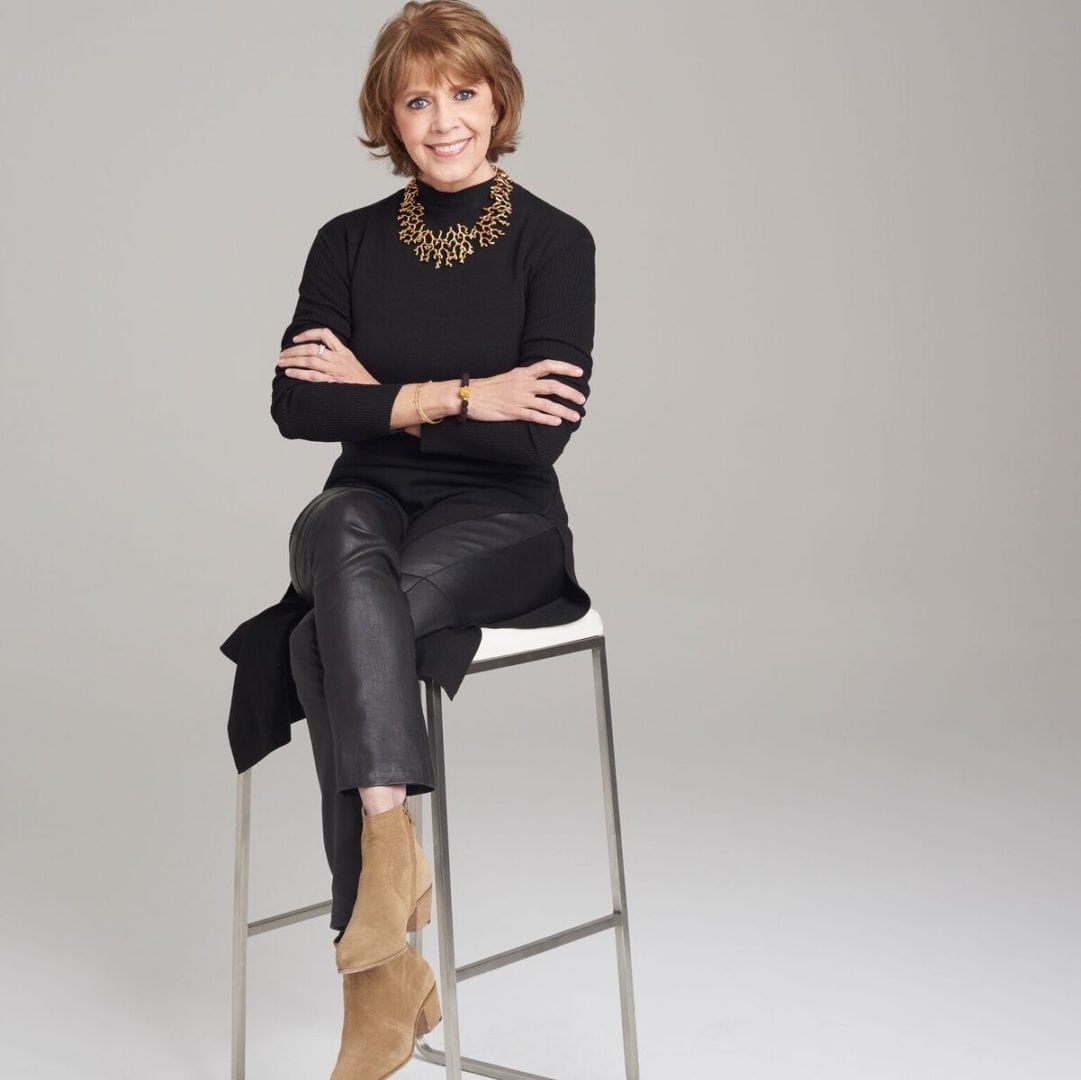 I've mentioned this before, but my friend, Vinetta Rosin at Neiman Marcus, talked me into these Escada Leather pants. I thought I might be too old to wear leather pants, but for the last four years, I've worn them more than anything in my closet… except gym clothes. My sweater is Rick Owens and is cut higher in the front than the back and has slits down both sides. It's a bit avantguarde but classic at the same time. My necklace is Christian Dior and is articulated so it folds up smaller for storage. Perhaps it's the Texas girl in me, but I love thin soled boots with a cowboy heel. These are from Saint Laurent.
Trendy clothes and fast fashion are fun, but for the most part, I'd rather pass on a season's worth of cutout shoulders and the color dujour in favor of one classic piece I'll have forever.
I'm just curious, how do you feel about fast fashion?