Because this is the third time in six weeks I've posted something about shoes, you may be thinking I have a foot fetish or at the very least… a shoe addiction. I don't. In fact, I bet I own fewer shoes than any woman you know. It's not because I have such great shopping willpower but because I can't find shoes for my painful, skinny feet. Out of the shoes I have, only half of them—five pairs—are narrow enough and/or comfortable enough to wear.
The rest I keep boxed on the shelf for nostalgic reasons like…
the strappy, silver heels I got married in…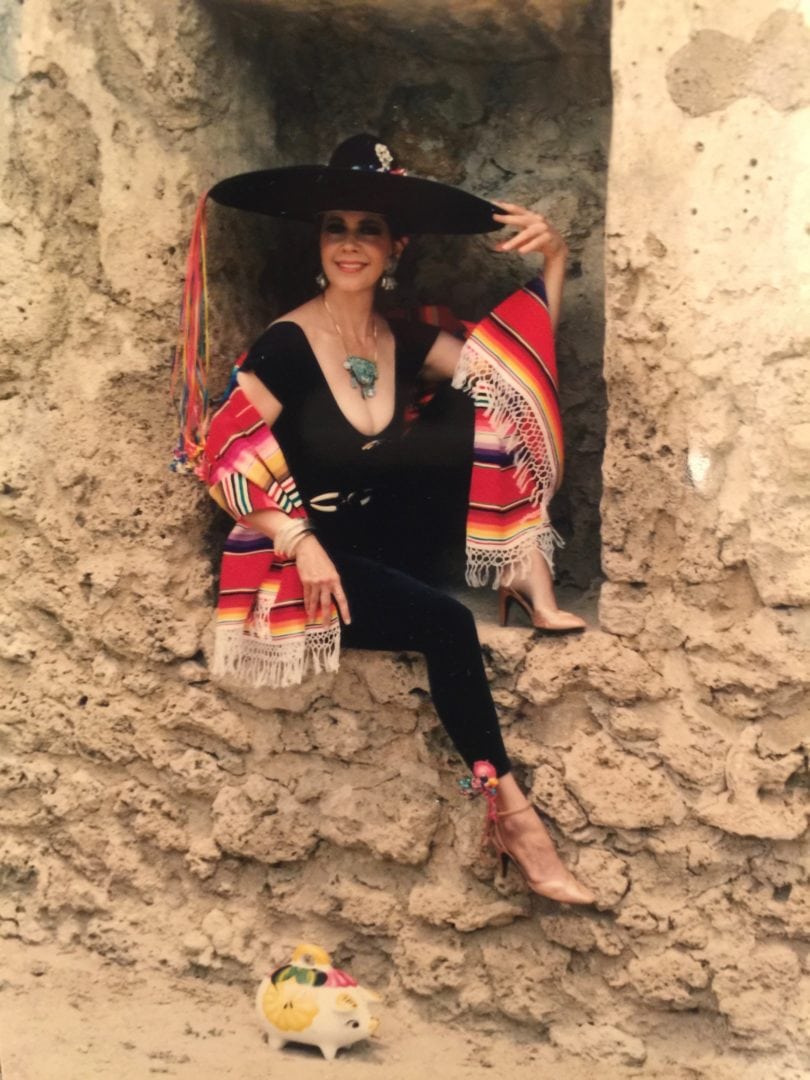 …the pink and gold snakeskin heels I wore one of the 11 years I was Mistress of Ceremonies for one of San Antonio's most popular Fiesta events…
…and the plum Pradas with gold heels I bought to go with the Chanel dress I wore in Lois Joy Johnson's book, The Woman's Wakeup: How to Shake Up Your Looks, Life and Love After 50. There are 11 photos of me in Lois's fabulous book, all taken by the great Michael Waring! I've mentioned this before, but no… There's nothing wrong with one of my hands… I just held it in a weird way!
The good news is I save on shoes because none are narrow enough AND don't torture my already painful feet. The bad news is I don't have many pairs of shoes.
As a result of my previous shoe blogs, YOU, DEAR READERS, have practically written this post for me! Thank you so much for your input!
In the last few weeks you've sent me your favorite, comfortable shoe brands. Thank you for all your great suggestions! Aren't girlfriends wonderful? Women, helping women!
Before I list your choices, I'm wondering how many of you have shopped online for shoes? If not, you might give it a try. I BUY MOST EVERYTHING online! You can search by brand, size, heel height, color, whether you want sandals, boots, sneakers or heels, plus most brands have free shipping and returns. Not sure about which size is best for you? Order two or three different sizes and return the ones—or all of them—you don't like. EASY PEASY! (Here's a previous post with SIX TIPS FOR BUYING CLOTHES ONLINE.)
Here are the brands you told me are your favorite comfortable shoes!
"Mary," sent me the link to MARGAUXNY shoes. THANK YOU, MARY! XOXOX!! I LOVE the colors and styles on their website. They even carry NARROW WIDTHS!
I've ordered MargauxNY's $15 "Fitting Kit" which contains everything you need to take your measurements and begin your order for MADE-TO-MEASURE FLATS. Included are swatches of their Classic suede colors, a fitting tool, a step-by-step guide to taking your measurements and a mini dustbin to keep it all together. If you place a made-to-measure order within 30 days of purchasing a fitting kit, they'll credit you $15 towards your order total.
Here's one of my discoveries, Jack Sneakers from Sézane. They come in cool colors like bronze and textures such as silk, velvet, leopard and satin. If they fit my skinny feet, I'll be wearing them even with my dressier clothes.
I'm very selective with what I buy and would rather do without than wear poor quality or something I don't love. I'll let you know what I think about my MargauxNY Fitting Kit and the Jack Sneakers! In the meantime, here's to HAPPY FEET!