Darlings, By the time I've iced the last gingerbread cookie, wrapped the last gift and signed my last greeting card, I'm cooked! I have what's called "holiday fatigue." It's that exhausted feeling you get this time of year when even Bing Crosby's "Mele Kalikimaka" can't revive you. Of course I still have holiday parties to attend, and the last thing I want to do is figure out what I'm going to wear!
I have a solution that will have you feeling comfy and looking sensational.
Holiday dressing doesn't get any easier than this! A beautiful robe or kimono and a pair of leggings is all you need! Add accessories, and you're done!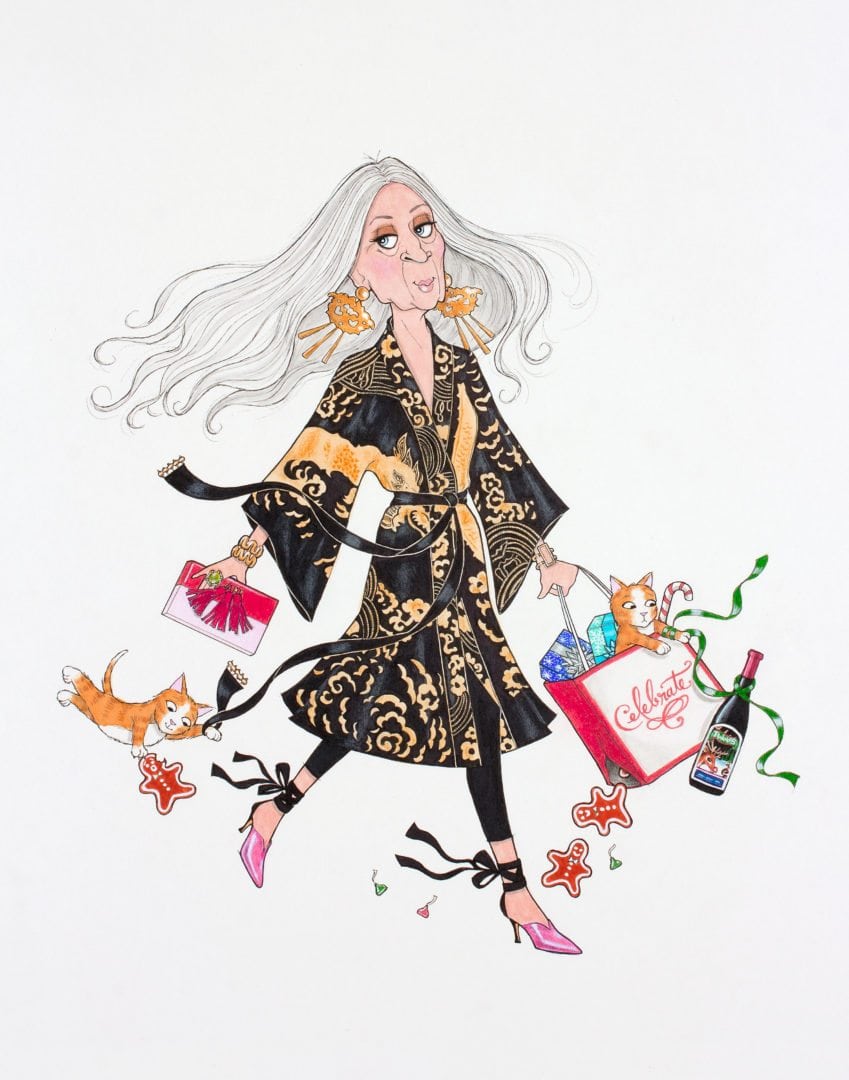 A luxurious robe doesn't have to be worn only at home. Why not take it out for a spin? Choose one with gorgeous details, embroidery and patterns in a sumptuous satin or silk. My Josie Natori Couture Dragon Robe is pure comfort that makes a big statement! Imagine making your entrance in this!
It's all about glamour and ease with this look, and what's better than leggings that can go from my yoga class right to an elegant party? Slimming and oh so functional, these Alo Leggings have become a celebrity favorite. With maximum quality, they are the ultimate in comfort.
My Attico Olivia Pumps add a nice color contrast and gives my ensemble a little pop for an overall festive look. I like that the heel isn't too high either. You could even skip the heels and go for velvet slippers. The key is comfort for this party attire!
When you're going for an all-out glam look, you need a bag that elevates the luxe factor. With it's high-shine, acrylic case and leather tassels, my Broughton Box Clutch by Isti delivers just that. The color combination is fresh and fun, and the size is large enough for my iPhone, Altoids and all my beauty essentials. It even comes with a detachable interior wallet.
A look this gorgeous needs some jewelry to match! These oversized, hammered brass earrings by Josie Natori are not only beautiful but they're all-out bold! I'm also wearing the wavy D'Afrique bracelets and the Obelisk bracelet by Birabiro, as well as my statement Labradorite ring. Each Birabiro piece is handmade by Lydia Gobena. Her fabulous jewelry is available on etsy.
So my darlings, there you have it! Chic and luxurious holiday dressing as simple as 1, 2, 3! My furry friends, Roddy McDowell and Liz Taylor, want to wish you a very Merry Fashionable Holiday!
Cheers Loves,
XOXO, Hildie