Former Host of "Behind The Velvet Ropes," The Style Network; Columnist for "Lunch With Lauren," Paper Magazine; "Girl Reporter," Better TV.
By Brenda Coffee content editorial director Mark Grischke photographer Noel Sutherland
Lauren Ezersky is a study in contrast and style. With her trademark, dark smoky eyes and layered approach to jewelry, Lauren subscribes to the "more is more" philosophy. A familiar face on the fashion scene, Lauren Ezersky is strikingly beautiful. "Because I wear a lot of black, people come into my apartment and are surprised it's not black and all goth," said Lauren.
In fact, it's just the opposite: an elegant, feminine pied-à-terre, fit for Marie Antoinette.
As host of "Behind The Velvet Ropes," the Style Network's successful, long-running television show, each week Lauren took 70 million viewers, in 12 countries, behind the scenes of the hottest fashion shows and interviewed the top designers. Until then, no one had gained that kind of access. Somewhat of a cult classic, "Behind The Velvet Ropes" may have been television's first reality show.
For over 10 years, viewers couldn't get enough of Lauren's attention-grabbing outfits, her salt-and-pepper hair—which is now a chic, natural gray—her animated Yonkers accent and her chihuahuas. It should come as no surprise that Lauren is brimming with chutzpah and is not afraid to speak her mind, to anyone.
When famed photographer, the late Helmut Newton, photographed Lauren and her girlfriend one night at dinner, Lauren said to him, "You're taking our pictures, and it's really dark in here. How are they going to come out? Later, I'm like, 'What a moron! This is Helmut Newton, and I'm telling him what to do!'"
"'Behind The Velvet Ropes" was all just off the cuff," said Lauren. "Whatever happened, happened: good, bad or indifferent. Now the fashion designers are no longer the main focus. It's the celebrities and their stylists, but I still want to know about Michael Kors and Isaac Mizrahi and what they're doing."
In addition to interviewing the fashion industry elite, the slender, leggy Lauren became somewhat of a fashion icon herself. New York Magazine wrote that Lauren could look like "the Addams-family child who ran away with John Galliano, and the next (day) like a forties housewife in head-to-toe Prada with stacked heels and tweed suit."
Lauren's always had her own style. When she was in college in Boston, she went to apply for a job at a small boutique. "I had a turban on, and all these bracelets up to here. They looked at me like I had a third eye. I didn't get the job."
"I love people who have their own style… which is not necessarily about money," Lauren said. "You don't have to wear designer clothes. It's about making and creating a look for yourself that's different and that's you."
Because of her fun and somewhat irreverent style of interviewing, Lauren's legions of fans are hoping she gets another television show. "This is a cold business. You were number one, in the front row, with the New York Times at a fashion show, and then no one gives a bleep anymore. You're only as good as your last gig."
The older you get, I think you realize that things don't make you happy.
Tweet This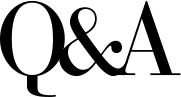 with Lauren
MOST IMPORTANT SURVIVAL SKILL
Just never give up, and don't listen to people if they're negative. I remember when I was first starting, and people said, 'Oh, you'll never get on television. You have a New York accent, and you dress crazy. You just don't have the TV look, so just forget it, and move on.'
THROWS YOU OFF YOUR GAME
I had an incident yesterday. I don't know why I can't let this go, but it's really bothering me. Let's just say there's no courtesy anymore.
MOST TREASURED POSSESSION
I have lots of treasured possessions. They're not always valuable. It might just be like a stuffed bear, or a flower, or my dogs. I just love my things. I like my environment. I try to make it as neat as I can.
BEST NIGHT OF YOUR LIFE
I've had a lot of great times, but the best night… No, I would not want to say that, because then it's like, what do you look forward to? Maybe the best is yet to come.
RECHARGES YOUR BATTERIES
I have a house on Long Island. I go out there. Travel. Stay in bed for one day. Order Chinese food. Just relax.
EARLY FASHION MEMORY
I remember my mother was in the hospital, and my father was in charge of getting me dressed. I got sent to the school office for wearing culottes. They called my father and he said, "'She looked good when she left the house, so don't bother me with this nonsense." I was like, 'Cool, dad.'
DESCRIBE YOUR STYLE
Eclectic. One day I might want to wear a ballgown out, and one day I might want to wear jeans, so it just depends how I feel.
FAVORITE DESIGNERS
Azzedine Alaïa, and I love Chrome Hearts, and I do like some Ralph Lauren. You would think they wouldn't go together, but they do.
IF YOU WERE TO GIVE STYLE LESSONS
Go shopping by yourself. Don't go with a friend. Look in the mirror. I mean, really gage yourself and really look. Does it look good on you? Also, take a little bit of a risk. I think women do not do that. Women say, 'Oh, I can't wear this.' You can. Just do it.
MISSING FROM YOUR CLOSET
I need another apartment just for my clothes, but that's New York. I think a lot of old timers are moving out of the city. They can't afford it because New York is just out of control, financially. The apartments are just crazy.
HANDBAG OF CHOICE
I'm into my Chrome Hearts.
I SPLURGE ON
Jewelry. I've got a lot of old, new and vintage. It all looks good. That's my only rule.
DEFINITION OF LUXURY
Whatever makes you feel glamorous, whether it's mascara, a pair of high heels, a really great handbag, a great dress.
LIPSTICK OR EYELINER
Eyeliner! Not even a heartbeat…
BEAUTY VIRTUE
No, I just love makeup. Every day you can look different. I wear a lot of MAC cosmetics. I love their campaigns. I love that they use women of all ages, ethnicities and men in makeup. It's just really cool.
BEAUTY VICE
No. I just love makeup.
HOW DO YOU STAY IN SHAPE
I walk a lot, seriously a lot, but I hate working out. My only workout is picking up a fork to eat, shopping and taking out my credit card.