This week I'm breaking out of my more tailored style and wearing something a little more trendy… bell sleeves. Also I'm layering bracelets and necklaces and instead of the smaller purses I prefer, I'm carrying a basket! Part of me wants to say, "Who are you, and how did this happen?" The how is easy… I went shopping with my friend, Heather Wolff, former owner of Worth New York in San Antonio. As a longtime clothing consultant, Heather has a well-developed eye for putting outfits together.
When I told Heather I only have dress up clothes and gym clothes, she said, "You have a life in-between. You need clothes for your life!"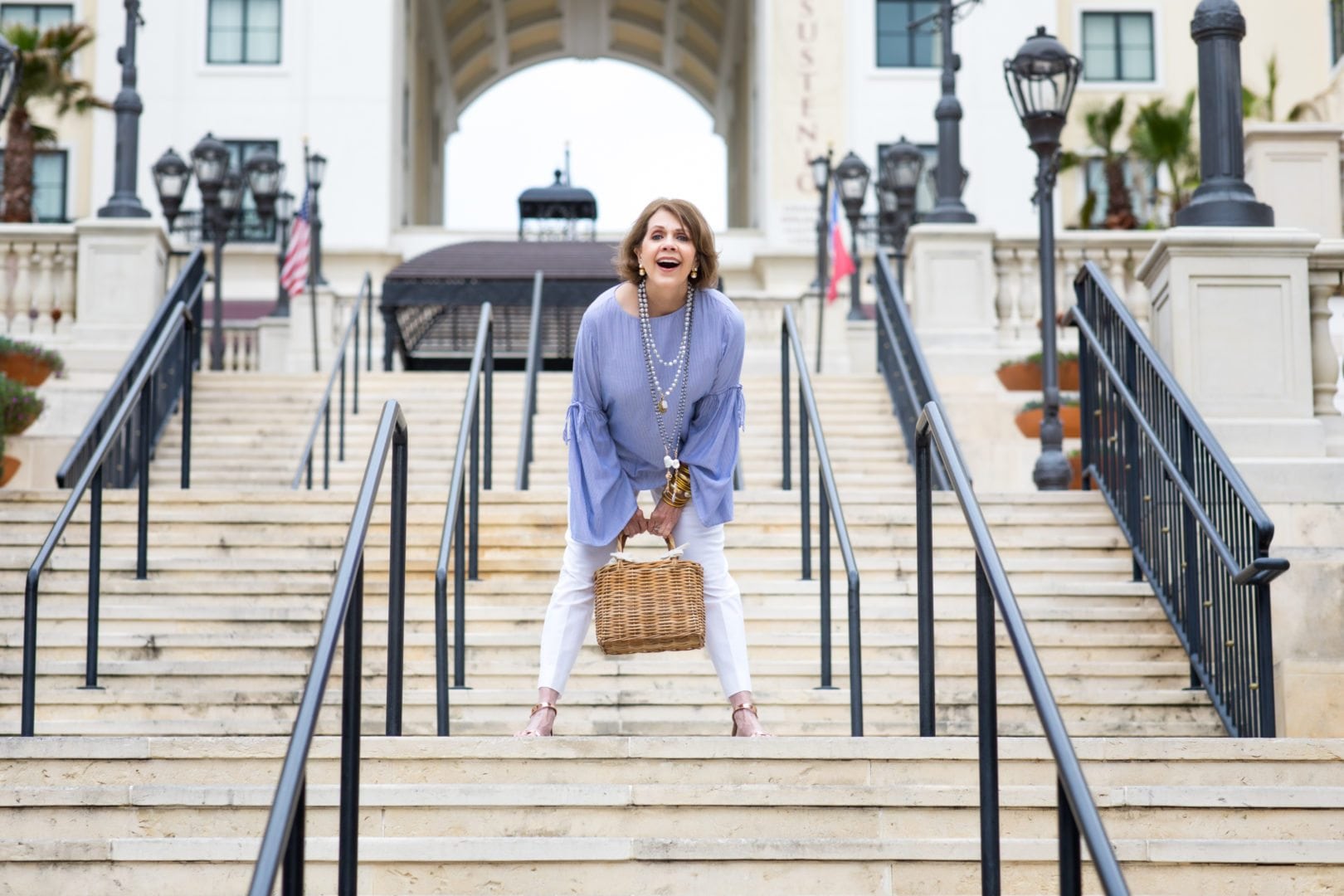 The cute belle sleeve, cotton tunic I'm wearing is from Beach Lunch Lounge. Below I've included one from the same brand that has two-tiered, bell sleeves plus a couple that offer more coverage for the hips and thighs.

My white Lafayette 148 pants I bought four years ago. Their clothes really speak to our age group. The key to wearing white pants is to buy ones made with a thicker fabric so you can't see every detail of your body and your underwear; preferably buy pants that stretch, and don't wear them skin tight and NO WHITE LEGGINGS!
My shiny, gold sandals are Stuart Weitzman. I bought them last year, but they're still available. Every time I wear these, someone always asks where I got them. Stuart Weitzman's are a splurge, but they have shoes that fit my narrow feet. In case you missed it, here's a recent post of MY OVER 50 READER'S LIST OF COMFORTABLE SHOES.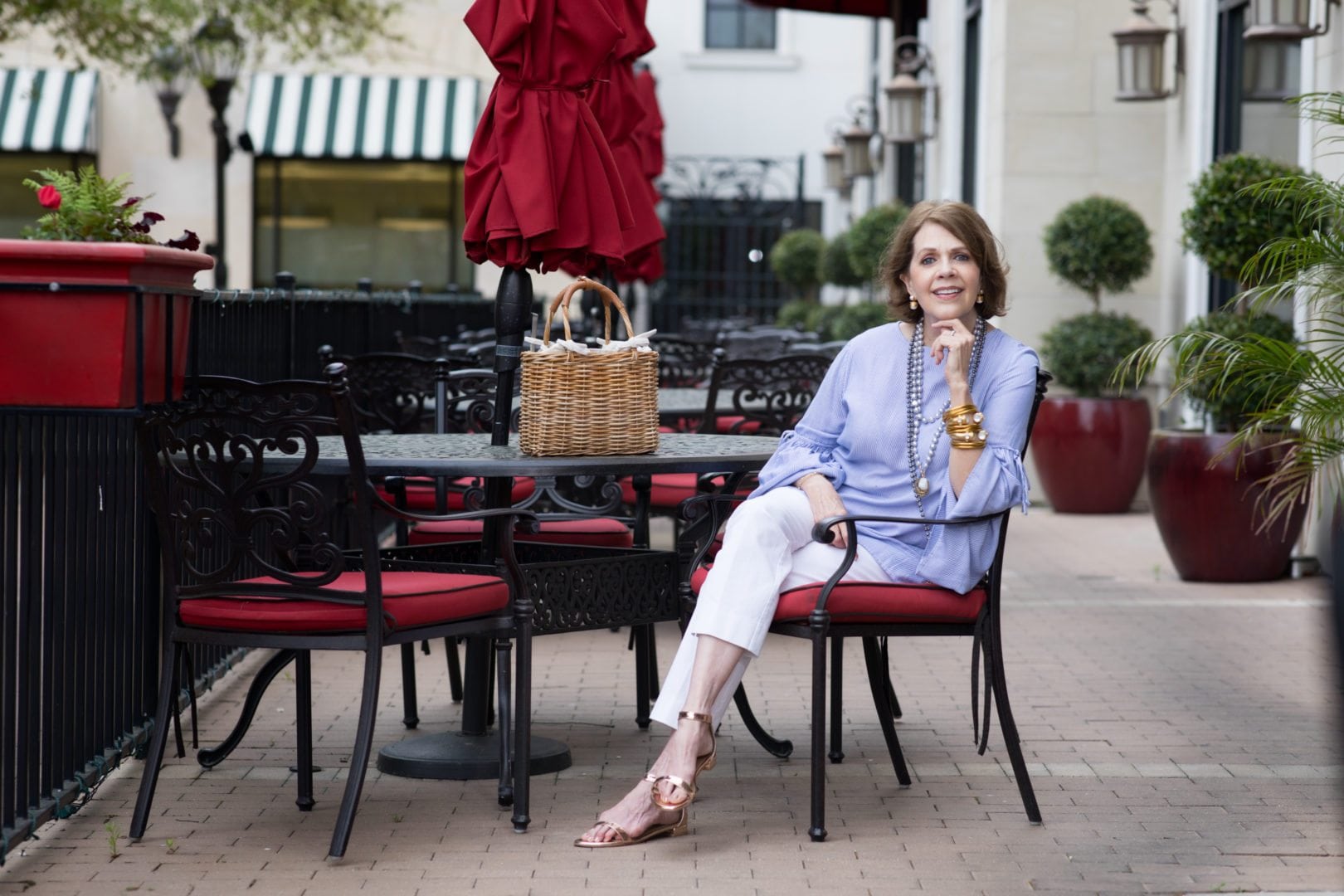 I've been calling this bag my "Dorothy From Oz" basket. It's so out of the norm for me, but I love it! The wicker is fun and fresh and deep enough to carry makeup, lunch, even another pair of shoes. There are so many cute, wicker bags right now. They come in colors, some with pom poms and tassels, and you can find them as big or as small as you want.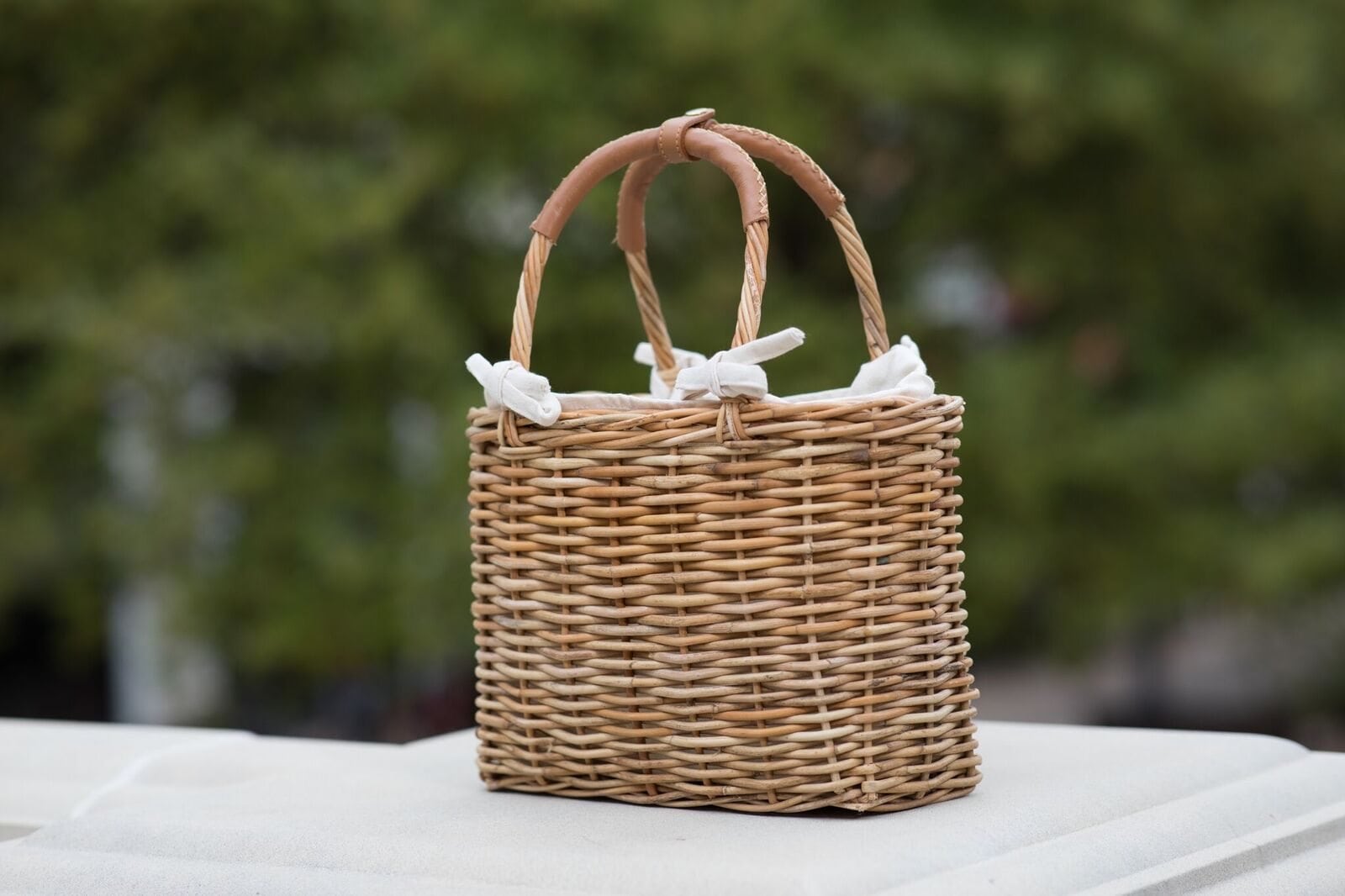 And if you'd like a real, wicker picnic basket for two, here's one that includes everything except the food the and picnic blanket! Also I love the two-tone, Mark Cross bag with black leather top handles and 18kt gold-plated brass hardware. It's way out of my price range, but it's something Princess Grace would have carried in Monaco.
Did you know when Grace Kelly was making "Rear Window" with Jimmy Stewart, director Alfred Hitchcock called his friend, Gerald Murphy, the owner of Mark Cross and asked him to make a bag for her to carry in the film? The bag continues to be produced, today, and it's called The Rear Window Overnight Case… $4,000!
My bracelets and earrings are by Julie Vos. We've done a couple of Julie Vos Giveaways here on 1010ParkPlace. I love her pieces. The design and skill that goes into each one… They look like they are 10 times more expensive than they are.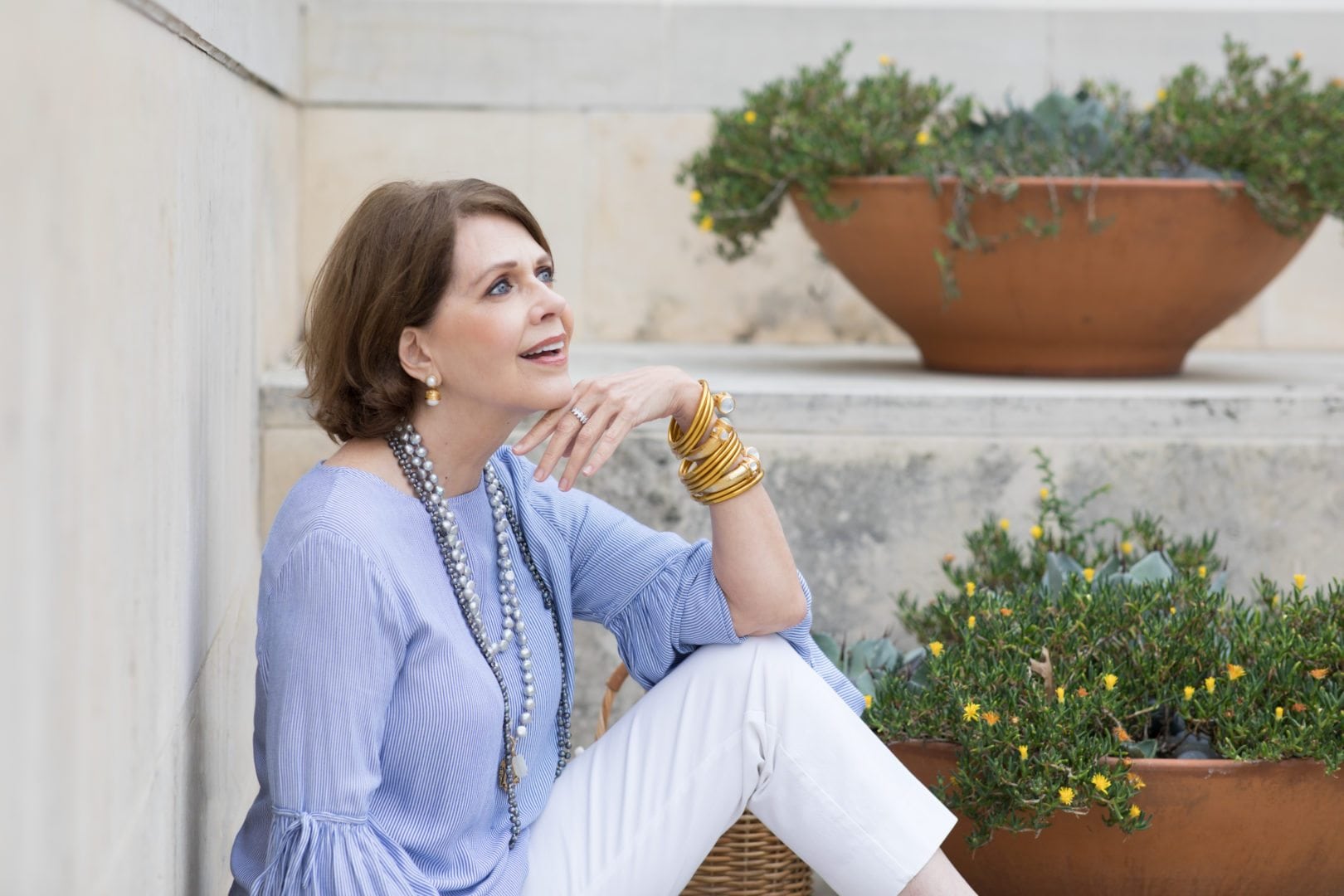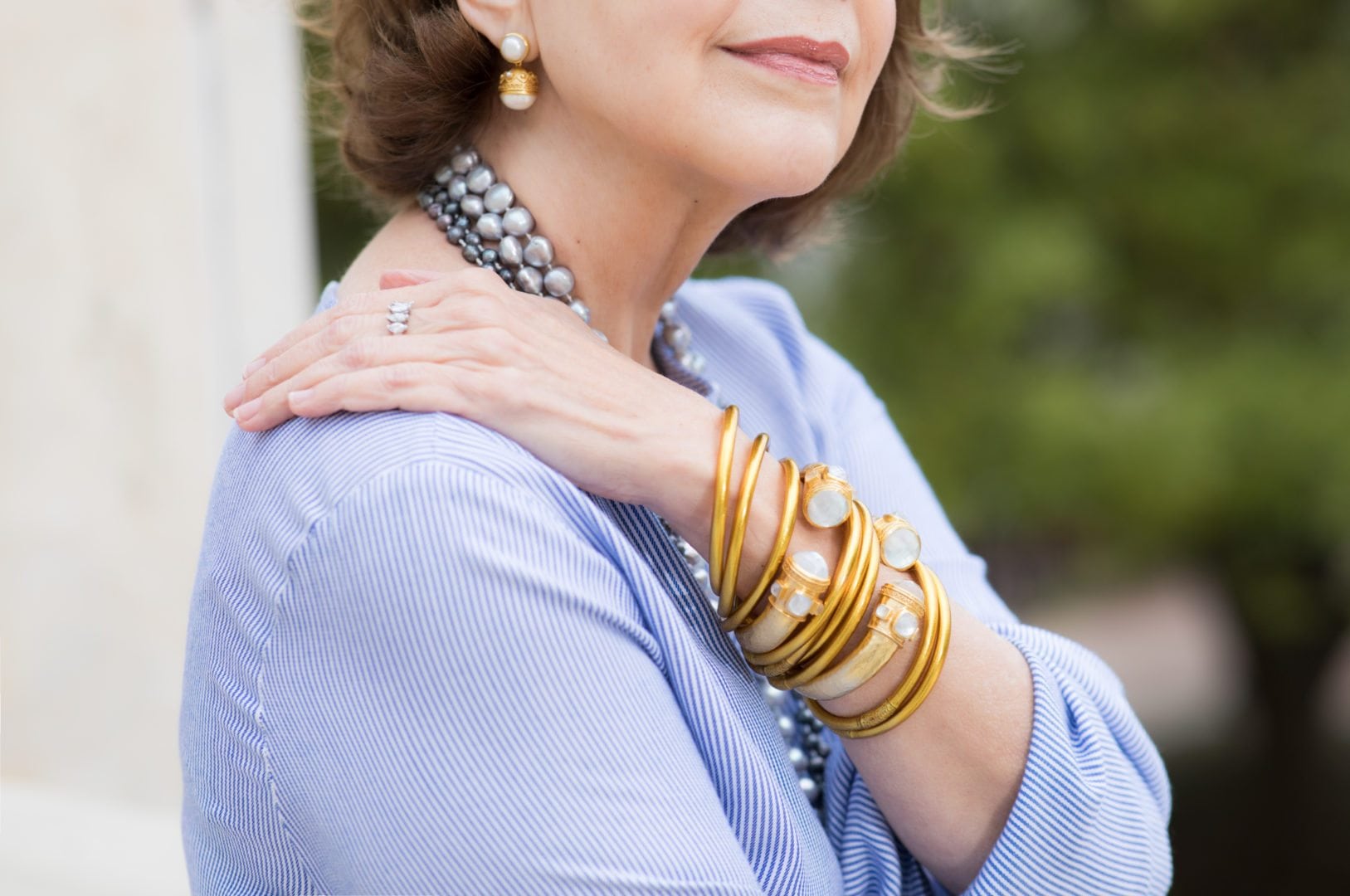 The three necklaces I'm wearing are from Bittersweet Designs by Laurie Lenfestey. You can check her website, but I didn't see any of the grey pearl and baroque pearls with milagros like mine.
Here are some other necklaces you can mix and match that will give you a similar feel.
When's the last time you experimented with a new style? As long as you keep your body type in mind and don't buy anything that doesn't show it off to your best advantage, why not take a walk on the wild side, and try something different?