Because I want to understand your style and clothing needs, I've put together a simple survey with 20 questions that will help me with my Fashion Friday posts. Please take a few minutes to answer them. They're easy-peasy "yes/no" or multiple choice. With your answers, I can better help you find the styles and clothes you like.
This is a blind survey, so you'll remain anonymous. I won't know who answered them.

We all have a more casual lifestyle than when we were younger. Perhaps that's because we're living in a more casual society where dressing isn't as important as it used to be. Or maybe we're retired and/or working from home, and we don't attend as many events where we need to dress up. Even so, last fall when I returned from Florence I wrote about how the Italian women dressed with such style and took great pride in what they wore. Without exception, everyone who left comments on those blogs, my Instagram posts or emailed me privately, wanted to look more like the FASHIONABLE ITALIAN WOMEN OVER 50.
One reader said, "American women need to have a fashion renaissance."
My fashion renaissance would take me back to the '70s. I was in my 20's and married to a gorgeous man in his 30's who looked like he'd stepped out of a James Bond film. I joined him when he entertained business associates or went on business trips, and I wanted to be the female version of him. Then my fashion icon was anything Lauren Hutton wore in Vogue magazine which meant elegant, minimalist and generally monochromatic.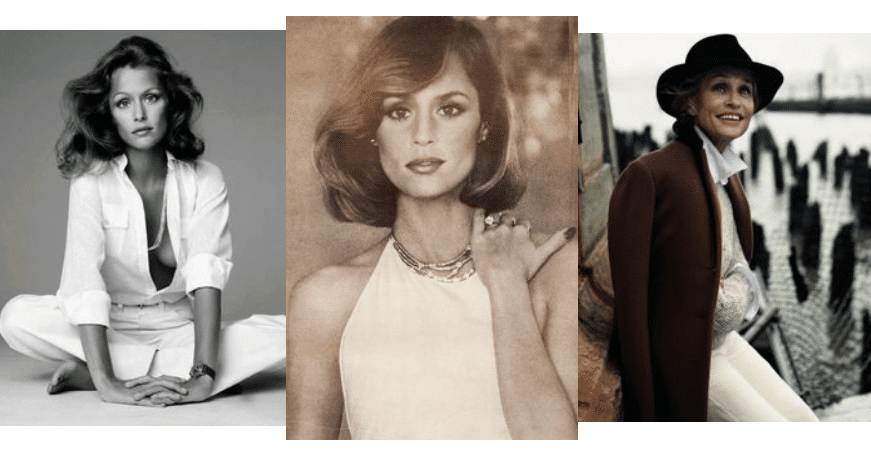 After having said that, I can't believe I'm going to admit this, but…
Somewhere there's a picture of me, holding an auto racing trophy, wearing lime green, knit hot pants and pantyhose! And no… I wasn't a "pit bunny." I was the driver. If that's not bad enough, would you believe I didn't think anyone would notice I was wearing pantyhose? I think I was trying to be trendy, instead of wearing what I knew looked good on me. That is not a fashion renaissance moment for any decade!
If you were to have a "fashion renaissance," what style and/or era would you wear?
Please don't forget to fill out the survey!! xoxox, Brenda