Florence took my breath away, especially the Florentine women over 50. They are the epitome of style and elegance. While they acknowledge some fashion trends, others they ignore. I spent five days in Florence and never once saw a Florentine woman over 50 wearing an off the shoulder or cold shoulder blouse, ripped or skinny jeans, leggings, capri pants, camel toes or flip flops. It was the American and the Asian tourists who wore trendy clothes, usually every trend at the same time.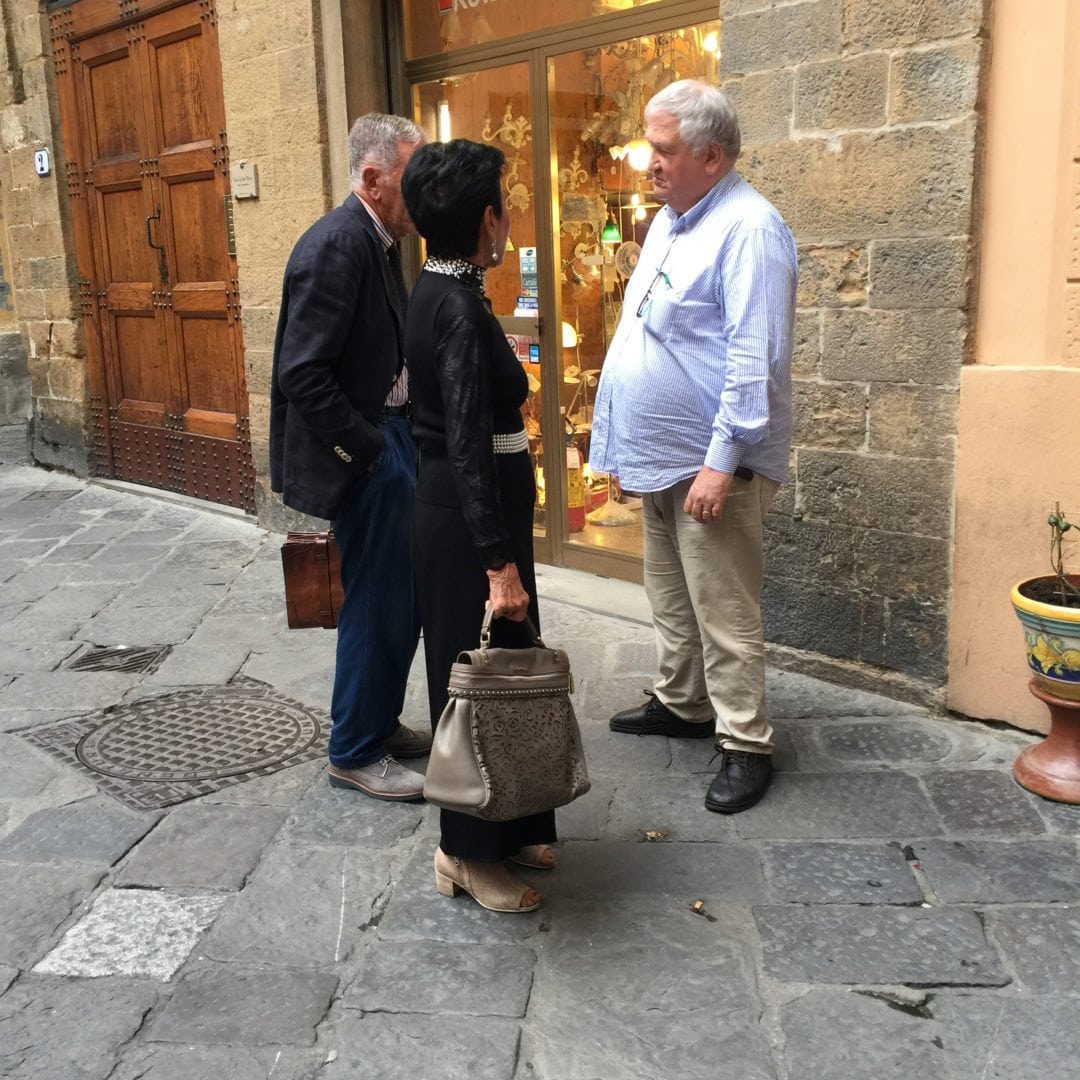 If I'm to be brutally honest, the American women were tacky looking compared to the women of Florence.
MORE Magazine used to drive me crazy with what we "should" wear in our 20's, 30's, etc. I don't want anyone telling me I can't wear a particular style or dress youthful. I believe #StyleIsAgeless. That said, the contrast between the Florentine women's way of dressing versus the American women was eye opening, starting with me!
The first day I explored Florence I wore my pale green kimono from Anthropology, blue jeans and silver Italian sneakers I bought in New York City. Boy did I get some stares and not good ones! Even so, I loved how the breeze blew my kimono open behind me as I walked. It was the last time I wore it, however.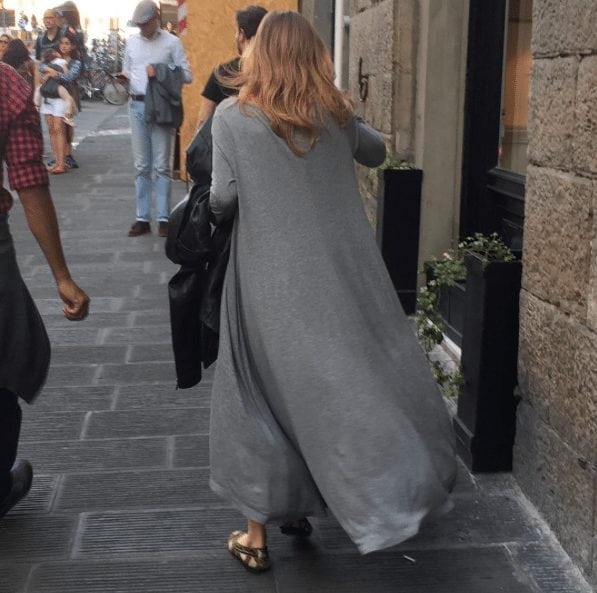 Several women over 50 were wearing long sweaters or lightweight coats that hit the top of their ankles. One wore a long, dove grey sweater—the breeze blew it open behind her as she walked—with a matching long dress underneath and flat shoes. She made me wish I'd been wearing that!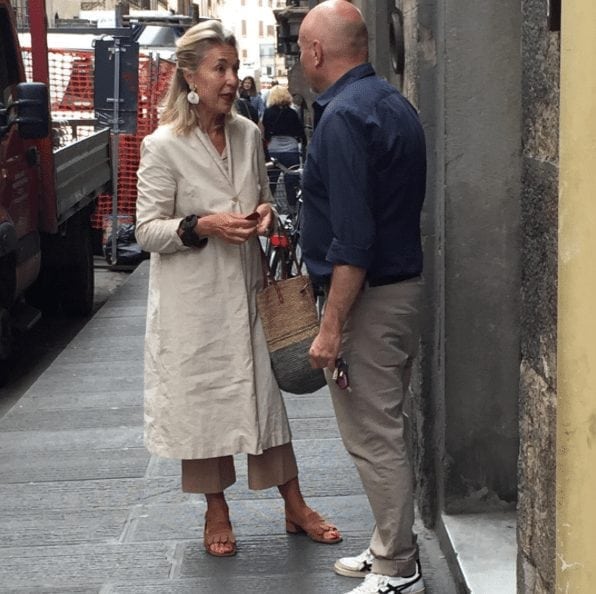 Another woman wore various shades of cream and tan with caramel suede sandals and a tan and grey woven bag. All of the women were chic and classy.
"Classy… " That's the word I would use to describe the women over 50 in Florence.
Think Audrey Hepburn, Jackie O, Grace Kelly and Catherine Deneuve, who's still elegant and fashionable at 74. None of these women ever tried to dress younger than they were, nor did they look matronly. They were sexy, chic women who radiated self-confidence.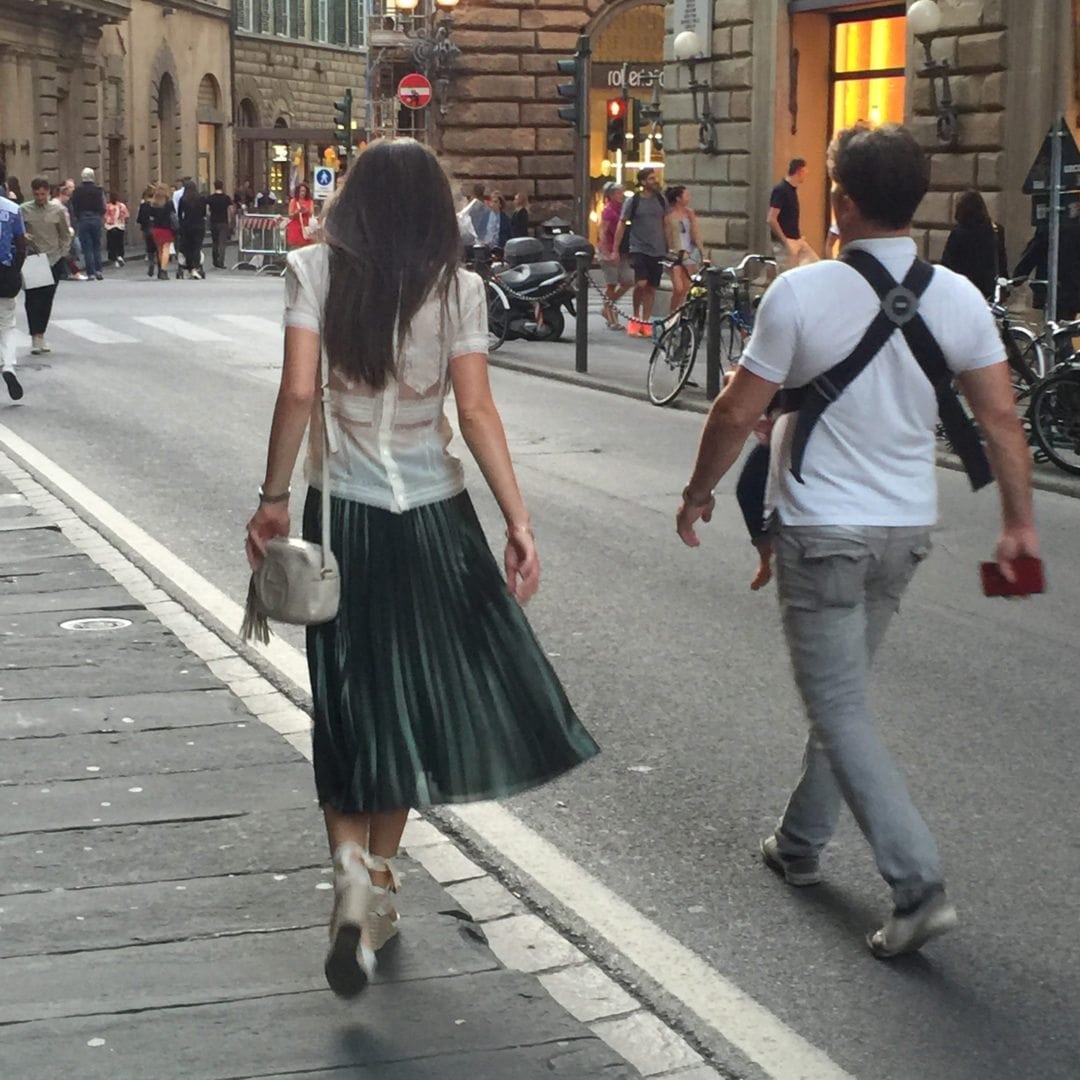 My favorite outfit was worn by a 45 plus woman: an olive, pleated, midi-skirt—from Zara—a long, boxy, short-sleeved, cream, lace blouse and cream espadrilles with ribbon ties up her ankles and a cream Gucci shoulder bag. That was as close to wearing more than one trend, together, as I saw, but she elevated the look to a 10, not a trendy.
My friend, Val @mamavalveeta03, disagreed when I posted this photo on Instagram saying, "…her ensemble doesn't work at all for my lifestyle." I agree, Val. Mine either. I'm struggling to find an affordable look for my current lifestyle which is sitting in front of a computer all day, going to the gym three days a week and raising two, rambunctious puppies.
Are any of you searching for a new look because of a change in lifestyle?
My challenge will be to find clothes with an elevated, chic feel to them, but that are more casual. I love Brunello Cucinelli, but even on sale, he's out of my price range. Val also likes the "sporty way" American women dress, but if we're not careful, we can look like we're always on our way to Home Depot to buy grout cleaner.
I talked to a 30 plus Florence fashion designer, whose mother does all of the sewing and knitting. She told me Zara and H&M are hurting their business because young, Italian women would rather buy cheap, and quality doesn't matter to them. Perhaps that's because 40% of Italian youth are unemployed, and/or maybe they're loving the accessibility of fast fashion.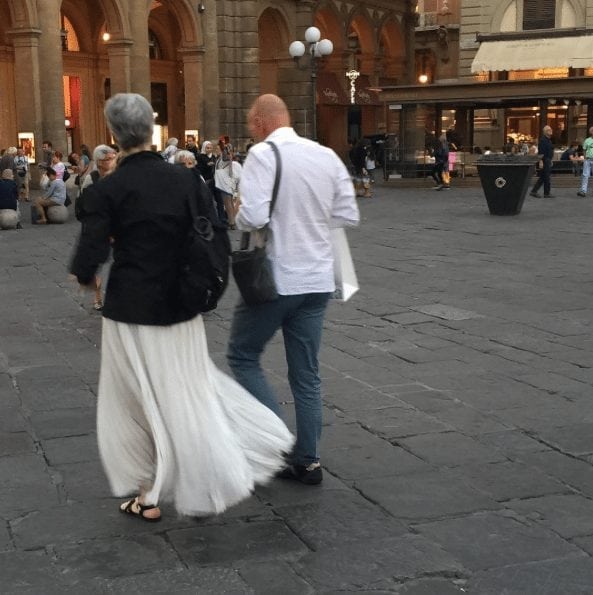 As I explored the streets, the fabulous museums and thought about the over 50 Florentine woman's style, it was impossible to forget Florence was the heart of the Renaissance. That influence is still seen and felt everywhere.
Fifteenth-century Florence was where writers, painters, architects, jewelry makers, craftsmen and philosophers thrived. Florence also bought superior wool from other parts of Europe, then cleaned, spun and dyed it into the world's most exquisite fabrics for the Medici's and the other wealthy families of Europe.
Because the apple doesn't fall far from the tree, what happens if Italy is, indeed, breeding a generation who doesn't appreciate quality? One day will they design for Italian couture houses from which the rest of the design world will take their cues? If we're guided by, and playing to, the lowest common denominator, those of us who want quality may find fewer pieces that are even further out of our financial reach. A sad polar opposite to the Renaissance.