Isa Austen is a florist, a model and a painter, and the epitome of cool. She's sexy and intriguing, a woman who does her own thing and has her own style. As Isa wrote on Instagram, some days she's "feeling raw, vampy, artistic, exquisite, psychic. These feelings are a gift."
Last week, Isa and I talked about aging and being comfortable in our skin.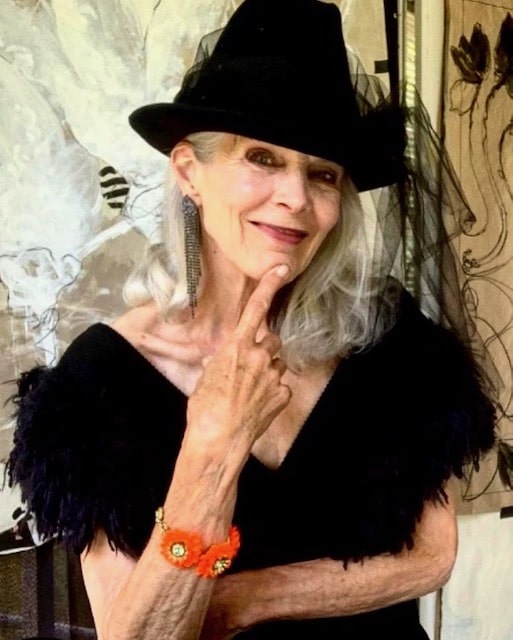 BRENDA: I have to confess, you're my new girl crush.
ISA: Oh, Brenda!
BRENDA: I'm serious. I think you're fabulous, and I have to stop myself from making a comment on everything you post on Instagram.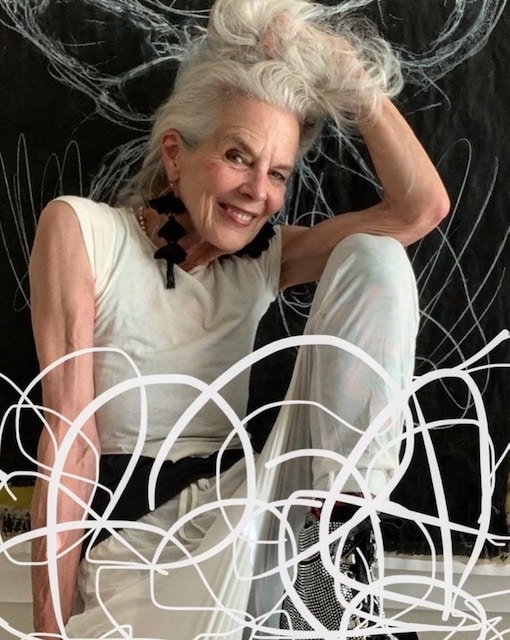 ISA: That means a lot to me. It really does. I've kind of owned myself in the last 10 years. I'm 75, and there's no questioning anymore. I feel like all that I've been looking for "out there" has circled around and landed at my own private airport, if you know what I mean.
BRENDA: I do.
ISA: And I'm flying the planes now, but it took me a long time, and life short. It's tiny. Here for seconds.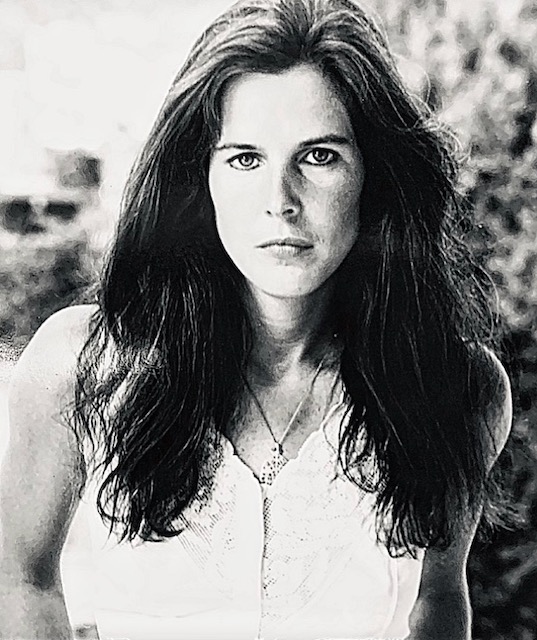 BRENDA: On Instagram you've posted several black and white photos when you were in your 20s and described yourself in the 60s and 70s as "In full bloom. My gypsy, youthful bohemian years." Tell me about that time in your life.
ISA: I'm from Montclair, New Jersey. It was wonderful because New York was like our front yard. It only took us 30 minutes to go through the Lincoln tunnel, and we were in the city. In high school, I used to race into NY with my boyfriends and have drinks and come back home. I loved the city. After high school I was looking at colleges, and I love fashion and went to Laboratory of Merchandising on 53rd and Fifth Ave. It was a two-year program, kind of like FIT (Fashion Institute of Technology). I would always cut classes and go across the street and hang out at the MOMA (Museum of Modern Art). I thought I'm supposed to go to college and get a degree, but I didn't really accept that I was an artist and wanted to paint. I shoved it under the rug. Now I wish I'd gone to Parsons or the New School.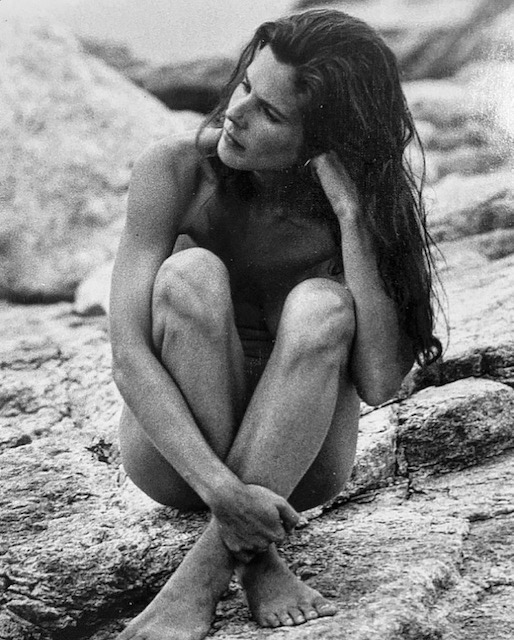 I used to see Andy Warhol in the Village, flying around with his friends. I think that was when he was hanging out with Basquiat. I stayed at the Barbizon and had a mad crush on this guy and then moved down to Stuyvesant Square and lived with him for four years.
BRENDA: Makes me think of my friend, Dovanna Pagowski. She was a model at that time and went to the clubs and saw Warhol and the gang all the time. Did you dress Bohemian in the 60s and 70s?
ISA: No, because I had to go home, and my mother always looked me up and down to see if I could go back out of the house again. She was very critical. I used to have my dresses made by a tailor in the Jackie Kennedy style. Do you remember the gaberdine dresses with the six buttons on the breast?
BRENDA: Yes! My mother was a buyer in couture, so I grew up hearing about gaberdine and selvages. Mother dressed like Jackie.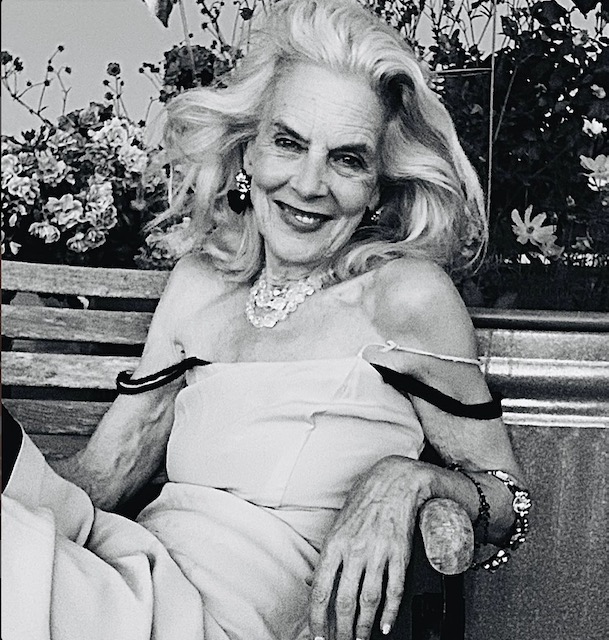 ISA: Well underneath all of that I would wear white, polka dot, bell bottom pants, platform shoes and tons of beads, but I always loved black. I still love black, but I've narrowed it down. I just bought a vintage black dress and put a cross on. A rosary. I'm not religious, but I love that look and maybe a pair of black, Doc Martin heavy sandals, and for bracelets I actually wear thick rubber bands I got on Amazon. I love that clean, architectural look. I don't have to have many clothes now, and half of them I don't wear. If I can get that refined look, I'm happy.
BRENDA: You appear to be toned and fit with no body fat. Do you work out?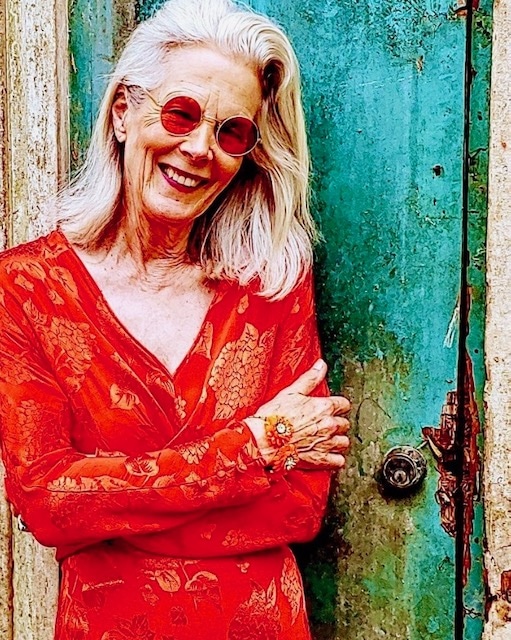 ISA: I just have that body type. I'm very thin. I've always had really good arms. I do yoga every morning with little three-pound weights. There's a big Seattle fashion show coming up in September, and it's at the flight museum, and the runway is going to be under the airplanes. I went to a casting call, and I was the oldest one. Most of the models were in their 20s, 30s and 40s. Some little kids. I walked in and one of the judges from Project Runway said, "Oh my God. You're so fit." I hope I get it.
BRENDA: I can't see why you wouldn't. Do they know about your Instagram account?
ISA: Yes, they requested that, but I don't know what they're looking for. You know the business. Two years ago I was scouted to do Balenciaga (runway show) in Paris, but I didn't get it. I was so disappointed. This woman from Paris saw me on Instagram and asked if I'd be interested so I had to give her my sizes and do a walk… Then two weeks ago, I got a request from Grey Models in London. I signed with them years ago. They asked if I'd be interested in going to NY to do an editorial for Vogue magazine, but they don't pay anything. I can't afford to do that.
BRENDA: I know. A cosmetic company approached me. They wanted me to send them a video and tell them about myself. Then they invited me to a casting call, and I timed an upcoming NY trip to coincide with it. The casting director said, "You're my favorite! You photograph beautifully, and I love your energy. I can't wait to tell 'so and so' about you." Later they called and said I got the job, and I needed to come back in a few weeks, which like an idiot, I did, because I didn't ask how much they paid. It turned out to be $795. They used the same tube of purple makeup on my eyes, lips and cheeks. No eyeliner, mascara or eyebrow pencil. I looked like an androgynous homeless person who'd been in a fistfight. I told them, "If I'd known this was the kind of look you were going for, I would have said no." They started photographing me, but at that point I said, "This isn't me," and I left.
ISA: It's pretty ruthless, and you have to be careful. If I'm going to do something, I want to be paid for it. I'm turning it around and saying, at least they're still knocking on my door, which is wonderful.
BRENDA: You're very unique. You posted a photo where you said, "Feeling flat out comfortable and totally relaxed in your own style takes many years. I feel quite natural now. I feel quite at ease with expressing what comes naturally. This feeling is beautiful." Tell me about this woman and how she evolved. Have you gone through different styles?
ISA: Not really. I've had my style for a long time, and I'm not afraid of aging. I don't really think about it. Sure there's little quirks and aches and pains. I hear from so many women about "getting so old." Stop paying so much attention to yourself and do something you love, and you'll feel younger! I don't like the word "aging." In the floral department, I use to collect the old flowers that were dying. They were so beautiful, and that's how I relate to myself. Not that I'm beautiful, but there's this aging, antique, vintage look to some of the fabulous petals I'm so drawn to.
BRENDA: They have a patina! Patina is one of my favorite words.
ISA: Yes! Well you and I are patina-ing well.
BRENDA: I'm not doing Botox or anything. There was a time in my life when I thought I would find "the" plastic surgeon and have work done early, but now I can't imagine doing that.
ISA: I've gotten outside of myself. I love architecture. I love to travel. I love painting. I think that makes you becomes more beautiful when you're passionate about something. Do you agree?
BRENDA: I do, and I get emails from women who'd like to do that as well, but they don't know how.
ISA: But they can!
BRENDA: I think some don't want to be noticed, or they don't know how to find their style. How would you suggest they take that first step outside of their comfort zone? Perhaps they might dress up at home and get comfortable with a new look in front of their mirror.
ISA: Maybe we're not all meant to do that. I like who I am right now. I've always wanted to live in Europe. I love European women. They're so far ahead of us. Their attitudes and the way European men look at women. It's just a whole different world.
BRENDA: I know. A few years ago I was in Florence and shot photographs of women over 60. It's one of my most popular blogs and continues to get hits every week. The women are so elegant. Their style looks effortless, and you can tell they're comfortable with themselves. They own who they are while so many American women are chasing youth.
Let's talk about your art. It's stylish as well. Very you. How did you get started painting?
ISA: I'm self-taught. My whole family are artists. My grandmother was amazing… She painted with oils. My sister is an amazing watercolorist. My mother… showed at a gallery in Maine and did a lot of watercolors. My nephew is a screenwriter. I'm related to Jane Austen, the writer. It's this whole DNA thing that carries through who we are. I really believe that. I'm having a show of my art here in Seattle this fall.
BRENDA: I like that you work in so many different types of media. Regular housepaint and brushes from the hardware store to acrylics and oils. Copy machine paper.
ISA: I'm painting on canvas now, but I love plain paper. It's hard to keep them from wrinkling.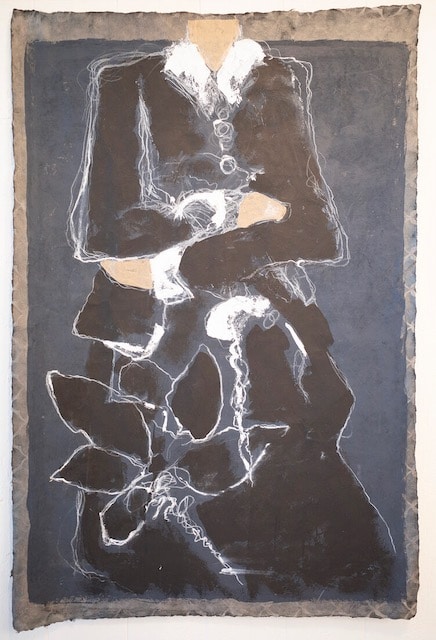 BRENDA: Tell me about "Delphine." I love this piece. (FYI, I purchased this piece for my office.)
ISA: That's on a beautiful indigo blue rice paper, a thick paper. It's collage and acrylic paint. I love her too. She's a really cool piece.
BRENDA: What does your social life look like?
ISA: I'm kind of attracted to this man I met online, but he lives in another country. I kayak with my girlfriends. I'm trying not to be too social because I have a lot of work to do for my gallery show.
BRENDA: All the men I'm interested in are either married or dead, plus I'm content living alone.
ISA: I don't know whether I could live with anyone either, Brenda. It's been too long. I would love to have someone in my life, but not full-time. You can manifest these things, so I haven't closed the door on it.
BRENDA: I know you can manifest things, but I haven't been working on it.
ISA: I'm glad you're a busy girl.
BRENDA: And you as well. I know so many people who say they can't wait to retire, but they haven't thought about what they're going to do next, and they're just growing old.
ISA: I think they should take that word out of the English language.
BRENDA: I like that.
ISA: Burn it!