Darlings, It's that time of year when ghosts, goblins and ghouls are scurrying about, looking for some tasty treats. With Halloween nearing and that crisp chill in the air, it gets me thinking about fashions that warm up my senses.
I want cozy coats, in rich colors, with velvety textures, and shoes and accessories in pops of color as bright as the autumn leaves.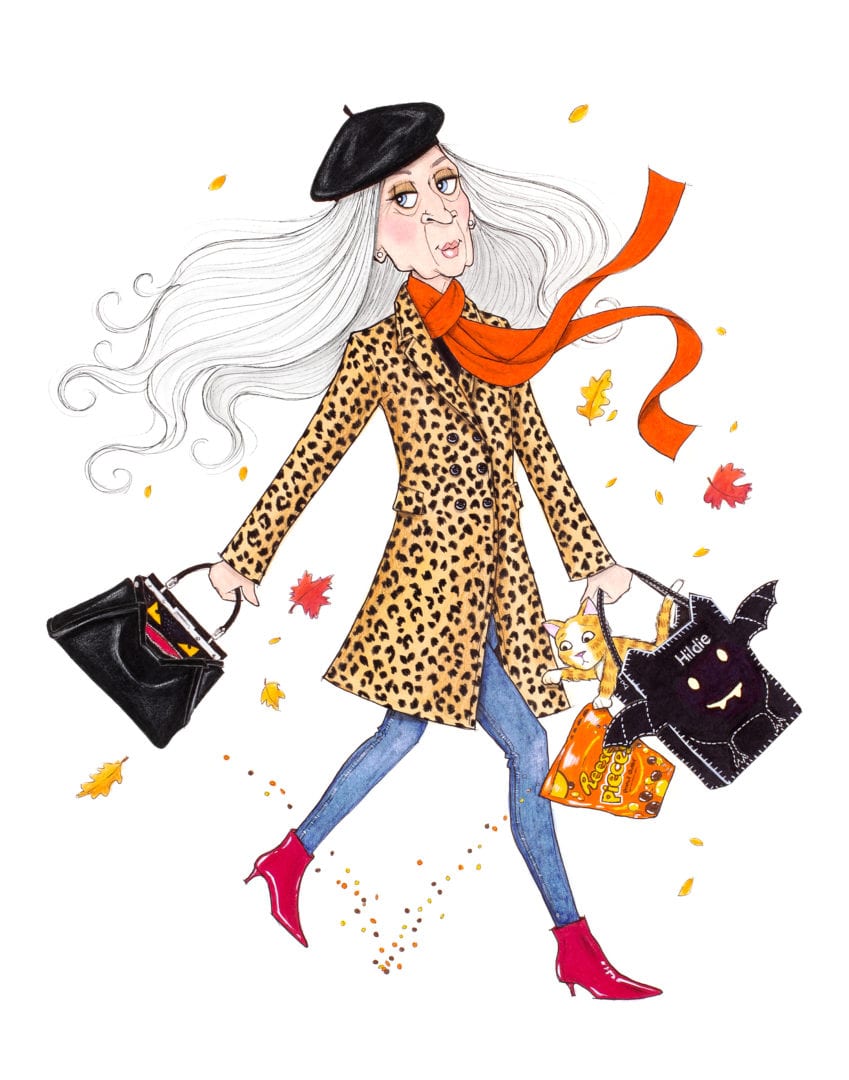 When shopping for a new fall coat this season, I knew I wanted something timeless, a little fun, and in a neutral that would work with dressy or casual. What coat could possibly check off all my fashion boxes? Why an animal print coat, of course! Trust me on this, Darlings! It works. Just ask stylist and fashion blogger Cherie James of Style Nudge. Cherie is known for her fun, elegant fashion skills of mixing animal prints with just about any color or pattern, and she does it with fabulous panache! 
Cherie says, "Animal print brings interest and excitement to any look."
Too bold a choice for you? Think again. My animal print coat, paired with jeans and a few pops of fall colors, is an easy way to bring animal prints into your wardrobe. Before you know it, you'll be pairing it with stripes and florals. 
For this casual look I chose a cotton velvet coat by Piazza Sempione. With it's classic silhouette you're sure to wear this coat for years to come.
An animal print can really sing when you add color to your ensemble. That's just what I did with these red, patent booties by Alexandre Birman. I adore the chic pointed toe, and the kitten heel is ideal for running around town, getting all my Halloween treats. The color, red, matched with an animal print is perfect together.
I love wearing fun accessories and what a perfect time of year to do just that. The Fendi Monster Eyes Peekaboo Handbag is that classic shaped bag with a twist. With it's yellow eyes and red zippered mouth, it's a playful accessory that pokes fun at some serious fashion. Even Candace Bergen is a fan of Fendi's "Monster Eyes." She carried her tote on a trip to Normandy and said, "The French didn't quite know what to make of it, which is part of the immense pleasure this bag brings."
Being a kid at heart I couldn't resist this Bat Glow Treat Bag from Pottery Barn Kids. Perfect for handing out treats to all the kiddies this Halloween, my whimsical monogrammed bag features glow-in-the-dark details. Who knows?Maybe I'll dust off my witch's hat and go trick or treating myself this year. I wonder if any of my neighbors are giving out dark chocolate or a bold cabernet?
So my fashionable friends, don't be afraid to have some fun with fashion, and don't let a little animal print scare you this season. Leave that to the little goblins at your door!
Cheers Loves!
XOXO, Hildie