When's the last time you did something outside your comfort zone? For some of us that may be going to the movies, alone, but my dear friend, Esther (Essie) Zimmer, and her husband, David, are spending a year, bicycling from Turkey to Singapore. Yes… You read that right. For most of us that would be like flying to the moon!
Many of you will remember Essie. She blogged about food and body image for 1010ParkPlace, and when I was in Paris, two years ago, she came from London to Paris to meet me.
David Zimmer is an American, and his wife, Essie, an Aussie. After 14 years of living in London they decided to embark on this mind-boggling cycling trip. I keep up with their adventures on their Facebook page, Everything Ahead of You You can like their page and follow them as well. Thank you, David, for answering my questions. I've had to condense it. xoxo, B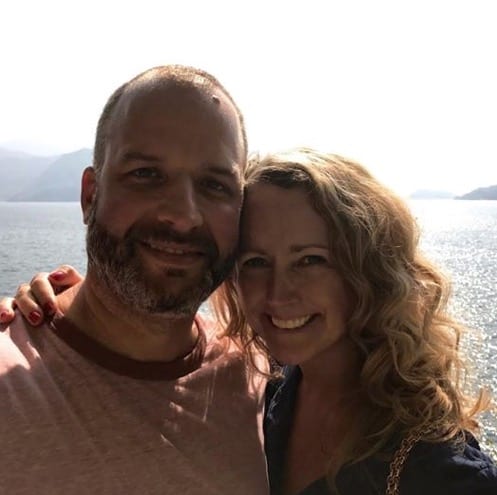 What prompted this trip?
David and Essie have both travelled extensively, but their wanderlust and desire to see "what else is out there" prompted their trip. They also wanted to strip back their lives to the core; to remove all of the complexity and focus on a few simple things: the road ahead of them, the room or tent over their heads, the food and the people they'd meet.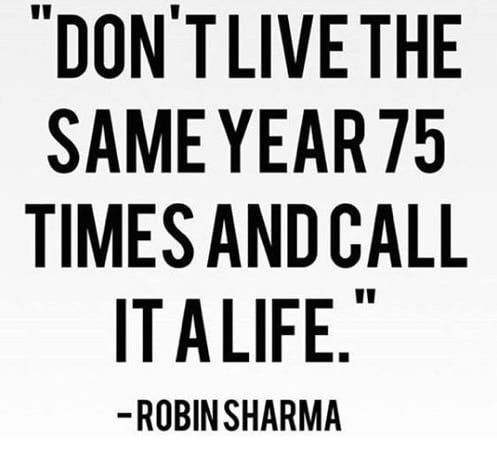 "We also wanted to prove to ourselves—and to others, thinking about doing something similar," said David, "that you can, in your mid-40s, without much planning or training, go out and do something amazing.
Anyone can have a big adventure!"
How did you prepare? I remember an early Facebook video of Essie where she was just getting the hang of the bike, but you were already in Turkey.
"We researched bikes," said David, "camping and cooking equipment; what other's had taken on similar trips; what worked and what didn't. There's a constant balance between weight and comfort/luxury, so we spent time thinking about what and how we would pack."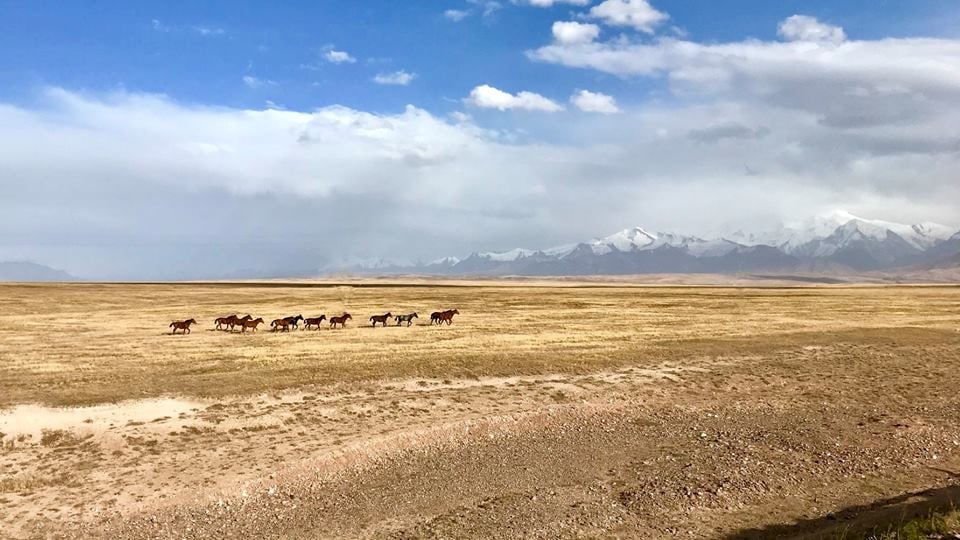 A favorite moment: crossing the border into Kyrgyzstan, riding along next to a herd of horses who were running free and playing like kids. An awesome, spirit-cleansing few minutes.
David and Essie took half of a bike maintenance course and a 2-day expedition first aid course. Ten days before they left they picked up their bicycles, rode them twice, and then shipped the bikes to Istanbul.
One of their guiding principles has been to "learn as we go." Since they were about to spend a year on a bicycle, they didn't waste time pedaling around London. They considered the first month of their trip as their training.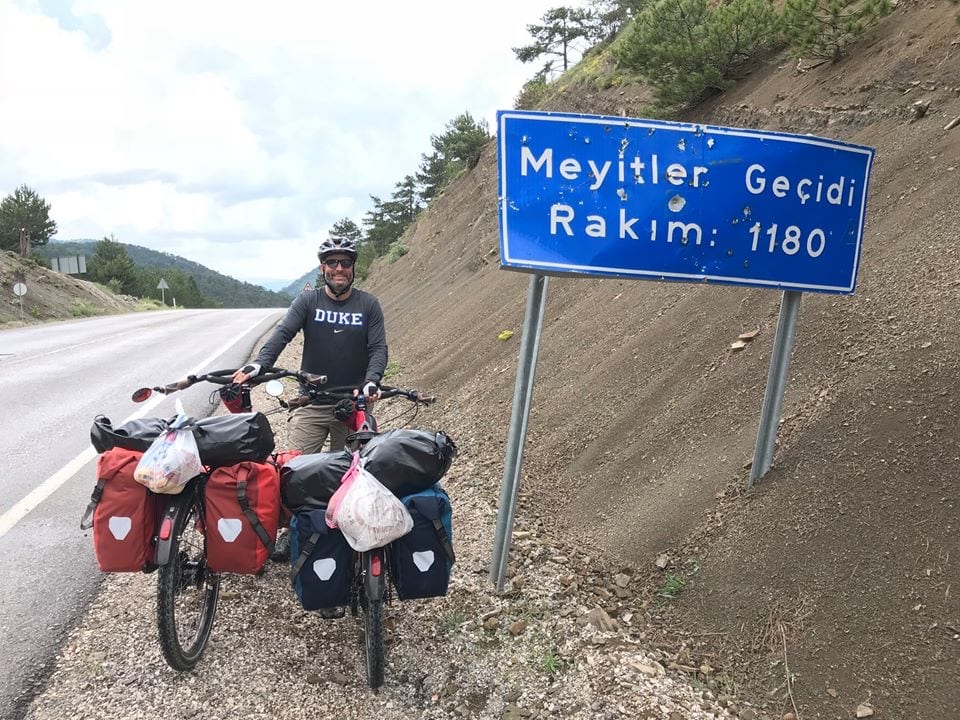 So that very first video I saw on Facebook of Essie, wobbling down a street in Istanbul, was the first time she'd ridden the bike with her fully-packed "pannier bags" hanging off the bike…. I can't imagine! What if you'd decided you couldn't handle that much weight, girlfriend? David's bike was loaded down as well.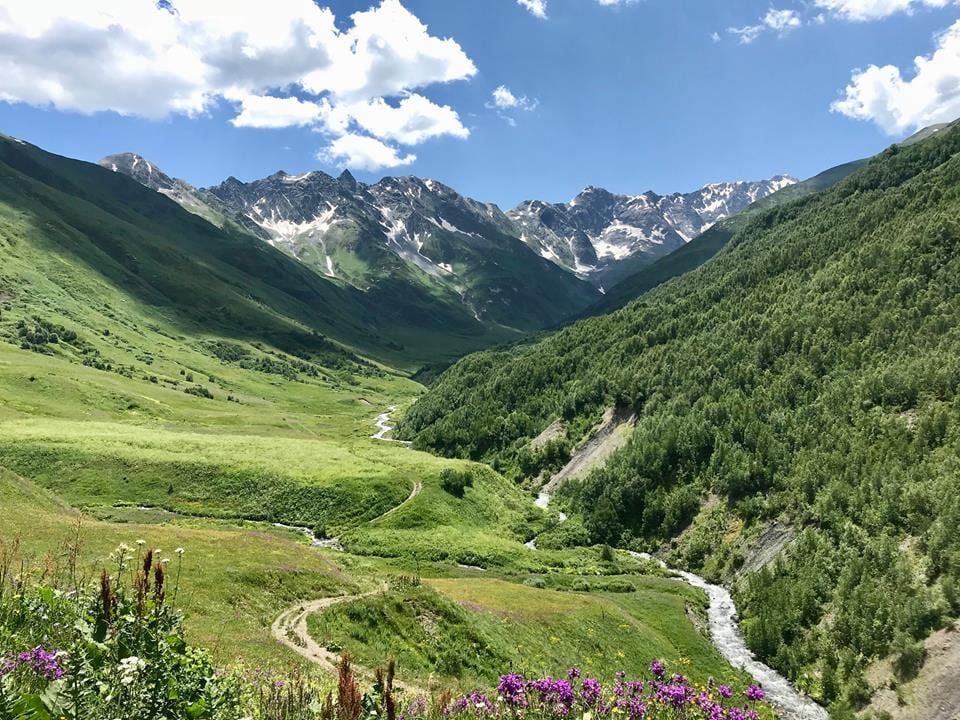 July 18, 2018, the Caucasus Mountains
Other than basic route planning for their first month in Turkey, they waited until they were on the road to do more detailed destination and route planning: what roads to take and where they might pitch their tent or stay in a guest house. Many mornings they set off without being sure where they'd sleep that night.
"We were never really sure of where we'd be more than 4 or 5 days ahead," said David, "which was part of the fun."
On the Pamir Highway, 50km from Osh, in Central Asia. The older woman insisted David and Essie pack up their gear and follow her to a house she shared with her son, daughter-in-law and granddaughter. They made them tea, fed them and gave them a bed for the night.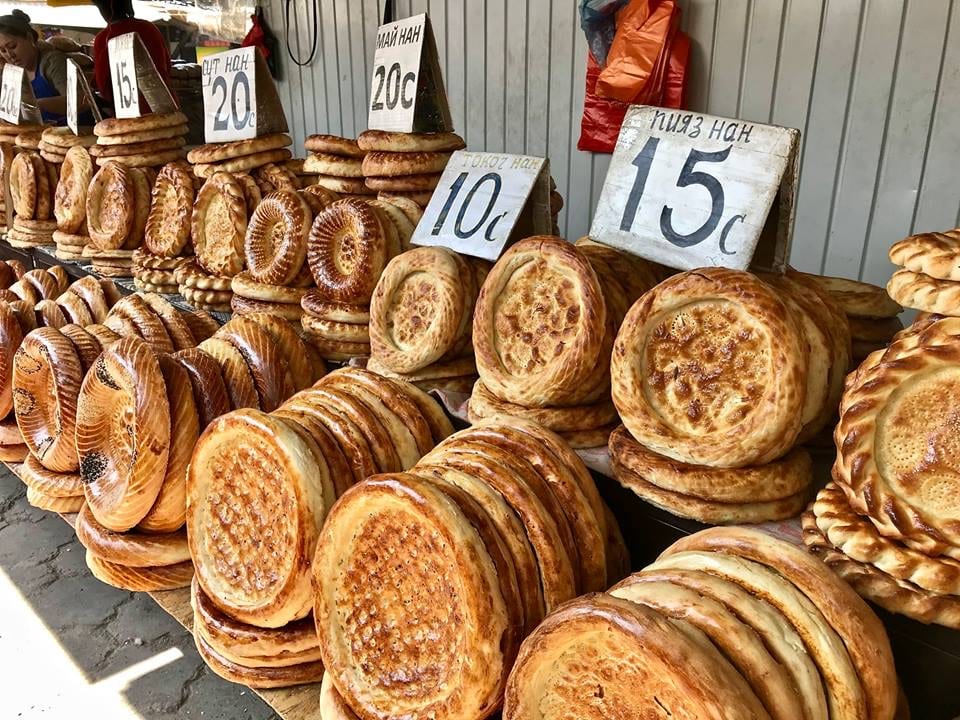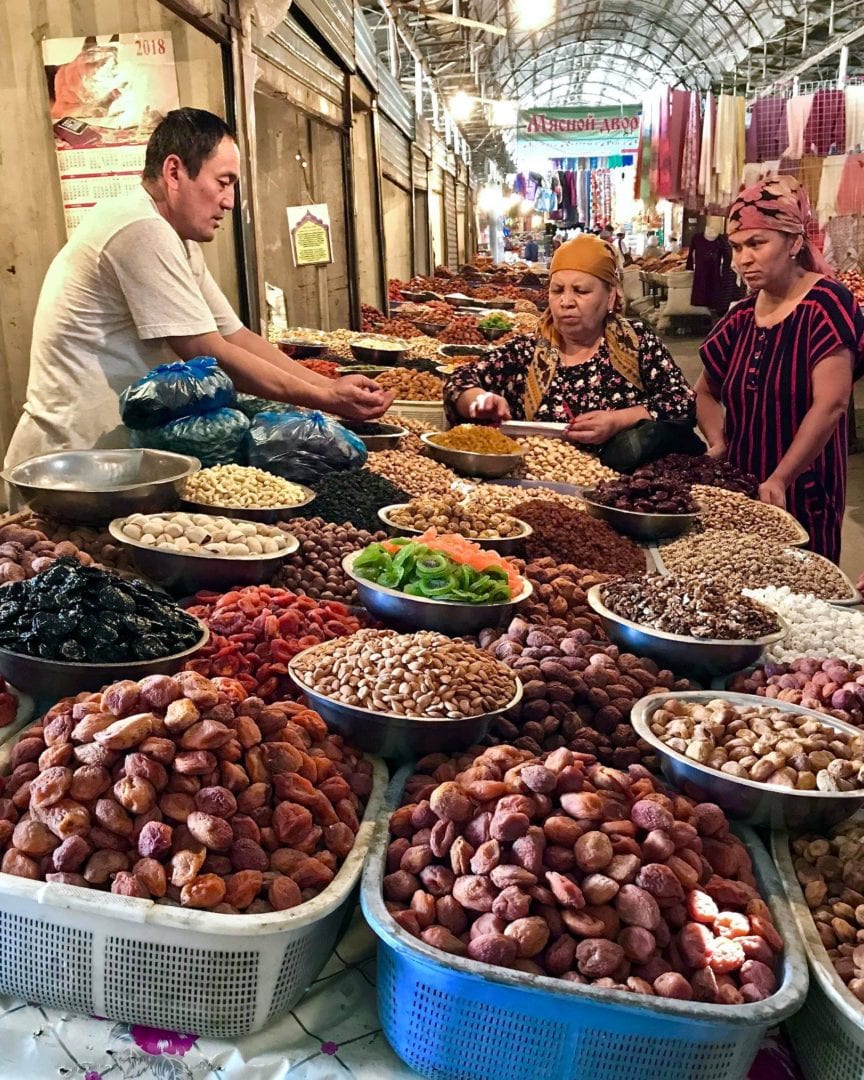 The market in Bishkek, Kyrgyzstan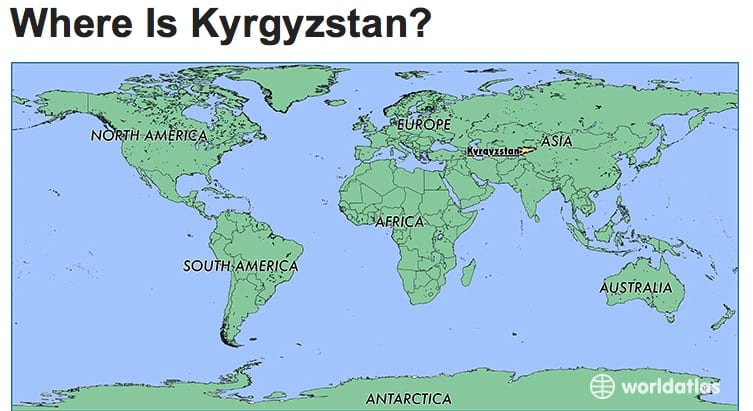 Kyrgyzstan is the little yellow blip SW of the "A" in Asia.
What's been the hardest part of the trip?
"Getting out of London," said David. "When you're 44, it takes a little longer to 'run away' than you think!" 
The couple had to cut ties with a life they'd spent 14 years, building, together. They rented out their house; donated, gifted, recycled or sold their things; put the remainder in storage; settled finances and a myriad of other things they couldn't do from the road.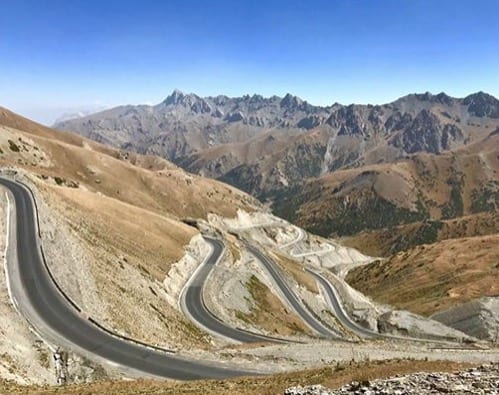 David & Essie bicycled down this "weaving bastard" where they met a 70-year-old French couple, Mathieu & Francoise, who were hiking up the road!
They were prepared for the cycling to be even more difficult, particularly their first four months of mountain cycling. Woah! I cringed every time I saw their Facebook posts!! While the Wakhan Valley in Tajikistan was tough cycling—over 4000m in altitude with rough, sandy "roads"—their key principle has been "don't be in a hurry." Even when the going gets tough, they just keep plugging away.
"We would have gotten more from our experience if we were able to speak more directly with people," said David, "but not being able to speak Russian in Uzbekistan, Tajikistan and Kyrgyzstan hasn't been a language barrier."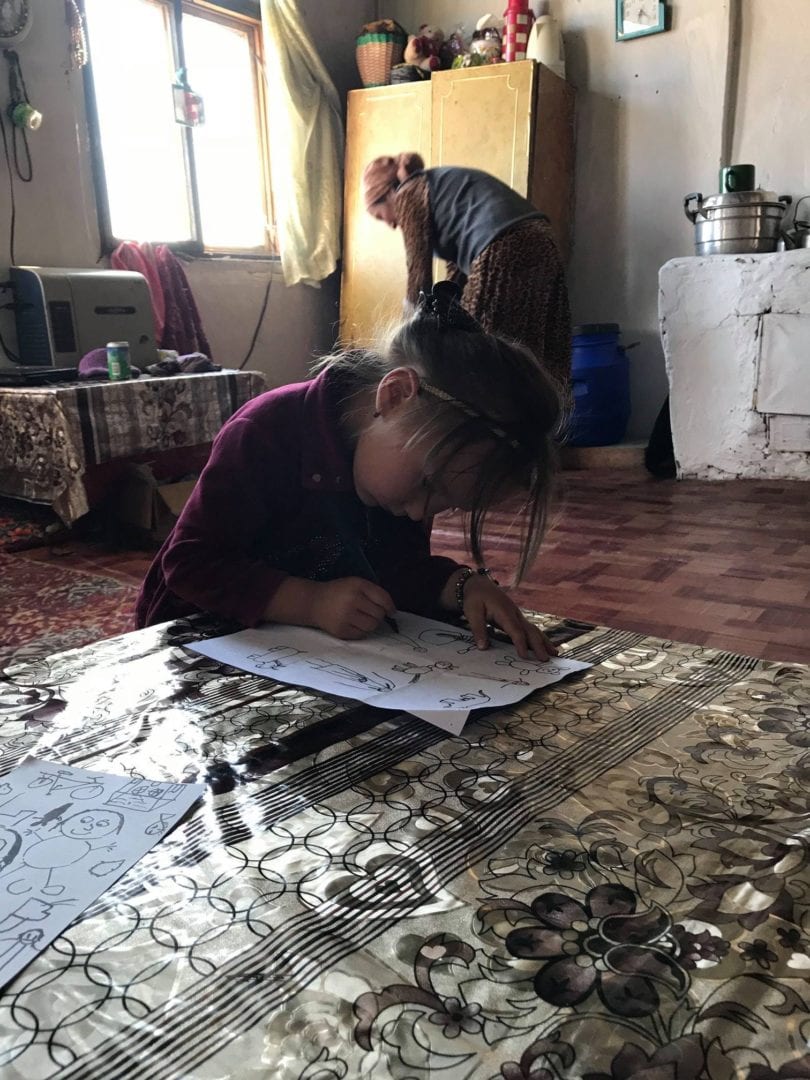 This family lived about 50km from Murghab and were the only evidence of human habitation for dozens and dozens of miles. David & Essie spent the night in their two-room house in exchange for a few dollars.
Have you had any ah-ha moments about yourselves?
"We're enjoying the experience on the bike even more than we thought we would," said David. "We're pretty proud of ourselves for how well we've taken to the road."
Other than the usual homesick pangs for family and friends, they're surprised how little they miss of their lives in London. "We love the simplicity of this life," said David. "We have so little, but we don't want or need for anything. It's liberating, and you realize how weighed down we are as a society by accumulating things when we could be having more experiences and doing far more with our lives, instead."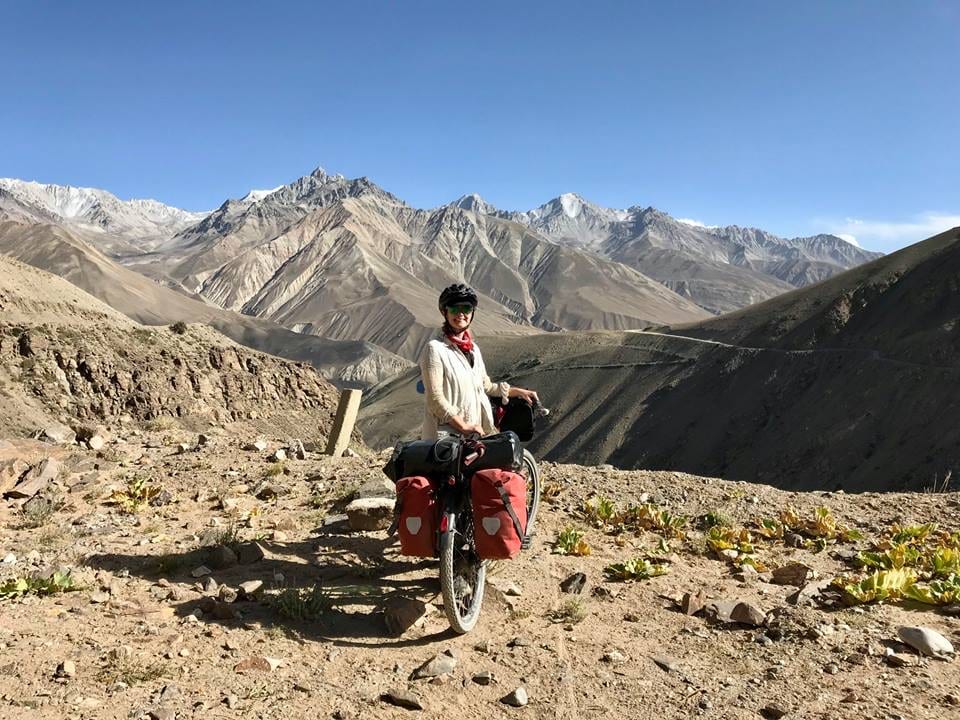 At this point in your trip, will you keep traveling even though winter is setting in?
David and Essie smartly planned to cycle from west to east, starting their trip in Istanbul and ending their journey in Singapore. Their plan was to follow the warm, dry weather and avoid the snows that start in October and don't thaw until May. That way they could cycle the long routes. Their plan worked! By cycling through the mountains in the Caucasus and Central Asia in the summer months, the high passes were still open.
This week they reached the end of the mountain leg of their route!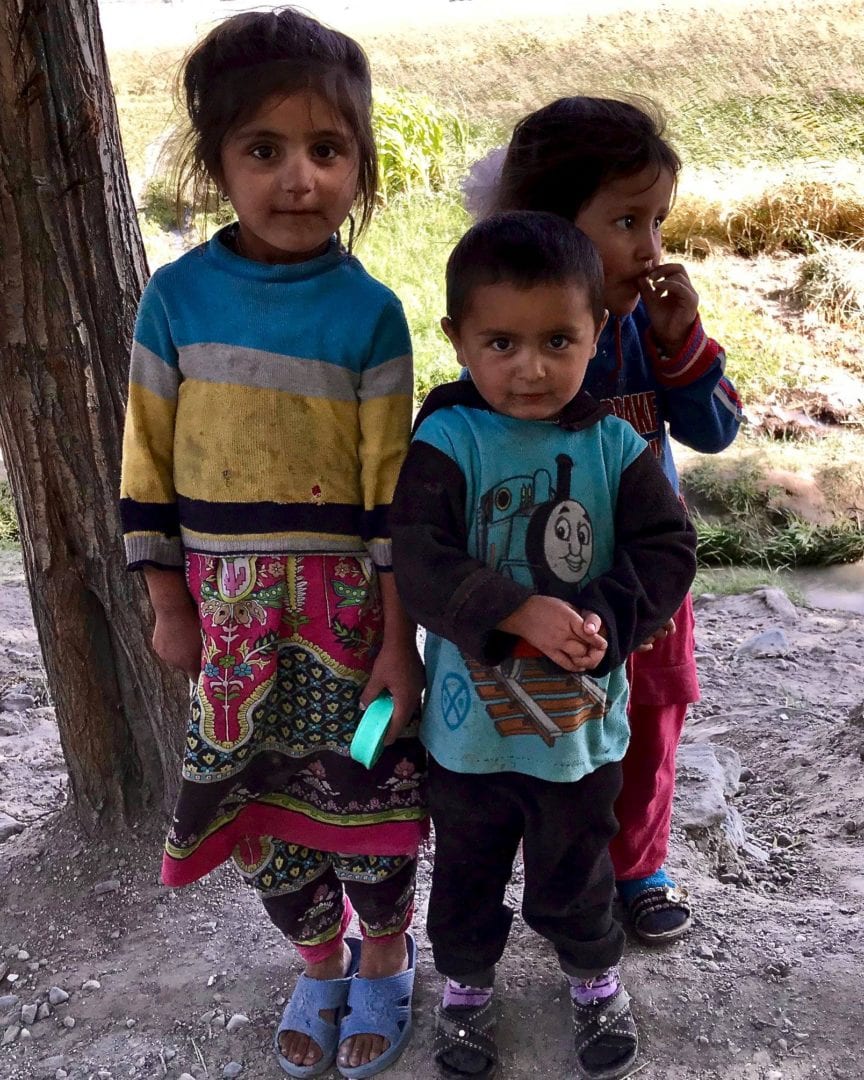 Yesterday they boxed their bikes, and with the "pangs of an anxious parent," they watched a baggage handler whisk them away as they boarded their flight to Hanoi, Vietnam, the beginning of the next leg of their trip which will end in Singapore. Southeast Asia is just entering their dry season.
"We aren't expecting this to be a life-changing experience," said David. "It's a perspective-changing experience, but it's not going to fundamentally change who we are, but how we view ourselves and our priorities."
We'll be following you, sweet friends! Be well. Be safe! God bless you!!