🎼Chain, chain, chain…. 🎵  There won't be any "chain of fools" this fall if you decide to layer gold link chains around your neck or wear gold, waist-cinching chain belts. Remember the chain belts from the '80's that were adorned with charms and coins? They're back. In addition to gold link chain necklaces designers are hanging gems, crosses and charms from them, or they're layering them on separate thinner chains underneath. They're also adding long ropes of pearls and wearing them all together. Many of the pieces featured this fall remind me of my mother's jewelry.
Lucky me. It's back in style.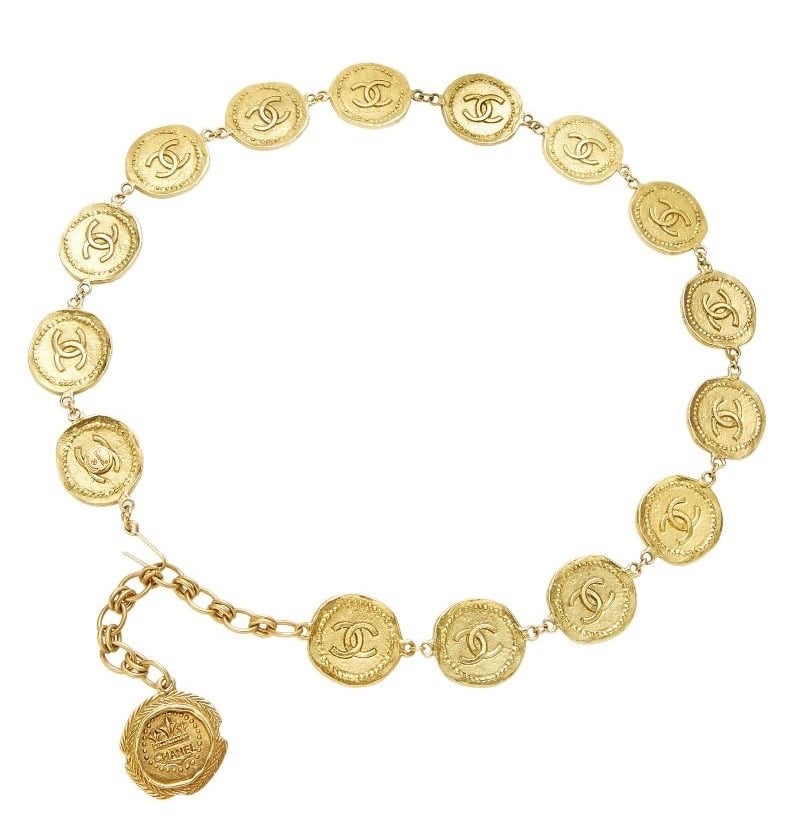 At one point mother had a beautiful chain belt, but I don't know what happened to it. I think this Chanel belt is smashing! Think about pairing a gold chain belt with denim jeans or black velvet pants, or wear it around the waist of a blazer or an oversized sweater. If you like Chanel, there are lots of vintage, Chanel, gold chain belts on the Real Real, an online, luxury consignment shop that authenticates each piece and makes note of any wear and tear. The prices are soooo much cheaper, plus they often put items on sale.
This fall Oscar de la Renta is showing gold link chokers, some very chunky, that lay flat around the neck.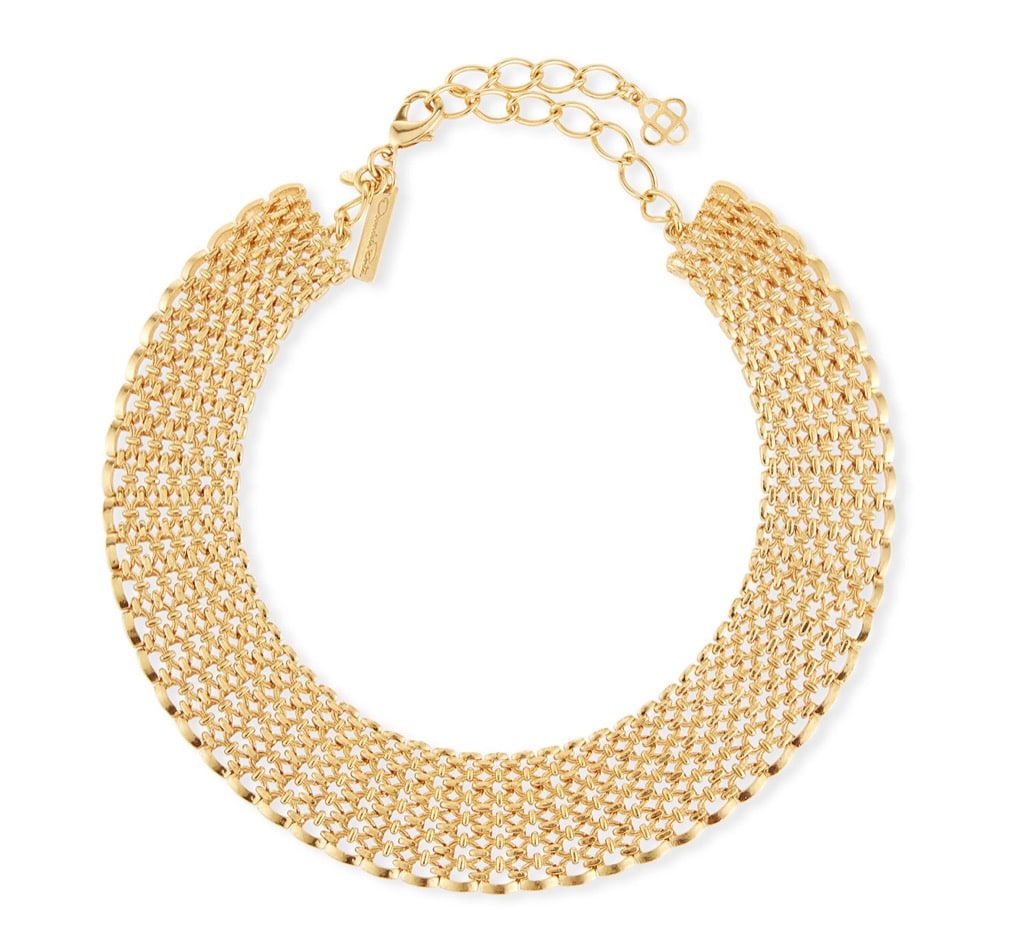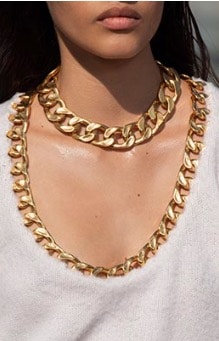 Both of the photos above are from Oscar.
I've mentioned my mother had great taste and a real flair for styling clothes, probably because she was a model and then a buyer in couture. We never had much money when I was growing up, but mother always looked like she'd stepped off the runway. Below are three of her necklaces and a large charm, or pendant, she added to many of her pieces. They're all back in style and are costume jewelry pieces she may have bought at Dillard's or Macy's. Except for one they are as beautiful as the day she bought them.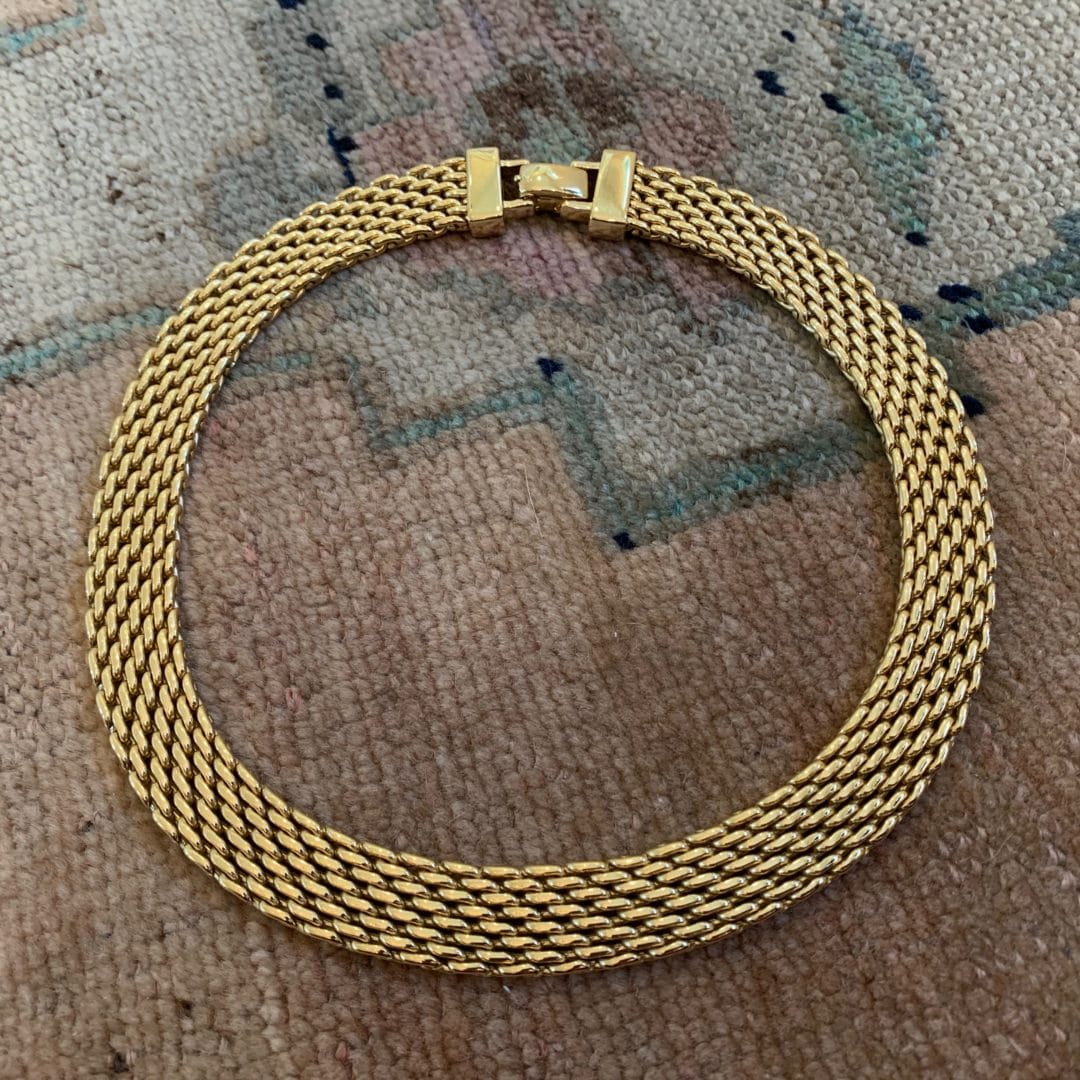 This one is from Carol Lee Jewelry.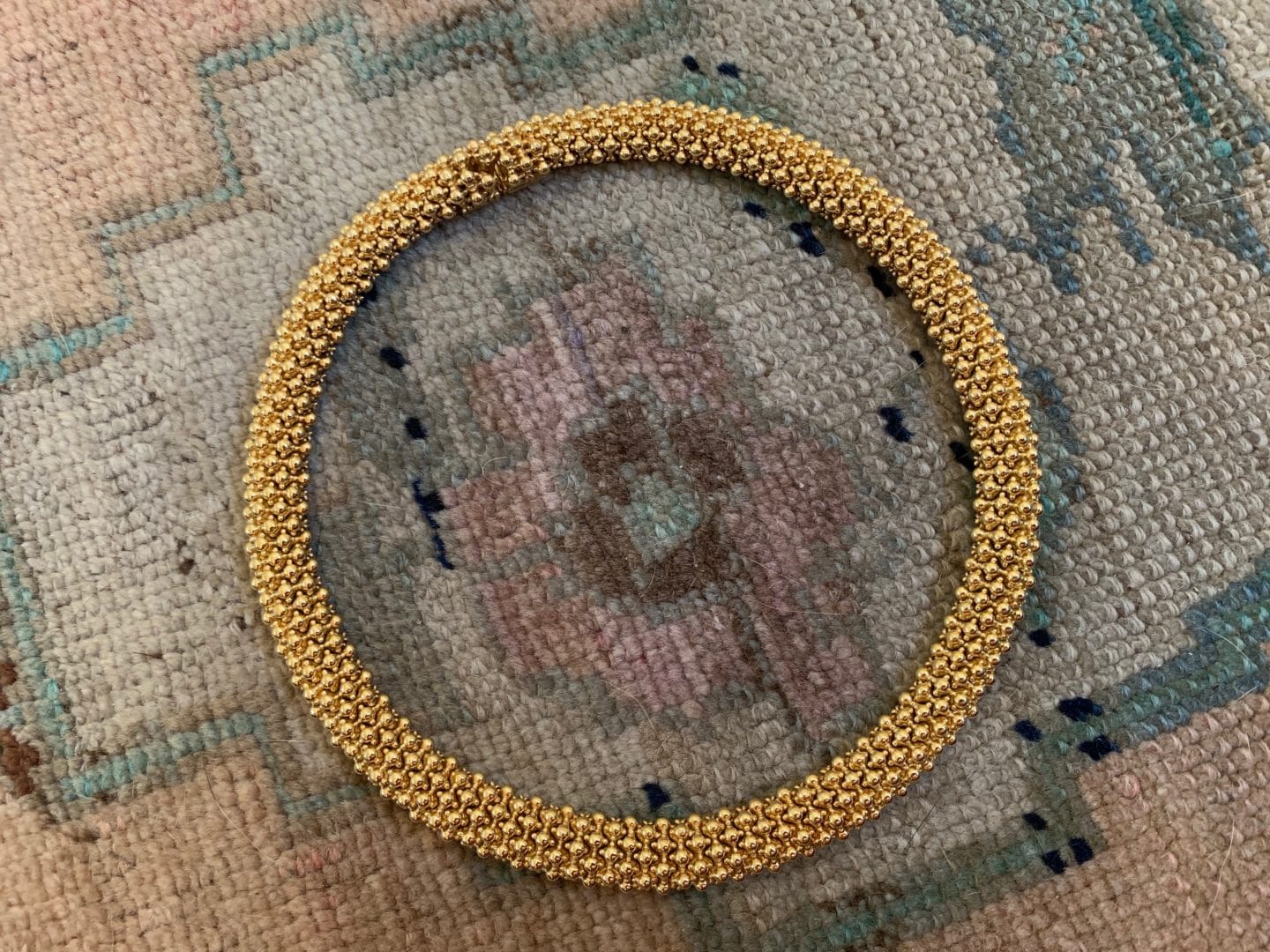 And this one is from Cinar Jewelry. I read about Cinar online. Much of their work was done by hand and was often plated in 18-carat gold. Since mother's necklace hasn't lost any of its luster, I'm wondering if it could be gold plated even though I don't find a gold marking anywhere? I found one identical to mother's on Ebay for only $89, so I'm thinking it's not gold plated.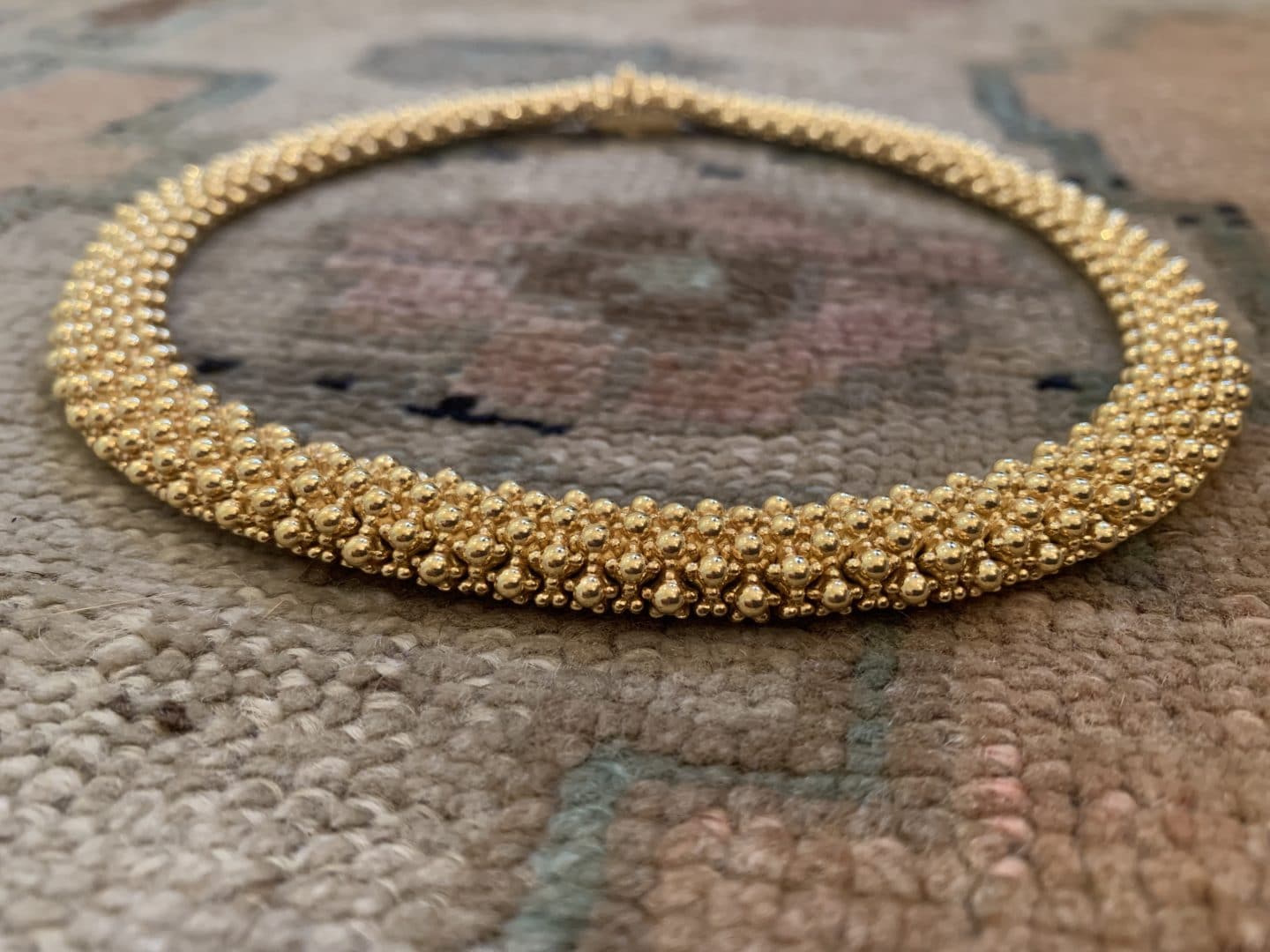 Here you can see more of the "seed" work Cinar was known for that might have been done by hand, but it was still inexpensive enough to be considered costume jewelry.
Have you noticed we don't hear the term "costume jewelry" anymore? Probably because we've blurred the lines between real and fake and we're wearing both together now.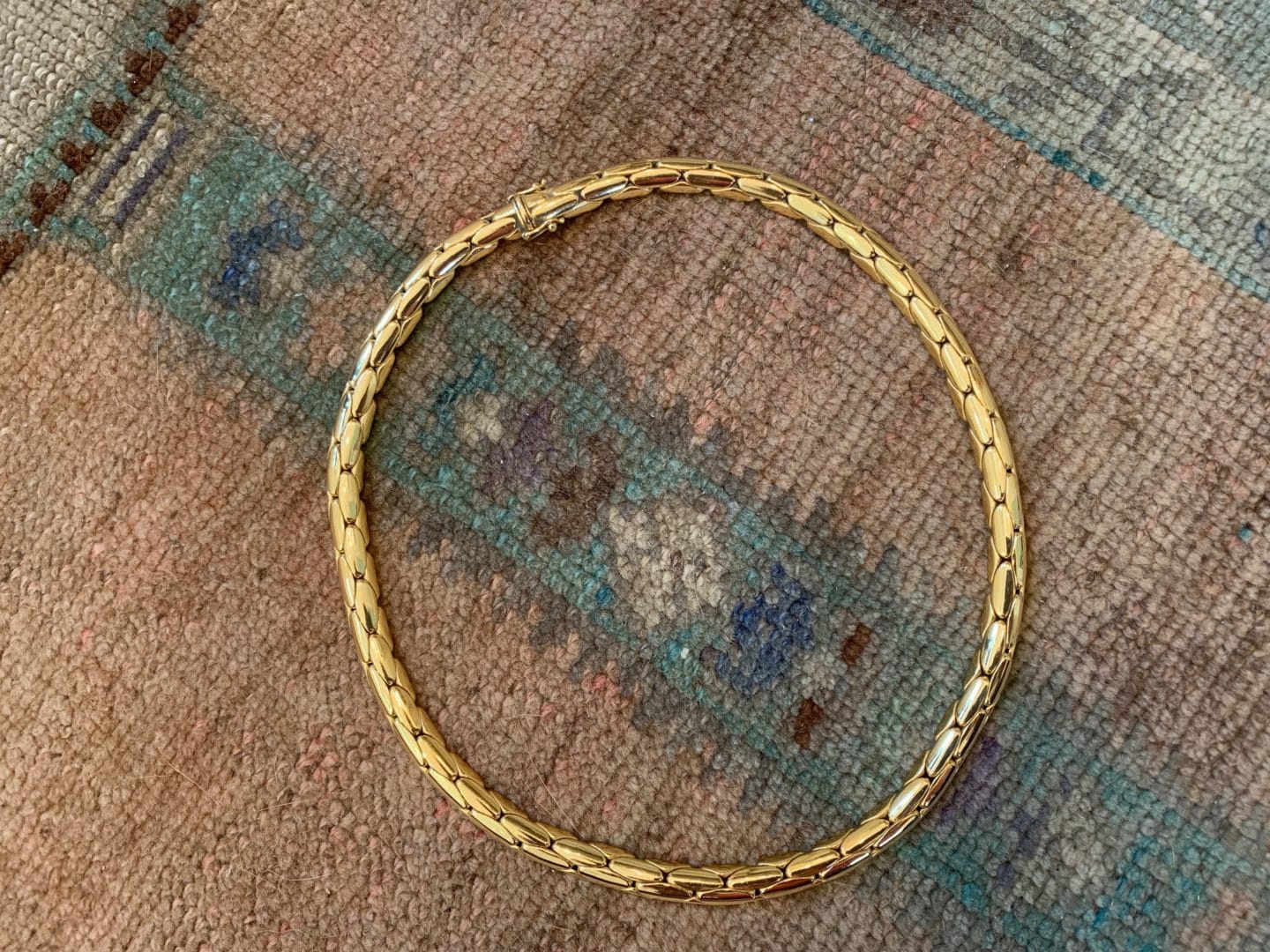 Here's another one of mother's gold link necklaces. This was one of her favorites. It has some markings on the clasp, but I can't read it to know the manufacturer or whether it's gold plated. She worked for a jeweler in the Trade Mart in Dallas for a number of years and several of her pieces are "real." I just don't know which ones.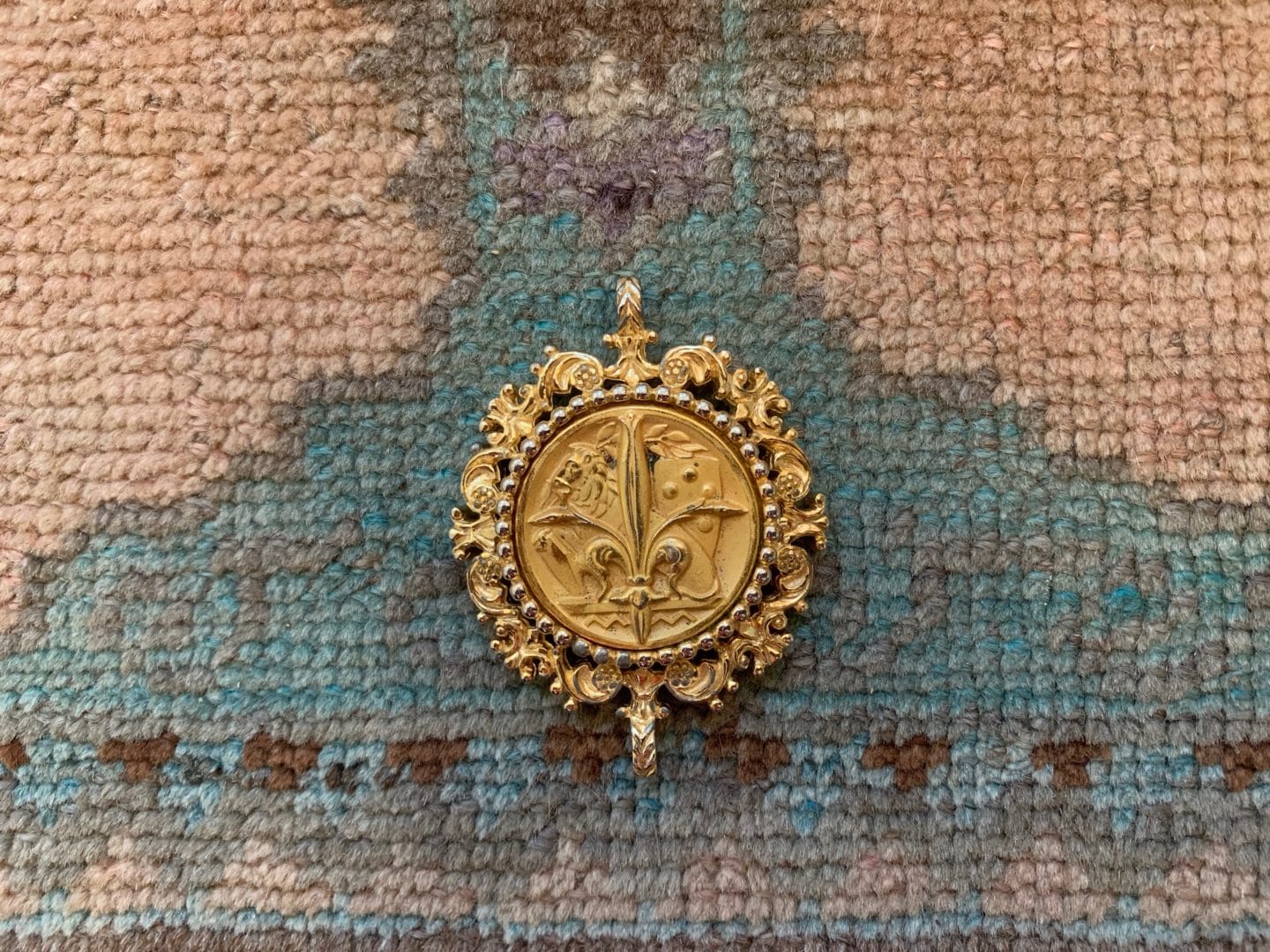 Mother would often hang this pendant from one of her necklaces. It's a large piece… two inches in diameter… and has a lion, a shield, a sword and a fleur de lis. I need a magnifying glass to read the manufacturer on the back. You can see where the finish is gone in spots, but it's still a pretty piece.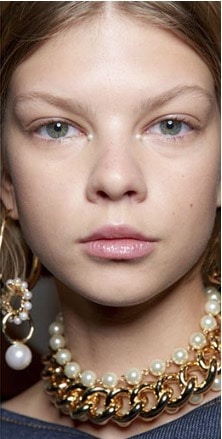 This fall Adeam paired a short, single strand of pearls with a chunky gold choker.
One of my favorite looks is Versace's 2019, gold, chain link necklace with round, oversized Medusa heads. This is NOT one of mother's pieces. Oh, how I wish!
There's a "chain reaction" happening on the wrist as well because chain link bracelets–some are dark metal–are also popular this fall… which brings me to a full-circle moment.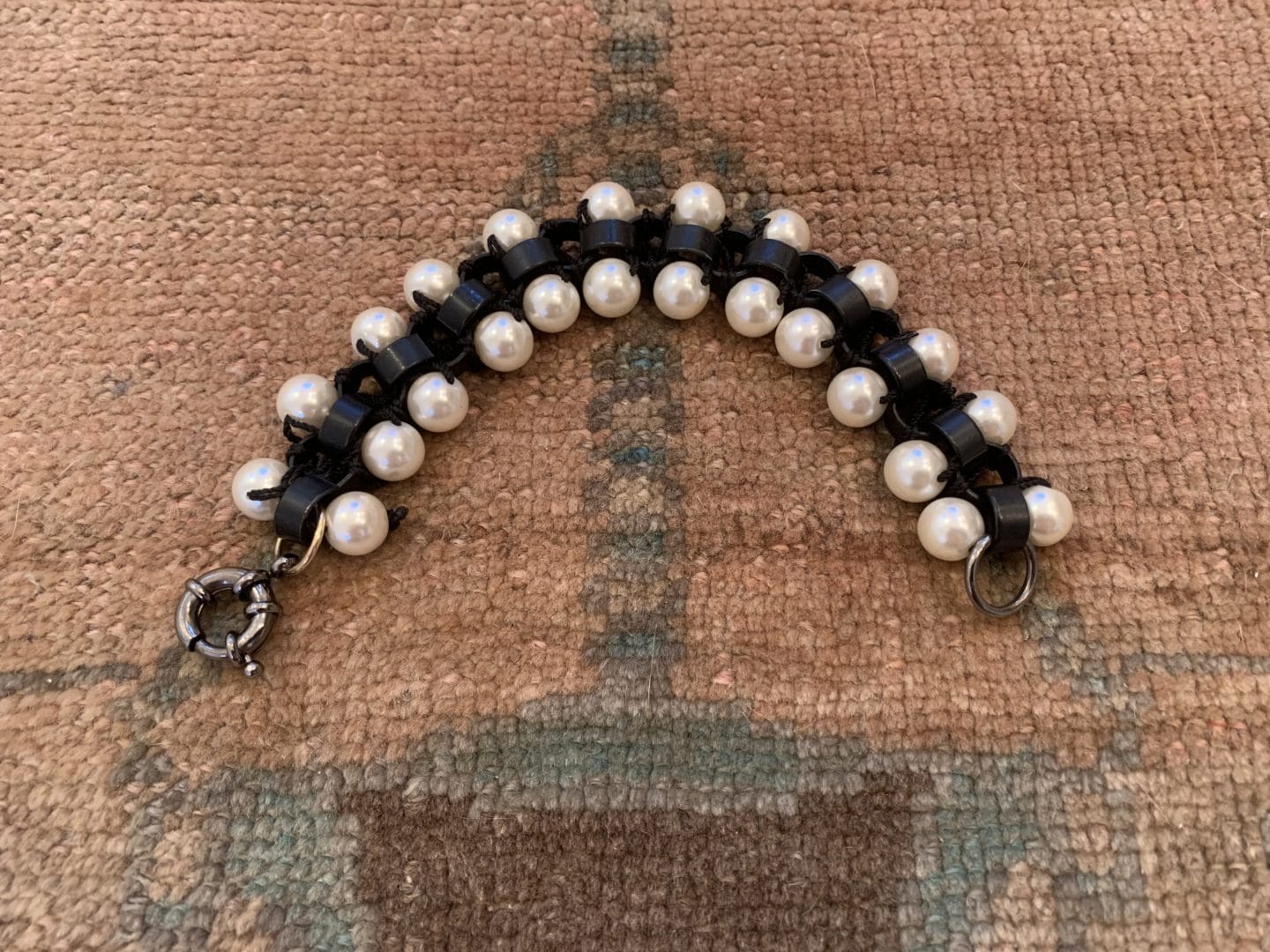 Thinking about ropes of pearls and chain link necklaces and bracelets makes me think about my friend, Taylor, who gave me this beautiful bracelet for Christmas almost eight years ago. She said, "It looks like you." It's a piece I never would have picked for myself, and yet, this bracelet changed the way I thought about my personal style. I started wearing my leather pants, again… with this bracelet… and ditched my Armani in favor of elevated casual. Everything I've shown you on Fashion Friday is an outgrowth of this bracelet. Thank you sweet friend! I love you!
When was the last time you thought about changing your style? It doesn't have to be a radical change, just something that says you're young at heart and not stuck in another era.