My favorite fall sweater had several loose threads when I packed it away last spring, but I wasn't ready to consider throwing it away. A few days ago, it wasn't even out of the storage box when I started twirling and tucking the loose threads, thinking I could magically reattach them.
Discarding things has never been easy for me. It's not that I'm a hoarder. I'm a fixer. A serial fixer. There… I said it out loud. Moving on from people hasn't been easy either.
Some of my earliest memories are of needing to fix my father's hurt feelings, helping a small bird that fell from a back yard tree or comforting my infant brother because my mother didn't.
Now that I'm mature wiser, I understand it's impossible to fix someone who doesn't want to be fixed. There are times when the best decision is to let them go. We have to accept that perhaps they were in our lives for only a season, or long enough to teach us something. Once that lesson–whether it's good or bad–has been learned, we need to allow them to move on. Perhaps that's why the changing of the seasons has been difficult for me, too.
Knowing we have to let go is one thing, staying positive through the changes is another.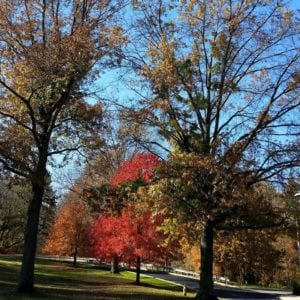 Fall has always been the most difficult transition for me. The sun sets earlier and my favorite people, my grandchildren, go back to school. Their activities make it harder for us to spend time together. I'm so busy with work that it sometimes seems I'll never catch up, and as I add layers of fall clothing, it seems I'm also adding layers of anxiety.
By the time fall is in full swing, the magnificent colors of the foliage make it impossible for me to stay sad. Even the sky is a deeper blue. I can't get enough pumpkin and chocolate flavored everything. The warm sunshine-filled afternoons and crisp cool evenings remind me to slow down and take it all in because this, too, shall pass. Soon the leaves will fall, but for now, I don't want to dwell on what's next.
Each season we need to find something to look forward to and something to love about the people with whom we share them. I know, all too well, they may not be with me once the branches are bare.
While the seasons will change, and people will come and go from my life, I will not change my need to mend hurt feelings and to fix what's broken.
My old soft sweater has never failed to comfort and keep me warm. Wearing it reminds me things and people can't stay forever, but we should love and take care of them while they are with us.