Writer and poet, Robert Louis Stevenson, referred to Napa Valley as "bottled poetry." In 1880, Robert and his bride, Fanny, spent a two-month honeymoon in the Napa Valley area and fell in love with it. They would be heartbroken to learn of the raging inferno that rained destruction on their beloved valley. I, too, am devastated for everyone who loves Napa and who lives there.
My love for Napa Valley has nothing to do with the $100,000 bottle of cabernet the late, Robert Mondavi, opened for me… Although I drank $50,000 worth!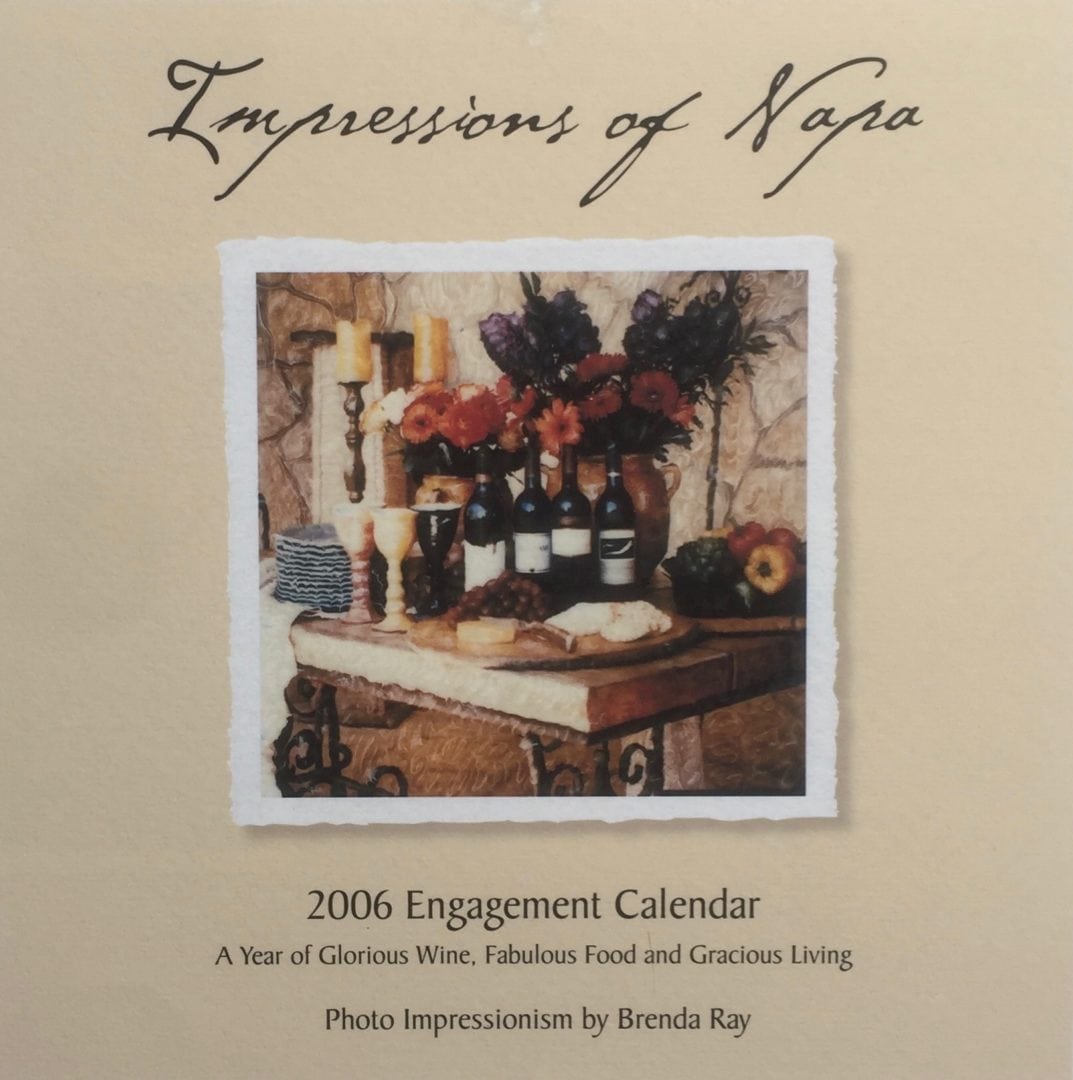 In 2003 and 2004, I made six trips to Napa Valley to photograph the grape growing season for the first of a six-year branded product line I was creating: a yearly spiral-bound engagement calendar and matching note cards. The first calendar would have been called, "Impressions of Napa, 2006, A Year of Glorious Wine, Fabulous Food and Gracious Living." Subsequent calendar years and note cards would have focused on other great wine-growing regions like France, Italy, Argentina, New Zealand and Australia.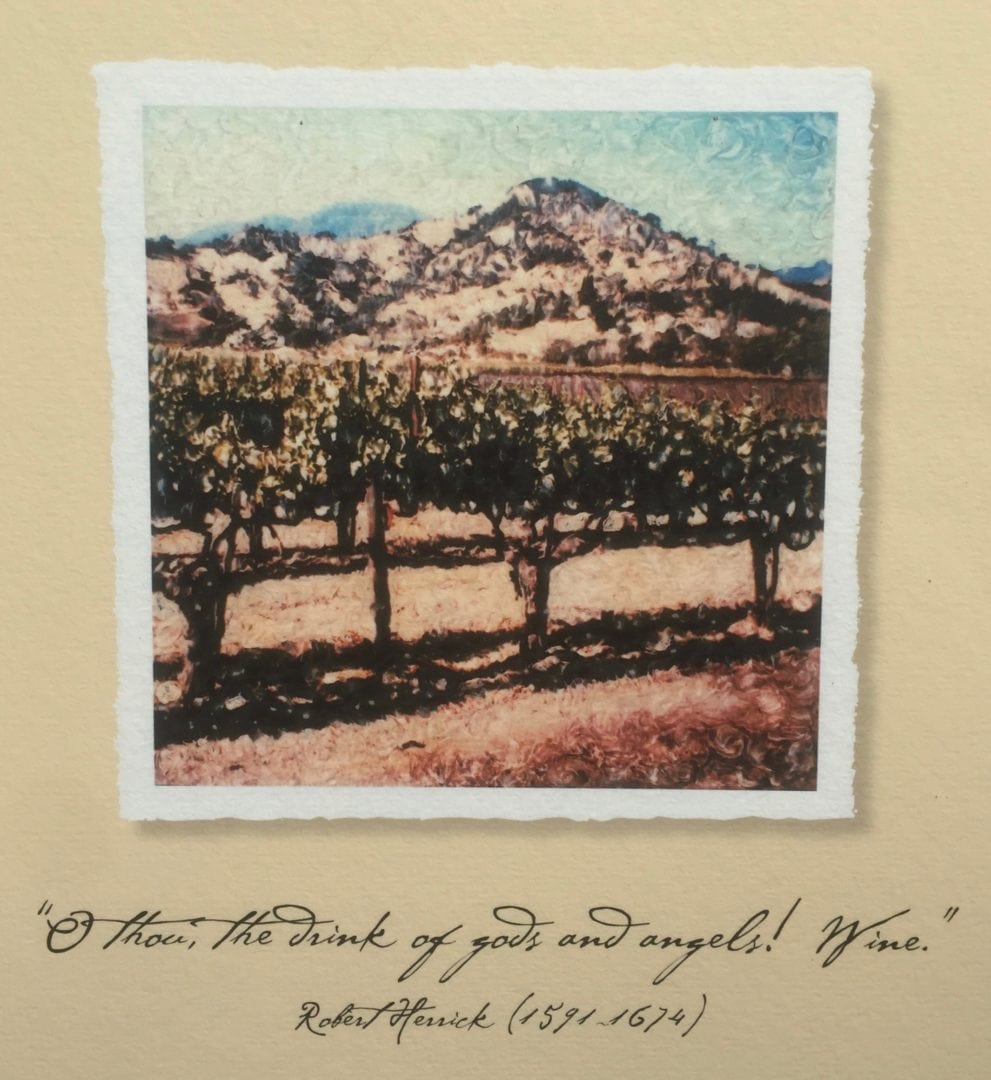 The pages I've included are from a computer mockup I did of my first "Impressions" calendar for the publisher. Photographs were taken with a Nikon, using 35mm slide film I then projected onto Polaroid Time Zero Film and "manipulated" the emulsion–with tiny tools–to make them look like French Impressionist paintings. Now you can achieve this same affect with an iPhone and an App. LOL!
From the first tender bud breaks early in the year—that later yield tight bunches of tiny, yellow flowers…  each flower can form a single grape—to the fall harvest and two, Napa Valley Wine Auctions, each of my trips were magical. I learned a lot about wine and jokingly referred to myself as an idiot savant about Napa Cabernets.
Don't ask me about French Cabs, Chardonnays or more recent years, because that's when my uninformed "idiot" shows up, but for that brief window in time, I could hold my own about Napa Cabs.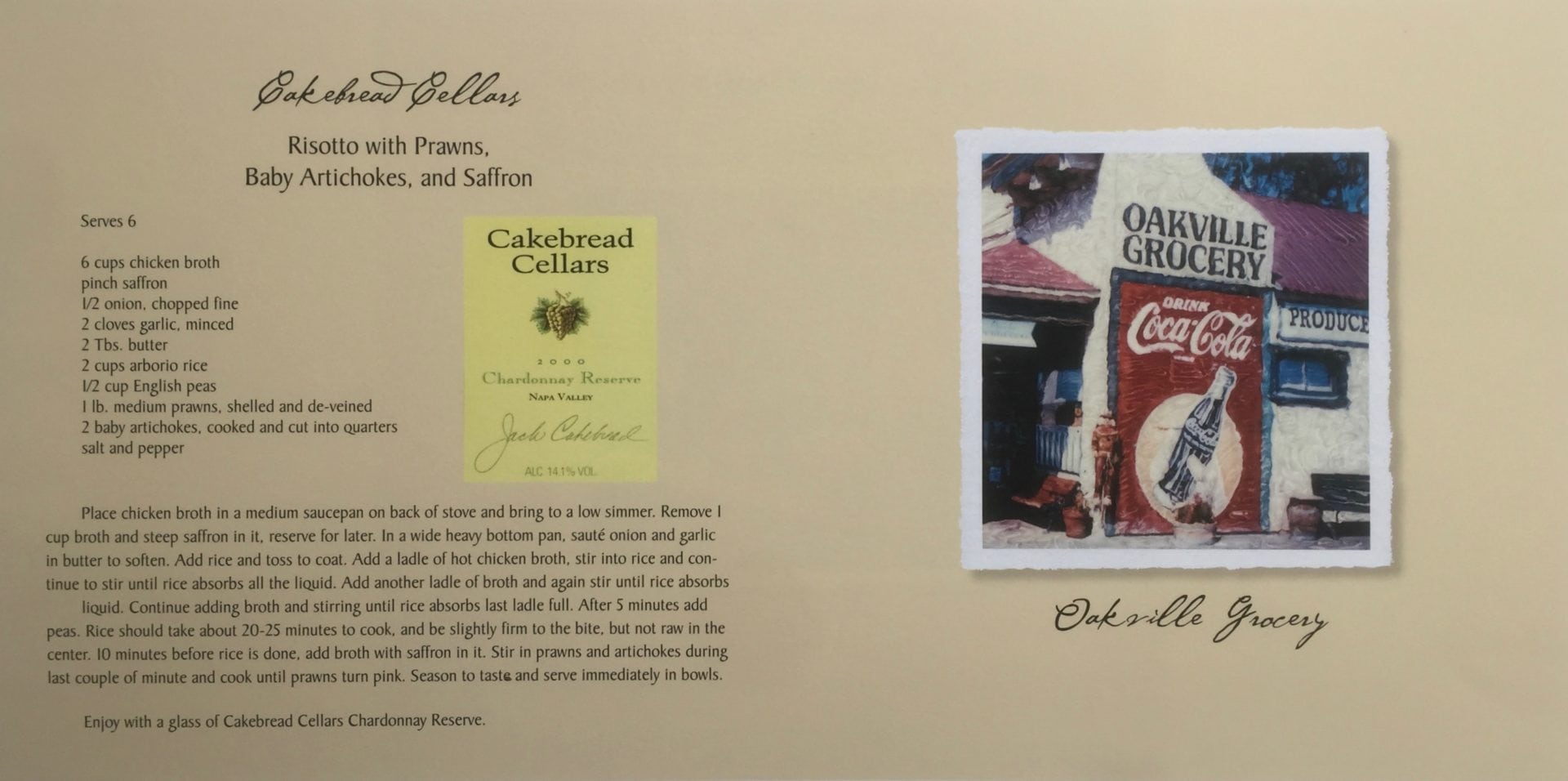 With teachers like Michael Mondavi and his legendary father, Robert—who brought worldwide attention to California wines—and numerous other well-known Napa vintners and restauranteurs, I gained a love and appreciation for great wine and food pairing that's never left me.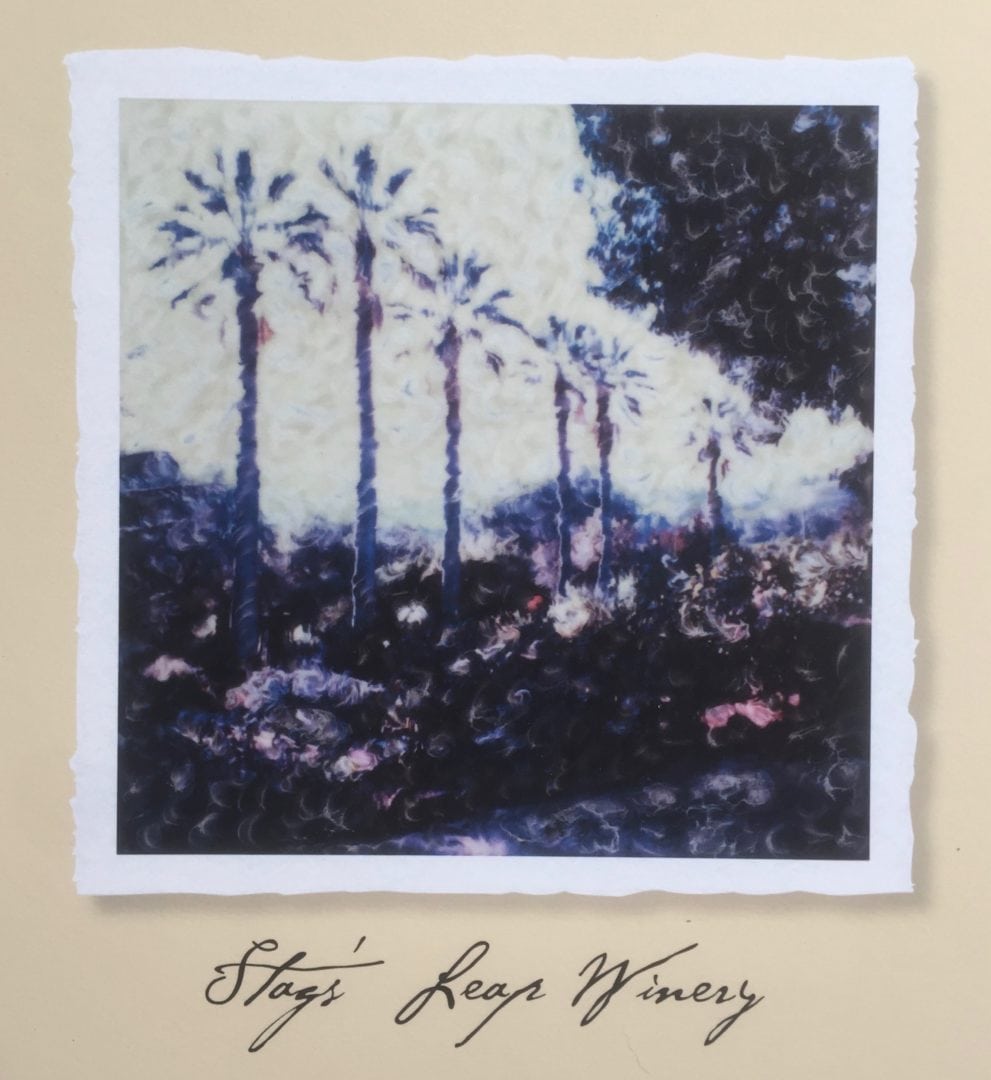 The beauty of Napa Valley is staggering. I got to know the backroads and the people around every turn and up every hill. Stags' Leap Winery commissioned me to do a series of my French Impressionist photographs, especially for them. I stayed in their fabulous, 1880's rock guest house, stocked with jaw-dropping food and wine. They gave me the key to the wine cellar–as if I needed anything else–and suggested I sit on "the power bench" at sundown. I sat there—the only person on the property until morning—overlooking their 85-acre valley and drinking their finest Cabernet. It was a powerful moment that moved me spiritually.
I was surveying God's work at it's finest.
Perhaps my favorite experience was standing in the Mondavi vineyard, before sunrise, photographing the harvest. When I arrived the field was bustling with farmworkers, wearing jackets and sweaters to ward off the early morning chill. Tendrils of low-lying fog drifted across the rows like momentary cobwebs.
In the row behind me, a male voice began singing in Spanish. Two rows ahead of me, another male voice joined him. As a pink glow broke on the horizon, a dozen a cappella voices harmonized in unison while workers clipped grapes and tossed them into baskets. Another powerful moment I will never forget. Thank you, Michael Mondavi, for arranging my visit.
The following week I was diagnosed with breast cancer. Everything but family and survival dropped off the radar.
After my treatment and surgeries, I gained my strength back. But somehow calendars and notecards didn't seem very important. Instead I wanted to help other women and their families survive what my late husband and I had survived, and so I started BreastCancerSisterhood.com,which became the Top Breast Cancer site. I've never looked back.
Now families in Napa Valley are struggling to survive. My heart breaks for them because of the massive fire that scorched more than 200,000 acres—many I've walked and photographed—damaged more than 6,000 homes, displaced 100,000 people—some I'm sure I've met—and killed at least 41. I know with God's grace, the people—many are farmworkers and lower middleclass—their pets and the spirit of Napa will survive. If you're interested in ways you can help them, please click here.