I hope you're all having a great week. Today my friend Cindy Hattersley and I are each interviewing a different woman for our monthly Ageless Style series.
In 2021, Diane Britt-Smith walked away from a career in international media as a video producer and a training director, and returned to her love of acting, modeling, and voiceovers. Since then, Diane's worked on campaigns–in front of the camera–for Carol's Daughter, It Cosmetics, Delta Airlines and numerous other companies. Diane is a great example of why we need to follow our dreams and why we should map out a game plan for how to get there, instead of wandering aimlessly in the dark.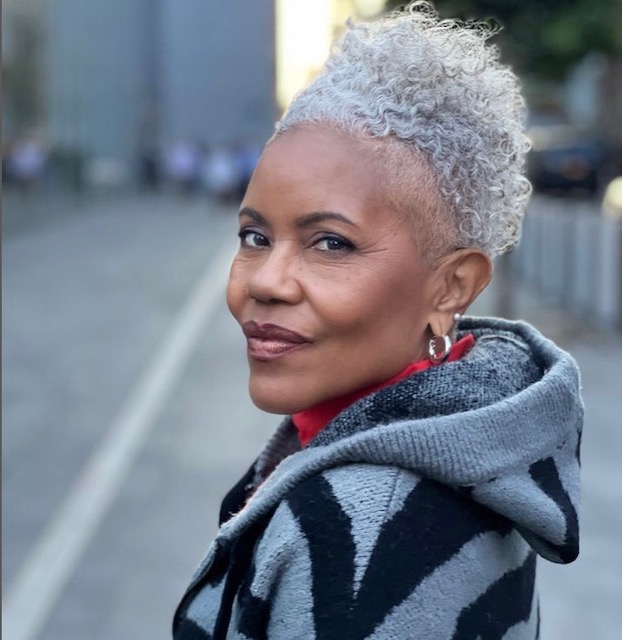 BRENDA: I love your Instagram posts because you give us things to think about as opposed to only selling us what you're wearing. It was one of the first things that drew me to you although you sometimes say, "Dress from Zara."
DIANE: I appreciate you saying that. I've never considered myself a fashionista, but I love clothes, and I love style. It's a part of who I am, but I want to be inspiring and encouraging.
BRENDA: You are, and you shine through from a lot of the other women on Instagram because of it. And then there's your hair. I love your hair! It's so fabulous!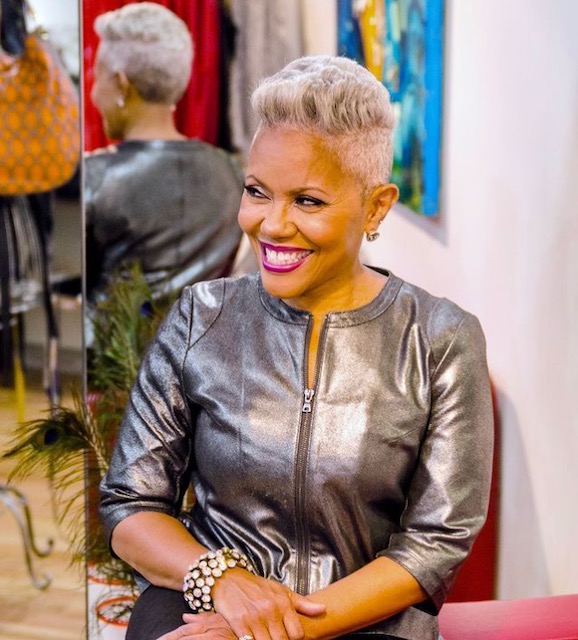 DIANE: Thank you. It works for me. It's easy. I can wear it shorter or longer without looking too different. As a model and an actor, it's important for consistency. The client wants your hair to look like the photograph or the videos they've seen in your auditions.
BRENDA: Tell me about your style. How would you define it?
DIANE: I had a very long career where I dressed up in dresses. I think they're much more flattering for me than skirts. I'm going to call my style unique. Anything that is just this side of eclectic…I love bright colors. Red is my lifelong favorite color. I like to be elegant, classy. I do not leave home without my Spanx, and I want to wear things that are flattering to my body. I might be a little more edgy, depending on where I'm going.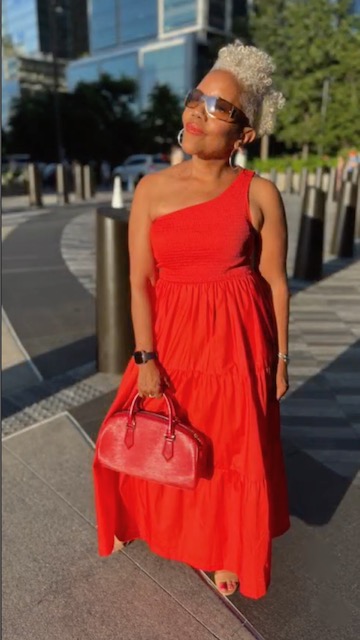 I'm a Gemini. I don't have two personalities, but I'm multifaceted enough that I'm unpredictable. I see a woman who's rocking the Bohemian outfit…Whether it's an oversized jacket, or five bracelets, I'm thinking 'I'd like to try that.' Then I look in the mirror and realize that would swallow me. I'm 5'1". I have to go with what works for me, so it's the driver of every single choice I make in fashion and style. I love to be comfortable, so I seldom wear high heels unless it's for a photograph or an event. The conundrum I have when it comes to purses is I need to be able to carry a purse I can put shoes in if I'm not getting in an Uber in New York City, and that is often impossible. So, I don't often carry small purses.
BRENDA: You are eclectic and that's part of what's so fun about the colors you wear and the way you accessorize. You said something on Instagram I thought was interesting: You think bright colors release the neurotransmitter, dopamine, and that heightens our mood.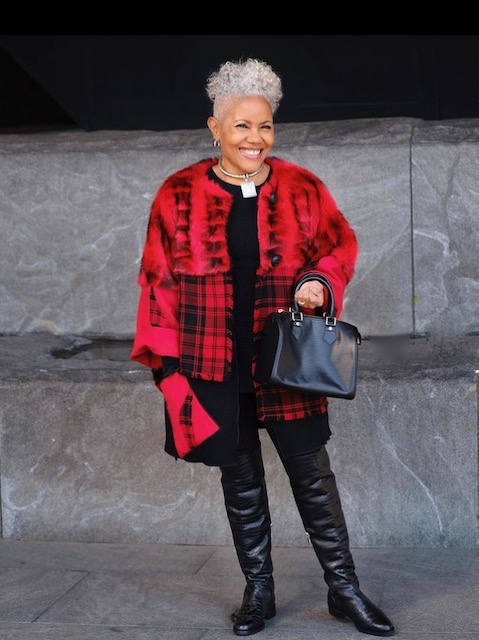 "Life's too short to wear boring clothes."
DIANE: Without a doubt. Just like the weather. If you think about it, for most of us, a bright sunny day does the same thing. A gray day, I love the color, but it's not my go to for the same reason.
BRENDA: What made you give up your career and return to your love of acting, modeling and voiceovers?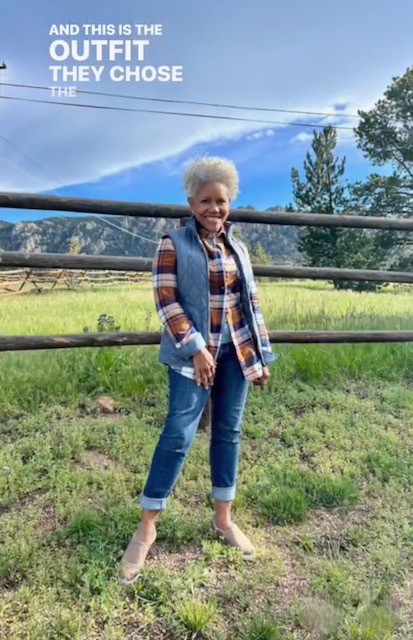 Diane on set of a commercial shoot outside of Denver.
DIANE: My career was in journalism and video production. The largest part of my career was at Voice of America where I was video producer and one day someone suggested I audition for a background role in America's Most Wanted. I did, and I got the part, and I thought it was fun so I started auditioning for this, that, and the other. I realized how much I missed it and loved it, so that was the impetus for me to relaunch an acting and modeling career.
I believe when you need a big change in your life, you need to be running toward something, not away from something.
If you are running away from something and don't know what you're running toward, you likely will be bored, dissatisfied, angry, or disappointed. Something other than joy filled. So I prepared as well as I could for my next chapter before I wrapped up things in my first career and then stuck my toe in the water.
BRENDA: What do you like about yourself now that maybe your younger self didn't possess?
DIANE: I will credit my adult children…Watching them learn and grow into themselves as actors and what they need to do for self-development has rubbed off on me. My self-awareness and emotional intelligence are at their highest level. You don't know what you don't know, but if you can be intentional and self-observational, then you can see yourself from 30 thousand feet, and you're not so in the weeds. So I watch myself, and I'm always analyzing is this the right way to react to this? I don't always knock it out of the park with that, but when I have a victory, then I am pleased.
BRENDA: Since we're talking about aging and women over 50, your mother said something I liked:
Being this age is better than the alternative.
DIANE: She was full of quips and so much wisdom packaged in short sentences. I appreciate that about her. When I think about her whole life, the things she left me included those kinds of things.
BRENDA: I'd say she did a great job because you're passing them on to other women.
DIANE: I'm trying, trying to stay positive about this menopause thing, which I'm on the other side of, I think…Looking back on that journey, there are a lot of things you learn about yourself you don't necessarily realize you're learning until much later…
But we have to meet ourselves where we are.
BRENDA: We have to meet ourselves where we are. I'm going to remember that. That's giving ourselves grace, and we need to that. What do you do to stay fit?
DIANE: Everything I possibly can. I'm married to a cyclist…and our children are adrenaline junkies. We ride bikes and do as much as we can, play tennis. I walk five to seven miles every day. That is my medicine. When I can't do it, I feel off center. One of the best things about being in NYC so much is there's always someplace to walk. I'm a street photographer, so photo walks really pump me up.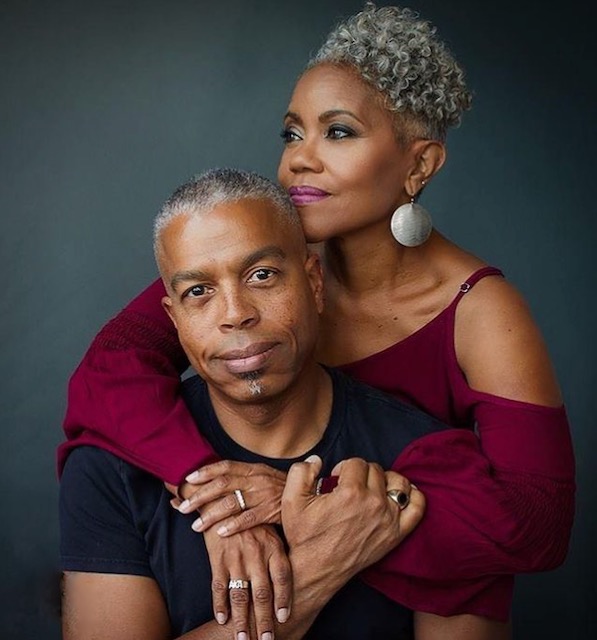 Coming up on 35 years of marriage in October!
BRENDA: You have the most handsome men in your life! I mean. They are gorgeous!
DIANE: Thank you!
BRENDA: I've enjoyed visiting with you, Diane. Thank you so much.
DIANE: Me too. Thank you.
Don't forget to visit Cindy Hattersley's blog and see who she's featuring this month in her Ageless Style interview!