Earlier this year I wrote a "Winners and Sinners" post about Concealers and Correctors for Women Over 50 where I mentioned a concealer/corrector that was supposed to be the "pot of gold at the end of the rainbow." But the product was such a hit, it was sold out everywhere I looked. Well, I have good news. I bought some this week and let me count the ways I love it.
Oh, my stars. It's fabulous.
All of the reviews I read last year said Chanel's Sublimage Le Correcteur Yeux was "the one" we've all been waiting for, and I agree. It's both a corrector and a concealer, and it's everything I hoped it would be.
After three consecutive days of using it, I still can't believe how beautifully it goes on and stays on all day; how well it color corrects the blue tones in the corners and under my eyes, plus it also works as a concealer. It's gorgeous. The only problem is the price: $96 for a .35-ounce glass jar. It comes with a little spatula so you don't have to contaminate the contents with your fingers, but just a little dab will do ya.' Just a few dots on the dark areas only. Blend lightly with a blending brush. I'm guessing this jar will last me a couple of years, which averages out to a cost per wear of $4 a month. Do I think it's worth it? Yes, because I haven't found anything else that works half as well.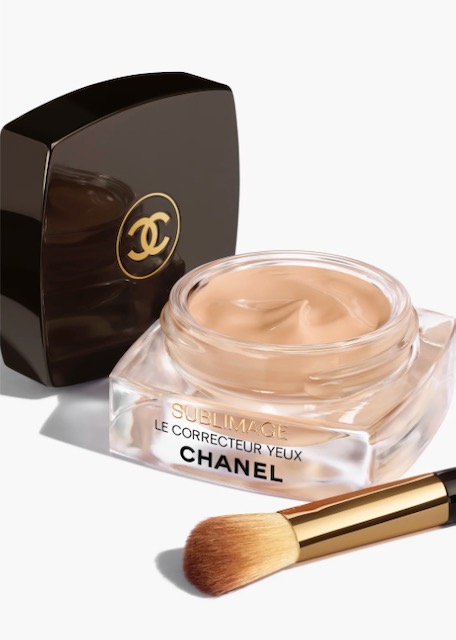 Full disclosure: I have dark blue tones under my eyes and in good lighting conditions, the blue under the Sublimage alone isn't visible. But in poor light, I can still see a bit of blue, so I apply a couple of tiny dots of Tarte Shape Tape's Ultra Creamy Concealer—I use 29N light-medium—over just the blue areas I've already covered with the Chanel Sublimage Le Correcteur Yeux. In the Sublimage, I use shade B20.
Next, I use a brush to apply my foundation, but I'm careful not to apply it on top of my corrector and concealer. I blend lightly, only along the edges, so it mixes seamlessly with my foundation. Then I use a fluffy brush with a light dusting of fine milled powder to set the under-eye area. Don't wipe the brush back and forth. Just lightly "press" the powder into the skin.
FYI, if it creases, you may be using too much eye cream (let moisturizer and eye cream dry down for 15-20 minutes before applying makeup), or using too much Sublimage, and/or too much Tarte Shape Tape. Less is more. If it looks "patchy," kind of like scabs, you probably aren't using enough eye cream. Don't get discouraged. Like most everything else in life, getting your makeup right consists of trial and error.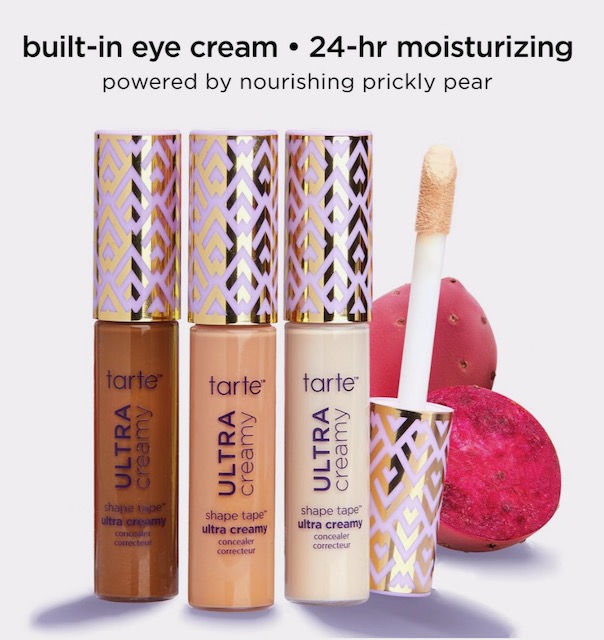 On Chanel's website I read a number of bad reviews about Sublimage Le Correcteur Yeux and every problem was caused by applying way too much product. Forget about putting "a layer" in a "deep V-shape under your eyes." Again, less is more. Since the product is buildable, start with just a few tiny dots along the darkest parts you want to correct and conceal and blend with a good blending brush, not your finger. (Some people like to use sponges, but I think a sponge absorbs too much product.) And to the person who said it was "almost impossible to remove"… Seriously? Were you trying to "wish it away?"
My favorite eye makeup remover is the purple bottle of Clinique's Take the Day Off. It contains no alcohol, only oil-based emollients which are easy on the delicate eye area. Shake the contents in the bottle, then saturate a small cotton square and gently swipe across your eyes. No rubbing. No tugging. I do two, light-handed passes per eye over my eyebrows, eyelids, mascara and concealer and voila! It's all gone.
BTW, Chanel's Sublimage Le Correcteur Yeux is not to be confused with Chanel Le Correcteur, which is Chanel's concealer, or Le Correcteur de Chanel Longwear Colour Corrector, which is just plain awful. See my previous post about "winners and sinners" where I've reviewed both.
You can find Chanel's Sublimage Le Correcteur Yeux at Neiman Marcus, and the Chanel Boutiques like the one at La Cantera in San Antonio, just a few steps from Neiman Marcus. You can also buy it on Chanel.com, but since Chanel is expensive, I suggest you go to the store and ask for a couple of different color samples to make sure you're choosing the one best suited to your skin tone and to see how you like it. That's the only way I try new makeup and skincare products. There are several Tart Shape Tape concealers as well so make sure you're buying the one that says, "Creamy." Also, Ulta and Sephora sell little sample or travel tubes, plus they'll give you a small free sample.
Here are some of the products I've mentioned.
I hope you liked my Concealer Corrector Update for Women Over 50. Next week I'll be reviewing two Chanel foundations, and no… I have not been compensated in any way by any of the brands I've mentioned. Frequently, brands offer me money and or products to push their merchandise. Could I use the money? Yes, but I'm not interested. By now, I think you know I only share things I genuinely use and love.