If you've dreamed of writing a book, or you're someone who loves to read, Linda Sivertsen's at the top of the list of people you need to know. Often referred to as the "Book Mama," a literary midwife and matchmaker between authors and agents, Linda herself is an author, ghostwriter, and coauthor of eleven books, including two, New York Times bestsellers. In addition to mentoring thousands of writers worldwide, Linda is a TedTalk alumnus, the host of the top-rated Beautiful Writers Podcast, plus she has a writing retreat in Carmel, and a Rolodex most writers would walk across the Grand Canyon on a tightrope just to see.
Meet my amazing friend, Linda Sivertsen, who has the energy of ten people and contagious can-do determination.
Linda Sivertsen's new book, Beautiful Writers: A Journey of Big Dreams and Messy Manuscripts–with Tricks of the Trade from Bestselling Authors, is part memoir and part advice book from many of the living authors you'd like to meet, and they're all Linda's friends… with good reason. As Terry McMillan, #1 New York Times bestselling novelist of Waiting to Exhale, How Stella Got Her Groove Back and eight other bestsellers said, Linda's "stories are cinematic, hilarious, heartfelt, and pitch-perfect."
BRENDA: When I think of you, I think of a woman who's surrounded by magic and who perseveres no matter what. How would you describe yourself?
LINDA: I'm a relentlessly optimistic doomsday believer who has to focus on creating beauty for myself and others, or I get nervous.
BRENDA: LOL! No soap operas in the afternoon for you.
LINDA: No soap operas for me. I have too many fearful visions in my head about the world that I mostly watch sweet programming, especially before bed. LOL! Now I sound super paranoid.
BRENDA: No. You work hard to preserve the land and the environment so I get that. You were even going to pass on a publishing contract unless the publisher printed your prior book, Generation Green on recycled paper and your new book, Beautiful Writers on FSC sustainable paper. You're a woman who acts on her convictions.
One of the threads that runs through Beautiful Writers is that if we're not good at giving ourselves permission to follow our dreams, we need to go out and get it from someone else. I'm wondering, who gave you permission?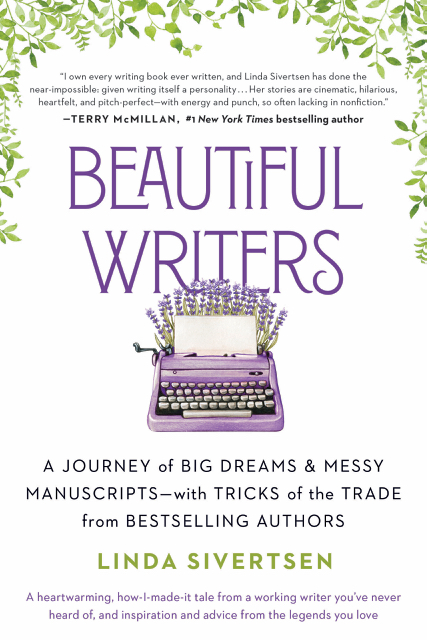 LINDA: The first people were my parents who always told me I could do anything I wanted. I believed them when I was very young, but when I got into school and compared myself to the really book-smart kids, I didn't feel like I was smart enough. I had yet to learn the value of my intuition, my street smarts, and my emotional IQ. It took paying people, driving across town, and looking for advice worthy of my Benjamins to trust in my vision. One of the people I went to for permission was Guru Singh in Los Angeles. Many famous people claim he was a significant part of why they're successful. He's one of the best cheerleaders on the planet.
When he told me I was supposed to be a writer remembered for 150 years after my death, his vision mirrored the longings of my heart. It was absurd, really, but he was so sure. When I had a dream a couple of days later that showed me exactly how to do it—book titles, format, and text scrolling like a news ticker tape—I threw myself into his vision and mine from the dream.
Then there was Drew Lawrence, a Vedic astrologer who said mine was one of the most powerful charts he'd ever seen, which blew my mind. I was "supposed" to be doing something in the arts related to writing and lots of people. You can have all the self-confidence issues in the world, but if people you respect look at you with enough certainty, it makes it easier to believe in the desires you have that maybe you're afraid of.
BRENDA: Wasn't Thomas One Wolf one of your gurus?
LINDA: Oh, yes!
BRENDA: He said something I love.
"Getting what you want won't make you happy. What will make you happy is becoming who you need to be."
That's so insightful, but most of us don't follow the path that takes us there. In Beautiful Writers, you help readers find the way. Your book is full of such great advice, and the people you interview are the biggest names in the literary world.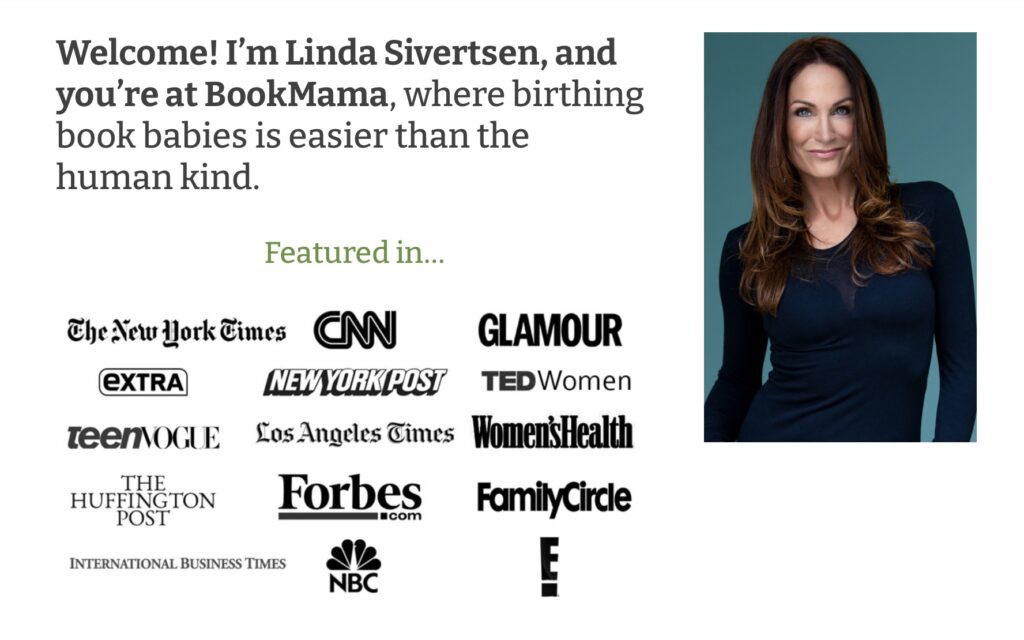 LINDA: Thank you. As far as Thomas One Wolf, he was this bigger-than-life figure for me. When I met him, he lived in a cabin off the grid and was happy with the most spartan existence. A can of beans for lunch. And yet, he had these really big visions about what people and humanity, in general, were capable of, and he spoke about the environment and sustainability in a way that mirrored how I was raised. And it had that added ancestral vision to it. He was Suquamish but was raised on the Navajo big res, and I trusted him. We spoke a similar heart language.
Guru Singh's vision for my life was vast and grandiose, and Drew Lawrence's vision felt prophetic and destined, while Thomas's simple desire for me to walk one foot at a time in good made me feel like all would be well. It was imperative to him that I be grounded and that I never forget the Mother and the Grand Father. Also, he was constantly reminding me to stay on the middle path. He called it haz-ho: no highs or lows. Refrain from buying into your great reviews, and don't buy into your bad ones. Stay in the middle ground and you'll live a happy life, and I think that's good advice.
BRENDA: For someone who wants to write a book, but hasn't started, what advice would you give them?
LINDA: Getting it on the calendar is the most important thing. It's easy to have a dream to do something, but the years fly by. We're all so busy. Time is a vacuum. It always fills up, and unless you put yourself on the schedule, it's too hard to finish anything. I would say, even if it's 15 minutes a day, five days a week, get moving. Writers need to write, not talk about writing. I knew instinctively that once I got up, I'd be doing chores, walking dogs, cleaning horse stalls, filling that vacuum with anything and everything—even vacuuming! I'd always be caring for my kid, my husband, and our countless dogs, so I was relentless about giving myself "me time" in my bed office. Before I gave it to anybody else, I gave it to my writing.
BRENDA: You have to not only put it on your calendar, but also be stingy with your time.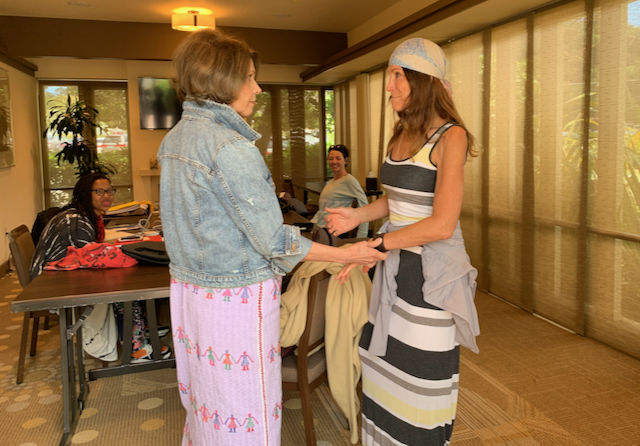 Brenda Coffee and Linda Sivertsen at one of Linda's writing retreats in Carmel, California, 2021
LINDA: You do, and people don't love it. Writing is such a solitary endeavor and everyone else has ideas about what you should do with your time.
BRENDA: Being a writer is almost like having an affair. Like having a lover, but it's one your spouse can't say, "I'm better looking than he or she is, or I love you more." They don't know how to fight it.
LINDA: That's exactly right! It can be super challenging. I still give myself time first. I am a better parent. I'm a better partner, a better friend. My heart is full, and I'm more present with the people I love. Ann Patchett talks about that in my book. She has a funny story about when she has a full day to write, and her husband comes home from work—he's a doctor—she can't wait to make him dinner and have a wonderful evening, talking and connecting. But she says that when she's not writing, she's a bitch! Ha.
BRENDA: I read that!
LINDA: She resents him for taking her away from her writing. You have to know who you are. You have to know the best way in which you work and find a way to figure out how to make your heart happy so you can give more to the people you love when it's time for them.
BRENDA: You give such great advice in this book.
It's like having a writer's support group except they're the biggest names in the literary world.
LINDA: Oh, that's a great quote!
BRENDA: I love that I can open Beautiful Writers to a random page and find a nugget of information and encouragement, and it's always something I need.
LINDA: Thank you! Well said. I would love to put that as a quote from you on my website. That's exactly what it is—a writer's support group.
BRENDA: The same thing goes for the Beautiful Writers Podcast you launched. You interview the bestselling authors in the world. I'm so blown away that in 2015, it debuted as number six on iTunes, and it's been there on Apple's Top Book Podcast almost every day since then.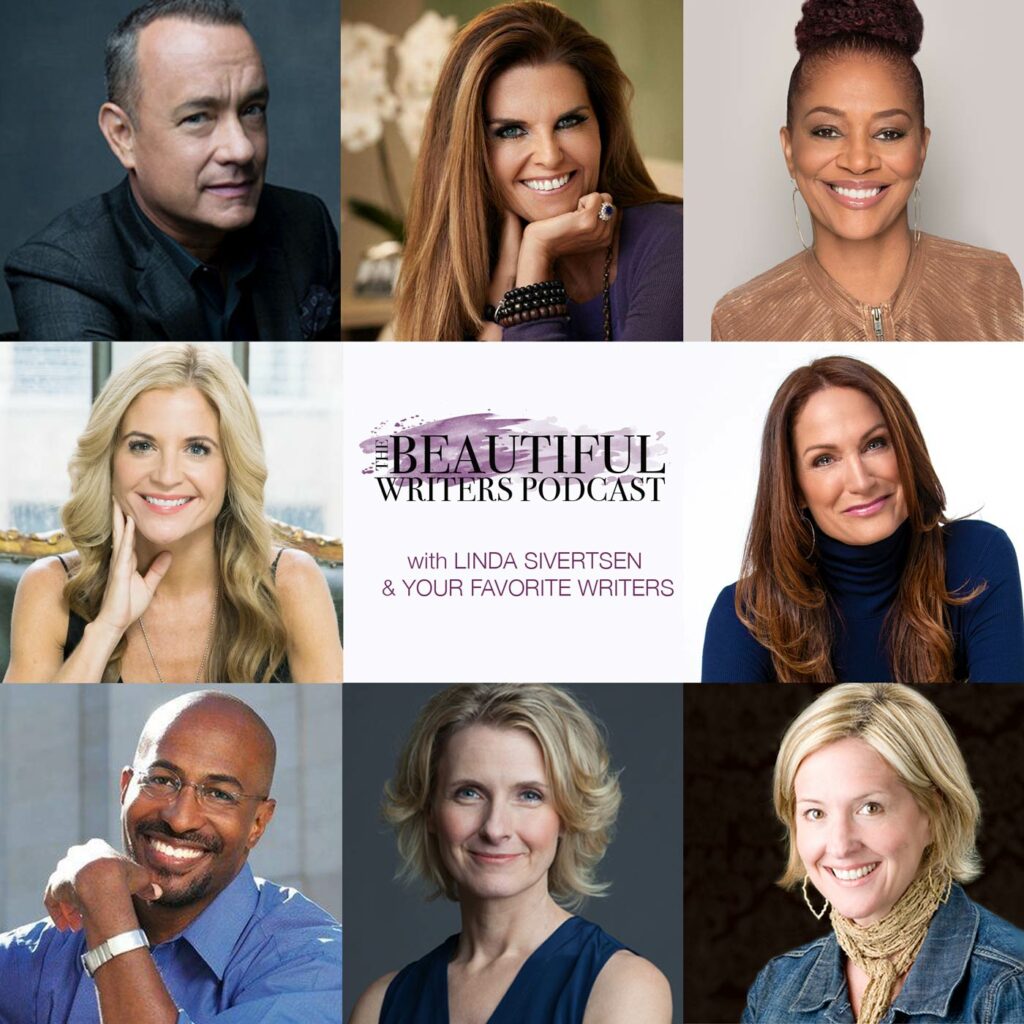 LINDA: It's my total joy to host the show. Every episode takes me 40 or 50 hours because I read all the books and I produce the show. I slowed down while finishing my book and promoting it.
BRENDA: I know, and I miss them.
LINDA: Me too! I'm excited to have three in the can right now. Just yesterday, I was thinking I love this show more than anything I've ever done, so thank you for that acknowledgment. I love putting my energy back there.
BRENDA: You won't remember this, but you and I were on the phone the night before the finished, edited version of your book was due at your publisher. You'd had some significant problems and wondered "What the flip do I do now?" but when we hung up, I knew you would fix it because that's what you do. I think a lot of people assume, "You wrote a book, it's doing well, you have money coming in, and you've got it made with all of your future books," but that night was proof it never gets any easier, does it?
LINDA: No, it doesn't. I think what most people assume about bestselling authors is that we have some kind of magical knowledge about how to make things easy and we just crank it out, but that's not the case. Rosie Walsh tells the story in Beautiful Writers about how she rewrote pieces of her New York Times bestseller, Ghosted, over and over. Three different times she dropped forty thousand words. Mary Karr threw out 120 thousand words of her bestseller, Lit. I think it was Ann Pachett's book, The Dutch House (nominated for a Pulitzer), that she told me sent her back to the drawing board when the first version "didn't work." That's so common. Laura Munson, our mutual friend, told me that a month before Willa's Grove was due to her publisher, she decided to cut a hundred pages and rewrite them. That's more the norm than the exception.
BRENDA: That makes me feel better because when I told Beth (my agent) I was going to rewrite the beginning of my memoir, she said, "But I love it the way it is!" I went on to cut twenty-four thousand words, including the first chapter, which everyone loved. When Laura read the new manuscript, she called and said, "You're not using even one sentence from that chapter in your rewrite? When I said, no, she came back with "Woah! Way to go to kill your darlings!"
LINDA: But that's good. If it doesn't serve the book in a crucial way, it probably was a good decision to let it go.
BRENDA: Oh! One more thing. Congratulations on winning an International Book Award for Beautiful Writers.
LINDA: Oh, thank you! What a lovely wink from the writing gods that maybe, just maybe, all those years weren't in vain.
BRENDA: I know how crazy busy you are, so thanks for talking with me today.
LINDA: I always love talking to you. You put out such beautiful work on your blog. I'm 100 percent honored you'd want to have me on, so thank YOU!
BRENDA: I love you, sweet friend.
LINDA: I love you more. I look forward to celebrating your book sale… soon!