Many of you may remember my October 2022, post: SEVEN DON'TS WHEN BUYING MAKEUP OVER 50 where I confessed my extreme frustration as I looked for an under-eye concealer that was the right color and texture and didn't cake, crease or look patchy. I'm embarrassed to tell you how many concealers I've actually purchased—probably 30—and if I'm honest, I don't want to think about how much money I've spent. The one good thing to come out of my treasure hunt is that it's enabled me to share what I've learned with you.
Here are my concealer Winners and Sinners and helpful application tips.
Until six months ago, I took the ability to find the right foundation and under-eye concealer for granted. Perhaps ignorance was bliss because my recent search for the right products has been frustrating beyond measure. I've consulted sales associates at Sephora, Ulta Beauty, Neiman Marcus, Nordstrom, Saks, and Walgreens. Some associates knew what they were talking about while others just wanted to make a sale. None of them knew the makeup issues facing women over 50, plus they weren't forthcoming with what they did know.
After much trial, error, money, and research, here are my corrector and concealer application tips.
• First let's talk about color correctors. I have a blue cast in the corner of my eyes as well as underneath. Other women may have red tones, but both need color correcting BEFORE you apply concealer. (Initially, I wasn't color-correcting which meant I would never have found a concealer that worked well.) Peach-colored correctors cancel blue casts, and "green" correctors block out red areas which include areas around the nose, so find a corrector that will cancel any underlying color you don't want to show through your concealer.
• Next, when buying a concealer, first determine if your skin has a yellow, a peach, or a neutral tone. If you buy a concealer in the wrong tone, it's not a good look. When I was younger, my skin had a yellow tone to it, but now it's more of a neutral.
• Ask for samples in a little container so you can try the product without buying it. Don't wait too long to try the sample because it may dry out, and if it does, it won't give you a true representation of the product.
• BEFORE applying correctors and concealers, make sure you've moisturized your under-eye area. Don't apply too much eye cream. Just half of a tiny, tiny dot should work for both eyes. After you apply your skin and eye moisturizers, wait 15 minutes before you put on your makeup. This may sound like a long time—use it to brush your teeth or choose what you're going to wear—but if you don't give your moisturizers a chance to dry down a bit, your makeup and concealer may slide around on your skin, pill or become patchy looking. By patchy I mean it looks like there are little scabs under your eyes. Eeeu!
• Once you've found a corrector that works for you, place a tiny dot in the corner of each eye to cover the blue or red area, then two small dots in your under-eye area. Pat the area lightly with your little finger. The warmth of your skin helps the product meld better into your skin, although some women prefer the tip of a sponge or a small brush that can get into those tiny corners.
• Next apply the concealer in the same way and over the same areas as your corrector.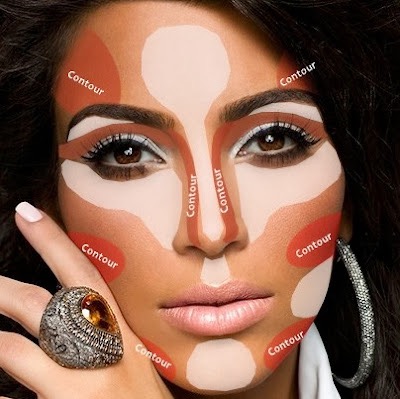 • DO NOT apply a Kim Kardashian "deep V" coverage of concealer under your eye. You may have seen this on YouTube, but unless you're a skilled makeup artist, this technique doesn't work well on older and thinner skin.
• While most of the concealers I've listed have "buildable coverage," remember, LESS IS MORE, especially under the eyes. Use as little product as possible or your under-eye area will look older plus bags and wrinkles will be more pronounced, and too much product will settle into fine lines and wrinkles.
• Since concealer also works as a great primer for your eyelids, blend a tiny dot of concealer on each eyelid. It will help your eyeshadow stay on longer and give an accurate reading of the color. An accurate color reading is especially important if you're using light-colored eyeshadows. Without concealer/primer, light eyeshadow shades may appear dark and muddy, and that's not very youthful looking.
• Finally, follow the corrector and concealer with a light press—think of it as lightly "blotting"—with a fluffy brush and finely textured setting powder. Just blot the area with the brush. DO NOT drag the brush back and forth across your undereye area.
• If your eye area is not moisturized properly, and you don't set it with powder, even the best concealers may crease and/or get patchy looking.
Here are my Concealer Winners and Sinners. Keep in mind what works for me may not work for you. We each have different dryness, discoloration, and skin texture issues.
CONCEALER WINNERS:
LAURA MERCIER FLAWLESS FUSION ULTRA-LONGWEAR CONCEALER is creamy and comes in a round tube with an applicator and costs $32. I think it's beautiful, it doesn't crease or look patchy and it wears well. (It's a toss-up for me between this one and the next concealer on my list.) I bought two shades—1W and 2C—and depending on how my under-eye area looks on any given day, I will use one or the other or both, but if I use both, I use just a fraction of a dot. Again, less is more.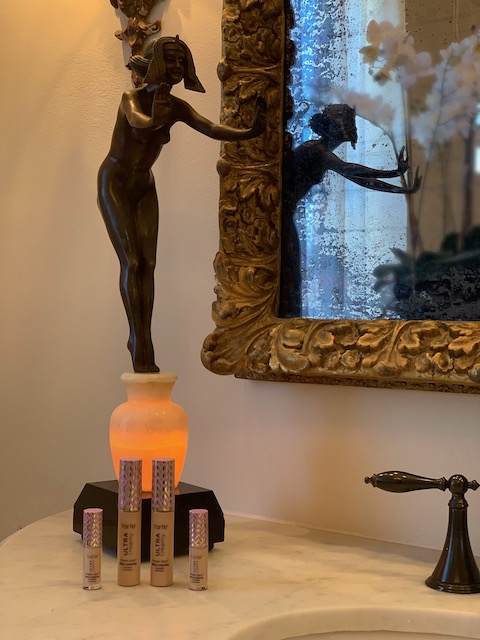 TARTE SHAPE TAPE ULTRA CREAMY CONCEALER CORRECTEUR is $20, and it's amazing! It comes in a tube with a doe foot applicator, it wears well and doesn't get patchy looking. I bought two shades, 27S Light-Medium Sand and 29N Light Medium. They have a great selection of shades and also carry small travel-size tubes of concealer that are less expensive, $14, perfect for trying at home. (I bought five or six small travel sizes before I found the right color.)
***Tarte Shape Tape makes two different concealers. I LOVE this first one I just reviewed, but their other one is in my "Sinners" review below.
LANCOME TEINT IDOLE ULTRA WEAR ALL-OVER CONCEALER is a favorite of many women. I bought 360 Bisque N and 215 Buff Neutral, but since they're not my best color matches, I stopped trying to make them work.
DIOR is creamy and comes in a tube with a doe foot applicator. In the store, I couldn't find a color to match my skin, so I didn't try it further, but I know women who love this one.
CHANEL LE CORRECTEUR is the name of Chanel's concealer. Before they reformulated it, I used this creamy concealer in a tube with an applicator, shade B20, and loved it. Now, nothing about it works for me. Strange how our makeup can stop working for us, but you may like it.
CHANEL SUBLIMAGE LE CORRECTEUR YEUX is supposed to be the Pot of Gold at the end of the rainbow concealer/corrector, but I haven't tried it. Since the initial reviews this past October were so over the moon fantastic, Chanel sold out on their website as did all of the stores that carry Chanel beauty products. No one seems to know when they'll receive any more, and some stores, like Saks, never received it. It's $95, but a quarter of a dot is supposed to do both eyes. It also comes with a small applicator brush. I'm dying to try it, so when I'm in Italy in a couple of months, I plan to visit the Chanel store because I've heard stores in Europe may have it.
NIKOL CAMOFLAGE LIQUIDE TOUCH UP VEIL. I bought 001 Brightener, but it was too light for me. It also has a thin, monofilament, fishing line-looking brush, which I don't care for, but if I purchase the right color, then I think it will work using a different brush.
FENTY BEAUTY CONCEALER, SINNER
CONCEALER SINNERS:
FENTY BEAUTY CONCEALER, created by singer, Rihanna, is a hard dry stick that comes in a giant tube and becomes even drier after it's applied. The tube is so big, you can't target specific areas like the corners or under the eye, and it's difficult to get it off of the stick with a brush. Fenty Beauty also has another concealer, but the young saleswoman told me it was too dry even for her, so forget about both Fenty concealers. FYI, Fenty has paid for "front of the store" location in Ulta Beauty, so some of the salespeople are pushing this brand.
TARTE SHAPE TAPE CONCEALER Tarte Shape makes two concealers. DO NOT buy this one—it's called Tarte Shape Tape Concealer—because when it dries, it has a "white glow" that looks like you've used a neon white concealer. You want to buy the Tarte Shape Tape Ultra Creamy Concealer Correcteur that I reviewed in the "Winners." I love that one.
CLE DE PEAU comes in a stick, but it's very drying. I read it was Jennifer Anniston's favorite concealer. But given her age and the drying issues women over 50 have under our eyes, I have serious doubts it's her favorite unless she was paid to say that.
CHARLOTTE TILBURY's concealer I discarded in a heartbeat. So fast, I can't remember what my issues were with it. This was in the early days of my concealer search and I hadn't thought about keeping them to review and write a blog. I was just searching for myself, not with the intent of sharing it with you.
HAUS is Lady Gaga's makeup line. She has tons of concealer shades, which is a good thing, but like Charlotte Tilbury's, Haus didn't work for me, and I discarded it. I remember nothing else about it.
IT BYE BYE UNDER EYE says it's a full coverage, anti-Aging, waterproof concealer. It comes in a squeeze tube and is very thick and was hard to blend into my skin. I bought 20.0 Medium N, but it turned out to be a very pink color. Since the pink/rose shades will cancel blue undereye areas, I tried it as a corrector, and it did work to cancel the blue. Then I applied the Laura Mercier concealer over it and for a little while, it looked like I'd found a good combination, but it wasn't long before my under-eye area looked patchy, so for that reason, it doesn't make my concealer or corrector Winner's list.
KOSAS REVEALER comes in a tube with a highlighter yellow top. I don't like this concealer because it's too liquidy and slides all over my skin. No matter how long I wait, it never dries down.
NARS RADIANT CREAMY CONCEALER has a regular-size tube and a travel-size, and they have a great selection of shades. I bought the shade, Custard. It's lightweight and creamy, but it gets patchy on me fairly quickly. Two Sephora sales associates told me it was too dry for women over 50 and that it would do that, but I bought it anyway. That said, I've read that lots of women over 50 like it.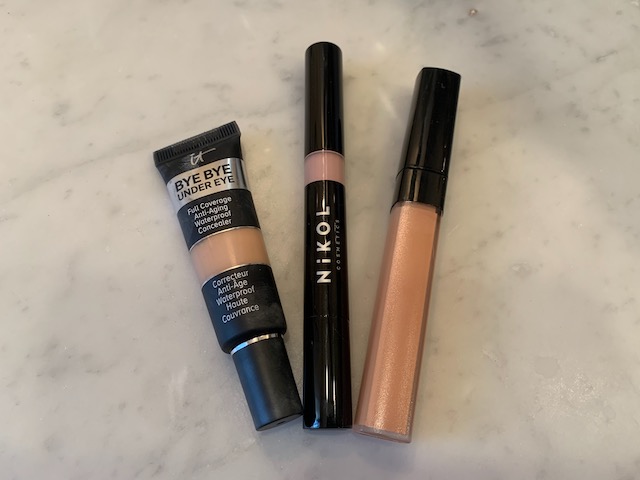 CORRECTORS
LE CORRECTEUR DE CHANEL LONGWEAR COLOUR CORRECTOR: The sales associate at the Chanel counter said you need to apply it, then go on to something else for 10-15 minutes to give it a chance to dry and get "tacky" so your concealer will stick. Since I've already waited that long for my moisturizers to dry down, I don't have that kind of time to do it again. Chanel has three shades that will cover blue under-eye areas: Rose, Peach, and Apricot. The Rose is WAY too light for me. The Apricot is WAY too dark, and the Peach is shockingly dark on my skin, but it does cover the blue under my eyes. Unfortunately, a couple of hours after I've applied a concealer over it, the area under my eyes looks patchy/crusty looking when I use this corrector.
NIKOL LIGHTEN UP CORRECTOR CONCEALER, $24 was one of the first ones I bought. All I remember is it wasn't what I was looking for so I threw it away. It's only since I realized finding the right corrector and concealer were orders of magnitude more difficult than I thought it would be that I started saving them for a blog post. Nikol Cosmetics has lots of other correctors I need to try, because I LOVE a number of their other products, which are all developed for mature skin, so take a look at their website.
I've learned so much about correctors and concealers, including drugstore brands. None of those worked for me so I didn't keep them. I think the biggest problem when evaluating drugstore brands is they don't have testers, so I wound up buying a lot of shades that weren't right for me = $$ + $$ + $$
I hope you've enjoyed my Concealer Reviews and Application Tips for Women Over 50. Let me know what you think. Tell me your favorite brands, and any issues you might have.