We've all heard stories about people who "died in their sleep," but did you know they might have died from sleep apnea? For years I've known I had sleep apnea, but I wasn't motivated to do anything about it until I learned of its deadly impact on the heart. Recently I found an email I sent to a friend in 2017: "I'm fine except for being tired. Think it's sleep apnea, but I'm not going to wear one of those 'silence of the lambs masks.'"
Boy, was that a dumb decision.
If you're like me, you might think sleep apnea simply means you snore. Several people have told me I snore, and on a trip, I woke up to one of my good girlfriends since high school, beating me with a pillow and shouting, "Shut up! You're as bad as my husband!"
Since then, I've learned sleep apnea is a common condition that affects one in four men and one in 10 women. If left undiagnosed and untreated, severe sleep apnea can triple our chances of having a heart attack. It also increases our chances of having Atrial-Fibrillation by twofold, and a lot of people have high blood pressure because of their untreated sleep apnea. If those statistics aren't bad enough, it also raises our chances of having congestive heart failure by almost 60%.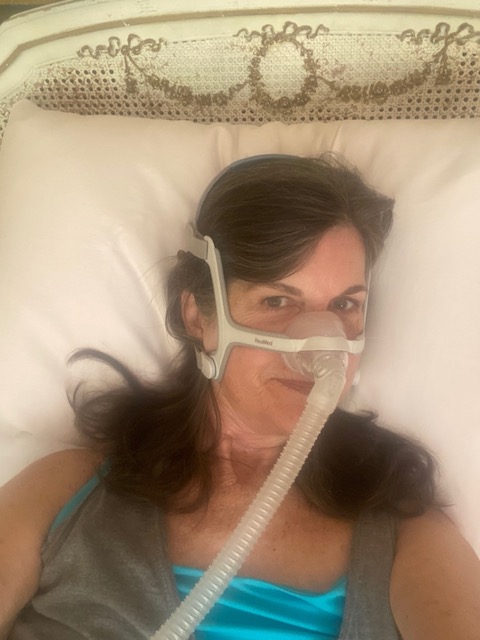 This is a photograph of my darling friend, Elizabeth, wearing her sleep apnea mask. Many of you may know Elizabeth online as the Vintage Contessa, or if you're long-term readers of my blog, you'll remember her as the stranger who invited me to California to have lunch with her in her home, and I went.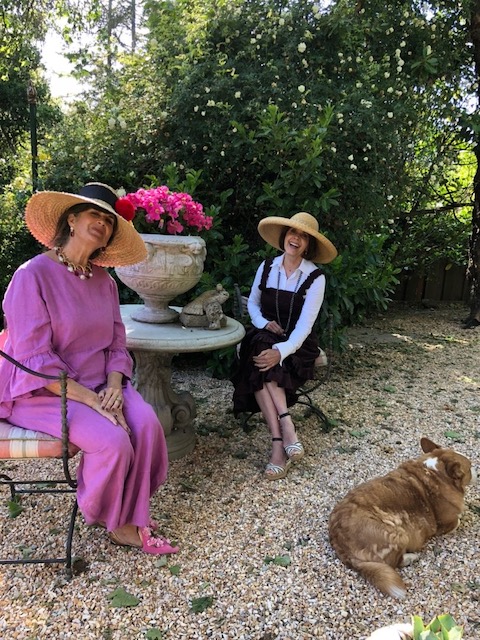 That was five years ago and now we talk almost every week on the phone!
Six months ago, Elizabeth learned she's in heart failure. It's been a terrifying and life-altering diagnosis. She's only 63-years-old!
Recently she was also diagnosed with sleep apnea, and for the last four weeks, she's been using a sleep apnea mask/machine and her quality of sleep and her extreme tiredness–which is part of heart failure–has dramatically improved. Now she sleeps at least eight hours a night and is down to a two-hour nap, or no nap in the afternoon. Before the sleep mask, she took marathon naps and barely had enough energy to get through her day, even with a nap.
Sleep apnea, when properly diagnosed and corrected with a well-fitting sleep mask is a game-changer. You sleep better, your memory is improved, you have more energy, and it could quite possibly save your life.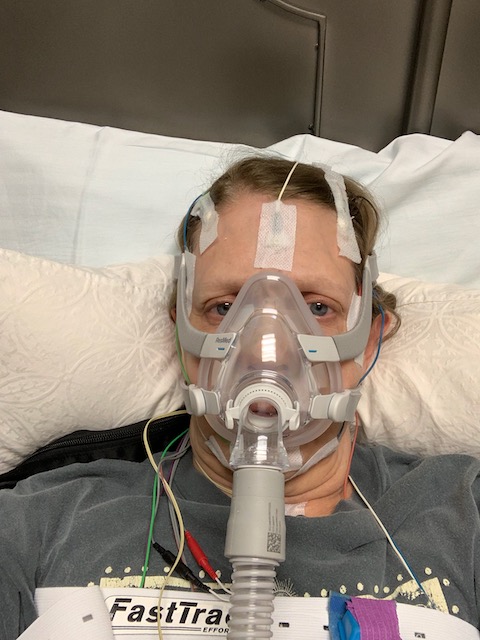 Here's a selfie I took during my recent sleep study. No, my neck normally doesn't have that many fat roles! Hey! It took guts to post this picture! I told Elizabeth compared to mine, hers is a "glamour shot." 
Moments after I took this, I texted it to Elizabeth who had to study it for a while before she believed it was me. I have no makeup on, and I'm uncomfortable with all the wires and the huge mask.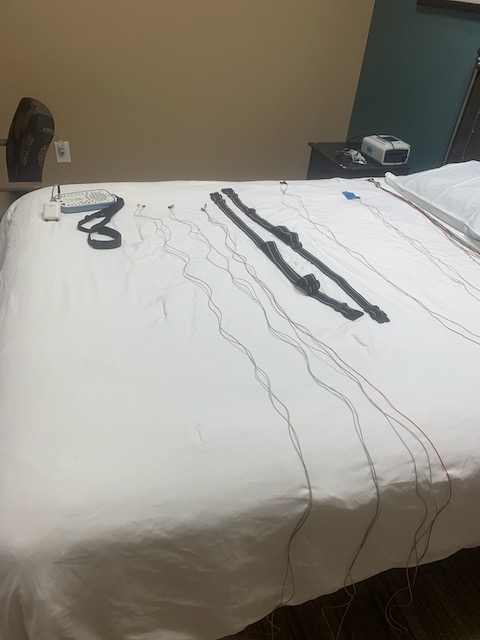 Now, I'm waiting for my next appointment when they'll tell me what type of mask I need to wear. Hopefully, it's smaller like Elizabeth's.
Even if your weight is under control, you exercise regularly, and you think you're too young to die of sleep apnea, think again. We've all thought dying peacefully in our sleep would be a "good way to go," but if we're healthy and vibrant with lots of living ahead of us, wouldn't that be a tragedy?
Sleep apnea can be deadly for women over 50, so if you and/or your spouse snore, or wake up tired, call your doctor and ask them to schedule you for a sleep study. It could save your life.
Sleep apnea is a silent killer.