Even though Covid and flu season are here, I have a couple of US trips on my travel agenda this fall, and other than my N95 mask, I'm thinking about what to wear. Travelling is hard work, and I want to make it as easy as I can which means only packing clothes I know I will wear. No "I'll pack this just in case." Just surefire essentials that will fit into one carryon suitcase and one personal carryon item which is either a tote or a medium size duffle bag.
Here are some suggestions for what to pack that you can also wear on the plane.
If your style is elevated casual, a great way to look pulled together is to keep your travel colors (carryon luggage and tote included) to a minimum with neutral colors like grey, black, navy, brown and white. Not a "Rainbow Brite" mixture of pink, red, yellow, blue and green. On long flights I wear nice-looking, relaxed fit pants with elastic in the waist. Nothing sloppy that looks like you've been working in the yard. I know you don't do that, but we've all seen women who do. On shorter flights, I might wear black pants I can wear again during my trip or Spanx, black, faux leather leggings. They're smart and more upscale looking than fabric leggings, plus they act as a compression garment for our legs when we fly.
Since airports and planes are often cold, and both of my upcoming trips are in parts of the country that don't see extreme weather in the fall, layering makes the most sense, starting with a long sweater or blazer that will cover my backside, especially if I'm wearing leggings.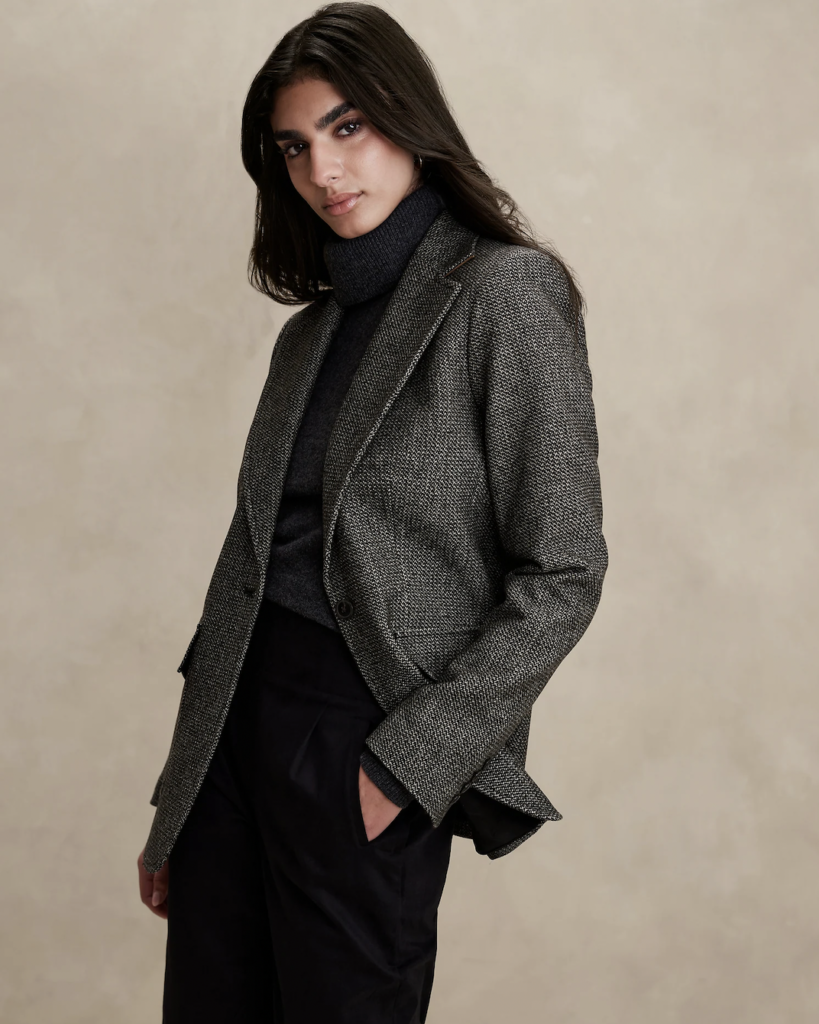 I ordered this longer Palmer Tweed Blazer from Banana Republic. You know how I've fallen in love with the new Banana Republic. Their recent rebranding features the iconic styles and high-quality fabric that have defined the brand since its beginning, 45 years ago.
A wrap or a long duster would also be perfect to wear over pants or leggings. For the flight, I would add a long-sleeved cotton tee or lightweight sweater underneath and a couple of simple, gold, necklaces of varying lengths that TSA won't make you remove. Later you could pair the same outerwear and dark pants or faux leather leggings with a crisp, long-sleeved white shirt. Fold back the cuffs, add a statement necklace, and you have a great look for dinner at a nice restaurant.
The most important piece of our travel wardrobe is shoes. I continue to be amazed at how many women decide to wear their new shoes while they're traveling and wind up with blisters for the rest of the trip.
TIP: If you want to wear your new shoes, make sure you break them in by wearing them around the house with a thick pair of cotton socks every day for a week.
I never thought I'd stop wearing heels or fall in love with low top sneakers (not trainers or tennis shoes), but I've done both, and it's made all the difference in how I think about putting an outfit together. I still want to be fashionable, so my sneakers often have a touch of something that makes them look more elevated as well. I love my white, Ralph Lauren sneakers with a discrete hint of gold.
For my trips this fall, I've ordered this black and white Elliot sneaker from The Office of Angela Scott.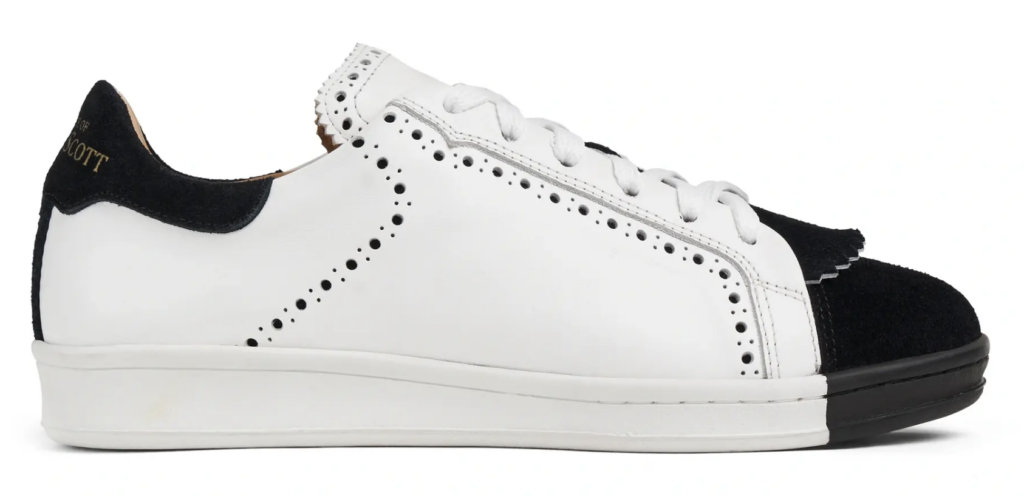 If you don't know this fabulous, elevated, California-based brand then let me introduce you. This shoe makes me think of saddle shoes, and the black areas are suede and the shoes have a removable insole. They also come in rust and white. Their shoes are expensive, but unlike anything else you'll ever find. The Elliot sneaker and the Palmer Tweed Blazer are my only new purchases for the rest of the year, so I can justify it. You've heard me say it before, but quality over quantity is how I've built a great wardrobe over the years.
I'm still wearing classic pieces I bought 30 years ago.
If you want an option other than sneakers, ballet flats are in style. Unfortunately, they don't give me the support I need to keep the bottom of my feet from hurting, but for those of you who can comfortably wear flats, here are some great options.
The last thing you'll need is a sturdy black tote that will fit over the handle of your carryon luggage. Make sure you buy a tote that's lightweight, so it doesn't become a burden when you add a book, your iPad, maybe a makeup case, toiletries, and a small purse.
Happy trails, my friends! I hope this great fall wardrobe for women over 50 was helpful.
FYI, I'm not compensated by any of the brands I mention, however sometimes I receive a small commission on the sale of a few items. Think pennies, not dollars.