There was a time in my life when I lived in jeans. Straight-leg, bell bottoms, and black velvet jeans were staples in my closet. While I weigh about the same as I did then, my body has rearranged itself. Now I'm short-waisted, and my butt has dropped in altitude which means jeans no longer look as good on me as they once did. Last week I went shopping for some spring clothes that didn't include jeans, and I have to tell you, I was wowed by Banana Republic's new line.
Here's a look at what I bought.
Banana Republic has a new designer and new manufacturing sources, and it shows! Their clothes have taken a quantum leap in quality and design since the last time I was there, and the pieces in their new line are so chic and beautiful. They're what I call "elevated casual," and because they're no where as expensive as Ralph Lauren, but close in quality, I predict Banana Republic will give Ralph a run for his money.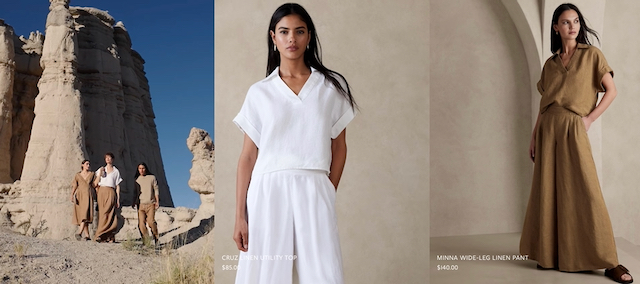 The colors in Banana Republic's new line are ones found in nature, which means they work well with one another, and they're made from cotton and linen—no thin, see-through jersey in highlighter yellow—and their sizes actually make sense. No more wondering whether I'm a size 44, and what is a size 44 anyway? Initially, I took size 10s and 12s into the dressing room, only to discover in the Banana Republic world, I'm still a size 8. I know we're supposed to disregard sizes and shop for clothes based on how they fit, but mentally, a size 44 makes me feel like I'm wearing a bedspread.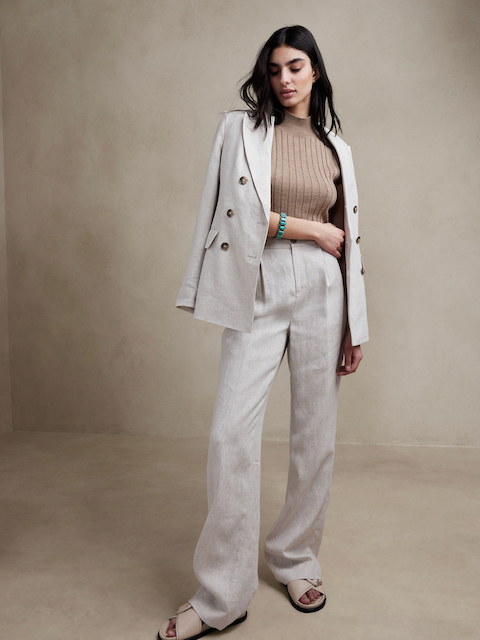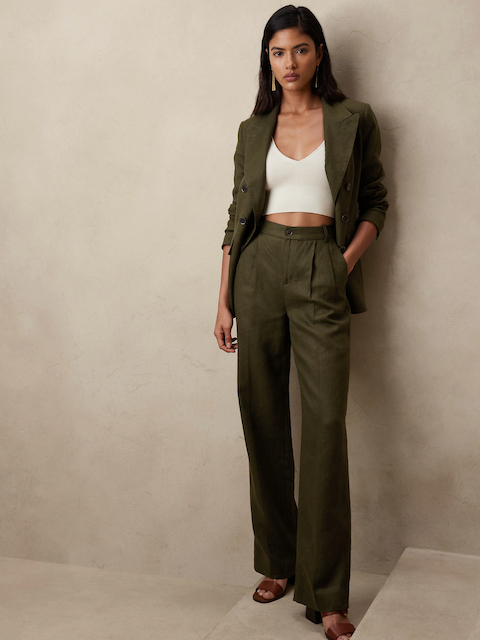 Banana Republics's PALMA WIDE-LEG LINEN PANTS satisfies my desire to wear the wide-leg trend. Over the last year, I've ordered at least ten wide-leg pants—some jeans—from other companies and sent them all back because they made me look frumpy and bigger than I am. A lot of wide-leg pants only look good with some kind of a heel—I can't wear heels anymore—and they aren't cut to flatter our hips and thighs because they have too much fabric in all the wrong places. But this Banana Republic natural linen pant is perfect! It comes in Beige, Camo Green, and Black. I bought them in Black and loved them so much, I bought them online in Camo Green.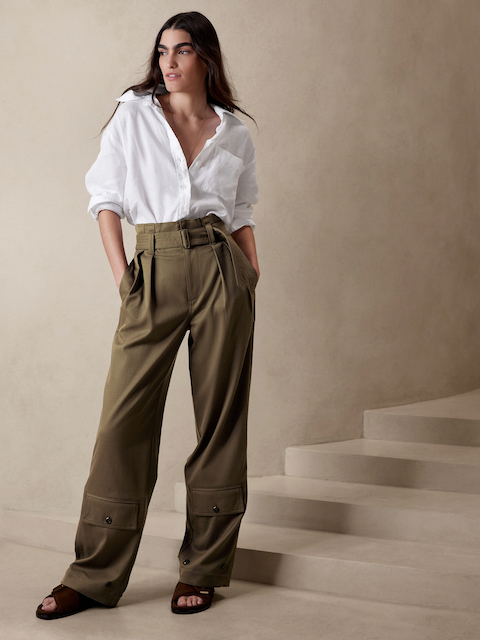 Banana Republic's PAOLA UTILITY PANT is a fresh take on the vintage cargo pants. The color is Olive Green, and I love them. Unless we're tall and very thin, most of us have no business wearing cargo pants, because the pockets on the hips and thighs make us look humongous. But because these pockets are down near the ankle, they're a seamless part of the pants. Brilliant!
TIP: Pleated pants can be very unflattering unless you have a flat stomach and you're tall and thin. These may be the only pair of pleated pants I own, but somehow they work for me.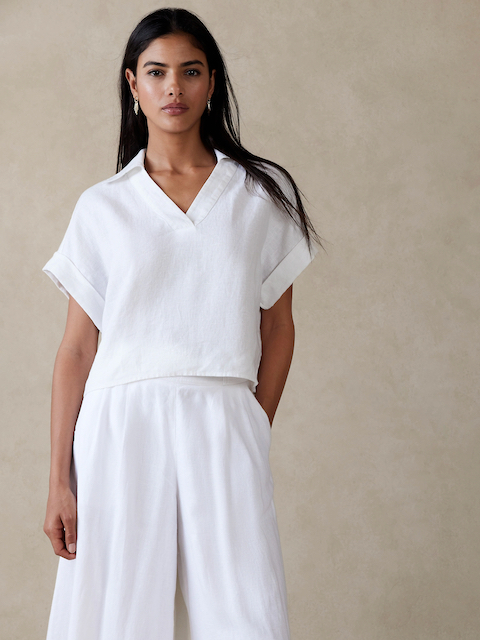 Their CRUZ LINEN UTILITY TOP hits at the waist. I bought one in White and one in Black. It also comes in Buffalo Brown. The White looks so smart with both the PALMA WIDE-LEG LINEN PANTS and the PAOLA UTILITY PANT. The TOP in Buffalo Brown would also look great with either.
TIP: If you want to be in fashion, let your shirt hang out over your waist except for the part in the very center and a few inches to the right of center, and tuck that into your pants. It looks more modern. My mother would have been horrified with this trend. I can hear her now. "Brenda! Surely you're not going out like that. Tuck in your shirt!"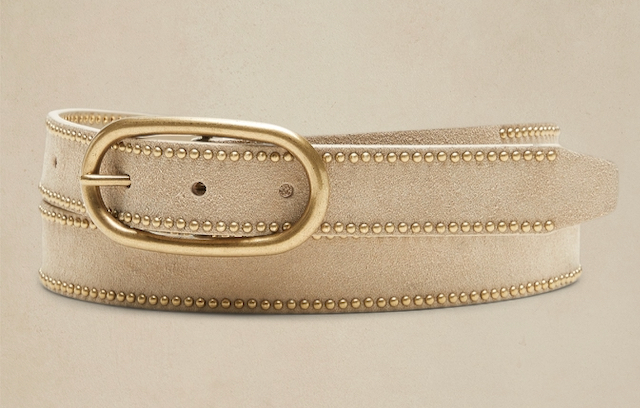 I also bought the DAZE STUDDED SUEDE BELT in Light Tan. It looks great peeking out between the PALMA WIDE-LEG LINEN PANTS and the CRUZ LINEN UTILITY TOP. It's a beautiful belt and the neutral color will go with most anything, and it's on SALE!! I bought the medium and am using the last hole which means if I gain weight, there are 10 more inches of holes to accommodate me.
TIP: Even if your waistline is a lot bigger than you'd like it to be, a belt helps define your waist. It may seem counterintuitive, but without a belt, we look even bigger than we are because we look shapeless. Like we're a big block.
How about a midi or a maxi dress as a welcome change from pants?
Other than my new found love for Banana Republic, my other favorite brand is one I discovered online during Covid: Jenni Kayne. Their fabrics are all-natural, and they look and wear like a million bucks, even the cashmere. Jenni Kayne's maxi and midi dresses can go from casual to dress-up. They look great with sandals, sneakers and espadrilles, and they're a great way to transition your wardrobe into spring and wear through fall.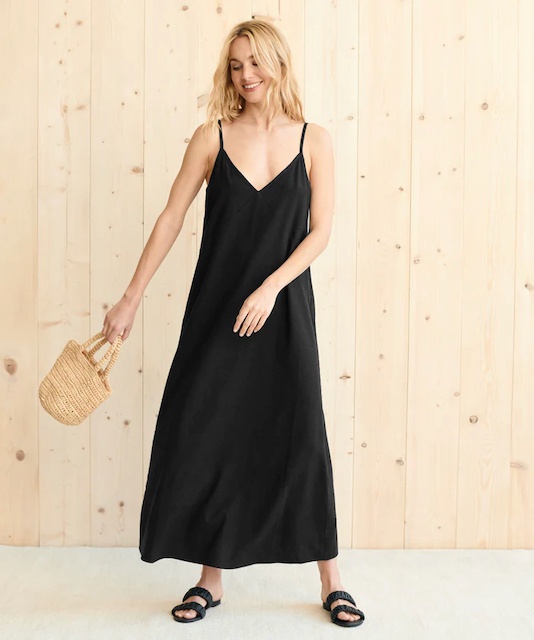 I have two, Jenni Kayne, raw silk (not clingy), ankle-length, RIVIERA SLIP DRESSES. One is in the color Safari, and the other's in a Teal Blue which they no longer offer. They also have one in Black. Since it's more skin than I want to show, I wear them with an all-cotton, shortsleeved, white t-shirt underneath. Add a belt, or not, and some jewelry and you're good to go.
Everything I've purchased is considered expensive, but I buy quality instead of quantity. All of these are classic pieces that will last me for years and years. I'm still wearing things I bought twenty and thirty years ago! And I don't feel bad about buying them because, I haven't updated my wardrobe in six or seven years.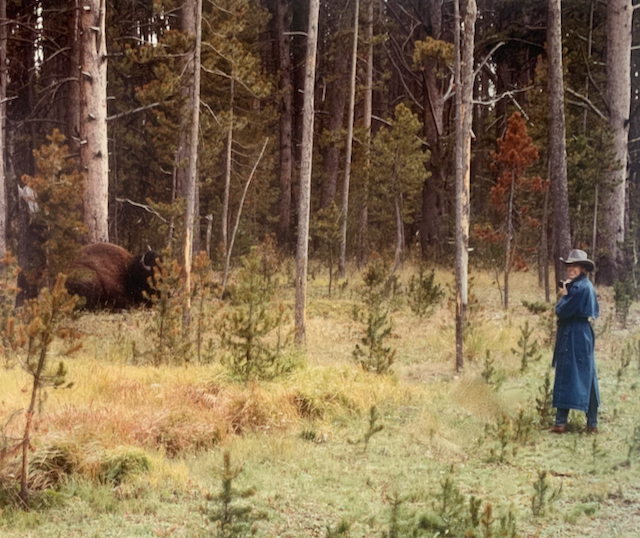 Montana. Photograph by Rob Beach.
In this picture, I was about 35, and I'm wearing jeans, Lucchese cowboy boots, a long denim duster, and a Stetson hat, all of which, except for the jeans, I still wear. You can tell by my expression that I'm having second thoughts about photographing a wild buffalo that up close and personal. Actually it was one of the dumber things I've done, and that's saying a lot.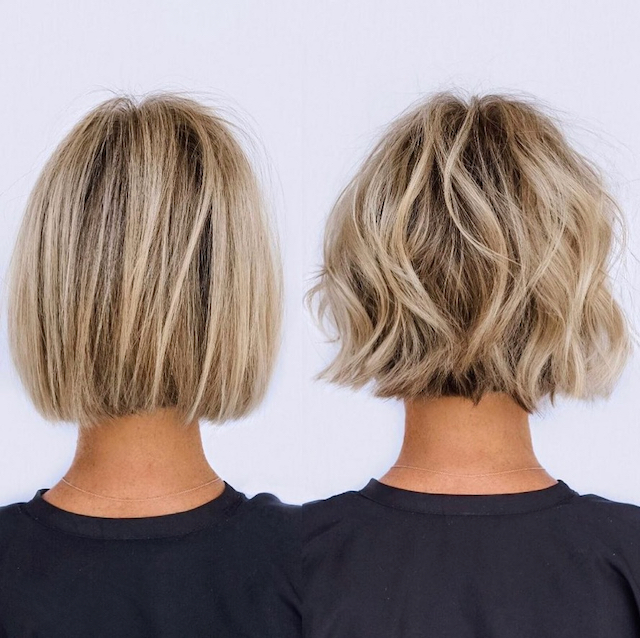 Not me although my haircut is similar to the one on the left. Hair by Chris Jones, Salon Bugatti, The Woodlands, TX
TIP: Modernizing our hairstyle, along with a few new clothes, is the easiest way to look younger because they make us appear "with it" and relevant to the times.
When's the last time you updated your hair or your wardrobe or you bought a new purse?
Here are some ideas for spring and summer purses, sunglasses and comfortable shoes.
Please let me know what you think of my fashion tips and choices. Then hop on over to see what Mary Ann from Classic Casual Home, Cindy Hattersley my Ageless Style partner, Annie from Most Lovely Things, and Eugenia from The Age of Grace have on their Over 50 Fashion Spring and Summer Wish List.