Not everyone decides to follow the same path in life, and that's okay. When many of my high school and college friends were having children and climbing the corporate ladder, I chose to explore the jungles in Mexico and crawl through abandoned silver mines in the Sierra Madre mountains. While I have no regrets, the road I chose made it difficult to make new friends: I had no parent-teacher meetings or soccer games to compare notes, and my potential gal pals couldn't identify with being an adrenaline junkie.
Last week I saw a list on Facebook, and the instructions were to put a check mark beside the things you've done like had kids, been to Disneyland and sung in a choir. The list underscored how different my life has been from almost everyone I know. It also prompted me to put together a list of my own.
My list may give you an insight into why I've written a memoir.
First, I'll show you the list on Facebook. The person who posted it said, "I have 40 Xs out of 59. How many do you have?"
I've put an X beside the ones I've done.
Been married X
Been divorced X
Fell in love X
Been to Radio City Music Hall
Been to Disney World
Been to Disney Land
Skipped school X
Watched someone give birth
Watched someone die X
Been to Canada X
Ridden in an ambulance X
Been to Hawaii
Been to Europe X
Been to Las Vegas X
Been to Washington DC X
Been to Texas X
Visited Florida X
Visited Mexico X
Seen the Grand Canyon in person X
Flown in a helicopter X
Been on a cruise X
Dinner cruise
Served on a jury X
Danced in the rain X
Been to California X
Been to New York X
Played in band/orchestra in school
Sang in the school choir
Sang karaoke
Laughed so much you cried X
Laughed so hard you peed X
Caught a snowflake on your tongue X
Had children
Had a pet X
Been sledding on a big hill
Been downhill skiing X
Been water skiing X
Rode on a motorcycle X
Traveled to all 50 states
Jumped out of a plane
Been to a drive-in movie X
Rode an elephant
Rode a horse X
Been on TV X
Been in the newspaper X
Been on the radio X
Stayed in the hospital X
Donated blood X
Gotten a piercing X
Gotten a tattoo
Driven a stick shift vehicle X
Been scuba diving X
Been snorkeling X
Lived on your own X
Ridden in the back of a police car X
Gotten a speeding ticket X
Broken a bone️ X
Gotten stitches X
Traveled alone X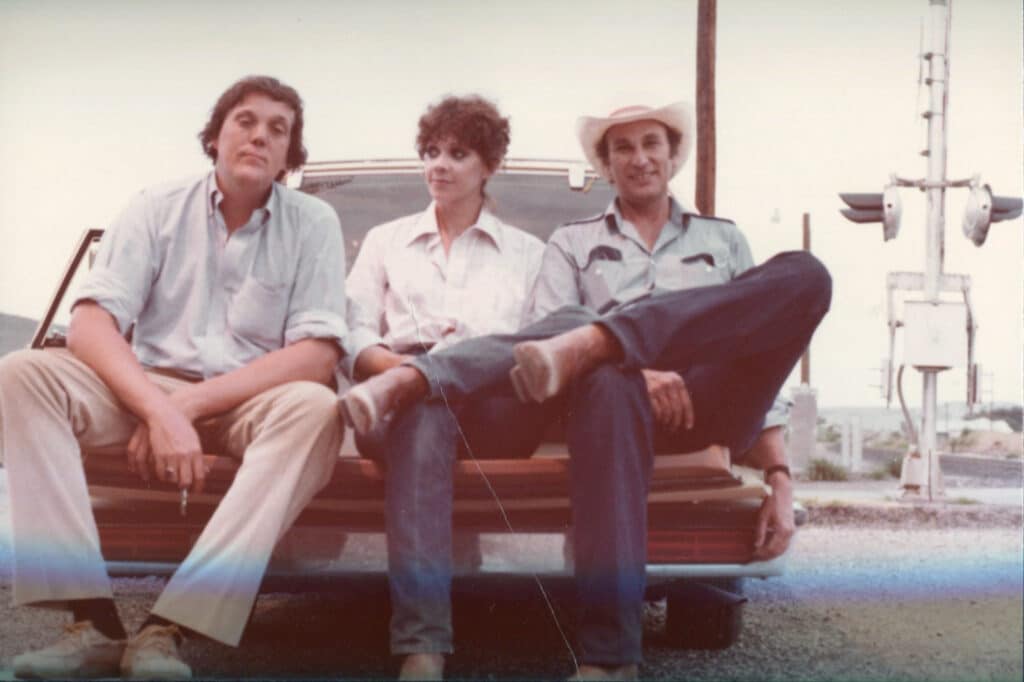 Left to right: One of my oldest and dearest friends, me in my early 20's, and my husband. We'd just survived looking for treasure in the mountains of Mexico. Usually minerals and crystals, but sometimes Maya artifacts. You can tell how scuffed our boots are. I still had Diana Ross hair, but here I'd pinned it up in the back.
Now here's my personal list. I've done them all.
Been widowed twice X
Nearly strangled to death X
Tethered to the outside of a helicopter inflight X
Had an illegal abortion X
Saw six Dallas Cowboys naked X
Stalked for two days by the head of the Mexican FBI and his goons X
Raced Porsches for nine years X
Jumped out of a second story window X
Been alone in a room for two days with a serial killer X
Driven and fired an M-1 tank X
Had cancer X
Kidnapped in another country while traveling alone X
Good friends with a madam X
Flown in a sail plane X
Parented your parent until the day they died X
Did a cable-arrested landing and catapult takeoff from an aircraft carrier X
Traveled to another country, alone, to see the Rolling Stones X
Hacked through three-canopy jungles with a machete X
Flown in a stunt plane X
Fell 150 yards down a mountain X
Watch two men in another country put a dead body in the trunk of a car X
Watch three policemen carry a stiff dead body through an airport in another country X
Submerged to the bottom of the ocean in a nuclear submarine X
Stripped searched by Swiss customs X
Toured a Mexican prison while a prisoner masturbates in front of you X
Followed from one shopping mall to another by a man you didn't know X
Flown an Air Force fighter jet X
Sat in front seat of super-secret SR-71 spy plane 20 minutes before it took off X
Had a wheel and tire come off the car you're driving at 70 mph on the freeway X
Chased in two different countries by men wielding butcher knives X
Secretly ran a high-tech company in Silicon Valley X
Translated Russian and French scientific papers into English X
Had a bodyguard at two separate times in your life X
Had your BD present dropped out of an airplane, dangling from a parachute X
Trapped in the eye of a hurricane with a Mayan medicine man in his hut X
Slept under a dead squirrel that dripped blood on your forehead X
Singlehandedly did a hostile takeover of a public company in five days X
Flown on the Concorde X
Written a book X
Had sex in Albert Einstein's closet X
And I sometimes wonder why I feel like I don't fit in…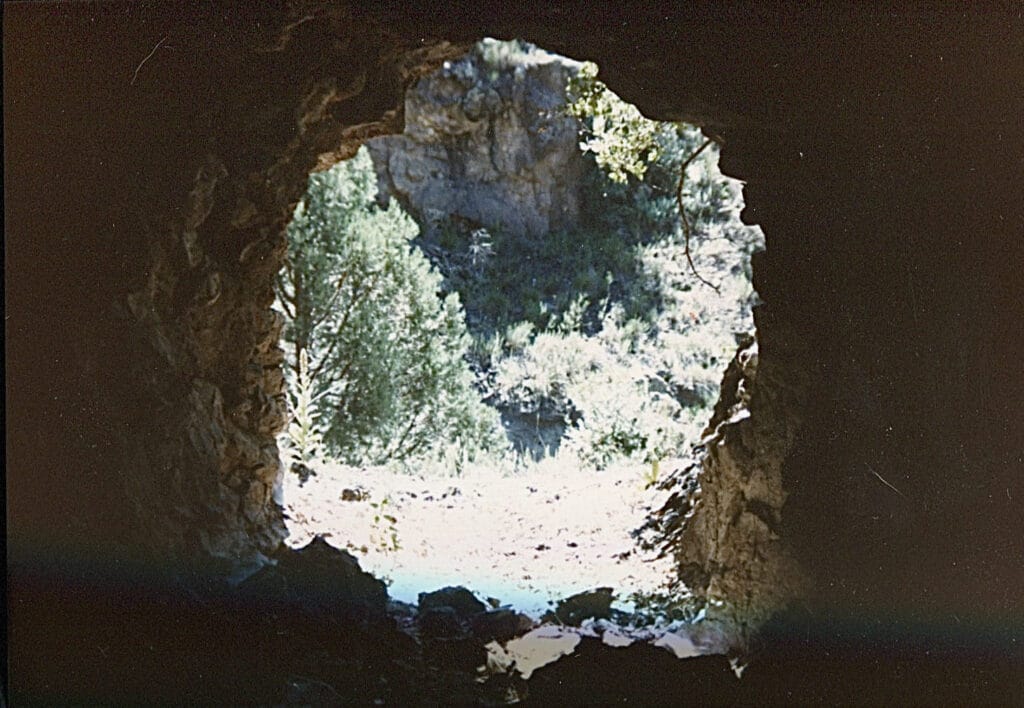 Looking for quartz crystals, I wandered off on my own and started feeling woozy. I took shelter out of the sun in this mineshaft but kept "greying out." I knew my friend and my husband would never find me, so I fought hard to stay conscious and crawled out. Never made that stupid mistake again.
Don't ask me to list the things I wish I hadn't done, because I can't. For starters, I don't dwell on regrets, plus if I changed even one thing—good or bad—my life might be very different now, and I'm thankful to be here. I'm thankful to be anywhere!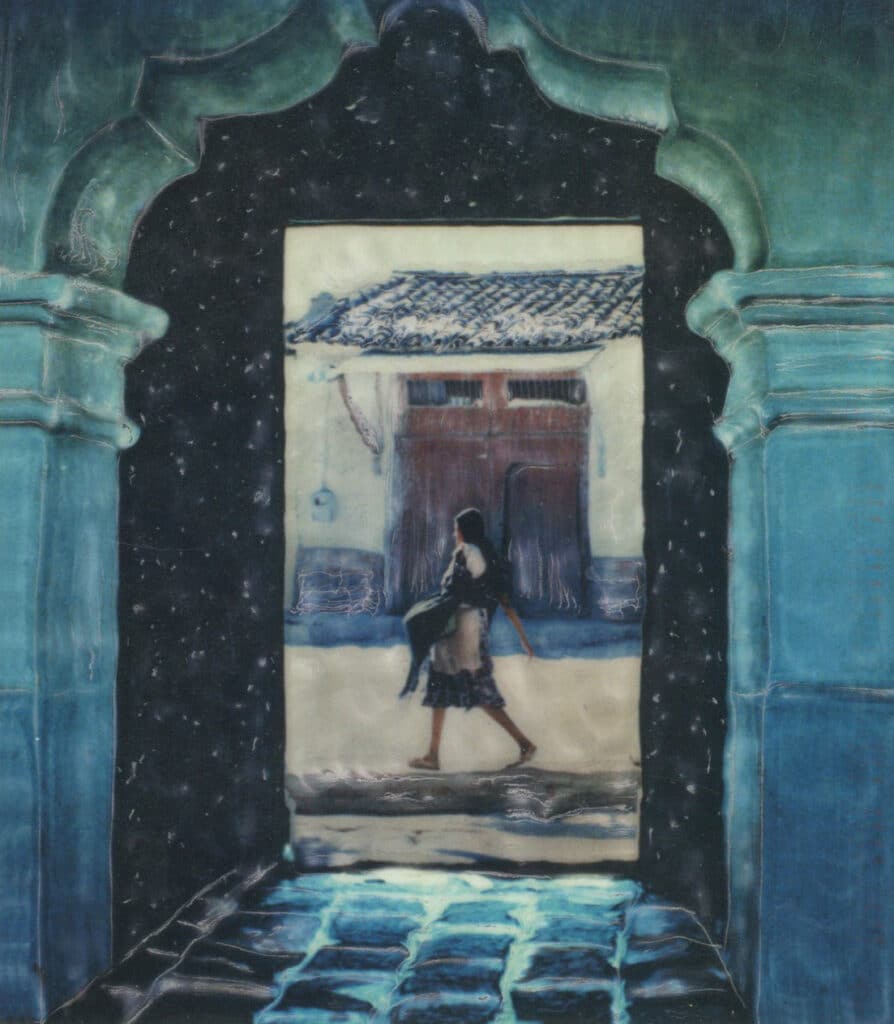 I was standing inside a doorway in Mitla, Mexico. I loved how the light hit the pillars, the arches and the tiles on the floor. My original photograph was a 35mm slide I projected onto SX-70 Polaroid film and then manipulated the emulsion with tiny tools until I got the effect I wanted. I loved working with Polaroids.
Except for a small, tightknit group of friends—most people know very little about my life. If you're long-term readers of my blog, then you know more than most. Truth be told, I haven't included everything in the list I just gave you. Far from it. I had to save something for my memoir.
In case you're wondering about my book, here's a status report:
I've had input on my manuscript from several pairs of "fresh eyes" and a well-known NYC book editor who specializes in memoirs. She made suggestions—I've taken to heart—and I've deleted one chapter and written five more. Two weeks ago she read it again and now, over the holidays, I need to step away from blogging to work on it once more. Writing a book and a book proposal is a long tedious process, but the finish line is in sight. Hang in there with me, friends! I'll be back. Remember… This book is for you. It's what you asked me to write.
Are there things you wish you'd done in life? If so, what's stopping you from doing them now?