Has it been a hot and humid summer where you live? I've been tempted to go without underwear, or much of anything else for that matter, but don't want to add "nudist" and maybe a mugshot to my resume. Just the thought of wearing a bra with elastic, underwires and clasps gives me the vapors.
At least girdles and corsets aren't in fashion anymore!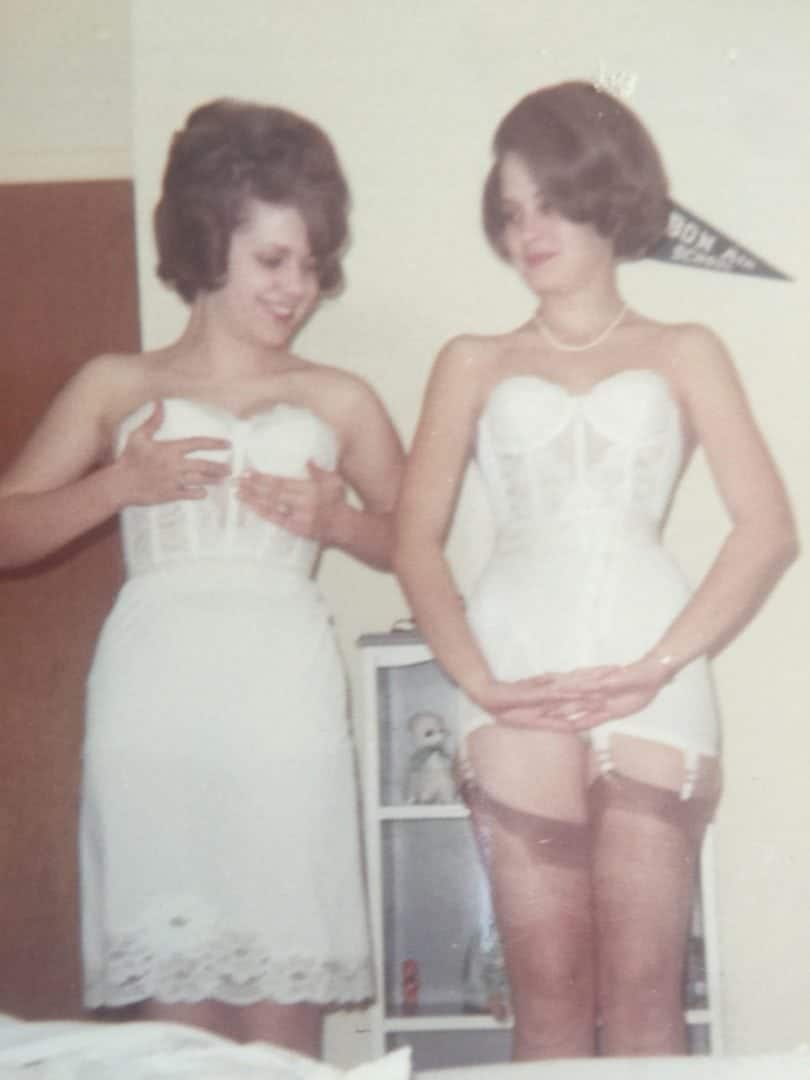 That wasn't the case when I was in high school. You might recognize my prom hairdo on the left from a previous blog. At least my girlfriend, Gayle, had a hairstyle that resembled chic! Isn't she pretty? This after prom photo was taken by our other best girlfriend, Lee, who also had cute, normal hair that night.
Back to summer underwear… Instead of a bra, I've been wearing a Spanx, Thinstincts™ Convertible Cami. It's breathable and made from a wicking, absorbent, fine-gauge microfiber with thin straps and the ability to corral, yet not compress your breasts. It's cool and comfortable, like I'm not wearing anything.
It's the ultimate piece of underwear because it also smooths out your muffin tops!
My other favorite piece of underwear are panties that have a no-show fit under your most body-hugging clothes. They have thin, almost invisible strips that makes them stay put–no rolling or riding up your backside–plus they hit at the waist.
Speaking of panties and backsides, other than when it's time to ratchet up your sex appeal, does anyone our age wear thongs on a daily basis? They're uncomfortable and just the thought of a thin strip being wedged along a part of my body that may not always be sparkling clean gives me the heebie-jeebies. A few weeks ago I saw two young women at the airport obviously wearing thongs. One was way-y-y-y overweight and wearing a clingy skirt. When she walked, it looked like two little kids fighting under a sheet of cling wrap. Very cheap and tacky looking, but if it was attention she was seeking, she got it.
For those who need a bra but want more comfort and support but not something hot and confining, here's a great alternative. the Bra-lleujah! Bralette. These are all by Spanx. The Bra-llelujah has no metal hardware or elastic and the "smart" stretch straps and back mold to your body for a comfortable fit.
Stay cool, honey bunnies!