My recent "Invitation to the Rest of Your Life Trip" in Tuscany wasn't what any of us expected—not me or the ladies who joined me. No one could have foreseen that early the morning of day three, I would get horribly sick at the villa, unable to be more than ten feet away from the bathroom, but that was only the beginning.
I wound up being taken to a hospital in Florence, Italy, and eventually returning to the U.S. with the aid of wheelchairs at each of the airports.
There's nothing obvious that caused my system to unravel the way it did. The doctor who was called to the villa said it could be viral and I might be contagious, although, with explosive, uncontrollable diarrhea, no one had to worry about me being around other people. He wrote four prescriptions—none of which began to help, even moderately, until three days later.
By the last day of our trip, I was weak, I'd had a rapid heartbeat for days, and I felt like I was dealing with more than diarrhea. When I called my doctor at home, he guessed that aside from whatever got me, I'd probably lost eight liters of water plus electrolytes. He urged me to check myself into a hospital in Florence.
I was taken by ambulance to the 'oldest still functioning hospital in the world,' Santa Maria, Nuova. Built in 1288, it's the hospital where they take indigents, people off the street, and old people without means who are near death, and I can attest to this because they were all around me.
The hospital staff had no sense of urgency, and after they checked me in, they left me on a gurney in the hallway for three hours while I tried not to pass out. To their credit, they did a scan of my abdomen, an EKG, a Covid test, and some blood tests. In between each of the nurse's five attempts to find a vein, he would pause to eat another chocolate truffle, and no, he didn't wash his hands, and he wasn't wearing gloves.
A few years ago a girlfriend was taken by ambulance to the same hospital in Florence for a different reason. Her scary experience there was almost identical to mine, and as I was lying on a gurney in the hallway for three hours, being totally ignored, she texted, "Same ambulance? Same hallway? Same gurney?" Thank goodness for friends with a sense of humor!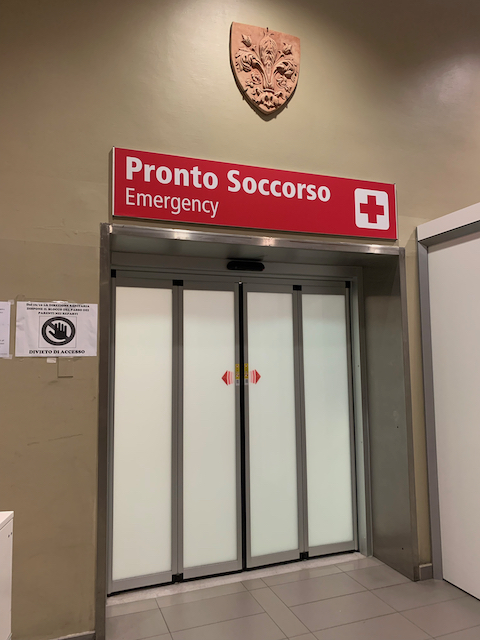 After five hours, they began giving me IV fluids, and when I left, I was given four more prescriptions—two were different antibiotics—and told I couldn't leave Florence for four days and I couldn't walk around the city. I stayed in bed and ate bread, bananas, and potatoes, and drank two liters of water a day. That's when my esophagus started spasming… I'll spare you.
Once home, I saw my doctor who gave me two more prescriptions: a potassium supplement to replace what I'd lost and another for the esophagus. The bread, potatoes, and bananas continued for another week and even now, 27 days out from my initial problem, I'm unable to resume a normal diet until June 15. My doctor also said I shouldn't be surprised if four to six months from now, I lose some of my hair. So far, I've lost eight pounds. I don't remember ever being this sick, and to go through much of it alone, in another country where you don't speak the language… I wouldn't wish this on anyone.
While the trip didn't go as anyone hoped, the nine ladies traveled to the places on the itinerary. They shopped and ate pasta and bonded and formed genuine friendships with one another, and for that, I'm glad. I was the common denominator that brought them all together, but in the end, I'm sad to say I was the outsider.