Once again, I'm joining my friend, Cindy Hattersley, as we each interview a different woman for our monthly Ageless Style series. You'll find the link to Cindy's blog at the end of my post. I love interviewing women with varied personal styles, and I think you'll enjoy today's featured woman.
Known for reviving the art of couture linens for everyday use, Jane Scott Hodges has been called "the empress of the monogram." Even though she's a traditionalist, she incorporates bold modern elements, and her contemporary custom linens and oversized monograms are washable and come in a variety of vibrant colors. Like many southern women, she has two first names—Jane Scott—and she's fun and bubbly and full of great ideas.
Jane Scott Hodges and I caught up with one another while she was driving through Mississippi on her way to see Wynonna Judd in concert.
When she first began her business, Jane Scott Hodges sold embroidered linens out of her home which at the time, was a little cottage on Leontine Street in New Orleans. Now Leontine Linens is a favorite of Martha Stewart, and Oprah, and they're often featured in magazines and designer showhomes around the country.
BRENDA: You have so much class and style. We only met that day at Deb Shriver's for lunch, but I follow you on Instagram and am totally inspired by you.
JANE SCOTT: Thank you, Brenda. That's high praise indeed.
BRENDA: How would you describe your style of dress?
Photograph by Sarah Rau
JANE SCOTT: Oh golly. I dressed like a forty-year-old when I was twenty… I was always a little mature in my taste, but I also think Mother, who just passed away in February, thought it was important to invest in clothes or buy new things, something really beautiful or special… I guess my style is sophisticated. I wear a lot of color and that's that inner joy I try to bring across. I do credit Laura Vinroot Poole (owns Capitol boutiques) for helping me dress in a sophisticated but modern way.
BRENDA: You favor color and print and bold accessories.
JANE SCOTT: I'm all about mixing the pattern, and this is how I've evolved with table linens. LOL! I guess we'll always go back and forth to linens. It's all about mixing a J. Crew jacket with a Saint Laurent blouse.
BRENDA: What are you going to wear to the Wynonna Judd concert?
JANE SCOTT: Great question! We've all (she and her girlfriends) been joking about bedazzlers and sequins… I'm going to wear this really amazing Porter Waggoneresq….
BRENDA: (Laughing hysterically because I can't imagine Jane Scott wearing a Porter Waggoner-kind of outfit.)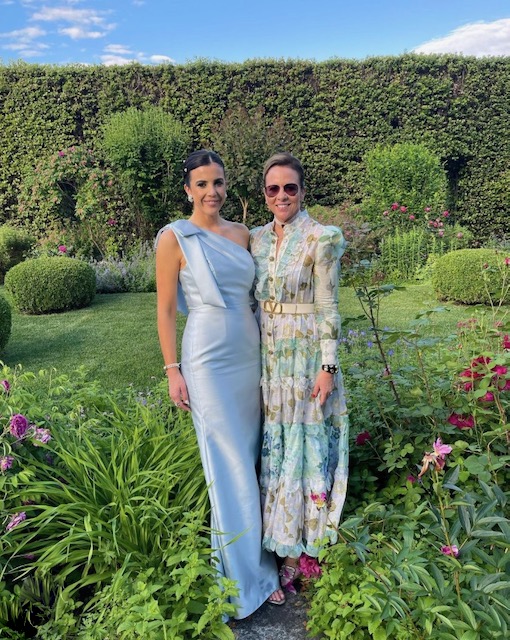 Jane Scott and her daughter, Tally
JANE SCOTT: Actually it's a Tory Burch blazer. About four years ago, Tally and I did a photoshoot with Tory Burch one Christmas for an interview on her blog. I didn't end up wearing it at the shoot, but it's this black and white jacket, and it's kind of Porter-Wagoner-looking and has buttons… I couldn't find my black and white cowboy boots, but I have these orangey suede boots, and I'm like, let's just go all in here. It's all good.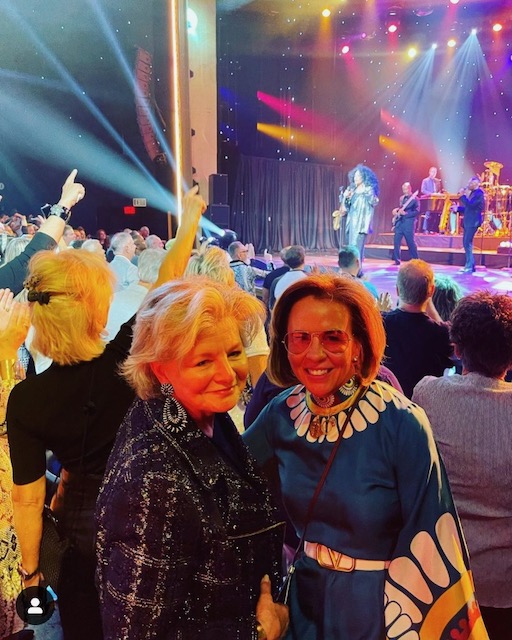 BRENDA: I love the photo of you and Charlotte (Moss) at Diana Ross's concert in Vegas. Before Covid, I went to the Wynn to see her as well.
JANE SCOTT: Charlotte said everyone has to wear color, it has to be bright, and you have to look fabulous. Well, guess who was the only person who obeyed this rule? Me. The dress I wore I picked up in Milan this summer at the DoubleJ. And Diana Ross, she changed clothes six times.
BRENDA: In a blink.
JANE SCOTT: Yes, in a blink, and she's 78 years old. She's such a beautiful human. I love learning about these women. Who Diana Ross was, what she was up against, who she became. And… you think about the time period she came up in and her age, and she's still out there, doing it.
BRENDA: Do you shop online?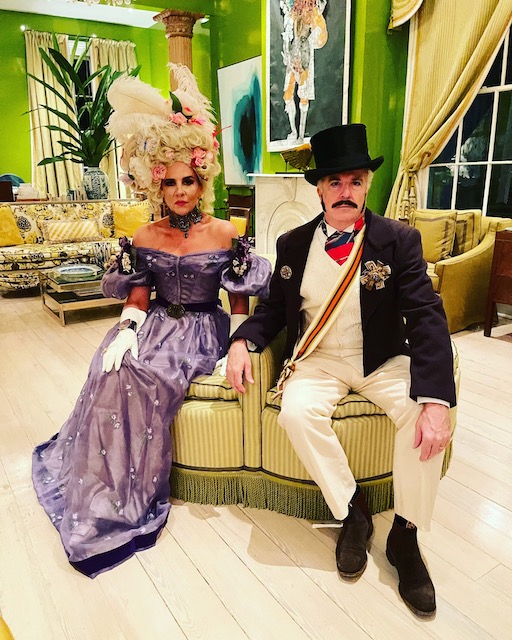 Jane Scott and her husband, Philip, dressed for a friend's costume birthday party.
JANE SCOTT: I don't buy much clothing online. I try to shop the brands of friends. One of my friends in New Orleans, her store Sosusu is down the street from mine. I really enjoy shopping with her. And Sue Sartor has the coveted, handmade, Sue Sartor Flounce Dress. It is your travel ready, four seasons workhorse dress.
I have a unique way of putting things together, and I think that has contributed a little bit to my success in my business. Now I buy things I'm really attracted to, and I'm trying to be really careful about loading the closet with things I don't want to hold onto for a long time. It's like my mother said, buy investment pieces, and I'll enjoy wearing them years from now… Dresses that have some tailored detail that makes you know there's something special about that garment… Now, I find myself drifting a lot to Zimmerman.
Jane Scott suggests dressing your table as you dress yourself. The fun is in the mix!
BRENDA: What about Ulla Johnson?
JANE SCOTT: I love Ulla. I have a lot of her clothes.
BRENDA: You have great accessories, and you wear silver cuffs a lot.
JANE SCOTT: Yes. My arm has grown around these things, so it's a problem. They're from my friend, Jody Candrian. And I love these Fairchild Baldwin chokers. Roberta Roller Rabbit has some great-looking jewelry. I love your blog because you're sharing all these fun resources instead of keeping them to yourself.
BRENDA: Thank you. In the spring I'm taking eight women to Tuscany. I have a friend there who collects museum-quality cameos and remakes them into contemporary necklaces and jewelry. I think you'd really like them. She and her sister-in-law, who makes these gorgeous kimonos and dusters, are doing a private trunk show for us.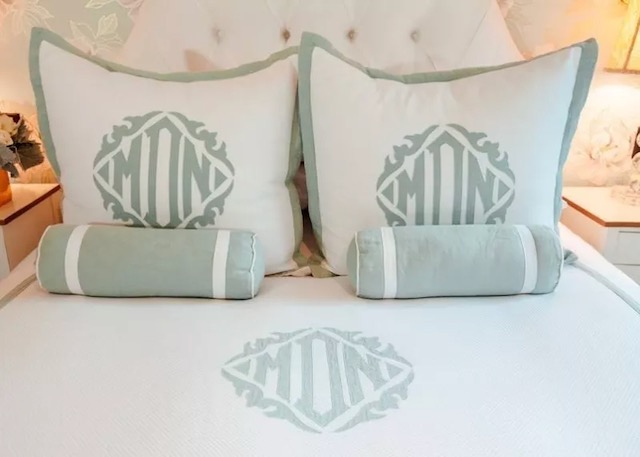 JANE SCOTT: Kimonos, kaftans… If I buy one more kaftan, I'm going to end up in divorce court. The kaftan addiction is real, isn't it?
BRENDA: I have only one kaftan.
JANE SCOTT: You're not channeling your inner Mrs. Roper from Three's Company with the necklace and the earrings, the kaftan, and the cocktail?
BRENDA: LOL! No.
JANE SCOTT: I only wore pants in my 20s, 30s, and 40s, to the point I was known for that… I don't know who to credit for turning me on to dresses, but what I love about dresses is that I don't have to think about it. Grab a great belt, a choker, and a cuff, and I'm out the door.
BRENDA: There's a photo of you on your website, wearing a beautiful blue dress. It looks like it's cutout lace work.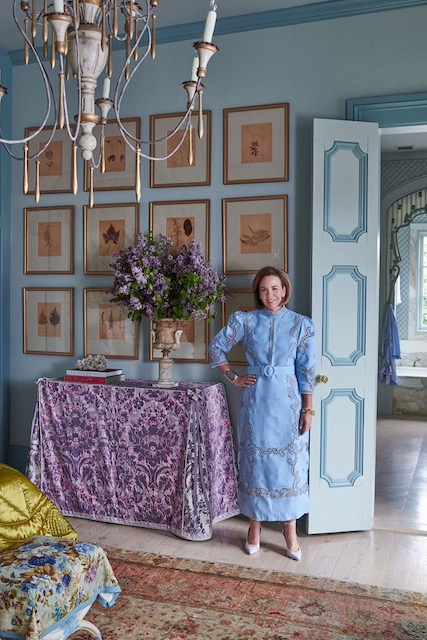 Veranda Magazine photograph by Alison Gootee
JANE SCOTT: It was a photoshoot of my bedroom for Veranda… I think the dress is from Costarellos, and I got it from Sosusu boutique in New Orleans. And I saw the lavender shoes. They're Mansur Gavriel.
BRENDA: From the photograph, it looks like they have an ankle tie.
JANE SCOTT: They did, until I wore them to a wedding and they got a little muddy. I took them to the cobbler and they bleached them out. I could have died, but they made wonderful memories. They had a good darn time at that wedding, and they were in the photo shoot. Everything has its place at the time. People say, 'Oh if I buy a dozen napkins, what if people get red wine or lipstick on them?' And I say, 'What if they do? You can wash them.'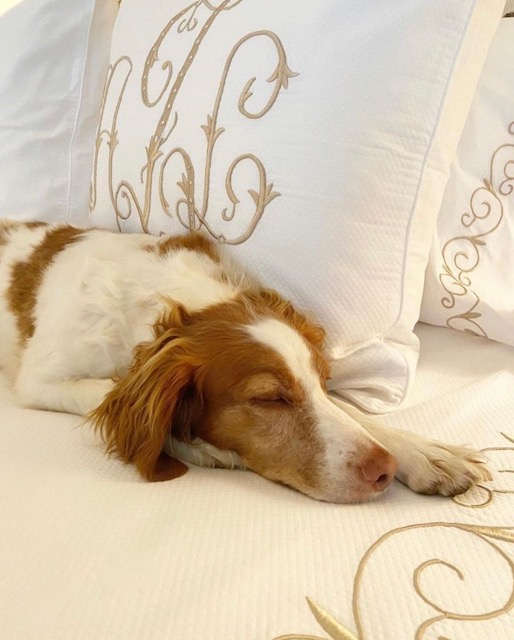 Aerin Lauder's pup on her Leontine bed linens
BRENDA: Your linens are meant to be practical for today's reality of muddy pawprints and spilled cocktails. I love that because I live with muddy pawprints, and I haven't gotten any new bed linens for that very reason.
JANE SCOTT: That makes me think about china. What is everyday china? That's so dumb. Why aren't we using the china we want to use? What are we waiting for? And the same with your bed linens. Let's be honest. Everybody's dog sleeps in their bed. So you're not going to have nice sheets because your dog sleeps in your bed? Same with the coverlets and the shams we make. They're totally washable. You can't destroy them. We should appreciate the things we have, or are passed down, or we create because if we don't, we're not creating memories for the people we love and spend time with.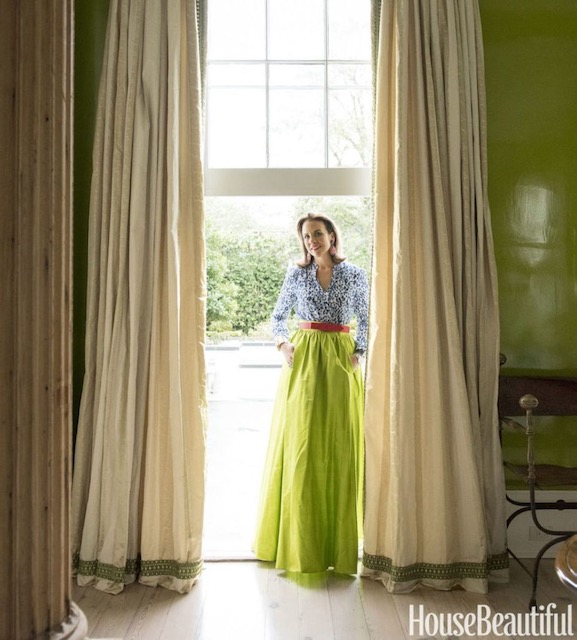 BRENDA: What are you waiting for? That's my philosophy about everything except my bedlinens so perhaps I need to make some adjustments. You have so many beautiful things. What is your definition of luxury?
JANE SCOTT: I don't want to be corny, but luxury is being around people who love you and you love. Luxury is time. Taking the time to do things we don't think we can do. Every moment is the gift we've been given.
BRENDA: I think you have to be a certain age before you really understand that.
JANE SCOTT: I love what you're doing, your empowerment. I love you sharing all of us girls because we get to share all of our moments and special traits that make us who we are, and most importantly, we get to help each other along the way.
BRENDA: Thank you, Jane Scott. This was such fun!
Jane Scott Hodges will inspire you to take a look at the way you live and entertain. Leontine Linens' showroom is located in New Orleans, at 3806 Magazine Street, Suite 3. Stop by and see all of her pretty things, or you can call the store at (504)899-7833 to start the creative process of designing your own custom linens.
Do you wear dresses and lots of color? I would love to hear about it. Now let's pop over to Cindy Hattersley's site and see who she's interviewing this week!