This month my friend, Cindy Hattersley and I are each doing another Ageless Style interview. You'll find the link to Cindy's blog at the end of my post.
If you're a regular reader of Brenda's Blog, most of the photographs you've seen of me were taken by Jennifer Denton. Jennifer is one of the country's top portrait and brand photographers working today. Together, we've traveled from one end of the country to the other while I've interviewed a host of amazing women, and Jennifer has photographed them all. And in the process, we've had a blast.
Please meet my dear friend, Jennifer Denton.
BRENDA: How would you describe your style?
JENNIFER: Classic and a little romantic with a splash of edge. It's evolved over the years, even since you and I first met and then (years later) after we started working together. I was 42 years old when I first went to New York with you to do a photo session for 1010ParkPlace, and I remember being so inspired. Now I'm 50, and I like things that are agelessly stylish, classic, and fun.
You've inspired me, Brenda, because I've learned we need to have things in our closets that are a little decadent and luxurious.
I think it's better to have fewer pieces, and we need to have things that make us feel amazing. As I've gotten older, that's been my goal. I want the fabrics to feel great against my skin, and I've learned to embrace the way my body architecture has changed over the last ten years.
BRENDA: It's hard for most of us to embrace those changes.
JENNIFER: It goes against our culture. I was shopping for formal gowns to take on a cruise with some girlfriends, and I bought some things that enhance the way my figure has become curvier as I've gotten older, and my daughter said, "Mom, that's my favorite dress I've ever seen on you. I'm proud of you for embracing the curves you have instead of clinging to the 80s supermodel silhouette you used to have." I thought that was the coolest thing.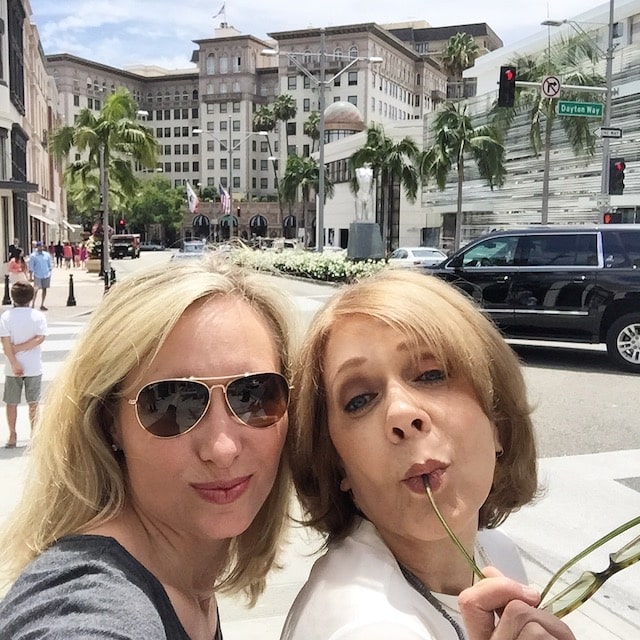 Jennifer and Brenda, Rodeo Drive, Beverly Hills.
BRENDA: Very insightful.
JENNIFER: She's been coming of age under our wings—yours and mine and other women—and she has a healthier understanding than most girls her age. From the time she was 12 or 13, I taught her all the things I was inspired by on my trips to New York with you. Like when we were in Kelly Hoey's apartment and she had a sign that said, "Life is short. Buy the shoes. Use the china." In fact, you and I had a life is short moment, together.
BRENDA: An edgy moment for you as well.
JENNIFER: I was thinking about that this morning. You and I walked into Burberry on Rodeo Drive in Beverly Hills. I'd never purchased anything that expensive to put on my body. Most women would go in there and buy an incredible pair of black pumps they would get a lot of wear out of, but that's not the way we went, and it was influenced by a number of factors. We looked at those crazy high-heeled…
BRENDA: Cage booties.
JENNIFER: Yes, cage booties. I've probably worn them a handful of times, but I've never once regretted buying them because every time I see them in my closet, they bring me a lot of joy. I feel like an Amazon when I put them on, in all the right ways. I walked all over Beverly Hills in those shoes that day.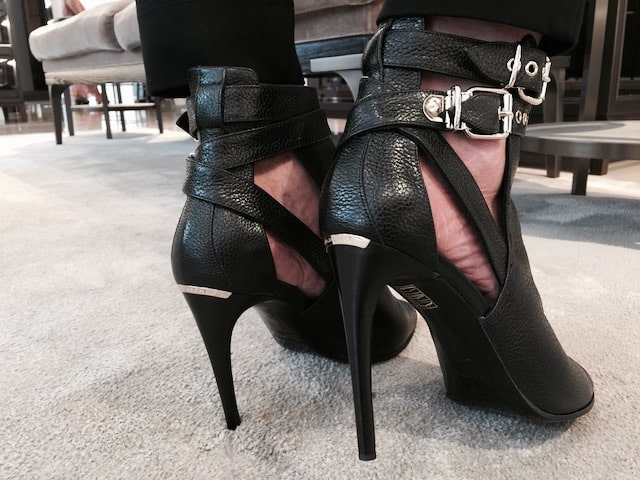 BRENDA: I remember because my tall high heel days were already behind me. You were standing in those fabulous shoes, looking like this goddess-slash-amazon, and you asked me to take a picture of the shoes. I think you'd decided to buy them, but just in case, you wanted to document them, so I lay down on the floor and did a closeup of them. When I raised my head, the salesman was looking at me like, "What the?" I wanted to say, "We're photographers!"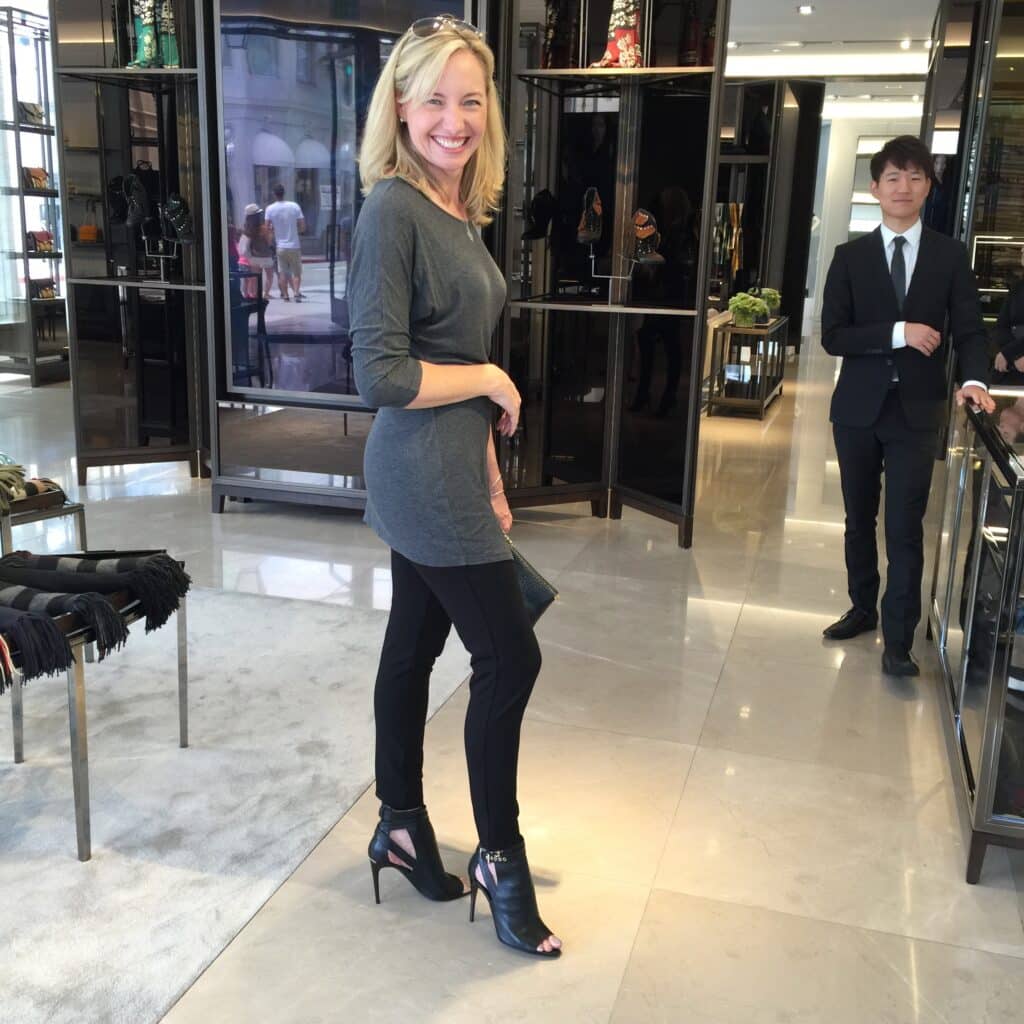 Burberry, Beverly Hills photographs by Brenda Coffee
JENNIFER: "This is what we do!" We had more fun that day. I walked out of there with those gold, metallic Burberry bags, and I wore the shoes to our photoshoot.
BRENDA: Did you wear those to Sherry Lansing's office?
JENNIFER: I did, and she said, "Nice shoes." I will never look as cool during a photoshoot as I did that day.
BRENDA: How has your shoe style changed over the years?
JENNIFER: After I found myself single, and in my forties, I went on a spree of buying some fantastic, but impractical shoes. Now I can't wear some of them as long, and some I can't wear at all. I've had to bless and release them, then reimagine shoes that were a little more comfortable. But they still need to be stylish.
Absolutely! Fortunately, we have more comfortable shoe choices than we did a few years ago.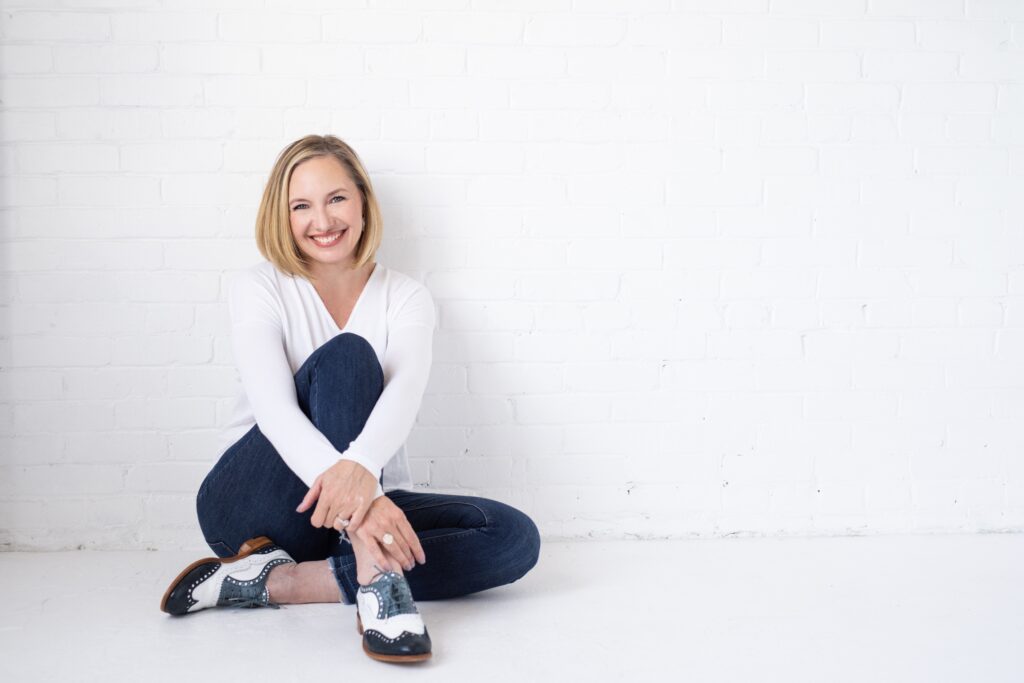 Jennifer wearing shoes from The Office of Angela Scott. Photograph by Melissa Raelynn.
JENNIFER: I bought a pair of shoes from Angela Scott that are menswear-inspired loafers.
BRENDA: I love her shoes, but I walk right out of them because my feet are so skinny. I can't tell you how many times I've called and asked their advice about which of their shoes are the narrowest, but none of them fit. (FYI, since this interview, I bought a pair of Angela Scott shoes that fit me! Yay!!!)
JENNIFER: I've discovered another brand, Marion Parke. She might have been a podiatrist. I bought a black strappy sandal that supports the arch of the foot, and I wore them all night. They're one of the sexiest shoes I've ever owned.
BRENDA: What do you think of the wide-leg, baggy pants we're seeing now?
JENNIFER: They look great on Harry Styles. Let's talk about that.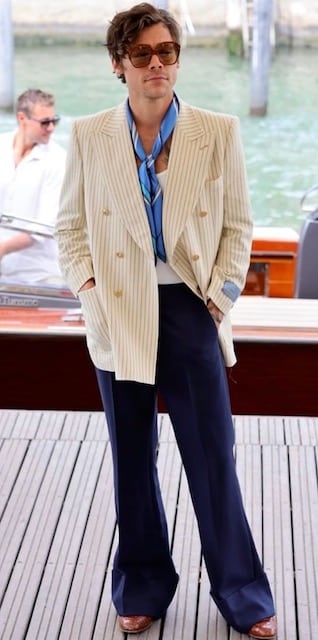 BRENDA: Don't they? I want everything Harry Styles wears.
JENNIFER: He can rock the wide-leg pants along with something I would have been dressed in by my mother like the little fitted t-shirt with the cherry applique, a beaded necklace, and 70s striped pants, and yet he looks like a million dollars.
BRENDA: Mick Jagger dressed that way in the 70s. He would wear a fitted striped jacket, wide-leg pants, and a straw hat. There's a recent photo of him wearing a tailored jacket with an oversized silk flower on the lapel which is very Harry Styles. I think Harry copied Mick, who's now borrowing from Harry Styles… but back to wide-leg pants.
JENNIFER: I bought a pair and returned them. They just made me look wide, but I like them. I can't do crop pants. You and I talk a lot about that…
BRENDA: A lot! Last month I interviewed Nancy Donahue for another Ageless Style piece. And Nancy said because we're tall, we look like we're wearing our little sister's pants. She nailed that one.
JENNIFER: I did buy a pair of wide-leg linen pants from Athleta that worked for me because they were slimmer through the top and didn't get wide until lower on the leg. Wide, but more of a flare. Athleta has embraced the work-from-home lifestyle and has made some things that are beautifully cut and well done.
BRENDA: What's your go-to outfit?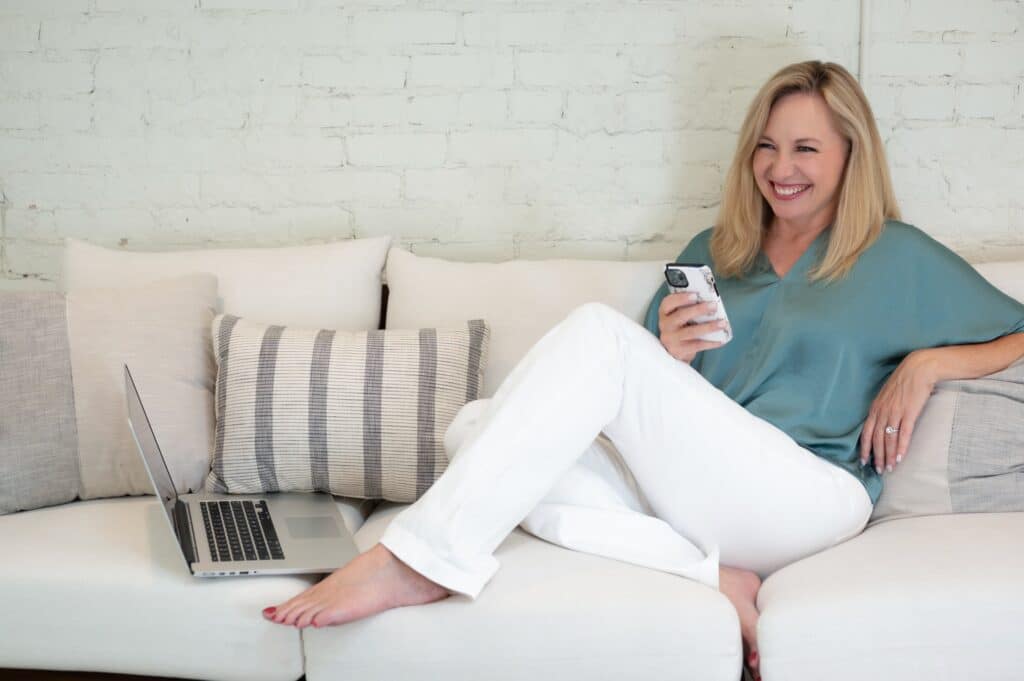 JENNIFER: Had you asked me that a year ago I would have said a fantastic pair of jeans, a black top, and a great pair of boots, but that has changed because I've learned black is not my color. So now I'll wear a great pair of jeans and a top in the blue family, you know I love a batwing sleeve and a wide neck, a fantastic pair of earrings, my Angela Scott shoes, and I'm off.
BRENDA: Other than Angela Scott and Athleta, do you have a favorite brand?
JENNIFER: I've never been a brand person… Like Louis Vuitton. It looks like someone else's luggage.
BRENDA: I've always felt the same way, no logos, but after breast cancer, I bought a Louis Vuitton duffle bag. Maybe it was chemo brain because when the drugs wore off, nobody was more surprised than I was. Plus it's engraved with my initials! LOL! I don't remember doing that, but since it was so flipping expensive, I'm compelled to use it when I travel.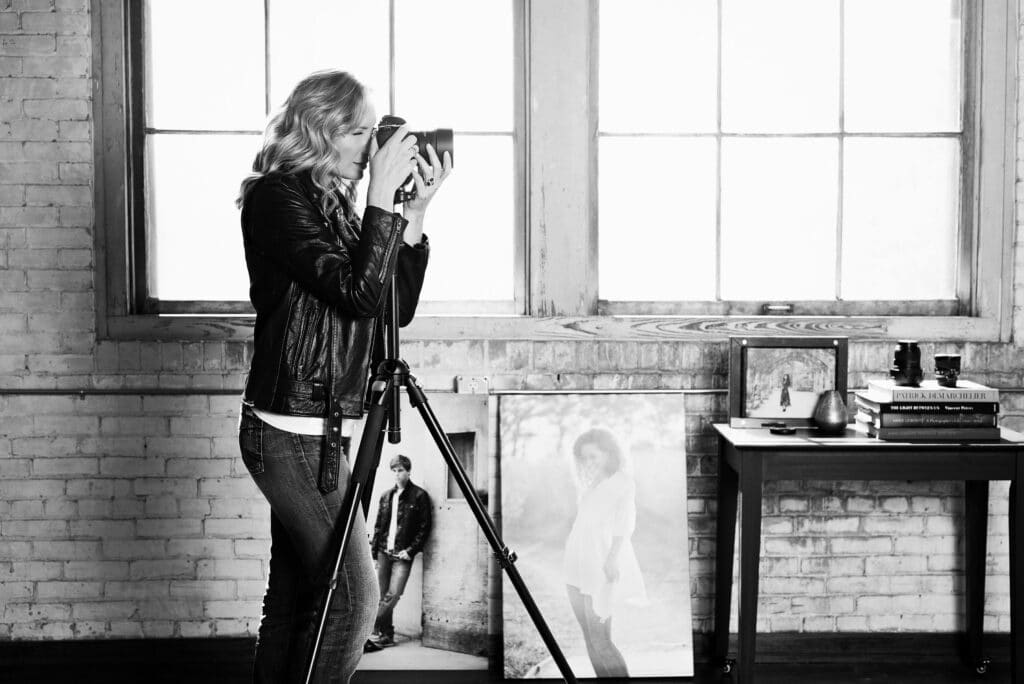 JENNIFER: I don't know that I have a favorite brand. There's one called The Reset. I purchased a couple of silk tops and some sweaters. They don't have a big collection, but I've enjoyed those. I have a couple of blazers from a brand called Sky is Blue. For jeans, I like Jen7 for All Mankind. I also love a Joe's Jean, and the Spanx line. I did a decadent purchase last fall, their liquid leather pants in burgundy which I love. I'm on a quest to be more stylish when I'm shooting outside. I like Lululemon and Pategonia because their things run tall. I like long sleeves when I'm working because I like to protect my skin.
BRENDA: I'm seeing a lot of women over 50 wearing Golden Goose sneakers.
JENNIFER: Yes, my sister bought a pair. She wore them with a beautiful, pleated leather skirt and a fitted tee, and she looked fantastic. I bought some from Sam Edelman that look similar, but they're at a better price point. I also bought a pair of rose gold Linea Pella sneakers.
BRENDA: I wonder if that's what Lauren Ezersky was wearing in a photo on Instagram? I've been meaning to ask her. Where do you see yourself in ten years?
JENNIFER: Isn't that the magic question? I'd like to answer that more philosophically: I'd like to be living in one house with my partner, rather than spread out all over the state. I'd like to feel strong in my body, embrace my age and still be a successful photographer.
BRENDA: I see you doing all of these. Thank you, my love! You've given me lots of great things to share.
I'd love to hear what you think of Jennifer's style, and don't forget to pop over and see who Cindy Hattersley's interviewing for this month's Ageless Style!