Starting today, each month I'll be joining designer and blogger, Cindy Hattersley, to talk about Ageless Style. Each of us will feature different stories about the style of women over 50. Today I'm catching up with my friend, businesswoman, and '80s international supermodel, Nancy Donahue.
You're going to love her.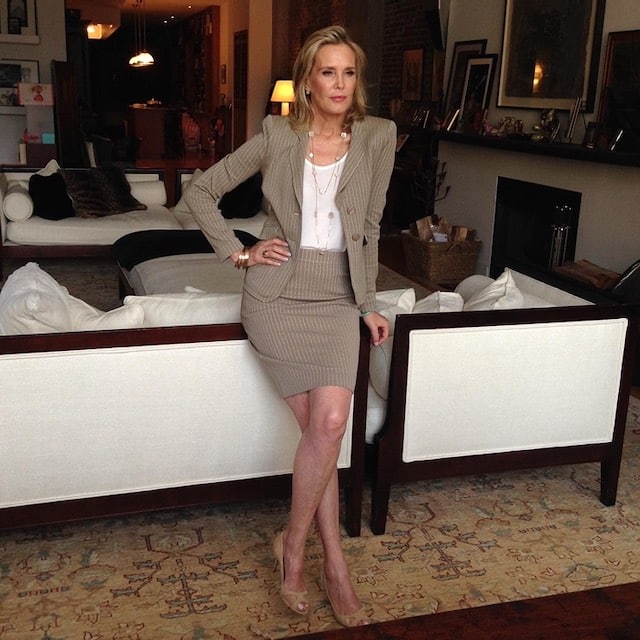 Photo Brenda Coffee, 2017. Nancy posing for 1010ParkPlace photographer Noel Sutherland.
Some of you may remember my interview with Nancy Donahue a number of years ago. I can tell you it's great fun to watch a supermodel move and come alive in front of the camera. Nancy, along with Patti Hansen, Kim Alexis, Christie Brinkley, Carol Alt, and Dayle Haddon, is one of the acclaimed supermodels of the 80s and beyond, and one of my favorite people. Here's an excerpt from our recent conversation.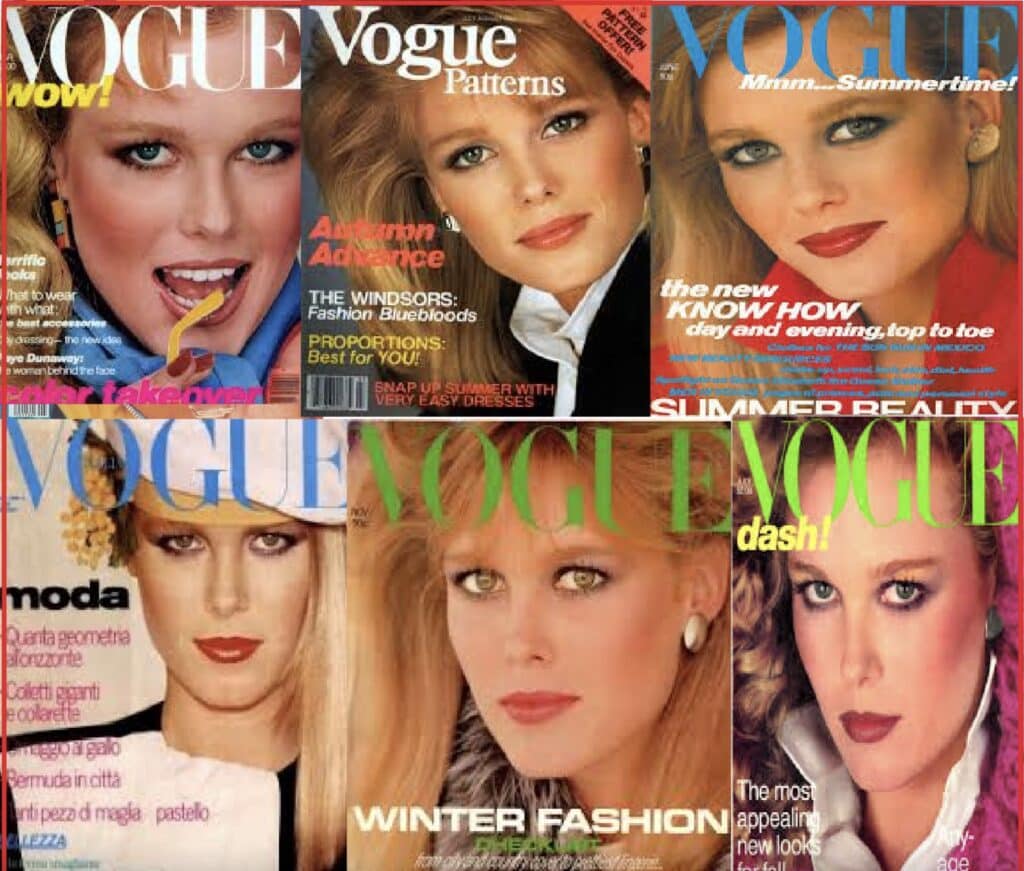 BRENDA: You've always taken good care of yourself with diet and exercise. You've done something like a hundred, Olympic distance triathlons as well as the grueling Escape from Alcatraz Triathlon. Are you still doing those?
NANCY: I've retired from being a triathlete, but I still swim every morning at 8 am, and I do yoga three, four, or five times a week. As a matter of fact, I did a Brighton Beach, Coney Island swim yesterday for kicks and giggles, and it was really fun. There's a swim club that gathers at 10 am on Saturdays and Sundays, and you swim back and forth, from jetty to jetty, pier to pier, and it was a blast. It was my first time, but I'm going back next Saturday.
BRENDA: Was the water cold?
NANCY: Yes. It was freezing. It was probably 72 or 73, and that's too cold for me to swim a mile and a half in that water. My wetsuit was in my backpack, but I didn't put it on, because I was too excited. So note to self: I'm wearing a wetsuit next week.
BRENDA: Did you have to worry about jellyfish?
NANCY: Yes. We ran into lots of jellyfish, but they're non-stingers, and we didn't have to worry about sharks because God knows, they're not coming to Brighton Beach. I had just done a beautiful swim in Madera, Portugal. Flew over by myself and met a swim group there, and we swam the north coast, east, south, and west, and then we swam on this private reserve off of Madera. Each day we would swim three and a half to four kilometers and then have a fabulous lunch and relax and chat and have dinner.
BRENDA: What an amazing trip!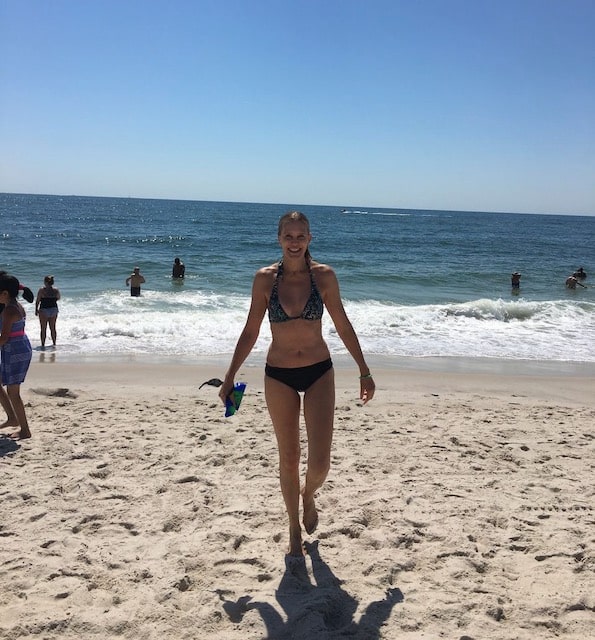 Summer, 2022. Photo by Harry King.
NANCY: Yes! I found this group during lockdown and kept following them, thinking I want to go, I want to go, so I went. I met wonderful people from Spain, Switzerland. It was a group of twelve, and now we're friends for life. You spend a lot of time together. It was lovely. Swimmers are great.
BRENDA: It's amazing what a bonding experience a trip like that is. I'm putting together a trip for women over 50 to Tuscany in the spring.
NANCY: Wow! You are?
BRENDA: It's going to be a trip like no other. I've rented the most exquisite villa in all of Tuscany.
NANCY: I may be onboard. Do you have all your people?
BRENDA: No. I've announced it, but I haven't posted the details and next steps. We're going to bookend the trip with a few days in Florence… The trip is "An Invitation to the Rest of Your Life," so we're going to talk about where we see ourselves in the next chapter of our life. So many women are thinking about these questions.
NANCY: I know. I swim at 8 am with the same group of people, and one of the women I swim with is older than I am, and she couldn't believe I went to Portugal by myself. A lot of people won't do that. I do everything by myself, and I said to her, "The first time you do something, it's a little bit nerve-wracking, but you have to take that step and know you can do this."
BRENDA: I have women who write and tell me they won't go to dinner by themselves. My response is you can have so much fun. Don't take a book to bury your nose in. Make friends with the waiters, and you'll have them bringing special plates to your table and giving you samples of this wine and that wine. I always have a blast when I go by myself.
NANCY: Yes. So do I. A total blast. I did that in London, and I met some fabulous men who invited me to dinner, and they paid for my dinner, and now we're friends for life.
BRENDA: I believe this trip will inspire women. We're going to have such a great time and talk about reinventing ourselves… which you have a lot of experience with. Do you have any advice?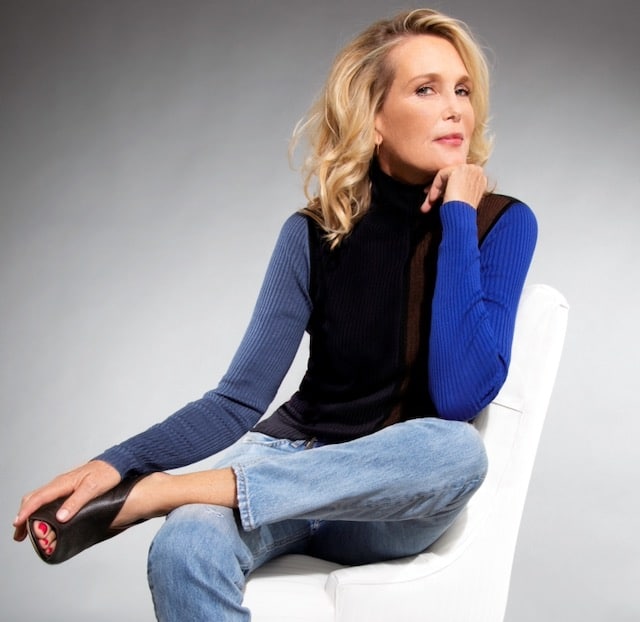 NANCY: It's similar to the way you and I go up and talk to somebody we don't know. You have to take the first step. Trust yourself that you can do whatever you want to do. After leaving BelleCore as CEO and co-founder, I had to do something. I have to use my brain, and I've known New York since 1978. I bought and sold four houses by the age of 30, so real estate is perfect for me. I know the city like the back of my hand… The hard thing about reinventing yourself is coming into the office as the new kid on the block when I was 61. But I told myself to watch, learn and in one year you'll nail this, and I did. You make mistakes, but you've just got to trust yourself you can do anything.
BRENDA: I imagine you learned a lot about style when you were modeling. You've worked with the best photographers and brands in the world.
NANCY: Yes, and stylists and editors from Vogue and Italian Bazaar, French Vogue, and German Vogue. I've learned a lot, and I apply it every day. When I was with BelleCore, we had to be at all the stores like Neiman Marcus, Harrods of London, and Collette in Paris, and if your product is in those stores, I had to have very expensive designer sheath dresses and high heels… but now, coming into real estate, I will never put on a heel ever again.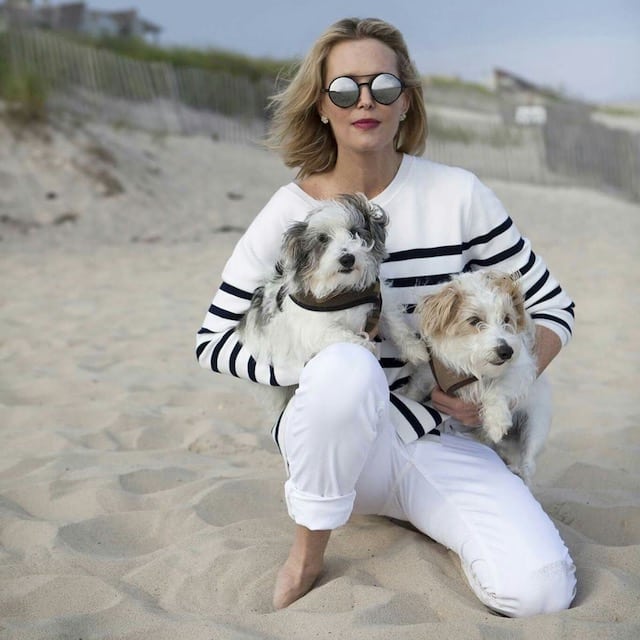 Today is an office day, and I'm dressed in jeans and an Agnès B linen shirt, and Gucci sneakers. I have no heels in my closet. None. I sold them on The RealReal. I sold all my sheath dresses except a couple. When I go on showings, I wear linen pants, a nice blouse, and Gucci loafers. I'm more relaxed now in my attire, but I'm always put together. I can't leave the house if I'm not. I can't help myself. I became a model at 18, and I've learned from the best of the best… I'm over people wearing Lululemon yoga pants everywhere. It's frumpy, and it's time to dress again.
I have a lot of J. Crew's wonderful jackets in all different colors. I love wearing a jacket and a blouse. I like to look professional and not disheveled. I put on a touch of makeup, not too heavy. I'm 64. I can't come in without any makeup.
BRENDA: Do you buy fast fashion like H&M or Zara?
NANCY: I don't. I don't feel comfortable in Zara things. I'm used to wearing very well-tailored shirts, plus I have a rule: If something comes in, something goes out. I'm in New York City. (Closet space problem). I'm not a shopper. Hate it.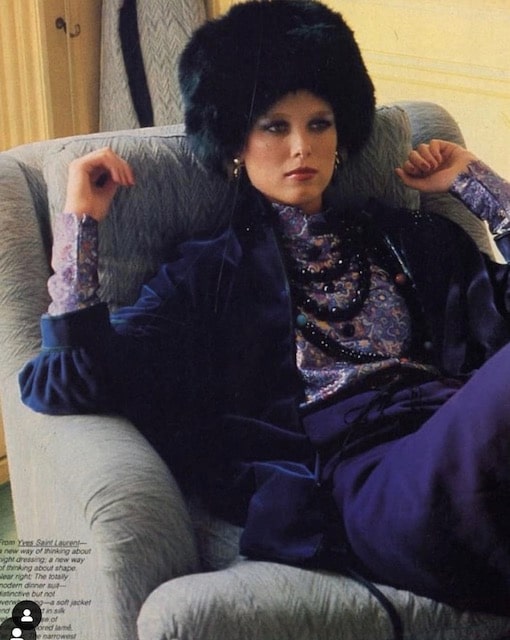 Nancy wearing Yves Saint Laurent for Vogue. Photograph by Denis Piel, Paris.
BRENDA: Do you have a favorite go-to outfit?
NANCY: That can range. It would definitely be a Jed, super tailored shirt—he's a designer friend who used to work with Perry Ellis, and I did some campaigns with him—and a pair of high-waisted, baggy linen trousers, a jacket, and my Gucci loafers or Gucci sneakers. I'm also a fan of Belgium loafers, which is an iconic New York City shoe that has been around since the 1950s, I think. They only have one store on 50-something street. They're handmade shoes, and they're just brilliant… You can't buy them online… You have to go to the store.
BRENDA: Your friend Jed, where can I find his brand?
NANCY: Unfortunately his company closed after Covid. It's nowhere to be found anymore.
BRENDA: What do you think of the cropped pants we've been seeing for the last few years?
NANCY: They're not flattering on tall women like us. We look like we're in our little sister's pants, but I've seen some shorter women who can do cropped pants. I like the baggy style now. I'm over the skinny jeans. Those are just not flattering. I don't know how we did it for so many years.
BRENDA: I bought a pair of baggy white pants from Vince, and I like how I look in them, but wide legs is an adjustment for the eyes.
NANCY: Here's a brand you can find online that I love and adore and have a lot of their things. Rowing Blazers. You have to put them on the top of the list. I'm a big fan of theirs. A friend of mine started the company. I have a purple, wide cord men's suit that's one of my favorite go-to outfits from them. It's just great. I love men's pants. They look fabulous.
BRENDA: I used to wear those almost exclusively in my 20s.
NANCY: So did I! I wore my father's navy khakis from the Navy. I wore them all the time. Rowing Blazers makes great pants, and I have their Queen of Hearts sweater. It's incredible.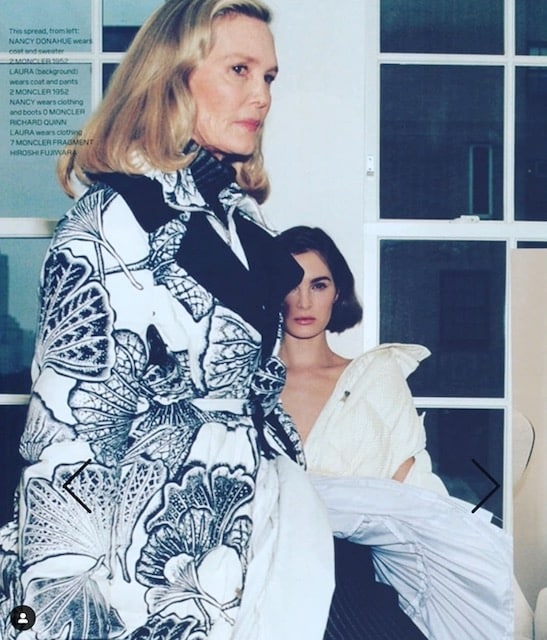 Nancy walking the runway recently, wearing black & white Moncler coat.
BRENDA: Do you like accessories? I remember you have a favorite jade bracelet your son gave you.
NANCY: And it's still on, Brenda. Actually, I think the one I had when we last saw one another broke. I took it off for a photo shoot, and it fell on the floor. I was devastated, but he's replaced it with another beautiful one. I used to wear a lot of chunky, clunky David Yurman rings, but now I wear a simple, Cartier gold band and another little gold band. You have to be careful on the subway, so I don't wear a lot of fancy things. I love Kate Spade little studs for my ears, and I do have some fancy gold loops, but I just have to be careful.
BRENDA: Talk to me about your favorite beauty products. What do you do for your skin?
NANCY: I'm a Kiehl's girl. I've used their products since I was 18, when I moved to New York City. I use Rodan + Fields serum and their day cream and eye cream. I use Cetaphil to clean my face and rosewater as a toner. I try and keep it really simple. Like my closet, I don't like to have a lot of things. I'm a big fan of doing photofacials. I do them every month because it helps with brown age spots.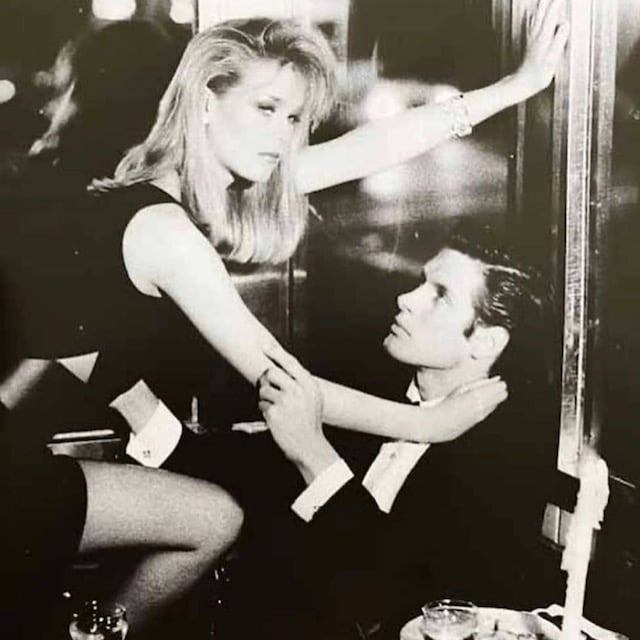 Vogue. Photographer, Patrick DeMarchelier
BRENDA: What is a photofacial? My aesthetician closed during Covid, and I haven't found another one.
NANCY: A photofacial is similar to a laser. It hurts like the dickens. It zaps and puts current on your skin. The brown spots will slough off, and it's good to rejuvenate the collagen in your skin to keep it vibrant and bright. I've been doing that since 2005.
BRENDA: I haven't even done Botox.
NANCY: Yes, but you're blessed with a different skin type.
BRENDA: Where do you see yourself in ten years?
NANCY: I see myself traveling. My goal is to get a little place in Portugal. Then I could go to France, or Italy, or Germany. I want to swim in different lakes and seas.
BRENDA: That sounds idyllic. I'll see you there. There's nothing like swimming to keep you in shape. Long and lean muscles.
NANCY: I stopped drinking, which I'm totally thrilled about.
BRENDA: I did too!
NANCY: You, too?
BRENDA: Yes. I feel better and look better.
NANCY: Me, too! It was so easy, and I was that girl that said, "It's five o'clock. I want a glass of wine." But now I have a club soda or a Perrier. People think alcohol helps with your anxiety and a stressful day, but it makes it worse.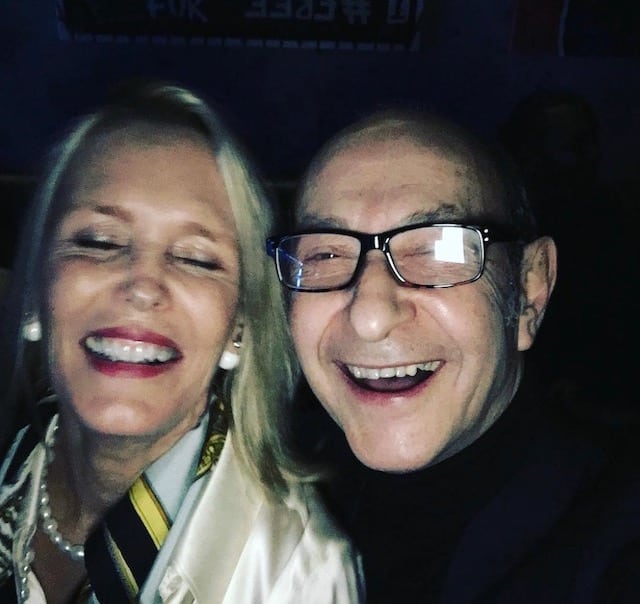 Nancy and bestie, Harry King on her birthday.
BRENDA: This has been so much fun! Thanks for taking the time.
NANCY: Yes. It's so good to talk to you, again. I always enjoyed you. Maybe I'll be going on your trip.
BRENDA: I would love that.
NANCY: Take care, and thanks for asking me to do this interview. Oh, I see Harry a lot. We talk every day.
BRENDA: He's a love. Harry would be one of the main reasons I would move to New York.
If you want a delightful hilarious read, check out my interview with "Harry." The man who modernized women's hair.
And don't forget to visit Cindy Hattersley's site to see her Ageless Style interview!