This coming April 21st – April 28th, 2023, I've planned a special trip to Tuscany, and I hope you'll come with me. This adventure will be more than a shopping, sightseeing, and supping trip, although yes, we will laugh and shop and eat, but we'll also make new friends with women who will grow to feel like sisters. More importantly, we will inspire one another to discover the woman we want to become. This is my invitation for you to come with me.
An invitation to the Rest of Your Life.
Over the years, so many of you have told me how much I've inspired you and given you important things to think about when you needed them. How fun it would be to meet up, have lunch, and get to know one another, and I agree! I've thought about all of your comments and emails, and I believe the time is right to do just that, but I want our meeting to be something more. I want us to fine-tune this one precious life we've been given. To build a bridge to the woman inside who's been waiting to be discovered.
We will come away from our time together with a map for the life we want to create.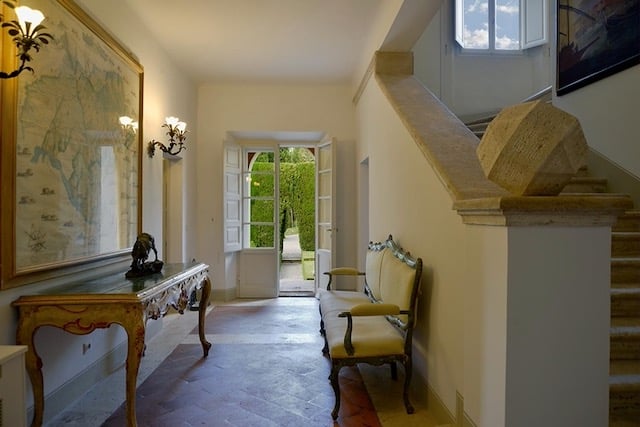 Your bedroom in this exquisite villa is up the stone staircase. It will take your breath away!
It's not an understatement when I say I've rented one of the most fabulous villas in Tuscany. It was featured in the HBO series, Succession. Together with my friend and luxury travel expert, Joanne Socha, I've planned a trip that will nourish our bodies, our spirts, and our souls. Between us, Joanne and I have been to every place we're going to visit, and we can't wait to return!
Our seven-day Tuscan adventure will begin in Florence, where we'll draw inspiration from the beauty and birthplace of the Renaissance. Our posh hotel, with its elegant rooms, chic rooftop terrace, and panoramic views of Florence is just the beginning. We'll visit the atelier where artisans still handmake velvet on a loom built by Leonardo Da Vinci. We'll explore the jewelry markets, the backstreets, and the Ferragamo museum. And the food we'll eat… Oh, the food!
If you'd like to come with us, then you need to email or DM me on Instagram today and let me know you're interested.
From Florence, we'll travel to Val d'Orcia, a magical region in the Italian countryside. In 2019, Forbes magazine said, "If Tuscany is one of Italy's most beloved regions, then the Val d'Orcia is its crowning glory." The place we'll call "home" is a beautifully restored, 15th-century historic villa, high on a hill between the charming wine villages of Montalcino and Montepulciano. The opulent villa and its gardens are one of the showpieces of Siena. I'm intimately familiar with this property, because I stayed in one of the smaller villas on the same property, and it knocked my socks off! We'll stroll the gardens, relax by the pool, and drink in the smells from the Orangerie, the roses, and the wisteria.
"The only thing more surprising than the chance she's taking is where it's taking her!" Frances Mayes, Under the Tuscan Sun
With the villa as our home base, we'll make day trips to surrounding towns like Pienza with Renaissance palaces rich in history, art, and panoramic views of Val d'Orcia. We'll feast on pasta and gelato; and stop by my dear friend, Anna Porcu's store for a private trunk show. We'll enjoy an acclaimed, hands-on Italian cooking class and eat the fruits of our labor; explore the Tuscan hill town of Siena with its narrow cascading lanes; savor Montepulciano and sample their world-famous wines, and with each turn down a new street, we'll marvel at the colors that can only be found in Italy. At the end of the day, we'll return home to the villa and share the things that inspired us.
For one full day, we'll revel in the exquisite surroundings of our villa as we workshop "An Invitation to the Rest of Your Life." Regardless of our age, or where we are in life, everyone dreams of new beginnings, but what if they're not dreams?
What if even one small change can make a big difference in our life?
In the morning, we'll do a deep dive into our hopes and dreams. Not just the ones we never realized, but the ones we see in our future, and what's holding us back from becoming the woman that's waiting to be discovered. The magic of this unique experience is in the intimacy and trust we'll have built during our week together; the knowledge that we respect one another's boundaries with integrity, and the feedback we give each other as we think-tank our dreams. After lunch, each of you will spend one-on-one time with me, and come away with tangible next steps, and a map to the rest of your life.
On the last day of our trip, we will return to Florence where we'll shop and explore and spend the night in a stunning 13th-century tower and palace where every room has a jaw-dropping view of the city.
I hope you'll join me on this trip of a lifetime. Guaranteed space on the "Invitation to the Rest of Your Life" trip means you have to be one of the first eight women to put down your 50% nonrefundable deposit by October 1, 2022.
COST: $6,750
Not included: Airfare, transfers from/to airport, lunches & dinners, entrance fees to Florence museums.
50% deposit due by October 1, 2022.
Email me at [email protected] or DM me on Instagram, now, so we can set up a time for me to send you further details and an itinerary of our trip, and arrange a call so I can answer your questions. 
I know from experience, we think we have all the time in the world to take a trip like this when in reality, life is racing past us. When was the last time you decided to do something just for yourself? To reach for your dreams and make them come true? To make life count.
"The name of Italy has magic in its very syllables." Mary Shelley
Ciao Bellas! I can't wait to see you in Italy!