Darlings, I've taken a new lover this summer. Oh for goodness sakes…. Pick your jaws up off the floor and take a listen! Whether day or night, my lover is always there for me, adding a touch of elegance to any event. My lover is alluring in an easy, breezy, comfortable way. My lover doesn't care if I've indulged in too much guacamole and chips. My lover is very forgiving that way. Who, you ask, is this fabulous man? 
Well my dears, it's not a man at all… It's the Caftan! 
I'm quite taken with it this season and am not shy about proclaiming my adoration for these enchanting, flowy garments. When I think of a caftan, or kaftan (both spellings are correct), it conjures up images of exotic summer nights in the '60's and '70's. I picture glamorous women with their hair in a chignon, languishing poolside and sipping cocktails while Sergio Mendes and Brazil 66 plays in the background. 
Tom Jones! What a sexy man and so much flirting going on, especially with the first sultry beauty with the cocktail in her hand! Take a closer look… Doesn't she look familiar?
Today caftans are fast becoming every girl's summer staple. Not just considered a beach cover-up, they're versatile enough to wear to any elegant affair. Why even Meryl Streep's character, Kay Graham in The Post, sported a spectacular scene-stealing caftan. It was worth the price of admission I might add!
Inspired by a dear friend, who frequently dons caftans while hosting elegant luncheons at her home, she accessorizes with over sized pearls and silk slippers… I decided to take the caftan out for a spin myself.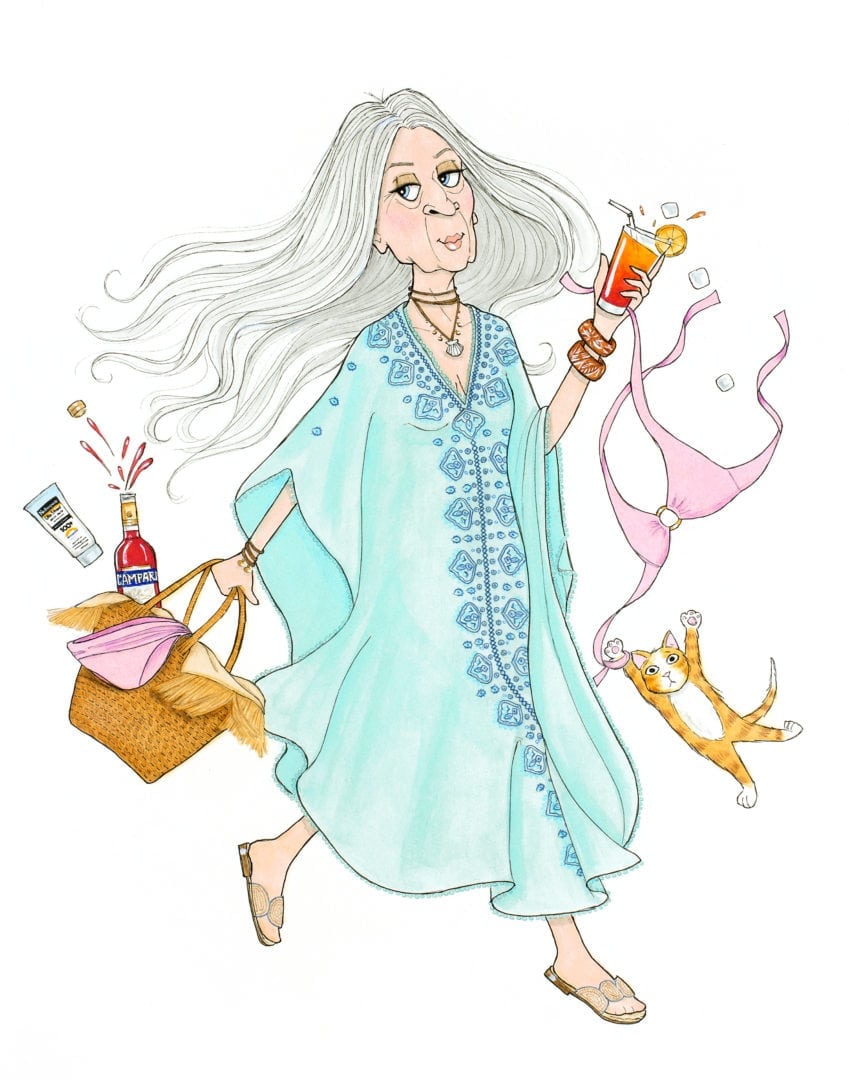 The beginning of the love affair started when I spotted that gorgeous shade of aqua. The Ines Maxi Kaftan by Melissa Odabash, with it's pom pom trim and detailed embroidery, has that combination of fun and chic that makes lounging by the pool absolute heaven. I paired my caftan with natural toned accessories, but, it would look just as fab with strappy sandals and loads of bling.

To give my look that chic bohemian vibe, I chose the Naima Slides by Carrie Forbes. In handwoven raffia, these unique sandals are sleek and timeless. They really give this ensemble a cool effortless look.
A basket inspired bag has been on every fashion girl's Instagram account this season, including our own Brenda Coffee! So practical and fun, the Blaise Straw Tote by Munn is hand woven and features cotton trim. This bag is flexible and large enough to hold my beach towel, sunscreen, and much to my delight, even my large bottle of Campari!

So my fashionable friends, whatever the occasion, whether it's lounging at the beach, poolside cocktails or an elegant dinner party, you're sure to find a caftan to your liking. Now, where did my Cabana Boy run off to? Darling… I need a refill of my Campari and orange juice!
Cheers Loves,
XOXO, Hildie