Like many women who've had breast cancer, sometimes I think about why I'm still here. In part it was due to the type and stage of my cancer, my good physical shape and the great medical care I received, but I always come back to my faith in God and my determination to survive. And when I think about the word "survivorship," and all the courageous people, dealing with their own set of problems, it may sound strange, but also I think of my 16-month-old puppy, Lulu. 
At birth, if you'd calculated Lulu's odds of surviving, they would have been slim to none.
From the moment Lulu and her seven siblings were born on the streets of South Texas, this scrappy little girl struggled and fought to survive. Whether it was a turn at her mother's teat or a morsel of garbage from a drainage ditch, this runt of the litter had a take no prisoners, laser-focused instinct to survive. Initially it wasn't Lulu I'd thought about adopting but her littermate, Annie. 
I'd seen Annie's sweet brown face online at San Antonio Pets Alive. She was barely six weeks old when I drove an hour south of town to meet her.
ANNIE THE DAY I MET BOTH GIRLS, BARELY SIX WEEKS OLD.
As the largest sibling in the litter, Annie roamed the small, fenced inclosure of her foster family's farm and stopped just long enough for me to kneel down, cradle her face in my hands and ask if she'd like to be my dog? Without so much as a lick or a nuzzle—and already having forgotten our brief visit—Annie raced off to see the chickens. What I didn't know was the whole time I'd been there, her sister, Lulu, had been trying as hard as she could to get to me.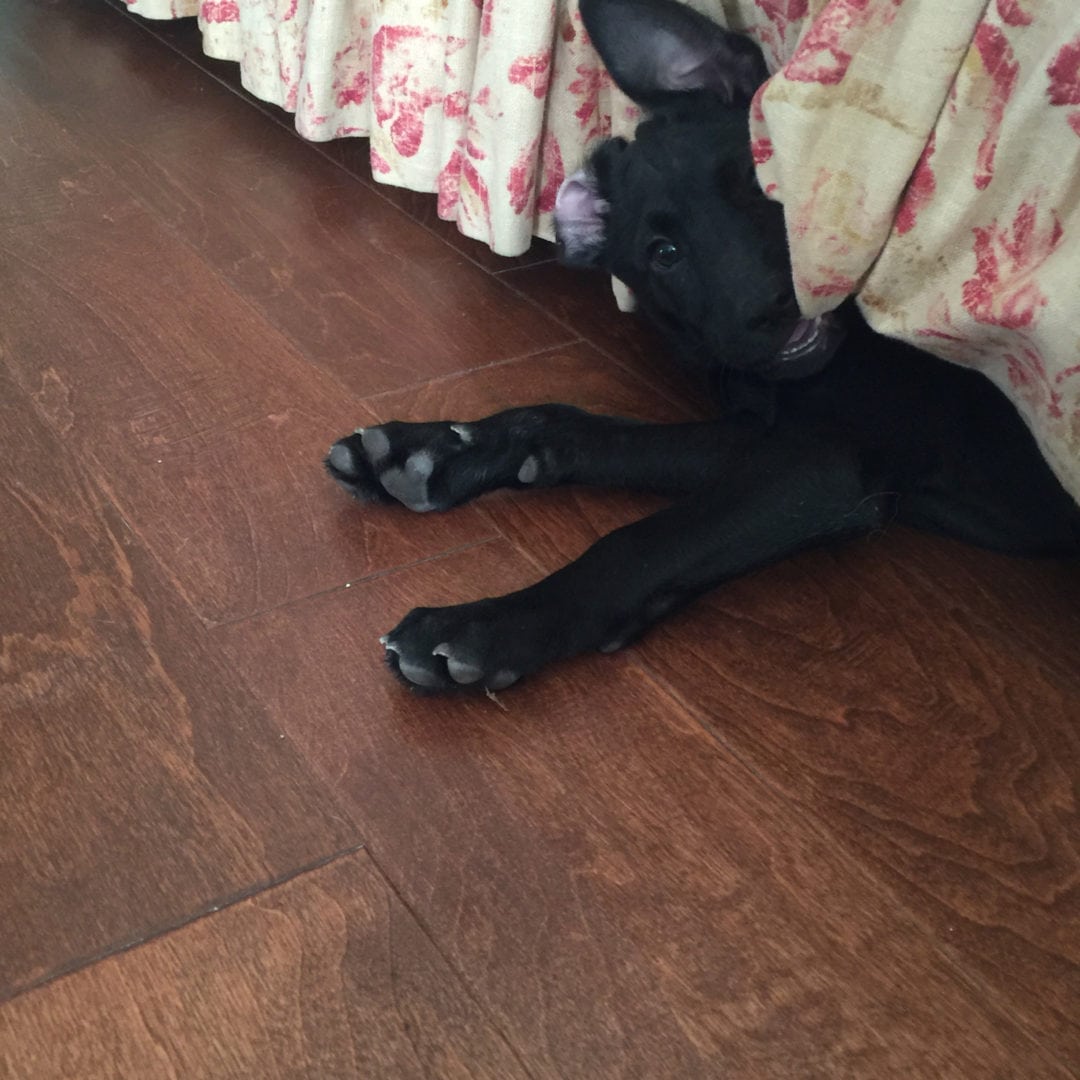 LULU AT EIGHT WEEKS OLD, SOON AFTER I BROUGHT THEM HOME.
With the exception of Annie, Lulu and their other litter mates were corralled in a round, plastic wading pool a few feet away from me. Except for this tiny, black ball with the wide eyes, the rest of the puppies didn't know I existed. Like a miniature Terminator-in-training, this determined little girl crawled on top of one squirmy puppy after another, using them as step stools to climb her way out of the pool, a seemingly insurmountable task.
And each time she fell off, she would pop back up and peer at me with an urgent look that said, "Wait! Don't forget me!"
When Lulu finally scaled the slippery slope of her Mt. Everest, she toppled over the edge to the ground, and in a blink, she was racing toward me. Jumping up on her hind legs, her front paws barely reaching my shins, she was determined to get up in my lap… and she did! I'd gone there to adopt one dog, Annie, but this little runt… this little fighter… was my kind of girl. She had me before "hello."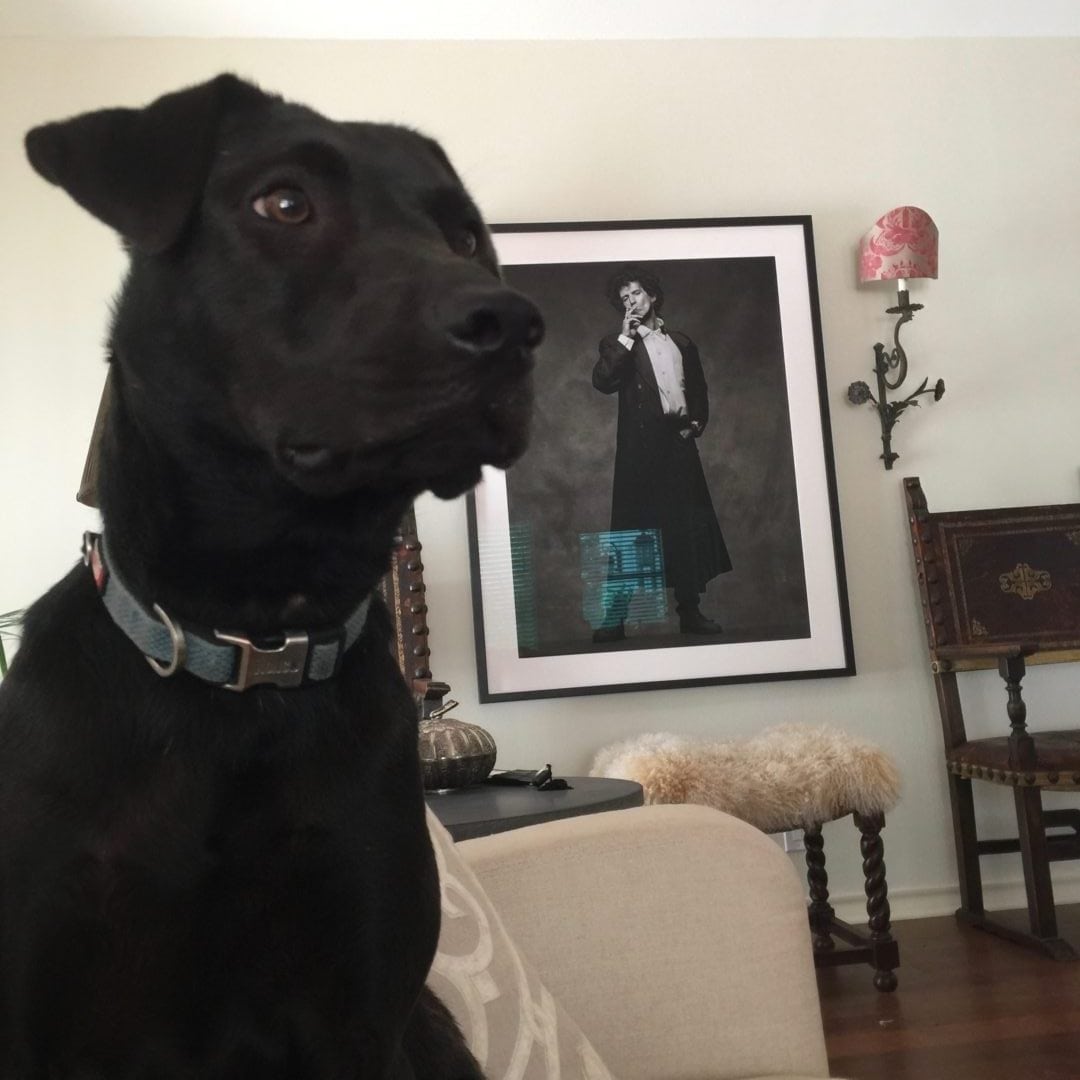 LULU TODAY
When I was diagnosed with breast cancer, I didn't languish in the "kiddie pool," waiting for someone to help me. Like Lulu, I kept fighting and trying. I researched doctors, the treatments they suggested, foods I should eat, and like Lulu, I did it with deliberate intent and laser-like focus.
Regardless of where you're at in your life, I hope each of you will live today with joy. Keep singing; keep laughing; keep trying, and pull from each moment those things you want to remember. Savor them! Cherish them! Do them deliberately and intentionally and never take them for granted.