Last month on Instagram, Stevie Nicks posted a video of herself walking toward the edge of the stage in a sold-out stadium full of cheering fans in Columbus, Ohio. She's the same beautiful, flaxen-haired woman with the unique voice and flowing skirts we've known since 1975 when she joined Fleetwood Mac and helped them become one of the best-selling bands of all time. In the comments section, Reese Witherspoon said, "Look at all that LOVE💗," referring to the reaction of Stevie's fans. However, Witherspoon's comment was followed by many from women over 50 who criticized Nicks with things like, "Her gate is that of an elderly woman," and "She should get off the stage." Let me count the ways these comments angered me.
Why are women so mean to one another, even toward women they know and supposedly love?
I think I've told you that in 2019, the year before Covid, I attended 13 major concerts in many different cities, sometimes walking almost a mile to the venue. When I arrived, I would stand the whole time and cheer and sing in the audience for two to three hours, then walk back—once a mile uphill in the pouring rain. Going to a concert can be exhausting. I can only imagine what it's like to be the performer on stage, night after night.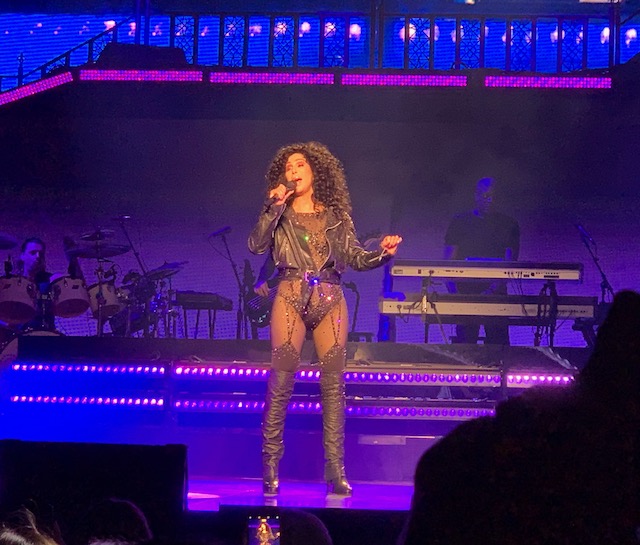 Cher, Photograph @Brenda Coffee, 2019
As Cher laughingly said when I saw her that year, she was 73 at the time, "What's your grannie doing tonight?" Her point wasn't lost on any of us. She was still out there, rocking it, and she looked fabulous. I'd like to think all of us over 50 were inspired to make the most of this next chapter of our lives, and that we'll refuse to be put out to pasture by a bunch of jealous haters with nothing better to do.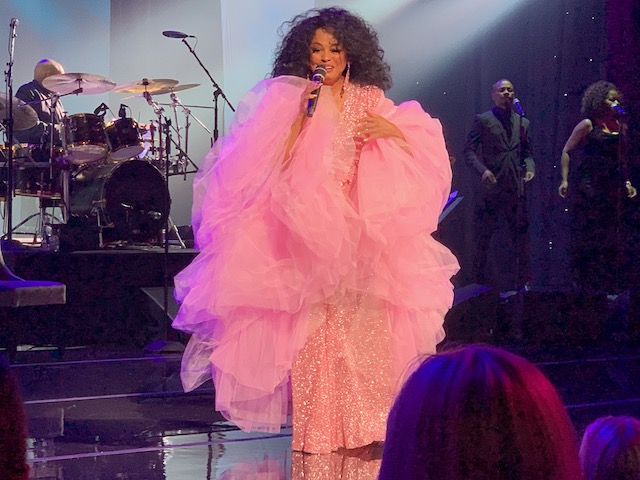 Diana Ross, Photograph @Brenda Coffee, 2019
The amazing women I saw in 2019 are now four years older: Cher is 77, Stevie Nicks, 75, Patti LaBelle and Diana Ross are both 79, and they're all examples of women who are continuing to live their best lives, doing something they love. We should all be so blessed. What part of that do mean girls over 50 not understand? What gives anyone—especially women of a certain age—the right to judge another woman? We know nothing of their problems, physical or otherwise, or the courage it took for them to show up.
🎼"But time makes you bolder. Even children get older. And I'm getting older, too."🎵
Lionel Richie, Photograph @Brenda Coffee, 2019
Yes, we live in a youth-obsessed culture, but why is it alright for Paul McCartney, 81, Mick Jagger, 80, Lionel Richie, 74, and Clint Eastwood, 93, who's currently directing a film, Juror #2, to still be out there doing their thing, but it's not okay for their female counterparts? And let's not forget Tony Bennet who, at 95, sang with Lady Gaga on stage at Radio City Music Hall.
To my dying day, I will be a rock n' roll chick and a film buff, and I make no apologies to those who don't share my enthusiasm. But, let's have a little R-E-S-P-E-C-T for these women and remember we recently lost three of the greats: Aretha, Tina and Fleetwood Mac's Christine McVie. All of us, regardless of whether we're famous or not, are the same women who, for the last 50 years, have fought for a seat at the table. We were supposed to change the world, but instead, some of us are continuing to tear one another down.
Every day let's look for ways to link arms and support one another. Let's keep moving forward and challenging ourselves because statistics say women over 50 who don't have a purpose will age and die faster than our counterparts who are seizing life by the handfuls.
And to Stevie Nicks: You inspire me, sweet lady, more than you know. You're the one I walked a mile in the rain to see when I was 69.
To the women who play tennis, pickleball, and golf, to the ones who work a nine-to-five job, write books, paint, design, blog, rescue animals and pet sit, rodeo, write songs, care for a loved one, run a big company or are growing a small business, teach yoga, volunteer, are involved in their church, or are dealing with their own diagnosis of cancer, heart failure, MS, and Parkinson's Disease: BRAVA GIRLFRIENDS! You inspire me. Keep making life count because you make all of us stronger.