The hot thing for women of every age this year is a cute summer bag. Some are wicker; others are woven; many are on sale. I've even seen some where you might need to take out a loan to pay off your credit card, and I've listed them all for you to purchase, lust after or giggle about! 
Recently I pulled out my favorite woven bag I bought 20 years ago at a boutique in Highland Park Village in Dallas (on the right in the photo above). I get compliments on it everywhere I go.
What I don't tell people is it smelled like bacon for the first two years, so I'd set it out in the sun everyday to get rid of the smell.
I bought the bag on the left earlier this year when I went shopping with a girlfriend. It's the kind of bag a modern, Little Red Riding Hood would take to grandma's in the summer. Back in the day I wouldn't have bought this bag, but I love it! And actually, that's what my fashion blogs are all about. Finding things that update our look and keep us from looking like we're stuck in a time warp, and accessories… like bags, are the easiest way to do that.
This Circle Rattan bag from Mark & Graham is one of my favorites. With the blue and white stripes, it's very nautical and beachy and yet it can be dressy enough for the nice restaurant at the resort where you're staying. It's on sale for $37.99.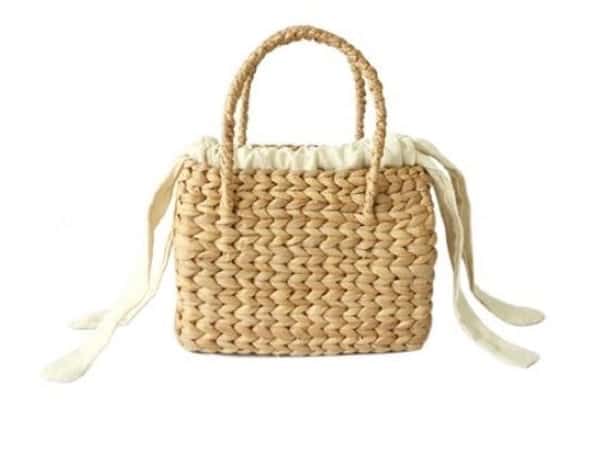 This Evance, linen and rattan bag is along the same lines as my Little Red Riding Hood bag. It's totally charming and big enough to hold your sunglasses and suntan lotion, and it's $105. I don't know about you, but I take such good care of my things, I wouldn't have any qualms about spending that for a summer bag, because I know I'll have it for years and years. (That makes me think about my late friend, Mary… Twenty years ago she asked how much I spent for a beautiful pair of lace trimmed socks. When I said $18… You would have thought I'd said $180. Amortized over 20 years, that's 90 cents a year. I still wear them with boots so the lace peeks out between the hem of my pants and top of my boots. I even wore them to meet with an investment banker in NYC.)
Now we're getting into the pricier bags. I picked this Rodo wicker bag because it reminds me of the Mark Cross bag Grace Kelly used as her overnight bag in Hitchcock's Rear Window. Like the Kelly bag, this one has little gold feet on the bottom and opens like a small, thin briefcase. It has a pretty, tailored canvas lining with a zippered pocket. Just the thing when spending the night at George's villa in Lake Como. It's on sale, marked down from $745 to $558.
If you want to see how pricy wicker bags can get, check out this "Lovers" wicker basket bag from Dolce & Gabbana. It's on sale, reduced from $5,995 to $2,997. For you sale shoppers, that's 50 percent off!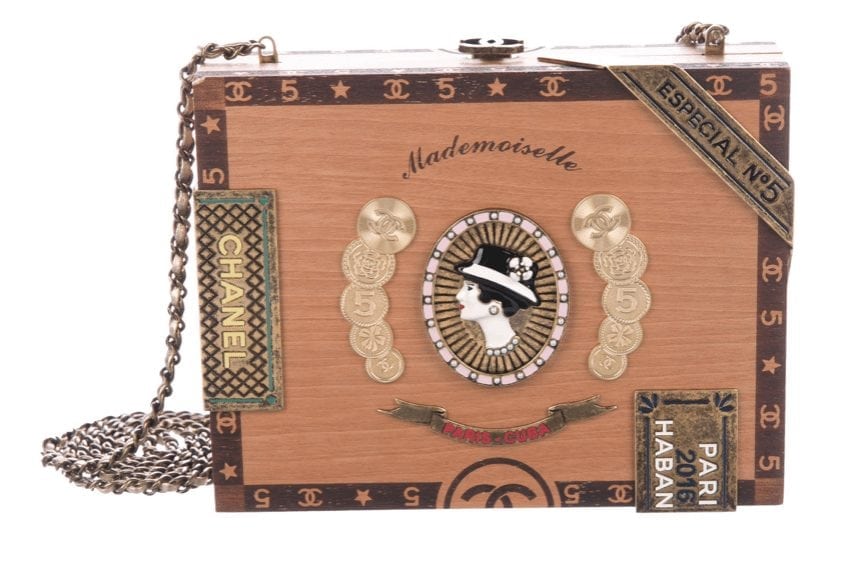 And just for fun… well there might be some of you who will snap this up… Here's Chanel's 2017 "Havana by Night" Cigar Box Bag. It's lined with gold leather and has a double CC Chanel closure at the top and features multicolor medallions and pearlescent embellishments. It comes with a serial number verification, tags and dust bag for $10,500. Don't get me wrong… I LOVE Chanel and own several of their dresses, but for this price… I'd rather go to Cuba and bring back my own cigar box and create a DIY project when I get home.
Do you change purses in the summer? If so, what kind of bags do you like?
Except for my two bags—I can't find them any longer—here are all the bags I've mentioned and the ones I haven't are all on sale!