Darlings, I can hardly believe it's been 46 years since I went to see Led Zeppelin at Madison Square Garden. It was all about the rock shows back then and part of the fun was dressing up to see your favorite bands. With guitarist Jimmy Page as my inspiration, I remember donning a pair of hip hugger bell bottom jeans, a velvet blazer with wide lapels and a pair of sky high platform boots.
I can also recall wearing my suede fringe jacket, just like David Crosby's, to see Crosby Stills Nash & Young play at Big Sur in 1969. Of course a kimono, lace and crimped hair was all you needed to look the part for a Fleetwood Mac or Heart concert back in the day.

If I were to tell you all of this is appropriate concert wear, you would think I'd lost my marbles! For heaven's sake, we don't want to look like a bunch of aging rockers, but mature put-together rockers! After going to a recent rock concert, of a rather…ahem, mature rock legend, I took a few notes to help you navigate through this rock-y terrain.
Taking fashion cues from the band on stage, choose an ensemble that's functional, comfortable and in dark neutrals. Let's start with the jacket. The last thing you want to lug to a concert is a handbag or tote. You don't want to set your bag behind you on your seat when standing for part of the show. My Banana Republic, twill utility jacket is designed with enough pockets to carry keys, credit cards and any other small items I might need. In a dark olive green, the look is hip and unfussy, and the hidden drawstring nips you at the waist, creating a slim silhouette.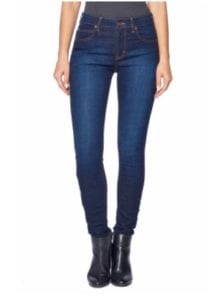 Narrow cut, dark denim jeans are an essential item for any rocker look and comfort is key. USAToday called them "the best travel jeans in the world," and these Comfort Skinny Jeans by Aviator are made from super soft denim that's flexible, breathable and durable. The dark tone is always forgiving and these are as comfortable as sweatpants.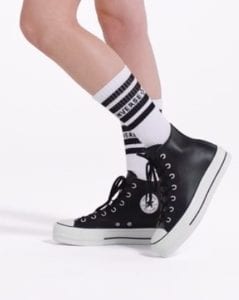 One of the most important pieces of your concert attire are the shoes. You don't want to walk up a flight of concrete steps to get to your seat in a pair of high heeled boots. Another thing I noticed from the boys in the band, was they were all wearing dark sneakers with a contrasting white rubber sole. In keeping with that idea, I chose the Converse, Lift High Tops in black leather. These have a flat 1 1/2″ rubber platform, perfect for giving me a little extra height to see past the crowd.
So my fashionable friends, leave the 4″ platform boots and hip hugger flares in the attic. Remember… Stylish rockers of a certain age keep it spare and comfy. Enjoy the show Darlings! Tell them Peter sent you!
Cheers Loves!
XOXO, Hildie